Cruises can be an excellent way to experience some of the world's best food. Whether you are a food enthusiast or prefer a relaxed buffet, there's something for everyone. But which cruise lines have the best food?
Before moving onto the list, some background is important. The cruise lines listed aren't just my personal opinion. I've cruised a lot and experienced many of the cruise lines mentioned below. But I've also read the reviews from the top cruise websites and forums, which are unbiased and full of honest customer opinions.
From this, I've put together the eight cruise lines that have the best food. Read on to find out more.
Which Cruise Line Has The Best Food?
The cruise lines with the best food include Oceania Cruises, Seabourn, Celebrity Cruises, Princess Cruises, Viking River Cruises, Norwegian Cruise Line, Disney Cruise Line and Royal Caribbean. However, each cruise line has its unique selling point, from how the food is presented, the ingredients used and the variety of food.
The definition of "best food" varies based on individual taste, budget, and dietary restrictions. Therefore, exploring different options that cater to your specific needs is important. Read on to find out more.
1. Oceania Cruises
Oceania Cruises have some of the best guest reviews regarding food. They offer luxury food, but they also have a few relaxed options too. They clearly show their commitment to providing the best dining experience at sea.
Alongside the main dining room are several speciality restaurants, including Toscana for Italian cuisine, the Polo Grill, its signature steakhouse and Red Ginger, for Pan-Asian dishes. And there is no additional charge for any of these speciality dining rooms.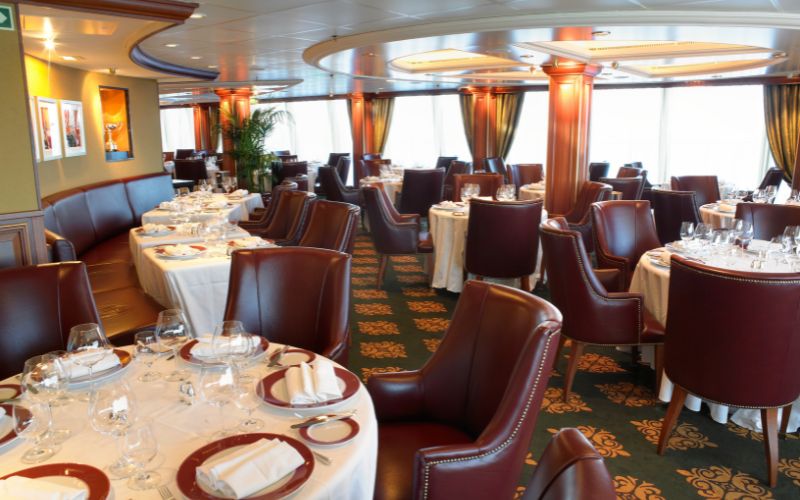 Guests have reported that the menus are diverse, with a choice of regional dishes and classic cuisines with fantastic presentation.
However, if nothing on the menu meets your needs, you can have your meals made to order. This is particularly great if you have any special dietary requirements, such as allergies or if you are vegetarian or vegan.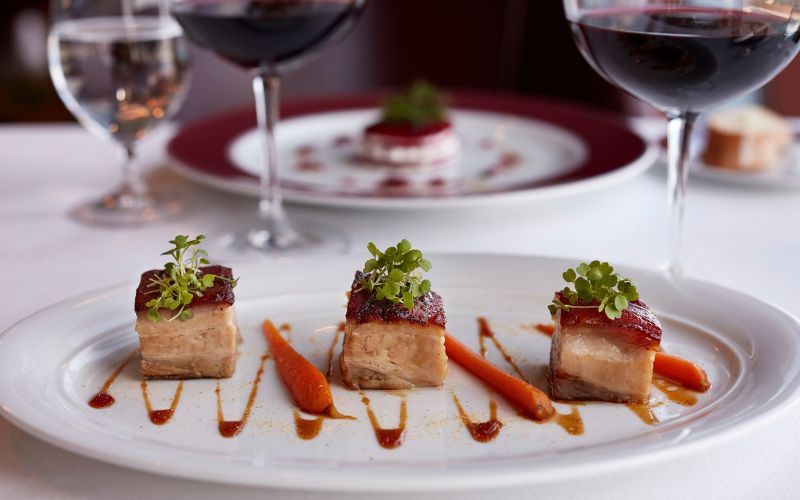 2. Seabourn
Next, the ultimate ultra-luxury cruise line, Seabourn. They are a member of one of the world's most prestigious gastronomic and fine-dining societies – the Chaîne des Rôtisseurs.
Every dining venue onboard presents its unique ambience and a variety of dishes. Yet, they all share a common theme, using the best ingredients and the finest culinary techniques.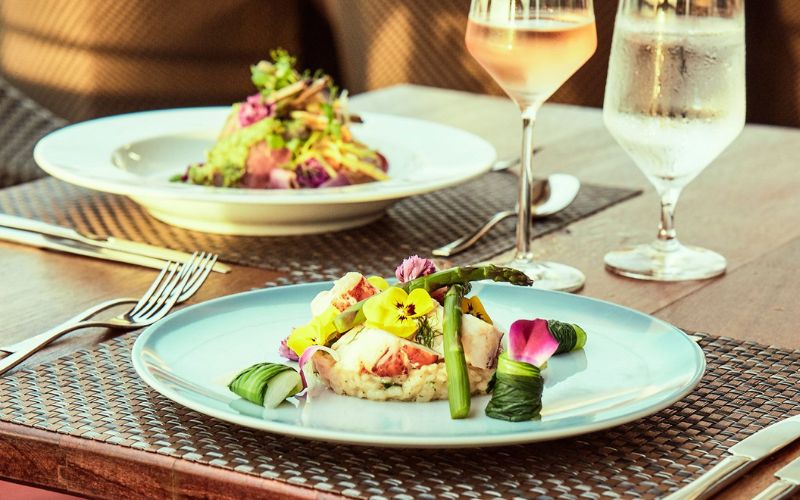 Guests have reported the delicious food, served in beautiful settings with flawless service. Others have expressed that their partnership with American chef Thomas Keller also sets Seabourn apart, which brings a unique "wow" factor to their dining.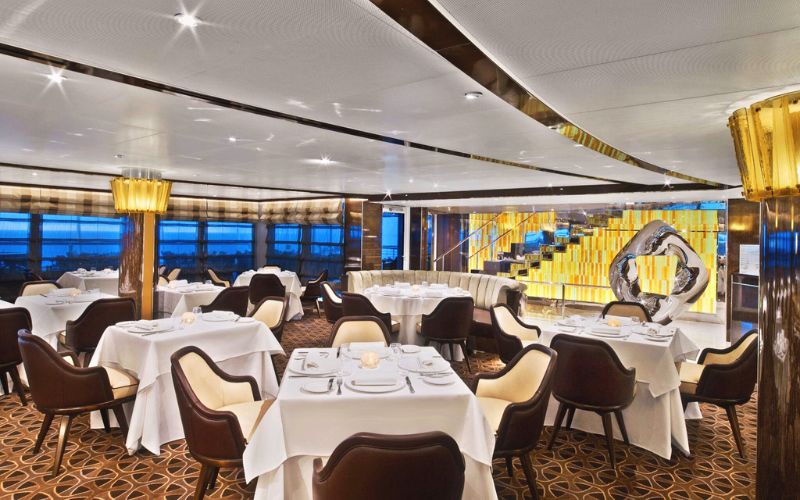 The main dining area and a few other restaurants cater for vegetarians and vegan diets. However, if you have any special dietary requirements, there is an option to pre-order. You can contact Guest Services before the cruise, so they can ensure there are enough raw ingredients for the chefs to work with and to enable them to be creative and vary the meals during your trip.
3. Celebrity Cruises
Year after year, Celebrity Cruises frequently win several food awards, such as the Cruiseline Member Choice Awards for food and dining.
With various choices, each ship has a vast selection of restaurants, from the impressive Main Dining Room to the laid-back Oceanview Cafe. For a bit extra, the speciality restaurants offer options from Tuscan Grille's Italian classics to Sushi on Five's Japanese delights.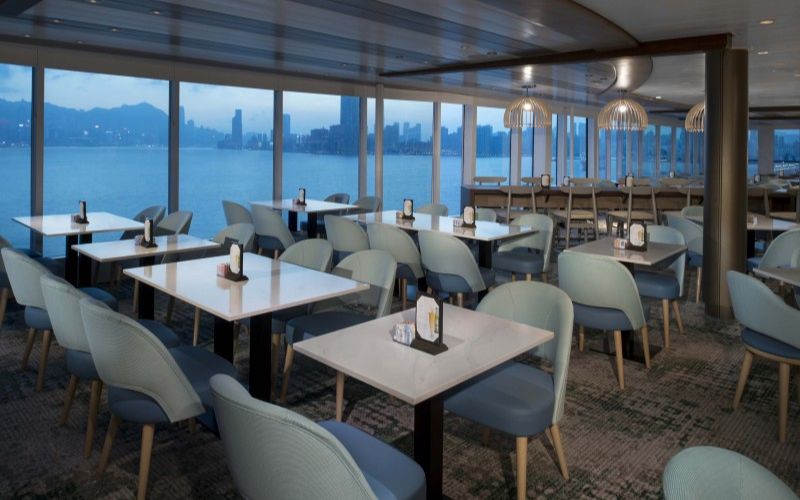 And that's not all, Celebrity offers an innovative dining experience at 'Le Petit Chef', merging technology with gastronomy. Imagine your dinner table transforming into an immersive experience where a mini chef prepares your meal – a 3D animation show on your table whilst your food is being prepared. Reviews have reported that this is also great fun for kids too.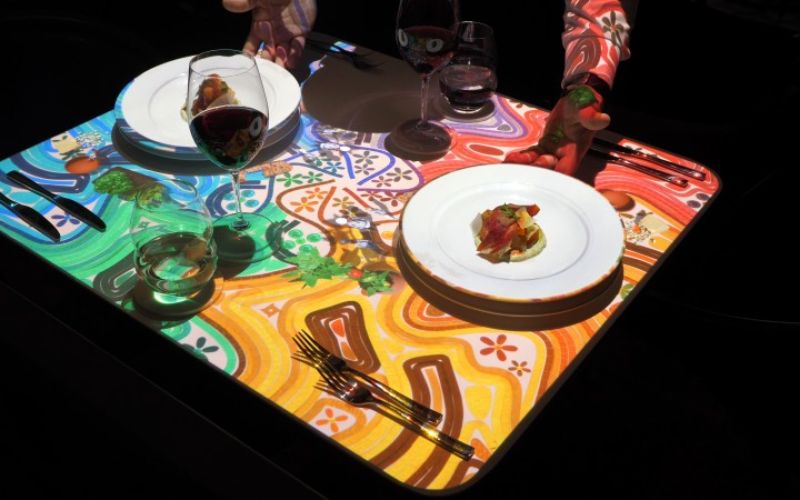 With a wide variety of food, there's a choice to cater to everyone, ensuring all dietary requirements are met. You can also pass your requests on to the chefs, who are happy to create something just for you.
4. Princess Cruises
Princess Cruises is one of the leading cruise lines for fine dining. Their restaurants offer a mix of styles, including food from around the world, comforting home-style food and top gourmet meals with specially selected flavours.
They have also worked with many top chefs, such as Curtis Stone and Ernesto Uchimura, who have created some award-winning burgers.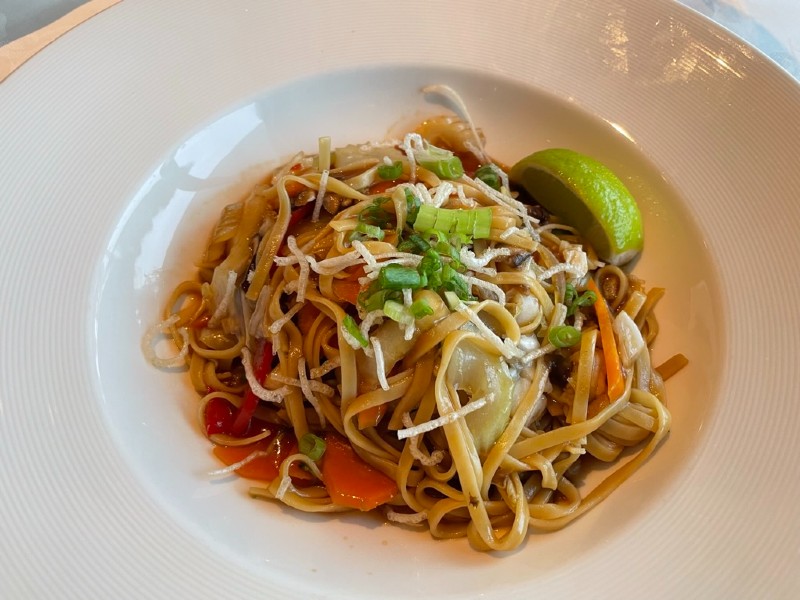 One of the best experiences guests have noted is that Princess Cruises offers a "Chef's Table Experience" (on Royal Class Ships). Here you get a behind-the-scenes look at the kitchen, followed by a multi-course tastings dinner with wine pairings.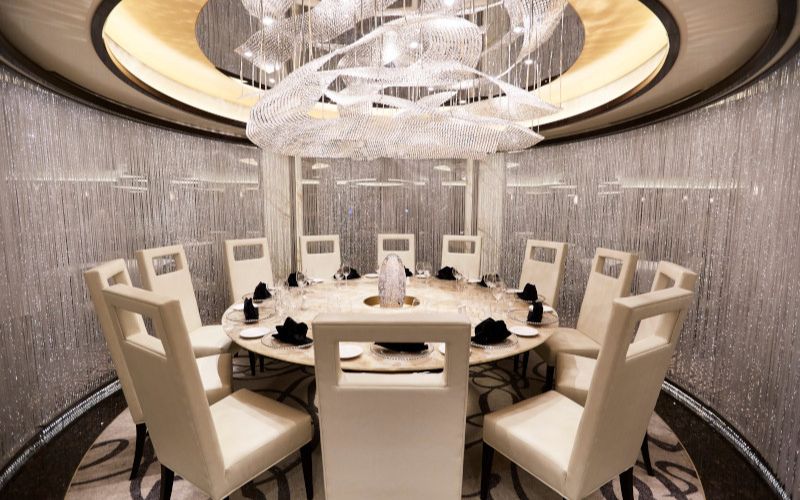 If you have any special dietary requirements, Princess Cruises has a range of food for everyone. As with many cruise lines, some have noted that the choices can be repetitive, however, in the main dining room, the chefs are more than happy to meet your needs.
5. Viking River Cruises
Many Viking River Cruises food reviews describe the focus on local dishes, exceptional quality, and variety, with the whole experience exceeding expectations. They have destination-focused dining made with fresh ingredients inspired by your port of call.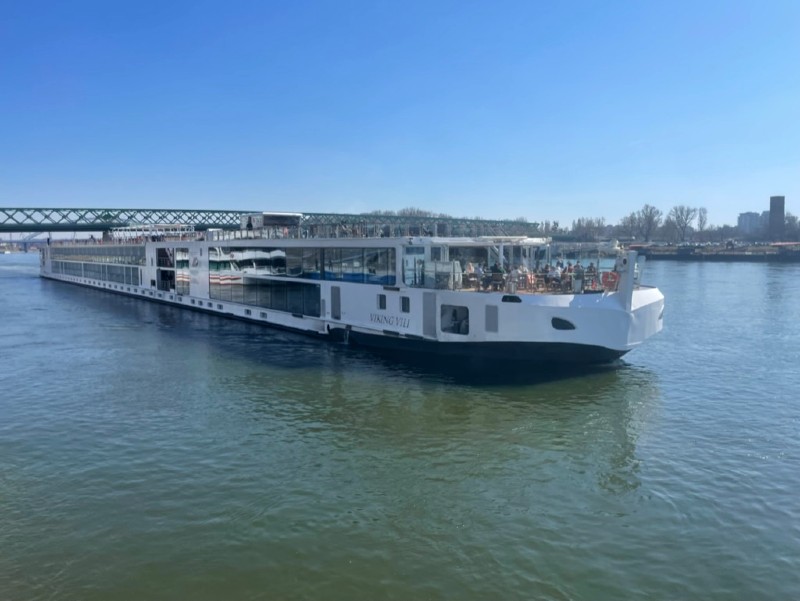 There are also plenty of restaurant choices, including speciality restaurants, which are all complimentary. From the main dining venue to World Cafe, giving live cooking creating an interactive experience, to The Chef's Table, where you can enjoy a culinary experience during a multicourse tasting.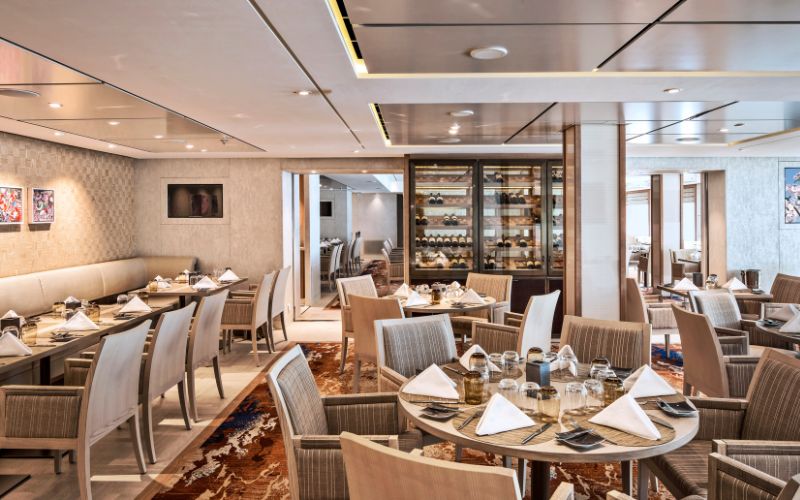 Their lunch and dinner menu has a section with classic meals which are 'always available'. The rest of the menu changes daily, ensuring the food is not too repetitive. Guest reviews indicate that this is great regarding special dietary requirements, as there is a choice rather than the same meals over and over again.
6. Norwegian Cruise Line
If you prefer a more relaxed dining approach, Norwegian Cruise Line (NCL) may be the best option for you. Unlike other cruise lines, they offer a freestyle approach as there are no fixed dining times, so you can eat when you want.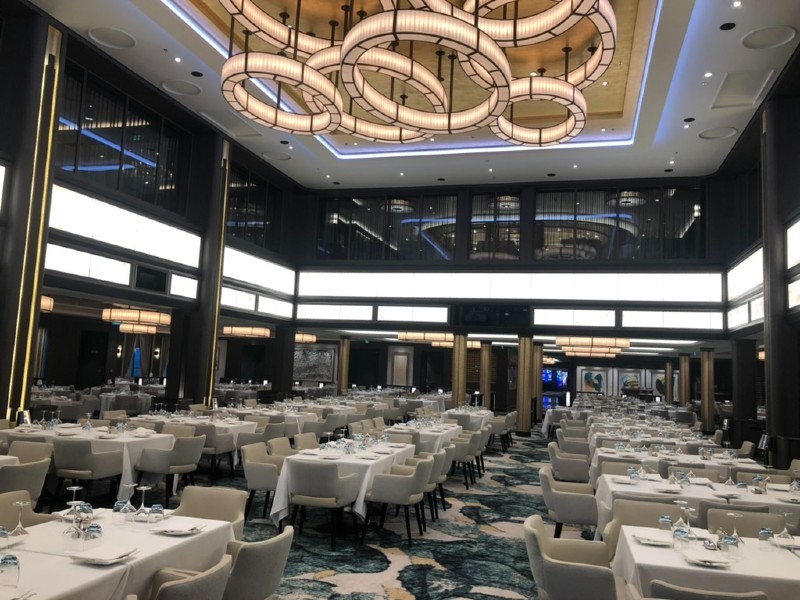 Just because of the relaxed nature of dining, the quality remains high. There are beautiful dining rooms, buffets, and 24-hour eateries. If you want something different, they also offer speciality restaurants for an additional cost.
Cagney's Steakhouse is one of the restaurants that gets high praise from guests, with premium cuts of beef and a great ambience.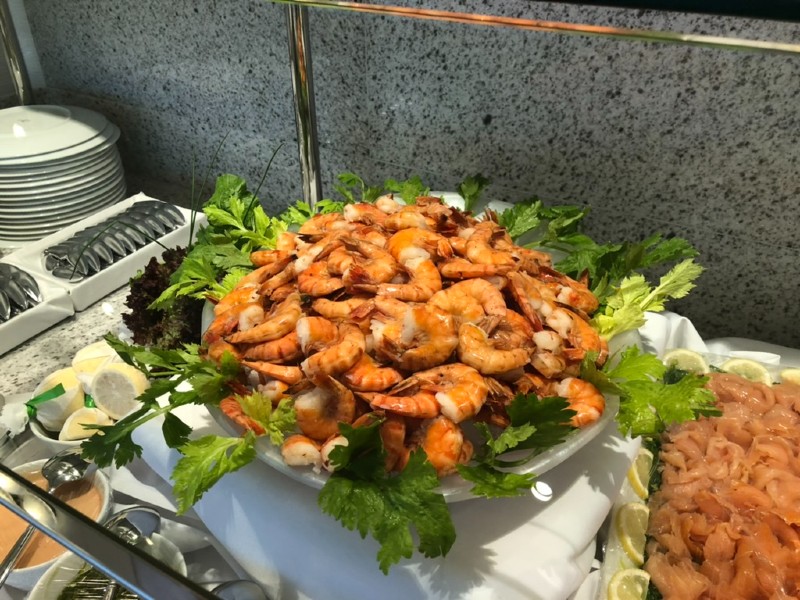 However, if you're looking for vegetarian or vegan options, NCL can still be a good choice. Most of the menu options are not vegan, but a generous selection of vegan-compatible dishes is readily available. You'll find opportunities at every mealtime and a special vegan lunch and dinner buffet.
7. Disney Cruise Line
You may think that Disney Cruise Line's food may be just the typical food you get at a Disney theme park. Yet, there is an excellent balance between family-friendly options with gourmet dishes.
For Disney enthusiasts, they do offer Mickey-shaped food and princess-themed afternoon teas. Although, if you're a foodie, there are plenty of options for you too.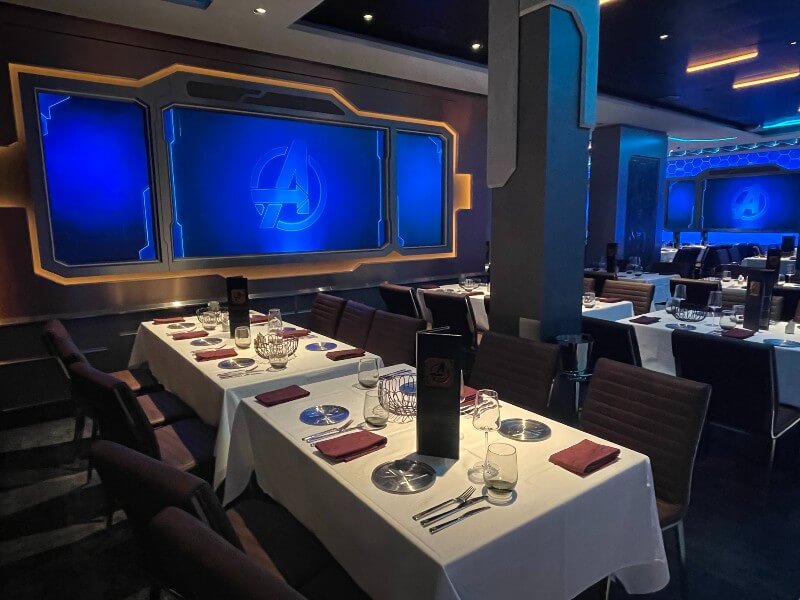 You can expect many dining options included in your fare, such as the themed main dining room and the casual Cabanas buffet. The speciality restaurants, like Remy and Palo, take you to the heart of French and Italian cuisine.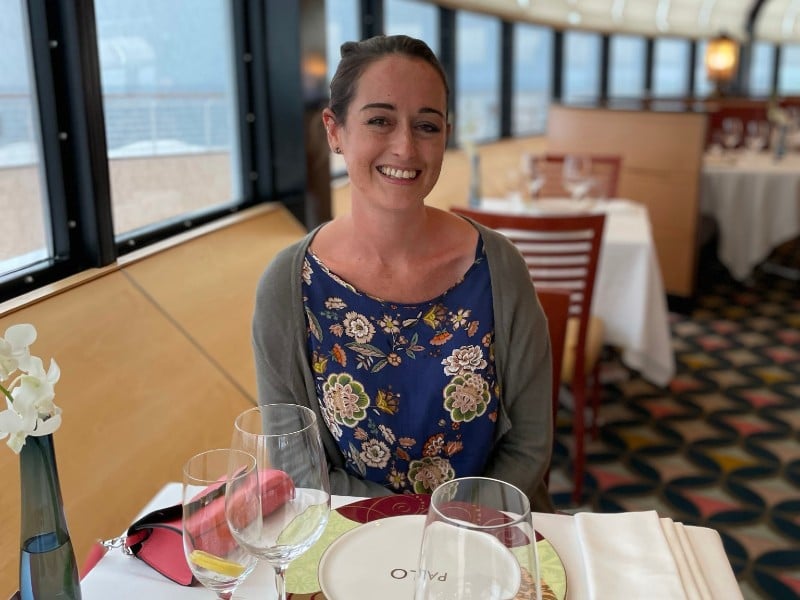 There are also a few other magical touches, such as 'rotational dining', where guests rotate between three dining venues throughout the cruise and take their waitstaff with them. This gives you a personalised service, so they will already know your preferences. This is particularly good if you have dietary requirements, as the staff will be ready to accommodate your needs.
8. Royal Caribbean
From their impressive main dining rooms to the casual buffet dining at the Windjammer and snacks and pastries at the Cafe Promenade, Royal Caribbean has a wide array of options included in your fare.
If you may fancy something different for an additional cost, there are plenty of speciality restaurants, such as Chops Grille or Jamie Oliver's Jamie's Italian restaurant.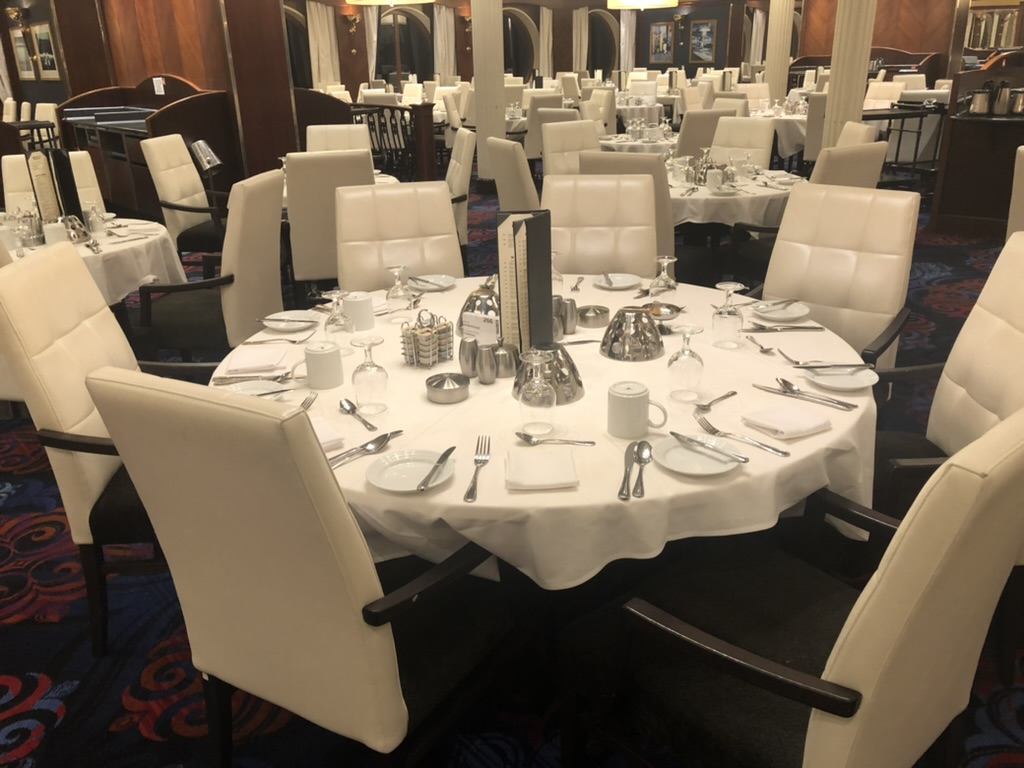 Royal Caribbean also explores contemporary and even unconventional dining options. For example, in the Alice-themed Wonderland restaurant, you can choose dishes based on five natural elements: the Earth, Sea, Fire, Ice and Sun. Or you could explore the modern Mexican restaurant Sabor and the Sugar Beach ice cream parlour for a sweet treat.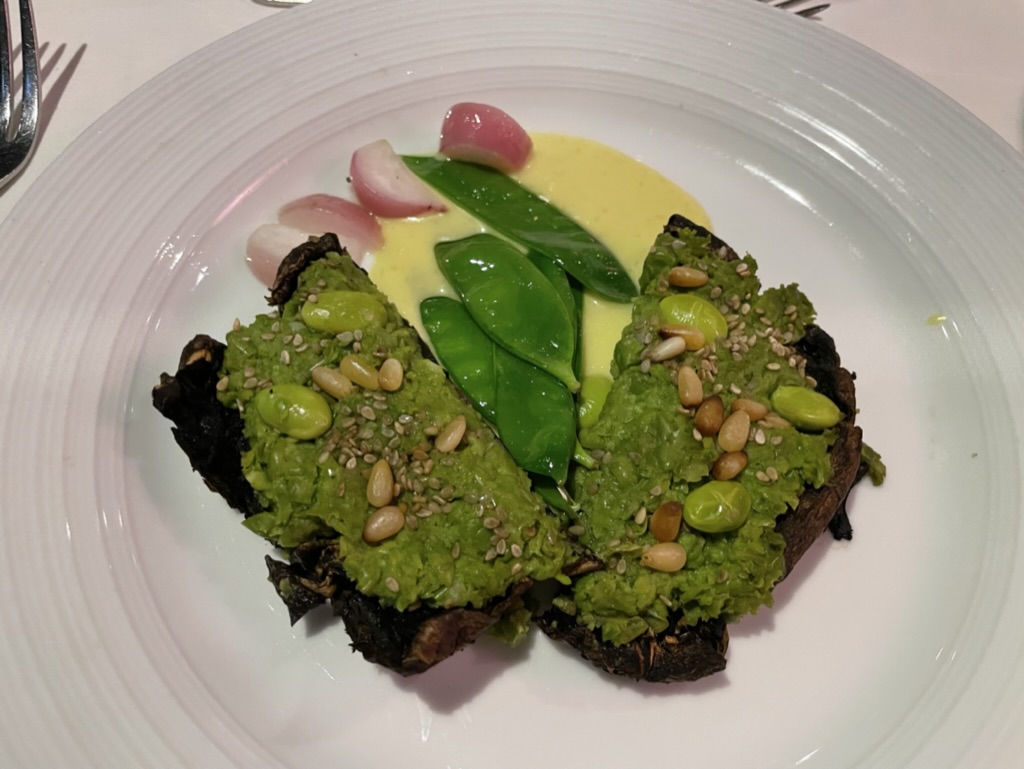 With the incredible variety of food at Royal Caribbean, they can accommodate dietary needs, including food allergies, gluten-free, kosher and low-fat diets.
The Bottom Line
Each cruise line's food on offer has something unique to offer. Nevertheless, the best depends on your preference, such as the ambience you're looking for, the dining style and your dietary needs.
Although each cruise ship does offer fine and casual dining, some cruise lines are better than others. If you're looking for fine dining Oceania Cruises, Seabourn, Celebrity Cruises, Princess Cruises, and Viking River Cruises may be your best choice.
If you're looking for more of a casual experience, NCL, Disney Cruise Line and Royal Caribean may be more suitable. Lastly, all of the cruise lines mentioned cater for special dietary needs, but when it comes down to the variety of food Oceania Cruises, Seabourn, and Celebrity Cruises offer the most choice.
Related Posts