The latest edition to Carnival Cruise Line's fleet has welcomed its first guests, plus a few VIPs!
The Carnival Venezia, has already begun its two-week transatlantic journey from Barcelona, Spain and is now on its way to New York City. Arriving at her new homeport at the Manhattan Cruise Terminal on 13th June, she promises to give passengers a truly authentic Italian experience!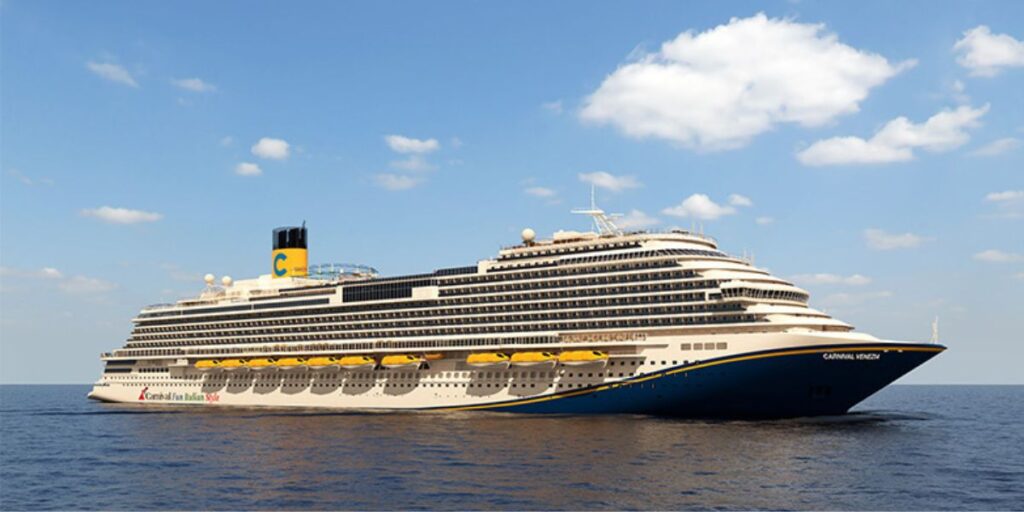 Maiden voyage with VIPs
The delightful Italian flair onboard the Venezia was unveiled by none other than Carnival President, Christine Duffy, and the cruise line's Chief Culinary Officer, Emeril Lagasse.
The dynamic duo graced the ship for the first leg of the voyage, marking the beginning of an exhilarating journey. Duffy, brimming with excitement, was thrilled to welcome guests aboard.
"Following an extensive enhancement, Carnival Venezia really looks and feels like part of the Carnival family – with Italian theming and unique flair that I know our guests will appreciate," said Duffy. "I'm looking forward to experiencing some of the 'Carnival Fun Italian Style' elements with our first guests and I can't wait to welcome the ship for her debut in New York."
Italian cuisine at its finest
The Venezia's voyage is not just about travelling from one place to another, it's about immersing oneself in a truly Italian experience.
From the exhilarating Italian street party on Lido to the Captain's Venetian Toast, every detail of the Carnival Venezia echoes the charm and elegance of Venice.
What's more exciting is Carnival Venezia's culinary journey. Guests are invited to embark on a gastronomic voyage at "Il Viaggio," a speciality restaurant featuring dishes from several Italian regions.
Yet, the Italian flavours do not overshadow familiar Carnival favourites like Guy Fieri's Guy's Burger Joint and the Fahrenheit 555 steakhouse.
Sophisticated style at sea
While the Venezia boasts impressive new features and concepts, she also upholds Carnival's legacy. The ship is tastefully designed with an architectural homage to Venice.
From the full-size gondola to the Venetian-style masks that guests can purchase for the "Venetian Mask Night" party, every detail adds to the distinct Italian ambience onboard.
The Carnival Venezia's future plans are equally promising. Once settled in New York, the ship will offer 22 unique itineraries featuring visits to 25 ports across 14 countries.
However, the ship's love affair with New York is not forever. In the winter of 2024, the Carnival Venezia will sail towards Florida, beginning a season deployment in Port Canaveral.
Related posts