This is a sponsored post by Marella Cruises.
As a sun-seeker craving an escape from the cold winter months, you're likely in pursuit of the perfect winter sun cruise.
With years of travel writing under my belt and an undeniable passion for cruising, I've partnered with Marella Cruises to bring you a list of the top winter sun cruise destinations.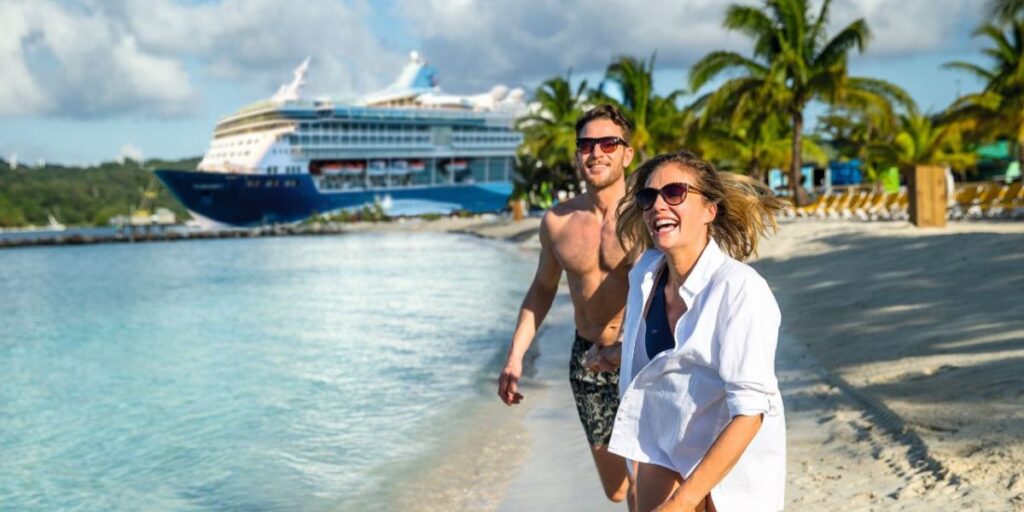 Whether you're a history buff, a beach enthusiast, or a foodie, we've got something for everyone. So, grab a cup of hot cocoa, put on your favourite beach tunes, and join us as we voyage virtually through an exciting selection of sun-drenched locales, from the vibrant Caribbean to the exotic Far East.
Trust me, as a dedicated sun-worshipper myself, there's no better feeling than swapping winter coats for swimsuits. Whether you're planning your first cruise or your fiftieth, Marella's winter sun offerings are about to heat up your holiday plans…
1. Canary Islands
When you ​​cruise to the Canary Islands with Marella Cruises, you'll experience the joy of winter sun without having to fly too far to start your cruise.
The Canarian Flavours itinerary starts in Santa Cruz de Tenerife, a vibrant city where you can explore picturesque parks, visit the avant-garde Auditorio de Tenerife, or indulge in authentic Spanish cuisine at local tapas bars.
Sail on to Las Palmas, Gran Canaria's bustling capital. With its mix of narrow, charming streets and broad sandy beaches, it's a place for both culture and relaxation. Visit the historic Vegueta district or sunbathe on the stunning Playa de Las Canteras.
In Puerto Del Rosario, Fuerteventura, you'll discover white sandy beaches perfect for sunbathing, and tranquil turquoise waters ideal for a refreshing dip. Visit the intriguing sculpture park and enjoy leisurely strolls along the seafront promenade.
You'll also get a chance to explore Arrecife, Lanzarote. The city's dynamic energy is contagious, and its beautiful coastline dotted with charming white-washed houses is a sight to behold. Venture to the Castillo de San Gabriel for a slice of history or unwind with a glass of local Malvasia wine at a beachside bistro.
2. Western Caribbean
In the exotic Western Caribbean, winter sunshine is paired with vibrant cultures and stunning landscapes.
If you choose one of the popular Flavours of the Caribean itineraries, your Marella cruise begins in Montego Bay, Jamaica, where you can revel in reggae rhythms, explore the iconic Rose Hall Great House, or lounge on the pristine Doctor's Cave Beach.
The adventure continues in Roatan, Honduras – a diving paradise boasting the second-largest barrier reef in the world. Experience the extraordinary marine life first-hand through a snorkelling or scuba diving excursion.
In Belize City, step back in time and explore the ancient Mayan city of Altun Ha or take a river tour to spot crocodiles, manatees, and a plethora of tropical bird species.
Next, dock in Costa Maya, Mexico, a gateway to the vibrant heart of the Mayan civilization. Here, you can explore the enchanting ruins of Chacchoben or indulge in authentic Mexican cuisine at a beachside restaurant.
Finally, unwind in Cozumel, Mexico. Explore the island on a Jeep safari, visit the Punta Sur Eco Beach Park for stunning wildlife and sea views, or simply relax and enjoy a bite to eat on the sun-soaked shores.
3. Eastern Caribbean
The Eastern Caribbean is another fantastic destination to escape the winter chill and embrace the warm, radiant sun onboard a Marella Cruises ship.
On a Paradise Islands cruise, your journey begins in Bridgetown, Barbados, where you can tour rum distilleries, swim with sea turtles, or relax on the world-renowned Carlisle Bay Beach.
Next, discover the historical richness of St John's, Antigua. Visit Nelson's Dockyard National Park, a UNESCO World Heritage site, or unwind on one of the island's 365 stunning beaches.
In Philipsburg, St Maarten, you'll experience a unique blend of Dutch and French cultures. Visit the bustling Front Street for shopping, or try your luck at one of the island's many casinos.
Sail on to Road Town in the British Virgin Islands, a haven for sailing enthusiasts. Discover the vibrant underwater world with a snorkelling adventure or simply relax on the powdery white sands of Cane Garden Bay.
In Basseterre, St Kitts, tour the impressive Brimstone Hill Fortress, then relax on the golden sands of Frigate Bay or one of the other beautiful beaches.
Finally, arrive in Pointe-à-Pitre, Guadeloupe, known for its vibrant markets and Creole culture. Explore the lush rainforest in the national park or soak up the sun on Plage de la Datcha.
4. Mediterranean
Did you know that it can be lovely and warm in certain spots of the Mediterranean in winter?
Marella's Idyllic Islands cruise begins in Palma de Mallorca, where you can explore the majestic Palma Cathedral, stroll along the marina, or sample local Majorcan cuisine in the city's diverse restaurants.
You'll cruise on to Cagliari, Sardinia's charming capital, rich in Roman ruins and baroque churches. Visit the old castle quarter or take a short trip to Poetto Beach for some winter sunbathing.
Next, experience the rich history and stunning architecture of Valletta, Malta. Explore the impressive St John's Co-Cathedral or take in panoramic views of the Grand Harbour.
In Messina, Sicily, you're at the gateway to Mount Etna, Europe's largest active volcano. Take a guided tour to the summit or sample delicious Sicilian wine from vineyards cultivated on the volcano's fertile slopes.
Arrive in Souda Bay and take a short journey to the historic city of Chania, Crete. Wander its charming old town, visit the Maritime Museum, or enjoy a traditional Greek meal in the harbour.
Finally, discover Limassol, Cyprus, with its bustling old town, modern marina, and ancient ruins. Visit the medieval Limassol Castle or sip on local wine at a seafront taverna. With Marella Cruises, the Mediterranean's winter sun will make for an unforgettable journey.
5. Aegean
Experience the diverse cultures and ancient wonders of the Aegean with this Marella Cruises' winter sun voyage that offers a blend of relaxation and adventure.
On an Aegean Escape cruise, you'll begin your journey in Limassol, Cyprus, where history and modernity blend seamlessly. Visit the medieval Limassol Castle, enjoy Cypriot wine at a local taverna, or take a relaxing stroll along the Marina.
Sail onto Alanya, Turkey, a gem on the country's southern coast. Explore the majestic Alanya Castle, enjoy panoramic views from the Red Tower, or relax on the golden sands of Cleopatra Beach.
In Haifa, Israel, you have the gateway to Nazareth and Galilee. Explore the ancient city of Nazareth, the childhood home of Jesus, or journey to the Sea of Galilee, rich in religious history and natural beauty.
Experience the thrill of a Suez Canal transit, a unique maritime journey through Egypt that connects the Mediterranean and Red Seas. From the comfort of your ship, enjoy views of the vast desert landscape dotted with occasional palm trees and small towns.
Your final port is Aqaba, Jordan, your gateway to Petra, an ancient city carved into red desert cliffs. Experience this UNESCO World Heritage site first-hand, a true highlight of any trip to the Middle East.
6. Arabian Sea

Winter is undoubtedly the best time to immerse yourself in the rich cultures and stunning landscapes of ports around the Arabian Sea while avoiding the scorching heat of summer.
Marella's Arabian Sunset cruise starts in Aqaba, Jordan, the gateway to the ancient city of Petra. Here you can marvel at the rose-red city carved into desert cliffs, a UNESCO World Heritage site that offers an unforgettable journey into the past.
The first stop is Port Sultan Qaboos in Oman, your access point to the fascinating city of Muscat. Visit the opulent Sultan Qaboos Grand Mosque, take in the aroma of the bustling Mutrah Souq, or enjoy a dolphin-watching cruise in the Gulf of Oman.
Sail on to the bustling metropolis of Mumbai, India. Explore the iconic Gateway of India, stroll along the vibrant Marine Drive, or experience the local flavours at a street food market.
Next, arrive in Mormugao, India. Visit the historical Se Cathedral, enjoy a relaxing day on Majorda Beach, or explore the aromatic Spice Plantations.
Finally, you'll discover the rich history and culture of Colombo, Sri Lanka. Visit the stunning Gangaramaya Temple, explore the bustling Pettah Market, or take a scenic drive through the city's Colonial-era heart.
7. Far East
With Marella Cruises, the Far East's winter sun is a journey of colour, culture, and culinary delights.
Your Eastern Adventure cruise begins in Colombo, Sri Lanka, where you can visit the stunning Gangaramaya Temple, explore Pettah Market, or take a scenic tour of the city's Colonial-era buildings.
Cruise to Sabang, Indonesia – a paradise for nature lovers. Visit the breathtaking Lake Aneuk Laot, dive into the vibrant underwater world at Iboih Beach, or explore the historic Japanese Fort.
Next, you'll dock in Penang, Malaysia. Visit the ornate Khoo Kongsi clan house, explore the colourful streets of George Town, or indulge in the island's famed street food.
Your adventure continues in Port Klang, the gateway to Kuala Lumpur, Malaysia's bustling capital. Visit the iconic Petronas Twin Towers, explore the vibrant markets of Chinatown, or marvel at the ornate Batu Caves.
In Singapore, experience the vibrant city-state's blend of cultures. Visit Gardens by the Bay, explore the diverse neighbourhoods from Chinatown to Little India, or enjoy the stunning views from Marina Bay Sands SkyPark.
Sail to Laem Chabang, your gateway to Bangkok, Thailand. Visit the grand Temple of the Emerald Buddha, explore the bustling markets, or take a river cruise along the Chao Phraya.
Then, it's on to Phu My, the gateway to Ho Chi Minh City, Vietnam. Explore the bustling Ben Thanh Market, visit the poignant War Remnants Museum, and be sure to try a bowl of traditional pho.
NEW DEALS JUST RELEASED!
Don't miss the latest Marella Cruises offers…
Cruise & Stay Options
To really make the most of your winter sun holiday, I'd recommend opting for a cruise and stay package. This will give you an extra week before or after your cruise. Instead of heading straight from the airport to your ship, you'll have lots of time to explore the homeport destinations listed above.
Marella's winter sun cruises all depart from wonderfully exotic ports, so with a hotel stay as part of your package, you can really make the most of the sunshine, sightseeing and siestas.
Which to choose?
Of course, these itineraries are just a sample of what's available this winter with Marella Cruises. There are over 150 winter sun cruises to choose from, on five different ships.
Whichever cruise you choose, you'll enjoy comfortable and spacious accommodation onboard, an all-inclusive package with meals, drinks, entertainment, gratuities and flights included and the exemplary service that Marella is known for.
Check out the latest Winter Cruise Deals with Marella Cruises today.
Related Posts: