Few traditions in the world of cruise split opinion as much as the Baked Alaska Parade. Some guests love it – others hate it. According to an article on the Mirror's website, it's embarrassing – but lovable.
And many cruise passengers who've only been cruising in the last 10-20 years might have never even heard of it!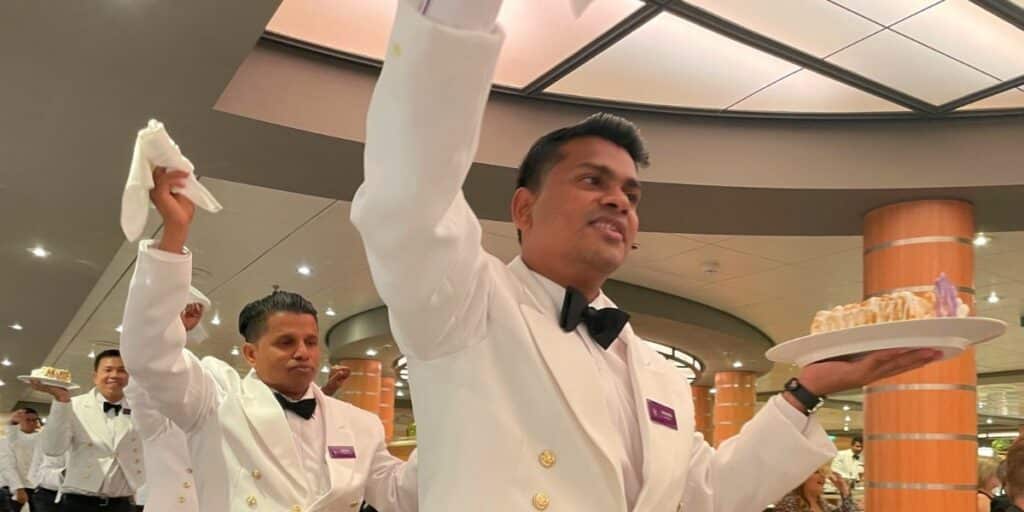 I've taken over 20 cruises and only just experienced my first Baked Alaska Parade. My first glimpse of this spectacle was on Ambassador Cruise Line's ship Ambition, when guests started waving their napkins and a stream of chefs appeared carrying the icy desserts above their heads!
Here's what that looked like…
So, what exactly is the Baked Alaska Parade? Which cruise ships have it? And what's the history behind it? Let's take a look…
What is a Baked Alaska Parade?
A Baked Alaska Parade is when, during dinner, crew members will parade through the main dining room of a cruise ship carrying baked Alaska desserts, while the passengers dining in the room twirl their napkins in the air.
Baked Alaska is a classic dessert that consists of three main components: cake, ice cream, and meringue. The dessert starts with a layer of sponge cake. On top of the cake, a layer of ice cream is added, typically flavors like vanilla, chocolate, or strawberry. The ice cream is then covered with a dome-shaped meringue made from beaten egg whites and sugar.
The unique aspect of Baked Alaska is that the entire dessert is briefly baked in a hot oven, just enough to brown the meringue while keeping the ice cream inside frozen. The meringue acts as an insulating layer, protecting the ice cream from melting during the baking or torching process.
When the tradition first started and for many years, the baked Alaska desserts would be set alight, and the wait staff would be weaving around the room holding flaming meringue dishes.
Now, the tradition only exists on a handful of ships. And where 'fire' is used, it's in the form of either battery-powered tea lights or sparklers instead of real flames, for safety reasons.
The History of Baked Alaska on Cruise Ships
It's hard to find the history behind the Baked Alaska Parade on cruise ships, because while it's been a long-running tradition, it's not something that has a clearly defined starting point.
The earliest mention of what might be a Baked Alaska parade that I can find comes from the book The Only Way To Cross, written by John Maxtone-Graham in the early 1970s.
The book documents the history of ocean liners, and makes a mention of waiters on a 1905 cruise on the Amerika carrying combinations of fire and ice on a parade through the dining rooms.
But it's more in the 1950s and beyond that the Baked Alaska Parade became a more regular event on cruise ships, and specifically became about the Baked Alaska dessert.
It's hard to pinpoint exactly where the tradition really became regular, and of course, many of the cruise guests in the 50s and 60s are no longer with us to share their stories.
But it persisted through the 1970s and 1980s and there is a lot of mention of it from past guests on cruise forums.


A lot of cruise lines started to fade this tradition out in the late 90s and into the 2000s. The cruise industry, in general, began to modernise – traditional dining was being replaced by more flexible options, and many cruise lines were making a real effort to attract a younger audience who were not familiar with the tradition.
Not only that, improved health and safety standards meant that having waiters dancing around a packed dining room with flaming desserts may not have been the wisest decision. Although I can't find any stories of the parade ever going wrong!
Why do cruise ships have baked Alaska parades?
Baked Alaska dessert gained popularity as an extravagant and visually impressive dessert. Its association with luxury and celebration made it a natural fit for cruise ships, which strive to provide memorable experiences for their passengers.
The parade serves as a way for cruise ships to showcase their culinary expertise and entertain guests simultaneously. It offers a chance for passengers to appreciate the culinary artistry involved in creating such an elaborate dessert and provides a memorable shared experience during the voyage.
Baked Alaska is one of the most difficult desserts to make. And parading it around a room, held over your head, while it's set alight, just adds to the complexity – and therefore the impressiveness.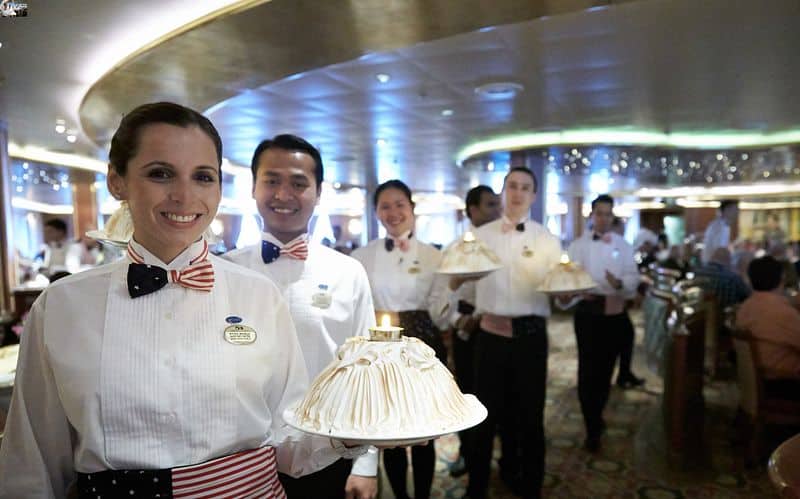 Which cruise lines have Baked Alaska Parades?
These days, only a select few cruise lines still offer a Baked Alaska Parade. You're more likely to find it on Princess Cruises and Ambassador Cruise Line, although some sister cruise lines of Princess (Carnival, Holland America Line and Seabourn) do occasionally have the parade.
The tradition of the Baked Alaska Parade may have gone very quiet at the turn of the millennium, but it did not completely disappear. Carnival did get rid of it, only to bring it back in 2017.
Modern Baked Alaska Parades don't have flaming desserts though. They will usually have electric lights atop the desserts – much safer, if less spectacular.
This video shows the baked Alaska parade on a Princess Cruises ship…
Another option for cruise lines is to use sparklers – these at least offer a bit of razzle-dazzle even if they are much safer than a completely flaming dessert.
The video below is from the now-defunct Cruise & Maritime Voyages…
Or in some cases, no lights are used at all – and it's just the baked Alaska desserts being carried through the room!
The parade is used to give guests the chance to thank the crew responsible for running their dining experiences – including the chefs and galley staff, and the wait staff. Depending on the cruise line it will either happen on a formal night, or on the last night of the cruise.
One tradition which has stuck for many cruise lines is the use of the song 'Feeling Hot Hot Hot' by The Merrymen for the parade. The song became something of a Baked Alaska Parade anthem, creating the party atmosphere and being a fun wink at the fiery desserts being carried around the room.
It's not something you'll find on every cruise with these cruise lines. Ambassador Cruise Line is the only one which mentions it in their official itinerary plans, so if you like the idea of a Baked Alaska Parade (or you used to enjoy them, and want to relive them) then consider booking on an Ambassador ship.
NEW DEALS JUST RELEASED!
Don't miss the latest Ambassador Cruise Line offers…
Baked Alaska Parades aren't as popular as they once were though…
Other Culinary Cruise Traditions
The Baked Alaska Parade is not the only culinary cruise tradition. Here are some others that are worthy of note…
Food sculptures
It used to be common for chefs to create impressive sculptures from food – often fruits and vegetables – to be displayed in the buffet. They'd actually be a great photo opportunity for guests. Sculptures aren't as common anymore, particularly due to guests being more aware of food waste. But fruit carving is still popular and you may still see ice sculptures in some rare cases.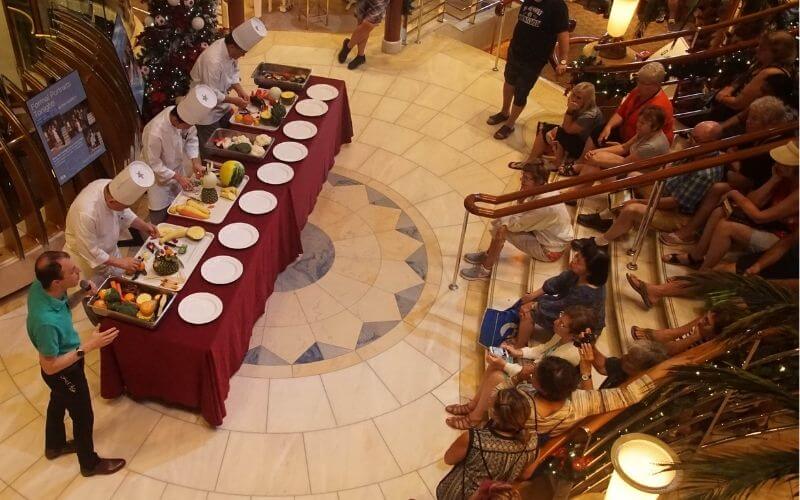 Midnight buffet
A midnight buffet used to be seen as a real treat on a cruise – the chance to have a fun extra meal in the middle of the night and really indulge.
Many cruise ships still keep the tradition alive in some form, though rarely a full buffet – most people aren't looking to eat too much after dinner, so there'd be a lot of wastage.
Modern cruises tend to focus on late-night pizzerias, or room service options instead. If the buffet is open, it may just have cheese and biscuits, soup, fruit and maybe a curry and some rice.
Cocktail fountains
Cruise lines would often have a cocktail fountain – a literal fountain of a cocktail that you could help yourself to using your glass. Think of it as being like a chocolate fountain, but booze.
These aren't very common anymore either, particularly with increased awareness of hygiene on a cruise. I saw a cocktail tower on my recent cruise on board Fred Olsen's Borealis, but it was just for display purposes.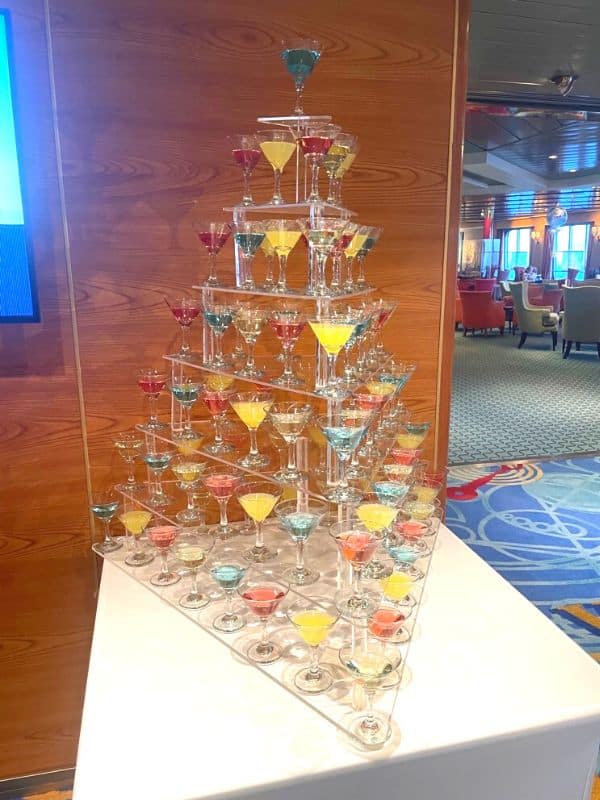 Cocktail of the day
A minor tradition but still one that you'll often find on cruise ships today is a cocktail of the day – a special drink that guests can usually enjoy at a discount. It helps encourage guests to try a different drink each day.
Chef's Table
Some cruise lines have a small dining venue named the Chef's Table, where limited dining parties can enjoy a fine dining meal created by the executive chef on the ship. This will usually be closer to a fine dining restaurant experience ashore, including taster courses and often wines selected by a ship's own sommelier.
Wine tasting
Wine tasting experiences are classy affairs where guests can enjoy sampling a selection of different wines. These events will often be themed around the destinations that the ship is sailing too, helping create a more immersive experience.
Cookery classes
Some cruise lines offer guests the chance to learn some new cooking skills of their own during their cruise. Limited sessions in specially designed kitchens give guests the opportunity to see how some of their favourite cruise meals are made.
Captain's cocktail party
A long-standing tradition for cruise ships has been for the Captain to host events onboard for select guests, where drinks and hors d'oeuvres would be served. These days it's less common for a Captain to host an event but often there will be an officer party – though it isn't usually as exclusive as they once were.
On Princess Cruises, for example, suite guests can attend a special cocktail party with the officers.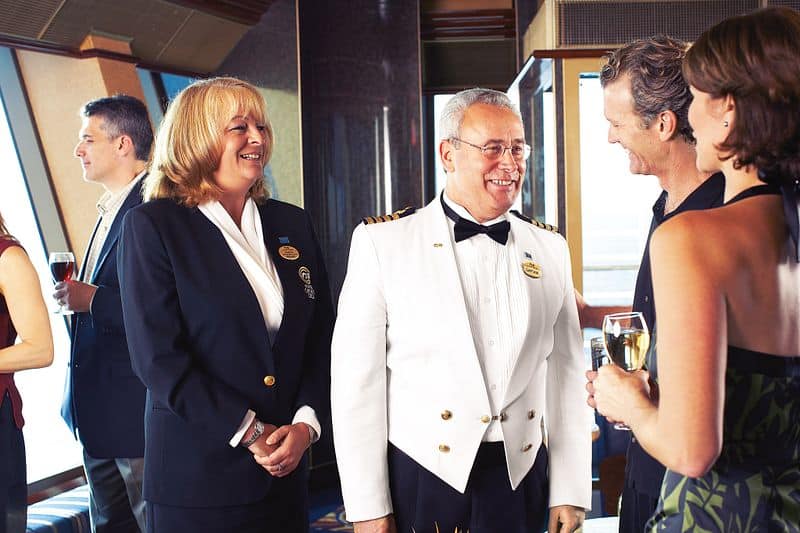 Captain's Dinner
It used to be the case that a lucky few cruisers would be invited to eat dinner at the Captain's table. This rarely happens now, but some cruise lines still do it on formal nights from time to time, depending on who the captain is.
Final word
Honestly, I was quite surprised to learn about Baked Alaska Parades and the history behind them. They used to be so widespread and they're a lot less common now.
Are they fun, or are they a cheesy interruption to your nice dinner? I'm not sure how I'd feel having one on every cruise – but with more cruises aimed at families, I think kids would love having more opportunities to enjoy their wait staff having fun – as long as they were actually enjoying parading around the room!
Related Posts: