There's been a lot of reporting about the fan villages in Qatar, but nowhere near as much coverage of the potential for football fans to book a stay on a cruise ship and enjoy all the amenities as part of their Qatar trip.
This is weird because the Qatar cruise ship hotels are actually the cheaper option. Plus, there's the chance to experience a brand new cruise ship which is also one of the biggest in the world!
If you're planning on making a last-minute trip to the world cup in Qatar and you're still in need of a place to stay, one option that's worth considering is one of the cruise ship hotels that has been chartered for the duration of the tournament.
So let's take a look at the cruise ship hotels in Qatar, where they are based and how much they cost.
What are the Qatar World Cup cruise ships?
Qatar has chartered three MSC cruise ships for the duration of the World Cup – MSC World Europa, MSC Poesia and MSC Opera. These ships are all docked at the port in Doha and offer a total of around 5,000 cabins that guests can book for their trip to Qatar.
Originally Qatar only chartered the MSC World Europa and MSC Poesia, but with high demand for hotel rooms continuing (including many football fans choosing to book rooms across the border in the United Arab Emirates), a third ship was drafted in to add an additional 1,000 rooms.
The ships are scheduled to remain in Qatar for the duration of the tournament, before returning to their regular itineraries. MSC World Europa will have her maiden cruise on 20th December after starting life as a cruise ship hotel – this will be a 9-day round-trip sailing from Doha.
The new, big ship
MSC World Europa is the largest ship in the MSC Cruises fleet, and also the newest – only being delivered to the cruise line on 24th October 2022, a month before the World Cup. She has a maximum capacity of 6,762 guests and is almost 1,100 feet long.
The older, smaller ships
MSC Poesia and MSC Opera are older and smaller, but still offer comfortable accommodation, good quality food and many spaces to unwind. MSC Poesia can host 3,605 passengers at maximum capacity, while MSC Opera can accommodate 2,679.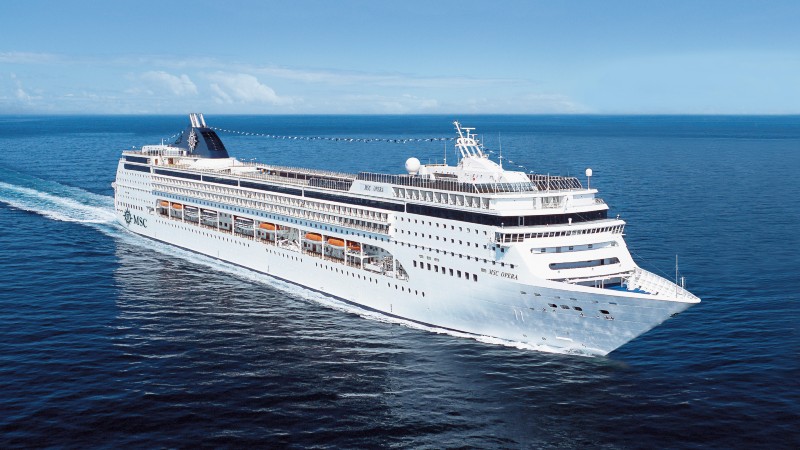 Qatar World Cup Cruise Ship Hotel Stats
| | MSC World Europa | MSC Poesia | MSC Opera |
| --- | --- | --- | --- |
| Year launched | 2022 | 2008 | 2004 |
| Number of rooms | 2,633 | 1,265 | 1,071 |
| Capacity (double occupancy) | 5,200 | 2,550 | 2,150 |
| Maximum capacity | 6,762 | 3,605 | 2,679 |
| Crew | 2,138 | 1,027 | 728 |
| Size (Gross Tonnes) | 215,863 | 92,627 | 65,591 |
| Number of passenger decks | 16 | 13 | 9 |
| Length | 333.3m / 1,094 ft | 293.8m / 964 ft | 251.25m / 824.4ft |
| Width | 47m / 154 ft | 32.2m / 106 ft | 32m / 105ft |
| Number of restaurants | 13 | 6 | 4 |
| Number of bars | 21 | 16 | 10 |
| Number of pools | 7 + 13 hot tubs | 3 + 8 hot tubs | 2 + 2 hot tubs |
How To Book
The original ships, MSC World Europa and MSC Poesia, are available to book via the official Qatar 2022 website.
The MSC Opera, being a later addition to the accommodation offerings for the tournament, is only available to book via a special page on the MSC Cruises website.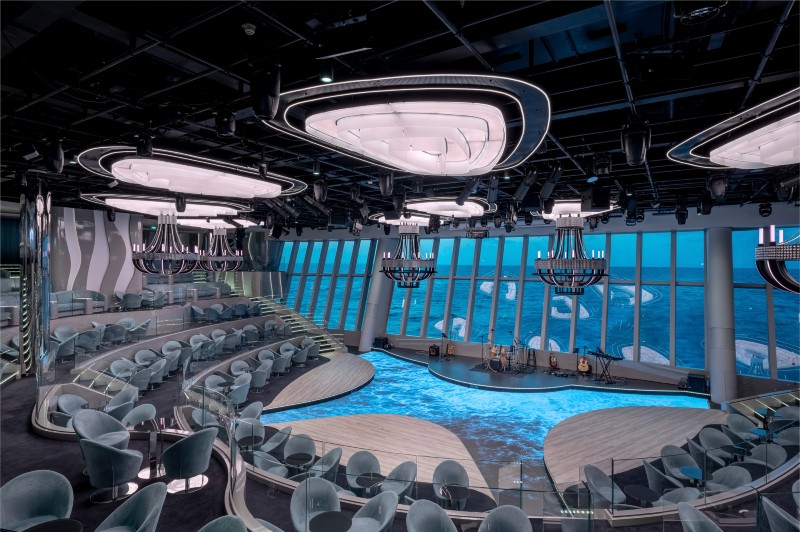 The entirety of each cruise ship is available to guests who wish to book, including inside staterooms, oceanview staterooms, balcony staterooms and suites. But many of the best rooms have already been reserved.
That includes the MSC Yacht Club suites on MSC World Europa, where the wives and girlfriends – or WAGs – of the England football team are reported to be staying for the duration of the tournament.
Don't get excited and assume that this means you might spot a footballer if you book the ship – the players will be kept to their training camps, and won't be making any social calls to their partners at the ship.
But if you're interested in WAG culture, you might spot a relatively famous face if you stay on the ship – though the MSC Yacht Club is known as a ship-within-a-ship so expect the WAGs to keep themselves to themselves while on board, and enjoy a bit of privacy.
What is the MSC Yacht Club?
MSC Yacht Club – where the England WAGs will reportedly stay on MSC World Europa – is a 'ship-within-a-ship' luxury area that resembles a fine country club. Available on 13 of the ships in the MSC fleet, it's a private space that includes incredible accommodation and service.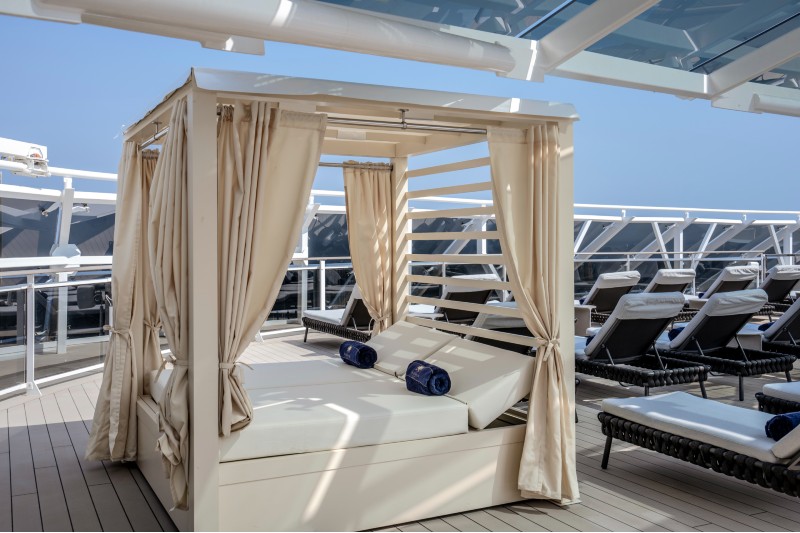 All guests staying in the Yacht Club will have access to a butler 24/7 as well as a dedicated concierge. On a regular cruise, this concierge can arrange things like shore excursions, but for the cruise ship hotel during Qatar 2022 they will just make sure guests' general needs are addressed quickly and efficiently.
Suites are improved too, with fine Egyptian cotton bedding and upgraded mattresses and pillows, while there is an exclusive pool and sun deck for sunbathing.
What's included in your stay on an MSC cruise ship for the Qatar world cup?
There are two packages available when booking cruise ship accommodation for the Qatar World Cup 2022. You can book bed and breakfast, which includes a buffet American or Asian breakfast, or full-board including lunch, dinner, snacks and drinks with meals.
The default rate offered by the ships is for bed and breakfast accommodation but when you go through the stages of booking, you can upgrade this to the full board option.
The full board package includes:
Lunch served either in a sit-down restaurant or the buffet restaurant
Afternoon snacks including pizza, burgers, fries, salads, and desserts
Dinner served in a sit-down restaurant or the buffet
The "Dine and Drink" package
The Dine and Drink package is a drinks package which includes various wines (including sparkling) and draught beer, along with mineral water, fountain soda drinks and fruit juices all by the glass.
It doesn't include cocktails, spirits, select wines and beers or bottled sodas or waters, nor does it include speciality teas and coffees. You can also only get these drinks free during lunch and dinner hours while you are dining. If you want a drink outside of these hours or at another venue on the ship, you have to pay for it.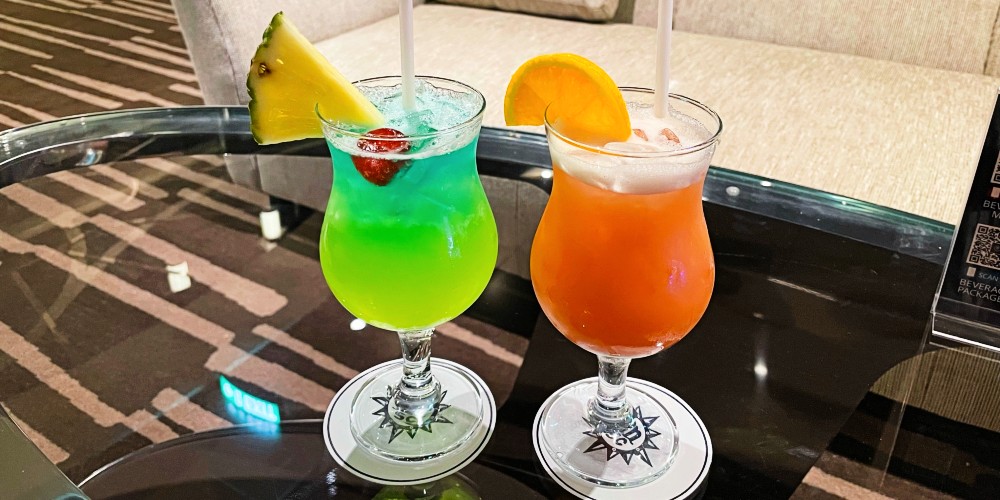 So it is all very different from a typical cruise holiday, where you have all your food included in a selection of venues, and some extra costs are incurred. When you book, you aren't booking a 'day pass' for a typical cruise ship experience, but instead, it's very much like a hotel.
You do at least get to enjoy the rest of the cruise ship's amenities as you would if you were a cruise passenger. This includes free use of the swimming pools and hot tubs on the ship, live entertainment in the evening, and the option to pay for extra features such as spa treatments.
Where are the cruise ship hotels in Qatar based?
The MSC cruise ship hotels for Qatar 2022 are all based at the cruise port in Doha, in quite a central location. With four of the eight stadia being used in the tournament being based in the city, it's a convenient location for attending most matches.
As a guide, here is the distance and driving time between the cruise port and each of the stadia being used in the tournament:
| Stadium | Location | Miles From Cruise Ships | Driving Time |
| --- | --- | --- | --- |
| Stadium 974 | Doha | 2.1 | 5 mins |
| Khalifa International Stadium | Doha | 8.6 | 25 mins |
| Education City Stadium | Doha | 9.7 | 25 mins |
| Al Thumama Stadium | Doha | 11.8 | 15 mins |
| Lusail Stadium | Lusail | 13.8 | 32 mins |
| Al Janoub Stadium | Al Wakrah | 15 | 19 mins |
| Ahmad Bin Ali Stadium | Al Rayyan | 16.1 | 34 mins |
| Al Bayt Stadium | Al Khor | 36.6 | 52 mins |
How much is the cruise ship accommodation for the Qatar World Cup?
The price for staying on a cruise ship in Qatar during the World Cup varies depending on which ship you choose, how long you stay and your stateroom choice. The cheapest rates are around £100 ($118) per person, per night for an Interior Stateroom on MSC Opera if you stay for a week.
Staying in a higher class of stateroom will cost more, and it's more expensive if you choose a shorter stay or you want to book on MSC World Europa, since it's a nicer and newer ship.
As a guide, an Inside Stateroom for a week on MSC World Europa will cost around £160 ($190) per person, per night.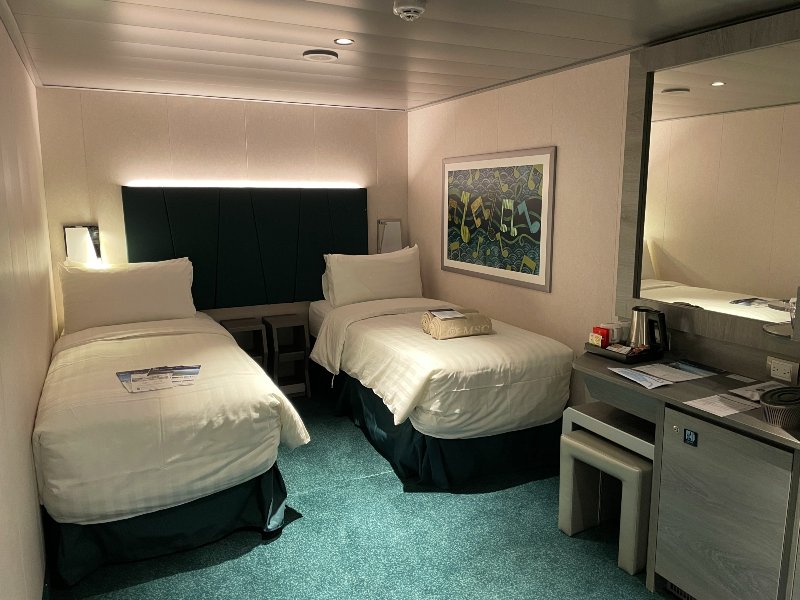 And if you want a Balcony Stateroom, expect to pay closer to £280 ($330) per person, per night.
These are all the rates for bed and buffet breakfast only though – add on around 40% more if you want the full board rate. So that would take an Inside to around £225 ($266) per person, per night, and a Balcony to around £390 ($460) per person, per night.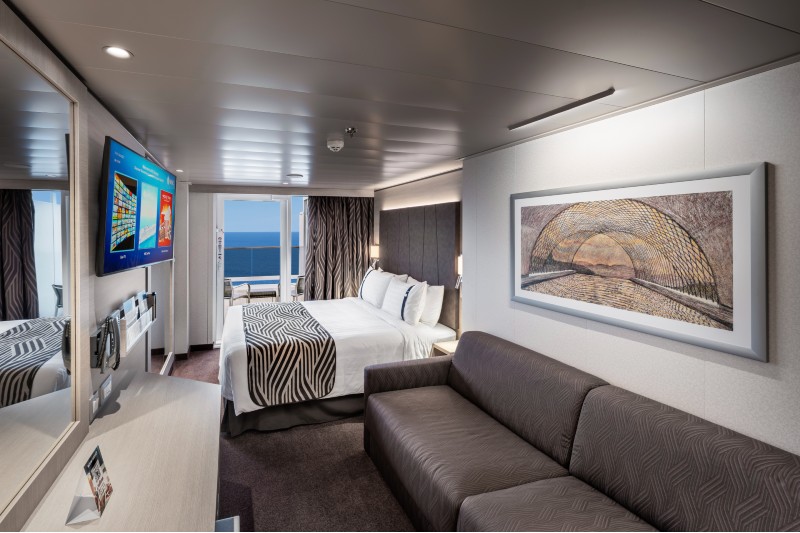 How does that compare to a typical cruise on MSC?
On MSC World Europa, a 9-day cruise starts at £999 per person for an Inside Stateroom, or £1,269 including drinks (but this isn't just at meal times – this is a full Premium Extra drinks package). Divide that by the 9 days and you would pay around £141 ($167) per person, per night including drinks – around 40% cheaper than a World Cup cruise ship hotel stay in Qatar.
A Balcony Stateroom on the same cruise is just £1,549 per person including drinks – which is £172 ($205) per person, per night. That's around 55% cheaper than the World Cup cruise ship hotel stay equivalent.
So, cruising with MSC is much cheaper than staying on the ships during the World Cup – which you can expect, considering an event like this would incur a premium. However, you do get more for your money on a cruise too, including drinks at all times and venues, not just while dining.
How does it compare to the official fan village accommodation?
Staying in Qatar's 'fan village' costs around £147 ($175) per person, per night for a 7-night stay on a half-board basis. This makes the cruise ship actually a cheaper option, and you get more food and drinks included too.
It's also worth pointing out that the cruise ship's rooms have air conditioning, while the fan villages often just have a fan – this is a pretty important consideration in the heat of Qatar!
This video by BBC Sport show what you can expect from the accommodation at the Qetaifan Island Fan Village just north of Doha…
If you are planning a last-minute trip to the Qatar 2022 World Cup, then a cruise ship hotel absolutely makes sense if you want good accommodation where you can enjoy swimming pools, and you can enjoy a drink.
One important consideration may be that a can of beer at FIFA's Fan Festival costs 50 Qatari Riyals ($12 or $14), whereas MSC Cruises drinks prices are usually pretty reasonable.
Qatar Cruise Ship Hotel FAQs
Are accessible cruise ship hotel rooms available in Qatar?
The MSC cruise ships providing hotel accommodation for the Qatar World Cup 2022 do have accessible rooms available. These rooms are limited so guests are advised to book ASAP. The rooms have wet rooms instead of a traditional bathroom, and wider doorways.

Is the food Halal on a cruise ship hotel in Qatar?
All of the food served on MSC World Europa, MSC Poesia and MSC Opera during their charter as hotels for Qatar 2022 is halal.
Is there a minimum night stay for Qatar cruise ship hotels?
There is a minimum two-night stay if you wish to book a cabin on the cruise ship hotels for Qatar 2022. You can book longer, and if you wish to extend your stay after you have booked then you can, provided there is availability.
Are children welcome on a Qatar cruise ship hotel?
Children are welcome on the cruise ship accommodations for Qatar 2022 but there is no discount provided for child guests. Guests two years old or younger are welcome free, although an additional charge for a travel cot may apply. Guests 3+ pay the same fares as adults.
Can guests book a single room on a Qatar cruise ship hotel?
Guests can book a room as a single guest on the Qatar 2022 cruise ship hotels, but there are no dedicated single rooms – guests will instead book a twin room for their own use. They will be required to pay a 100% single supplement, therefore paying the same as two guests using the same room.
Related Posts: