There are a lot of differences between ferries and cruise ships – but you might not be aware of them all.
If you're not someone who has cruised before, or you've never looked into ferry services, you might assume they're similar. But they really aren't, despite a few things they have in common.
In this guide, I'll explain the major differences between ferries and cruise ships so that you'll always know how to tell them apart.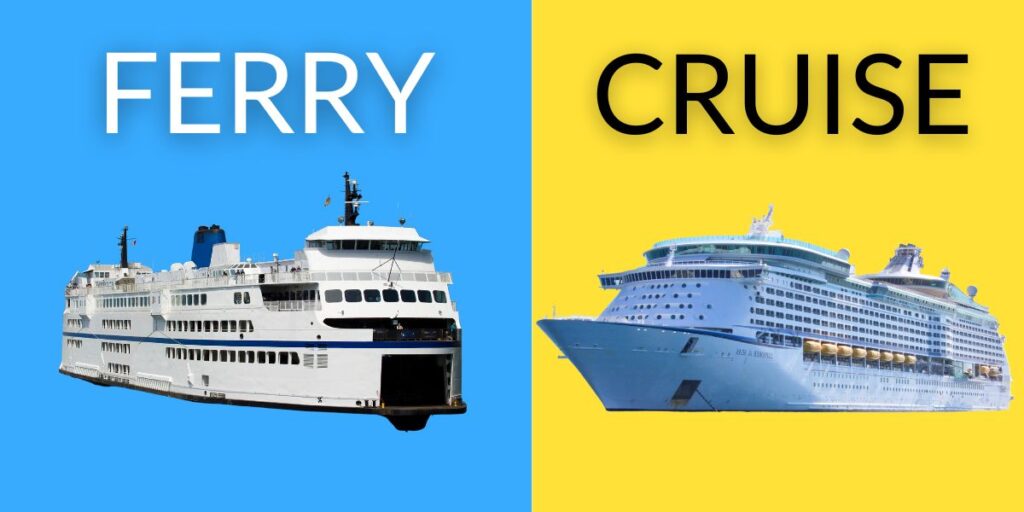 Is a ferry considered a cruise ship?
Ferries are not considered cruise ships. They're different types of ships with different purposes – a ferry is a transport ship to take you from one location to another, while a cruise ship travels around multiple ports and often returns back to the starting port.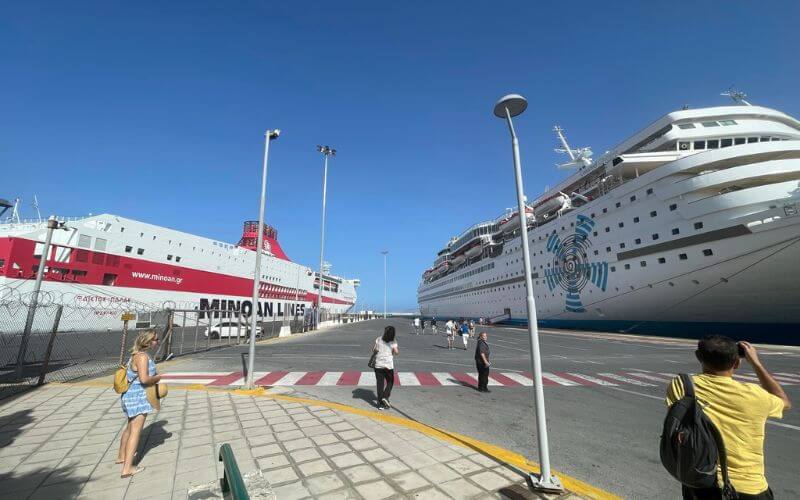 The clue is in the name – "ferries" will ferry you from point A to point B, while "cruise ships" will cruise around the oceans and ports at a more leisurely pace.
There can be confusion since some cruise ships will travel from one port to another, instead of being a round-trip. But as a guide, you'd book a ferry to get to your destination, whereas on a cruise, the ship is the vacation just as much as the ports are.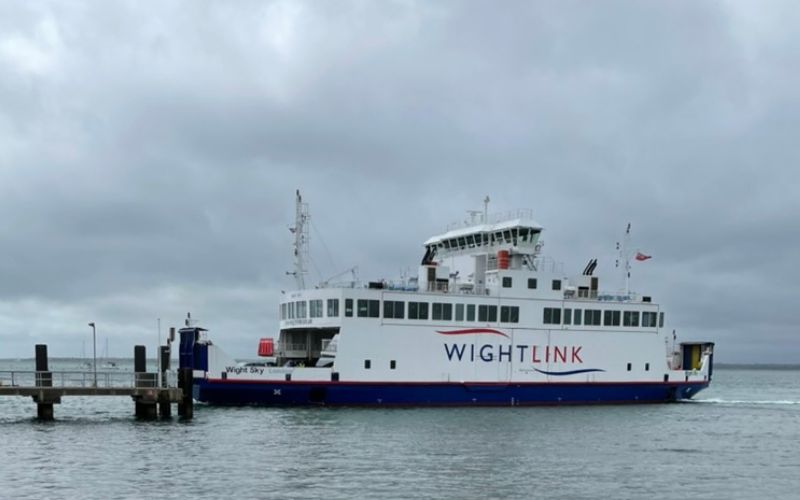 Obviously, I have a passion for cruises and I've often spoken to people who've told me they've been on a cruise, only to then say "it was only one night to France". Now that might have been on a cruise ship, but probably not – it was probably a ferry. You didn't go on a cruise, you went to France. You just happened to travel by ship.
P&O Cruises Vs P&O Ferries
Of course, if you're in the UK, it doesn't help to have the companies P&O Cruises and P&O Ferries. These are two completely distinct companies, although it doesn't sound like it by the names.
In 2022, there were some major problems for the ferry company. The company stopped operating, made everyone redundant and tried to bring in cheaper workers from abroad.
The backlash hit P&O Cruises, despite them being completely separate companies, not even owned by the same umbrella company. It means that P&O Cruises had to spend a lot of money advertising the fact that they weren't involved in the scandal.
12 Differences Between Cruise Ships And Ferries
Here are some of the biggest differences between cruise ships and ferries:
1. Purpose of the ships
As I've mentioned, the purpose of the ships is one of the biggest differences between them. A cruise is meant to be part of the experience of your booking, while a ferry is just transport – albeit sometimes quite comfortable transport.
Think about your goal. With a ferry, your goal is to reach somewhere over the water – the ferry takes you there. With a cruise ship, your goal is just to have a good time – and the ship itself provides much of that experience.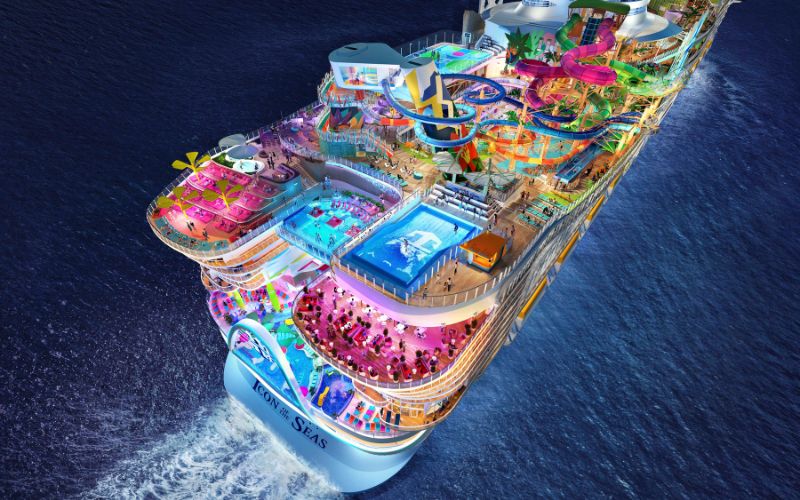 2. Size of the ships
There are large ferries, and there are small cruise ships, but as a rule of thumb, cruise ships will always be bigger than ferries. Cruise ships carry a lot more passengers and have a lot more things to do onboard, while ferries are designed for shorter journeys and fewer passengers at the same time.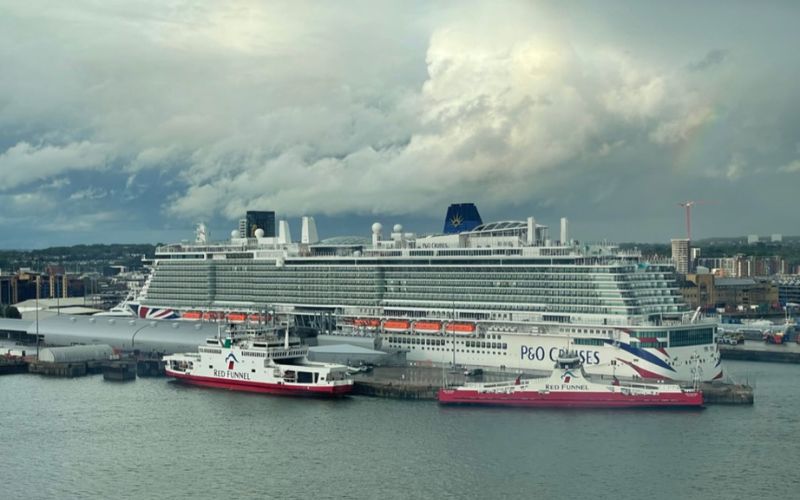 As a quick guide, here's a look at the MV John F. Kennedy (the Staten Island ferry ship, the MS Spirit of Britain (one of the world's biggest ferries, and Icon of the Seas (the world's biggest cruise ship)…
| Measurement | MV John F Kennedy | MS Spirit of Britain (Ferry) | Icon of the Seas (Cruise ship) |
| --- | --- | --- | --- |
| Length | 277 feet | 698.8 feet | 1,198 feet |
| Gross Tonnage (internal volume) | 2,109 GT | 47,592 GT | 250,800 GT |
| Passenger capacity | 3,500 | 2,000 | 7,600 |
3. Motion of the ships
Because the two types of ships have different purposes, you wouldn't tend to be in a situation where you choose between them. But if you did – and you suffered from seasickness – then you'd want to book a cruise instead of a ferry.
Ferries are much smaller, and they're also built to more of a budget. So not only will you feel more of the ocean wave movement due to the size of the ship, but they don't have the same advanced stabilization tech that modern cruise ships have.
So, if you're on a ferry, you'll feel the boat movement a lot more than you would on a massive cruise ship.
Suggested read: Do Big Ships Rock Less?
4. What the ship can carry
Cruise ships are designed purely to carry passengers – often many thousands of them at a time. There are some instances where a cruise ship can also sail with pets, but these are very limited.
Ferries, on the other hand, can carry passengers and often pets, sometimes in the same room as the owner. And they can also carry vehicles too. Many ferries let you drive onto the ship, so that you can drive off at the other side and continue your journey.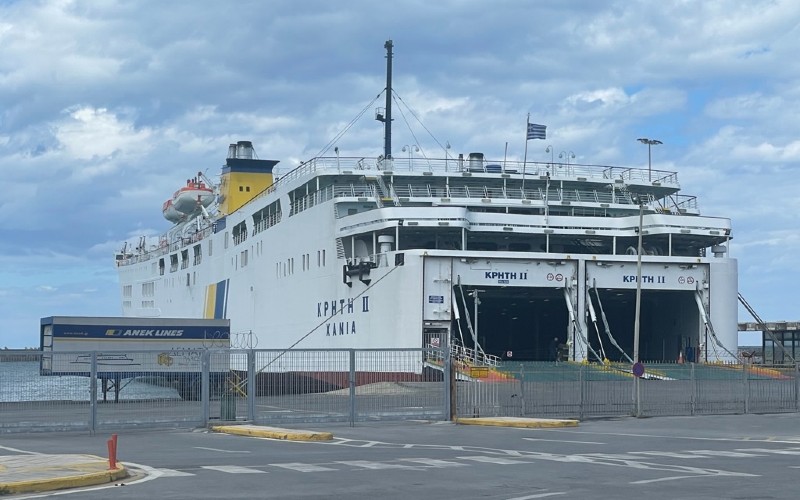 5. Cost of the fare
Understandably, a ferry and a cruise do not cost the same amount. With a ferry you're paying for a lot less – cruises include a wealth of food options, larger accommodations, and much more entertainment.
A one-night ferry journey from Dublin, Ireland to Cherbourg, France will cost around £70. And while it is possible to get cruises that cost this much, you'll typically be paying for much longer trips and your fare could end up in the thousands, depending on your cabin choice.
Suggested read: How Much Does a Cruise Cost?
6. Distances travelled
A ferry is usually designed for short-distance travel. At most, they will typically sail for two days, although distances can be miniscule and take just an hour or two to complete – such as the Britain to France ferry route.
Cruise ships are designed for much longer sailings, often with multiple sea days in a row. And they will travel extremely long distances as part of a single sailing – indeed world cruises will circumnavigate the entire world.
Suggested read: How Much Does A World Cruise Cost?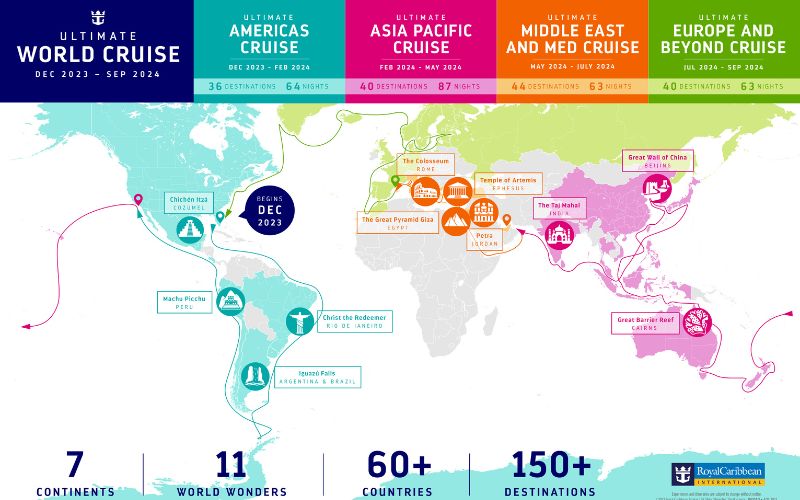 7. Schedules
Ferries tend to have very static schedules. They will sail at the same times of the day, and on the same days of the week, most weeks. And the following year, the ferry will likely run a very similar schedule. There's no need to change it when the ship is just sailing back and forth between destinations.
Cruise ships have much more complicated schedules. They will often have various itineraries, and rotate between them during a season. They may spend the summer in Europe before crossing the Atlantic Ocean for a Caribbean season in winter. They may completely change where they are based the following year.
There's a lot more predictability to ferries, for good and bad.
8. Accommodation options
A lot of the ferries that you could sail on are primarily aimed at short-distance journeys, but there are some which have accommodation onboard for guests, for overnight sailings. But the choices are a lot more limited.
P&O Ferries does have a selection of cabin options, from Standard through to a Club Suite Cabin. But this is not the same kind of suite as you would get on a cruise ship. And the rooms are still pretty basic. A Club Suite Cabin's benefits, compared to a Standard Cabin on the same ship, include a TV, hot drink facilities and a separate living area.
Here's what the accommodation looks like on a P&O Ferry…
On a cruise ship these are often standard – perhaps not the living area, but that would certainly be available in some Balcony cabins and above. A cruise ship suite offers many more perks that you would never find on a ferry, such as butler service, whirlpool baths, multiple bathrooms and some even with a second floor.
Ferry cabins will also never have a balcony – the best you will get is a window. That's another key difference between the ship designs of a ferry and a cruise ship.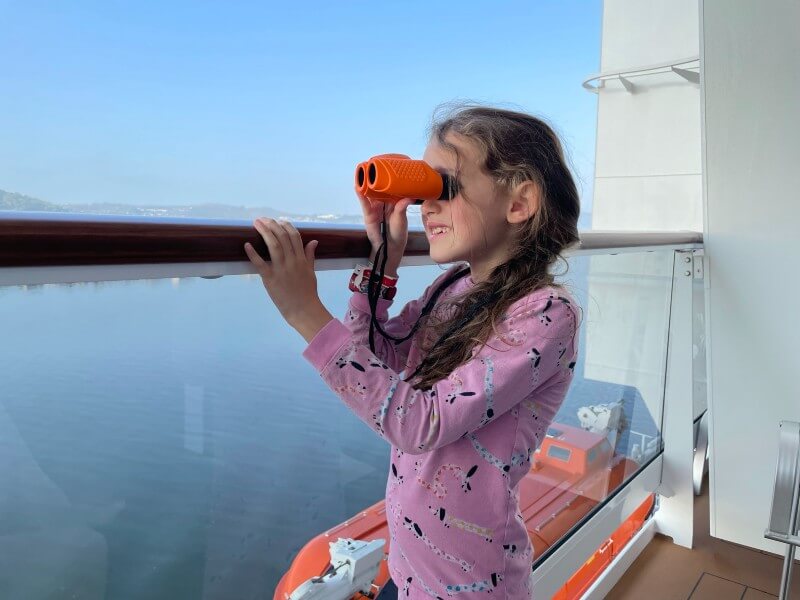 9. Dining venues
Most ferries don't have places to eat onboard, although they may have a small cafe serving snacks and drinks.
Those suited to overnight trips have to offer something – you can't go hungry on a longer sailing! However, your options will be limited to one or, at most, two restaurants on the ship along with maybe a coffee shop for a snack and a hot beverage.
The biggest cruise ships instead offer 20+ places to eat, ranging from formal restaurants, buffets, speciality-themed venues and casual snack stops. There are also extensive room service menus that allow guests to enjoy a luxurious breakfast in bed.
On a cruise, a lot of your food options are included in the fare you pay, but on a ferry, you should expect to pay for any meals you eat.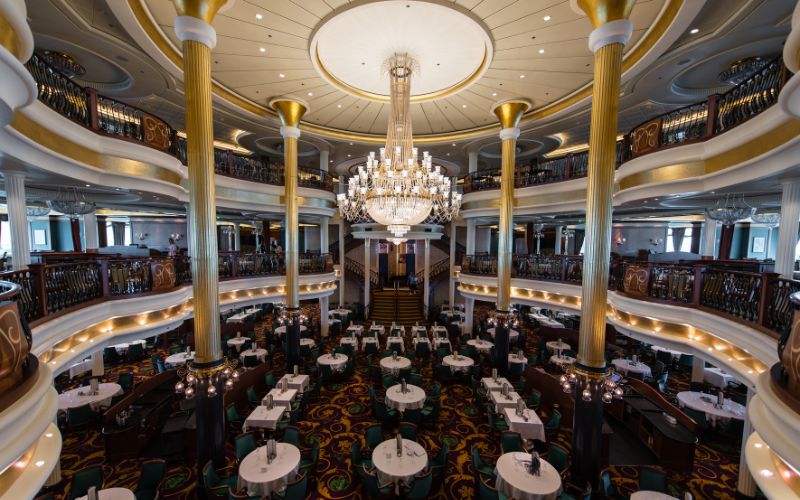 10. Live entertainment
Small ferries obviously don't have live entertainment to enjoy, while those on slightly longer routes do sometimes employ live entertainment for your evening at sea. Expect a band or a singer, and perhaps a quiz, but nothing too extravagant. They're a distraction, something to help bide the time.
And of course, cruise ships offer much more impressive live entertainment. There will still be singers and bands in multiple venues around the ship, but also most cruise ships have a full-on theatre with stage shows, some of which are West End or Broadway quality.
Plus, there are ice skating performances, special AquaTheatres with diving shows, comedy venues, guest lecturers and more – plenty to make your cruise even more enriching.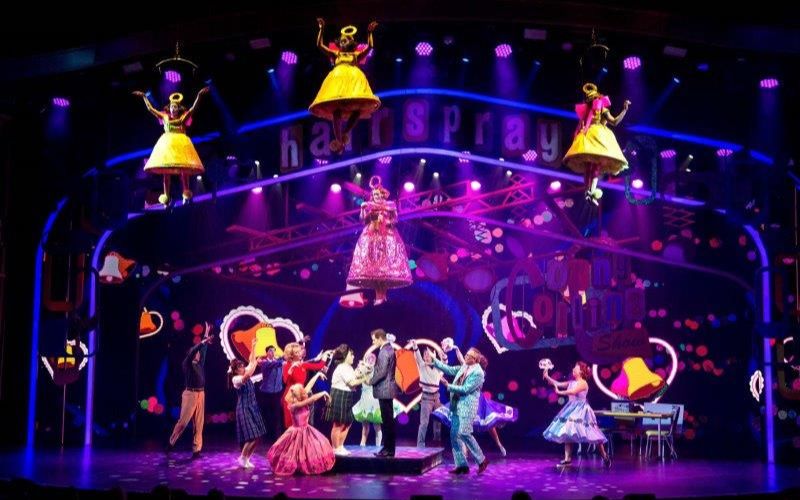 11. Leisure facilities
Just as the live entertainment on a ferry pales in comparison to a cruise ship, so too do the leisure facilities. Ferries will have, at best, a selection of shops (sometimes duty-free), a cinema and on some ships perhaps an arcade and a small kids' play area.
What you won't find on a ferry – but you may find on a cruise ship – includes a climbing wall, an ice rink, a go-kart track, a bowling alley, sports courts, laser tag, escape rooms or roller coasters. And yes, these do all exist at sea.
But even away from those bigger, flashier attractions, there's a key difference between ferries and cruise ships – cruise ships will usually have at least one swimming pool. And that is not something you'll find on a typical ferry.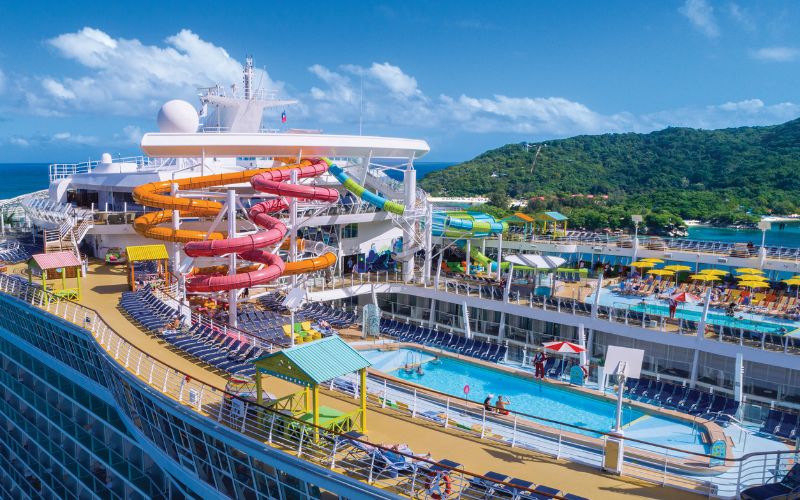 12. Number of staff on the ships
Ferries will operate with a minimal crew. There'll be plenty of people onboard to look after every facility of the ship, and to make sure you stay safe, but the number of staff working on a ship will be much lower than on a cruise.
That's because cruise ships are dealing with thousands of passengers, incredibly-quick hotel-style turnarounds, a host of restaurants and bars, but also because cruise ships offer a better standard of service. You don't get cabin attendants on a ferry, or butlers. You don't get a guest services team, but instead maybe one customer service person.
The crew of a cruise ship are highly trained to make sure your cruise goes smoothly and you have everything you could need – whereas a ferry crew exists just to make sure everything is working and you are transported to your destination on time.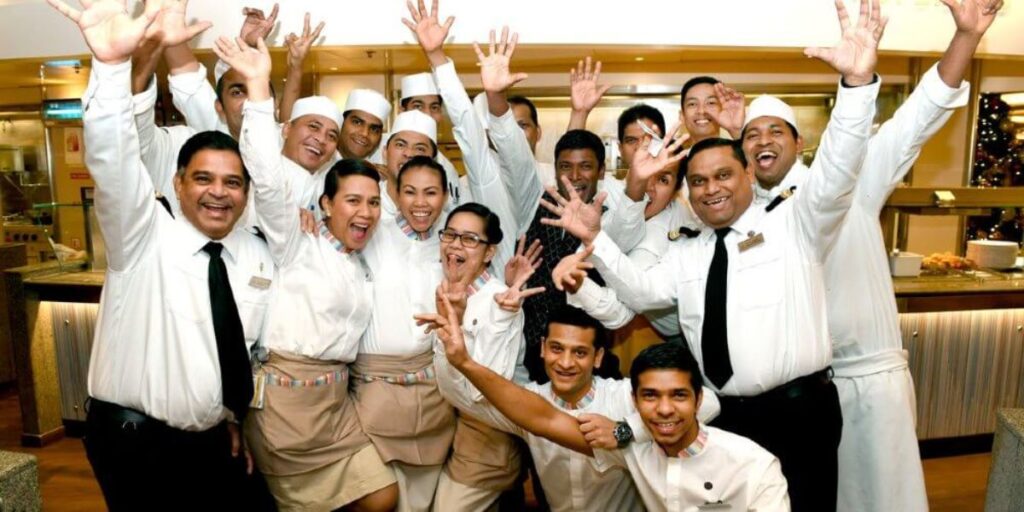 Hybrid Cruise Ferries
There are some ferries which have cruise-like elements to them. P&O Ferries' ships are some of those, as are the ships of Irish Ferries.
These are the ships that do have cabins onboard, along with places to eat and live entertainment. Indeed the Irish Ferries fleet is quite upmarket, with luxurious restaurants, pleasant lounges and even a Premium Suite that does have a balcony.
And there are also cruise ships which almost do the job of a ferry, albeit much better. While you can't drive onto a cruise ship, some do offer short one-night or two-night sailings from one port to another.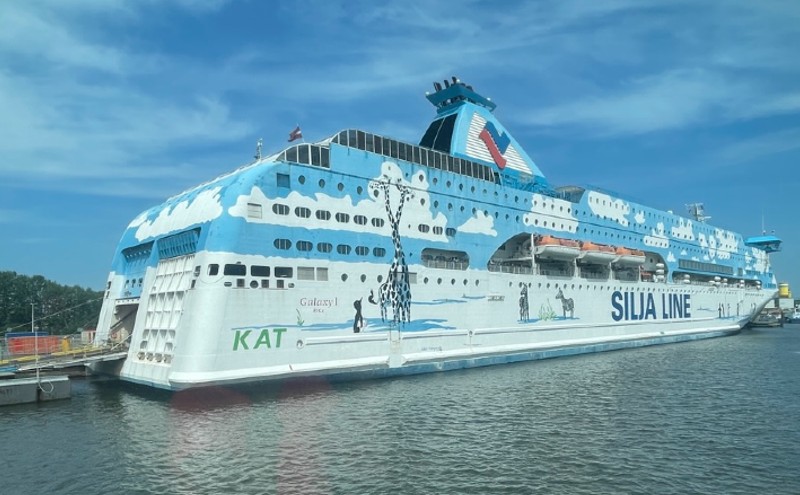 If you needed to get to the Netherlands from Southampton, for example, and you didn't need your car, booking a cruise may not be drastically more expensive than a ferry (or even flying) and yet you'll have a much more relaxing experience, with full access to the cruise ship's facilities.

While there are some major differences, sometimes the line between ferry and cruise ship can be a little blurred.
Final word
Ferries and cruise ships are designed for completely different purposes. A ferry may have some features on the ship that are fun, or comfortable, but that's only to make time pass quicker.
On a cruise, you want time to go as slow as possible. You want the experience to be drawn out.
The biggest difference between a ferry and a cruise ship? You're happy when the ferry reaches the destination. You're disappointed when your cruise ends, and you don't want to get off the ship.
And that sums it all up.
Related Topics