There's nothing like that feeling of getting onboard a cruise ship on departure day, completing your muster drill, locating your stateroom and then heading to the bar to grab that first cocktail so you can properly relax.
But what if your cruise ship denied you your cocktail, and said that you weren't allowed to drink alcohol until that night?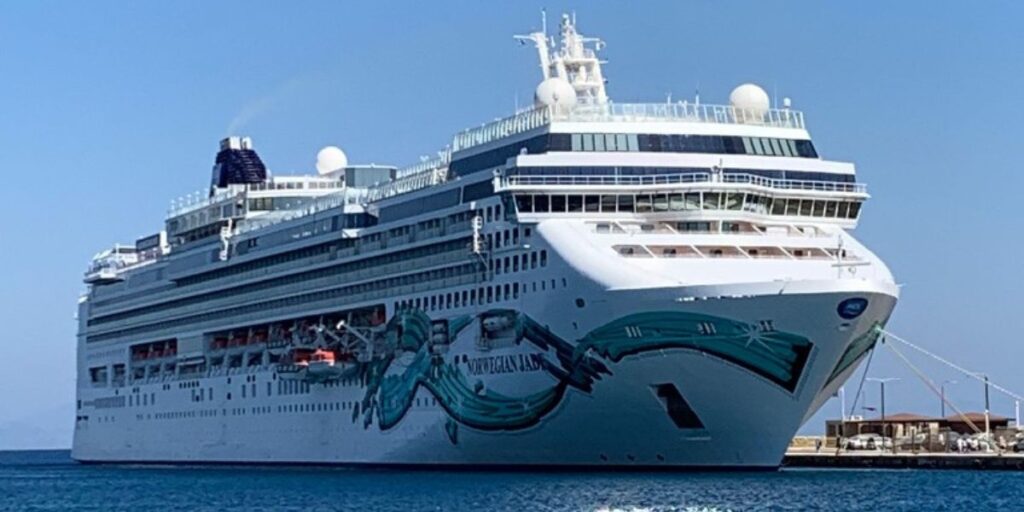 What if you'd paid for that drink already by choosing a drinks package? And, worse, what if it was looking like a recurring issue for the rest of your cruise?
For guests of Norwegian Cruise Line, those questions aren't rhetorical…
Which cruise lines are banning alcohol in UK ports?
The only cruise line that is banning the sale of alcohol in UK ports is Norwegian Cruise Line (NCL). All other cruise lines are still serving alcohol as normal during port visits.
It's not possible to tell if this is affecting the sister cruise lines of NCL either – neither Oceania Cruises or Regent Seven Seas have had cruise ships in the UK since this issue was first reported.
If I hear of any more cruise lines with similar issues then I will update you!
But to clear up exactly what is happening…
NCL has stopped serving alcohol onboard cruise ships whenever they are docked in a UK port, even for guests that have paid for a drinks package or that have paid for a Free at Sea fare which includes a drinks package.
As you can imagine, this has caused quite a stir amongst passengers and other cruise fans online.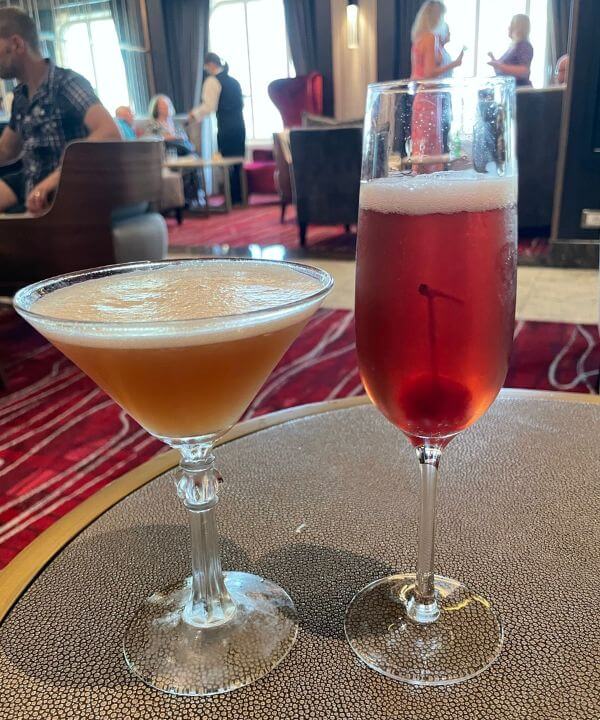 Why is NCL banning alcohol sales in UK ports?
It isn't clear why NCL isn't serving alcohol while in UK ports – the cruise line has given mixed messages.
It appears to be an issue with NCL paying the relevant taxes or license fees to serve alcohol while in port, but the cruise line's official statement is laying the blame at the UK port authorities.
It's honestly a bit of a mess – but bear with me.
When the issue first became apparent, NCL staff on the ship were being vague as to the reasons, just blaming "local restrictions". But if you got in touch with the customer service team for the cruise line, they denied it was happening altogether.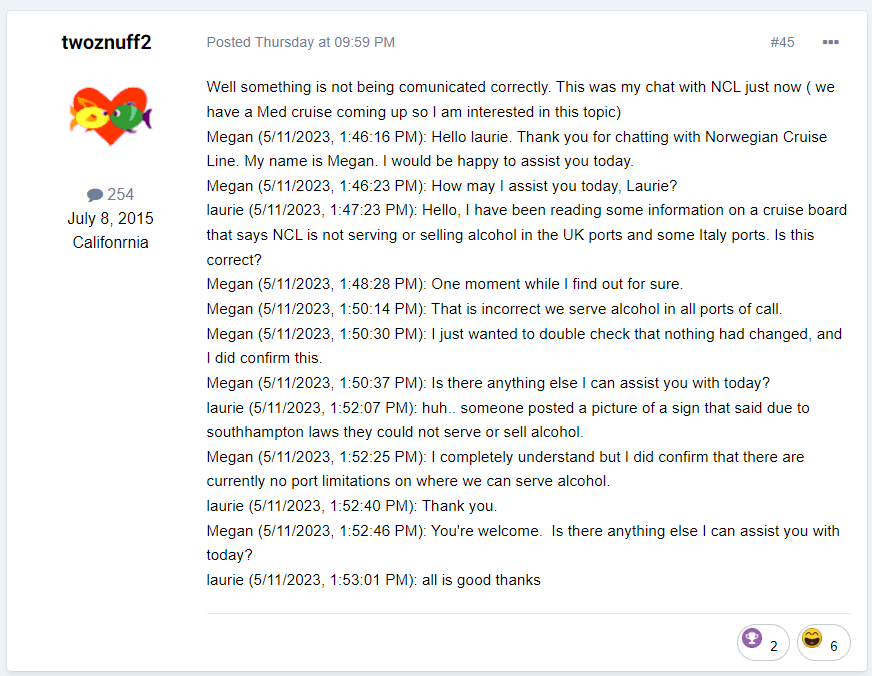 However, since then, NCL has at least admitted more of what the problem was – that the port authorities in Southampton had asked for licence payments but had apparently only given the cruise line 2 days' notice.
This was from a customer onboard the Norwegian Star: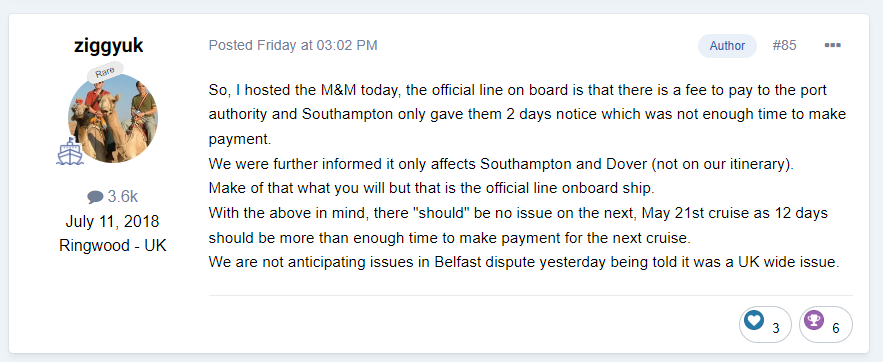 But if you've kept up, you'll know that this didn't only happen on that Norwegian Star sailing. It happened again on the Norwegian Dawn sailing three days later – which meant that the cruise line had 5 days to make the necessary payments by this stage.
And while NCL is blaming the Port of Southampton, it's also happened in Belfast and Portland, too.
This is from the bottom of the Freestyle Daily, issue to passengers:

And a huge thank you to Teresa and Steve, passengers on Norwegian Star and Norwegian Epic respectively, who have emailed me with details of everything unfolding.
Teresa told me that NCL had refused to comment on the situation. But she also sent me this statement from the Port of Southampton:
"The rules state that bars, casino's, shops must remain closed when less than 12 nautical miles from port. Unless the cruise line gets special permission from HMRC for these to be open whilst in port and agree to pay the duty and VAT on the consumption these should remain closed whilst they are in port."
So while there isn't an official, clear answer, it seems pretty obvious – NCL has neglected to pay their fees to allow them to serve alcohol while in ports of call.
Is this an administrative mistake? Or is this a new policy to help the cruise line save money? It's too early to tell, but even if it is a conscious decision by the cruise line, it may well change soon when they realise the mistakes they've made.
Is this happening anywhere else in the world?
There are other problems too, not just with serving alcohol in ports in the UK. NCL has also been making changes to the way it serves alcohol in certain Italian ports of call, including Trieste and Livorno so far.
These aren't quite as extreme as the issues in the UK – guests in Livorno can still enjoy beer and wine. But the sale of hard liquor is banned during the times the ships are in these ports, as is the sale of cigarettes. Hard liquor includes all spirits, which means cocktails are off the menu during these port visits.
Here's the sign displayed on Norwegian Breakaway…
While a similar sign appears on Norwegian Epic…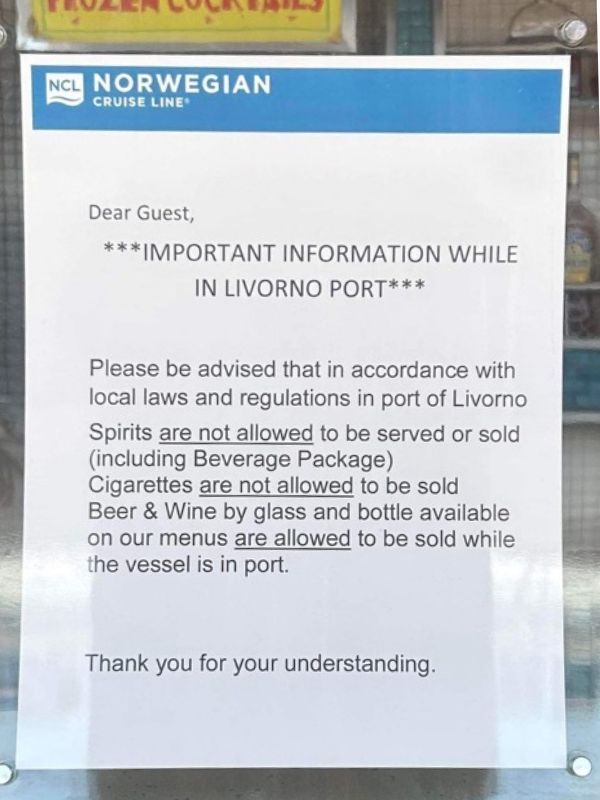 In Trieste, the ban applies to all alcoholic drink sales.

Guests with some drinks packages are being served cocktails – so there seems to be some confusion as to whether hard liquor can't be served or can't be sold in these ports.
Still – cocktails and cruises are like a cup of tea and a biscuit – or for my American friends, cookies and milk – they were made for each other.
So it's still a serious issue for passengers when they're not allowed to enjoy them.
How are passengers reacting?
As you can expect, many passengers are very upset at the policy of not serving alcohol in UK ports, and limiting the alcohol purchases in Italy.
It's worse for the UK ports since nobody is being allowed to drink – even those who have bought a drinks package, or paid for a Free at Sea cruise fare because it includes drinks.
To then be told you're limited in when you can enjoy those drinks – but only once you're on the ship and it's too late to cancel your cruise or change your fare – is not a good look for the cruise line.

There are, unsurprisingly, a number of people talking about cancelling any cruises they have planned with the cruise line, and booking with another one in future.

Speculation continues as to whether this is just a temporary issue, or if it's a plan that will continue, with the cruise line having a lack of foresight for how this would be received: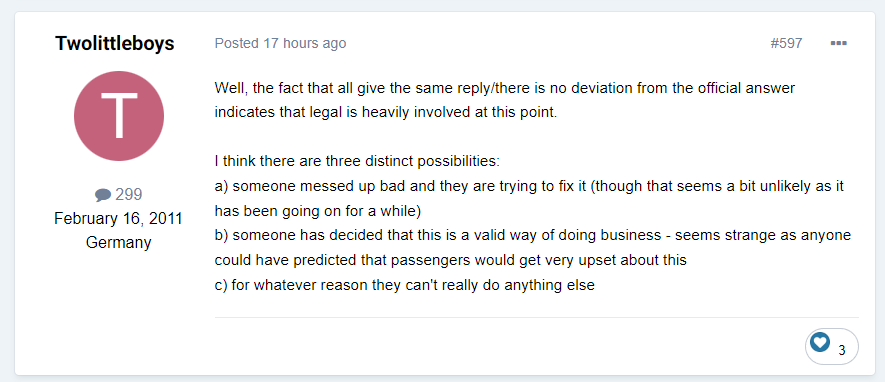 And some people seem to think it isn't a problem being denied alcohol while on a day in port:

Which ships and sailings are affected?
The issue was first reported on the Norwegian Star on the 11th May 2023 itinerary and has since recurred on the Norwegian Dawn on the 14th May 2023 sailing.
UPDATE: I just had an email from a cruiser who said that the issue is now resolved on his latest cruise…
Hello, I've read your post about the UK alcohol duty fiasco and wanted to share an important update. I've just boarded the Norwegian Star in Southampton and after what could only be described as a PR disaster for NCL and is now the talk of the ship; I'm pleased to announce that they have now fixed all the problems and all the bars are once again serving the full menu….YAY!!
Kind Regards,
Chris
Because the alcohol ban is only on ports in the UK, it affected NCL ships with visits to any UK port. That includes ports like Gibraltar and Belfast as well as those in England and Scotland.
Hopefully, this was a temporary issue that will be resolved quickly across the whole NCL fleet.
Has anything like this happened before?
For cruise lines to block the serving of alcohol completely while in ports is rare, but it has happened before.
And guess what – it was NCL once again.
In fact, it was recent, in 2022, only this time it was Greek ports. It was similar to the Italy issue from this year, where guests with pre-paid drinks packages could be served alcohol but no other sales were possible until the ship had cleared the port waters.
This adds fuel to the fact that it seems to be cost-cutting measures by the cruise line – surely if it was administration errors they would have learned from their mistakes?
Final word
I'm completely on the side of the passengers who are annoyed and feel let down by NCL here.
This isn't just about being entitled to alcohol – a lot of these passengers have already paid for it, either with a standalone drinks package or choosing the Free at Sea fare. And they should therefore be allowed to enjoy it as it was advertised.
Communication is key here. And if guests were given a full explanation along with a refund of anything they had already paid, or perhaps some extra on board credit by way of apology, then I'm sure the news would be much easier to swallow.
If NCL truly is aiming to avoid paying their taxes in these ports, then that just doesn't seem like a wise move at all. I just hope that passengers don't mind waiting until the night for their drinks. And I hope NCL can confirm that this issue has now been fully resolved..
Related Posts: