While it's not common, you might see the occasional dog on a cruise ship.
This begs the question – when you're on a cruise ship that is out at sea, where does the dog go to the bathroom?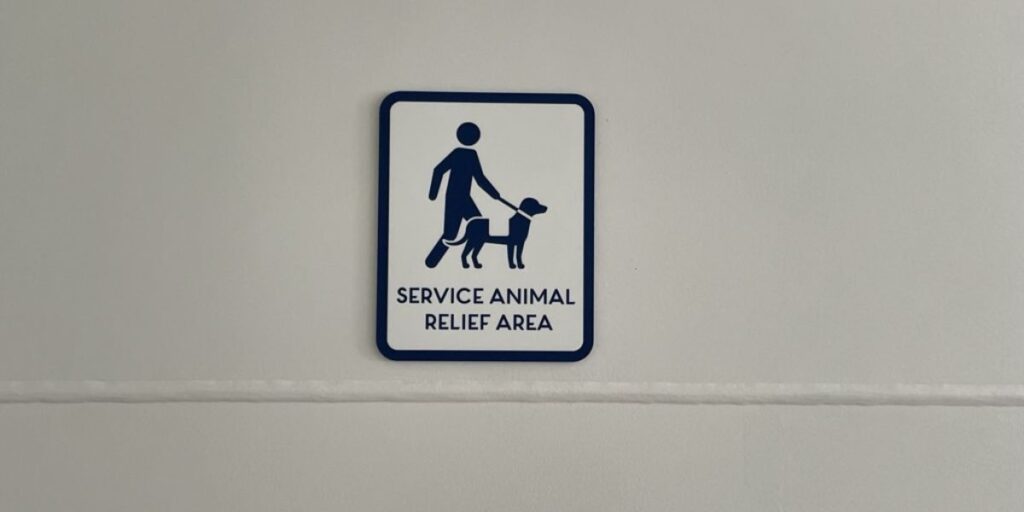 Let me explain…
Do cruise ships allow dogs on board?
On most cruise ships, service dogs are allowed provided that they are meeting a specific need of a disabled guest, including guide dogs for the blind or alert dogs for the deaf. Emotional support dogs are generally not accepted, and pets are only accepted on certain Cunard cruises.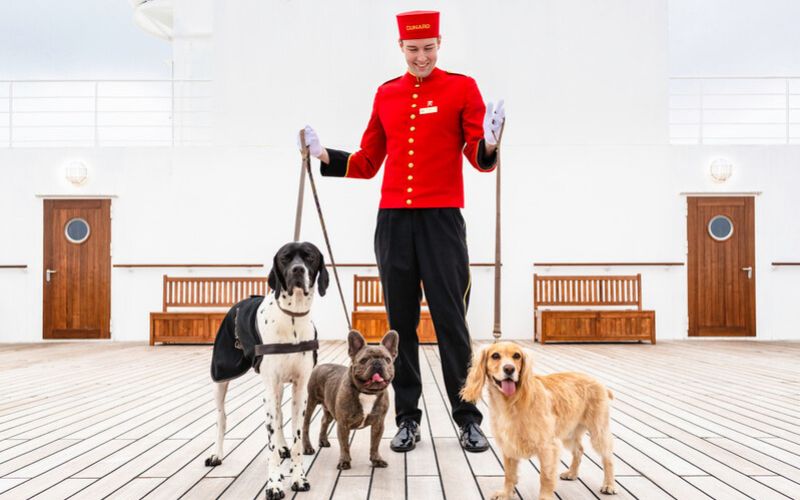 For the most part, you won't see dogs on a cruise ship very often at all. But guests who require a medical service dog are welcome to bring them onto all the major cruise lines, and they can accompany guests to most of the areas of the ship – typically it's just swimming pools or wet areas where dogs are banned.
However, you should expect to have to provide certification for your dog and your disability that requires the need of a dog. Cruise lines are happy to accommodate service dogs where they are genuinely needed, but they won't allow dogs unless they are genuinely needed for a medical condition.
The exception is on select Cunard transatlantic cruises, where guests are permitted to bring pets – both cats and dogs. However, even then, you may not see them if you're not a pet owner.
They're kept in special kennels on the ship, and must remain there for the duration of the cruise, except for a designated exercise space adjacent to the kennels. Guests are able to visit their pets at set times each day, so that they can be let out to do their business and stretch their legs.
But pets are not allowed in cabins or other public areas of the ship.
Where do service dogs pee and poop on cruise ships?
Cruise ships will typically have a special relief station for service dogs to go to the bathroom. It is usually in a private space away from busy public areas and may be in a staff-only part of the ship.
Some cruise lines use a pen with mulch, while others use a typical grass area with a dog-poop bin. on the Disney Wish, there's a fire hydrant and some fake grass.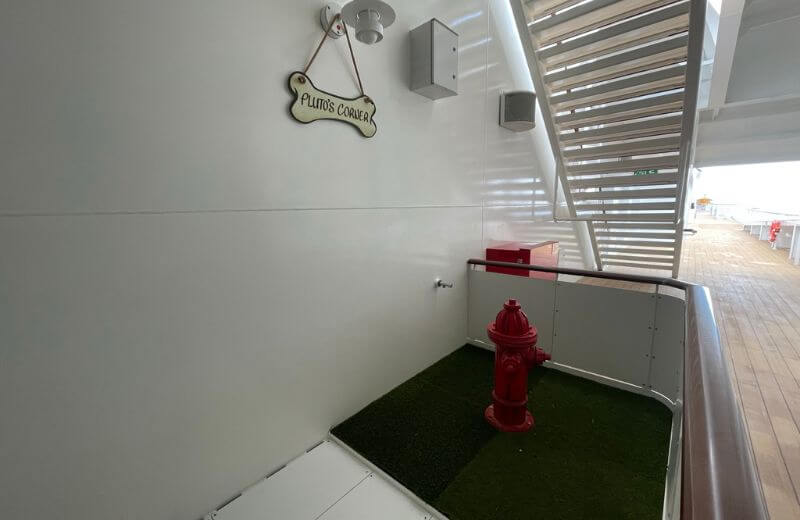 Here's a look at a visually-impaired cruise passenger on a Celebrity Cruise, and the bathroom for her service dog:
Obviously, cruise ship guests not travelling with a dog don't want to be relaxing and have the smell of dog poop wafting around nearby, so cruise lines will hide away the bathroom area for dogs to make sure all guests stay comfortable.
It won't always be in a staff-only area though, and instead may be somewhere near the walking/running track or another quieter part of the open deck of the ship.
When guests with a service dog board the ship, the crew will show them where the doggy bathroom is, so you don't have to worry about it.
Service dogs are highly trained animals and know to only go to the bathroom in suitable places – so other guests don't have to worry about dogs accidentally going to the toilet on a random deck. They're so smart!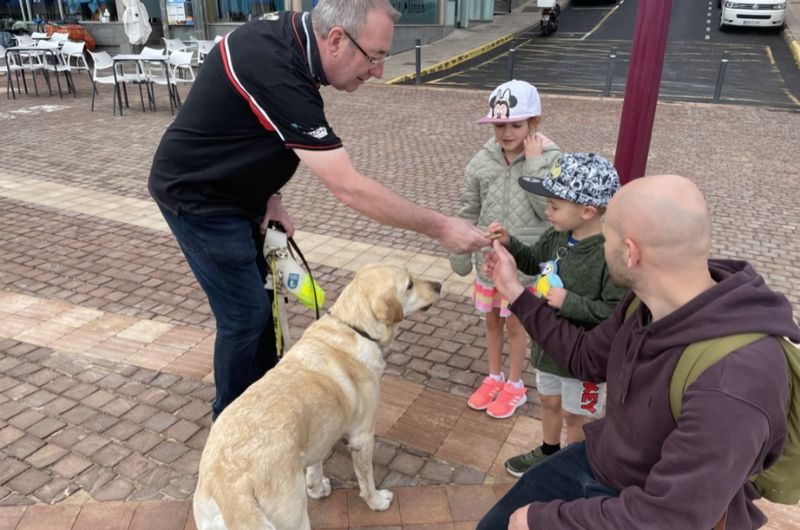 You may also consider whether dogs go to the bathroom while on a visit to a port of call. This is definitely possible, but it's important to note that some countries may not accept service dogs, and they (and their owners) may need to stay on the ship.
Typically though, service dogs will take care of all their bathroom needs on the ship.
Where do dogs go to the bathroom on Cunard cruises?
On a Cunard cruise, dogs are able to go to the bathroom in a relief area near the kennels. This includes a British lamppost and an American fire hydrant for dogs to pee on, so that both British and American dogs feel at home!
The lamppost was even taken from the Cunard building in Liverpool, and the fire hydrant is modelled on a New York City one, so there's a lot of heritage in those pee stations!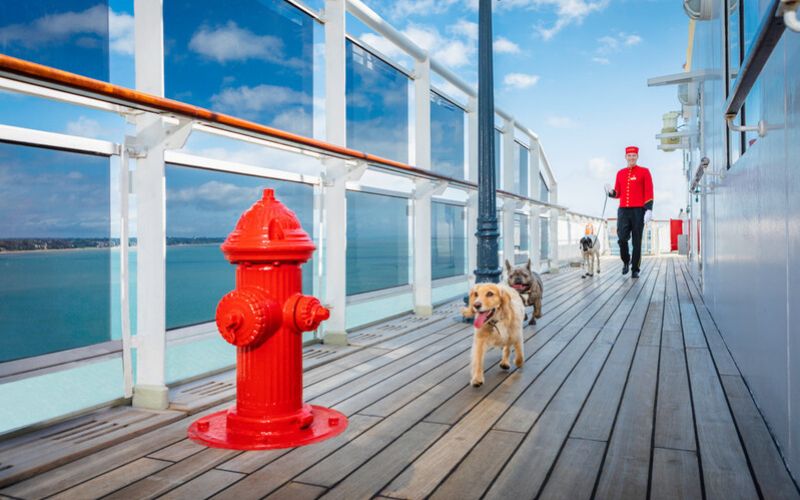 Final word
Whether you're a passenger with a service dog, or you're someone who is worried about cruising with dogs and smelling/seeing their mess, don't worry – there is always a suitable bathroom area provided for service dogs to use.
Guests that have a service dog travelling with them will be looked after by the crew, and guided to the spot on the first day, so you can rest easy knowing they'll have somewhere suitable.
So no, I'm afraid the answer to where dogs go to the bathroom on a cruise ship is not "The Poop Deck".
Related Posts: