Virgin Voyages is not the same as every other cruise line. There are a lot of things they like to do differently, including a dress code.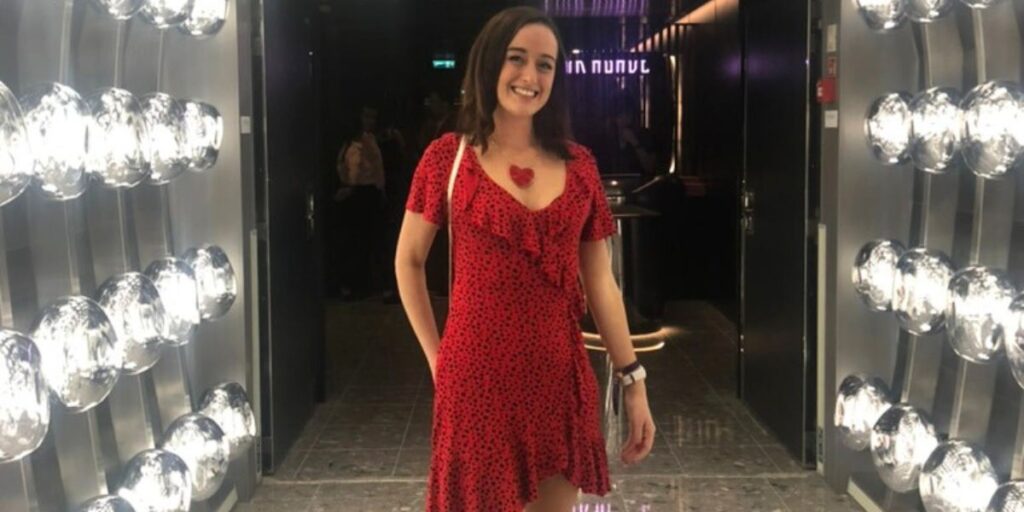 In this guide, I'll take you through the dress code for your Virgin Voyages sailing, and let you know what else you might want to pack to wear while you're sailing.
What is the dress code on Virgin Voyages?
There is no dress code for Virgin Voyages, beyond a request that guests don't turn up to restaurants wearing a bathing suit or flip-flops. Guests are encouraged to wear what they feel comfortable in, provided it is a full outfit with shoes.
This is very different from a number of cruise lines that will try to put a smart casual dress code in place for restaurants, asking you to avoid wearing t-shirts and shorts to sit-down meals. Of course, many cruise lines don't enforce it anyway, but most guests feel obliged to follow it.
Virgin Voyages' own policy is that "your casual threads are probably nice enough to pass for dinner in any eatery" and so you're encouraged to wear whatever you feel happy to in the restaurants.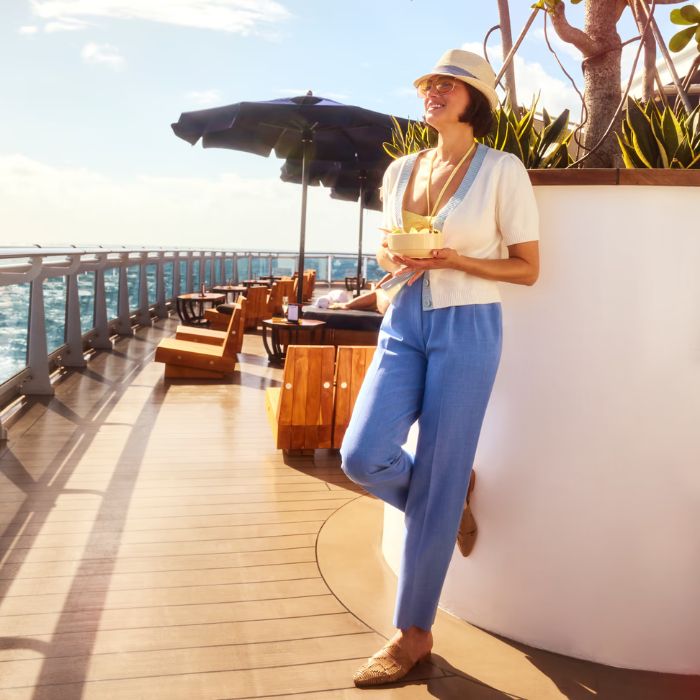 The only requests are to turn up in a full outfit with some form of shoes on – don't walk into the restaurants straight from the pool while you're dripping wet and either barefooted or wearing flip-flops.
This policy is the same on all four ships in the fleet – Scarlet Lady, Valiant Lady, Resilient Lady and Brilliant Lady.
Is there a formal night on Virgin Voyages?
There is no formal night on Virgin Voyages – guests are welcome to wear their casual clothing to restaurants on every night of their cruise. There are some themed nights, but these are optional and are more to do with the parties after dinner, rather than a theme for the restaurants themselves.
If you're someone who is intimidated by the formality of cruises, you don't need to be – most cruise lines these days are very relaxed, and there are always restaurants and bars you can go to where the dress code is not being followed.
But Virgin Voyages takes this one step further by getting rid of formal nights altogether. There's no pressure at all to avoid parts of the ship if you want to stay in your casual clothing – you can wear what you like (within reason) on every night of the cruise.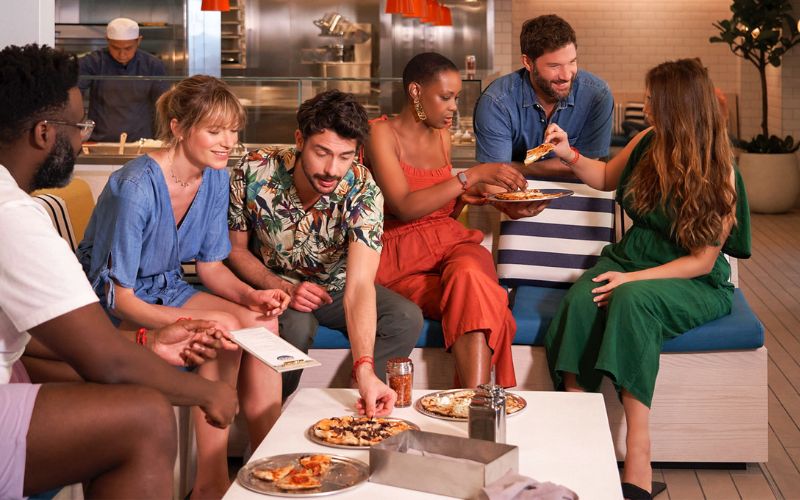 Do people dress up on Virgin Voyages?
A lot of people still choose to dress up on their Virgin Voyages cruises, but instead of wearing formal suits and dresses, it tends to be more what you'd wear to dinner on a typical vacation, or a nightclub outfit – smart casual, with a splash of colour to impress.
Some people do go all-out, but more for the themed nights, and not just for dinner. So trust me, you can wear whatever casual outfit makes you most comfortable and you won't stand out.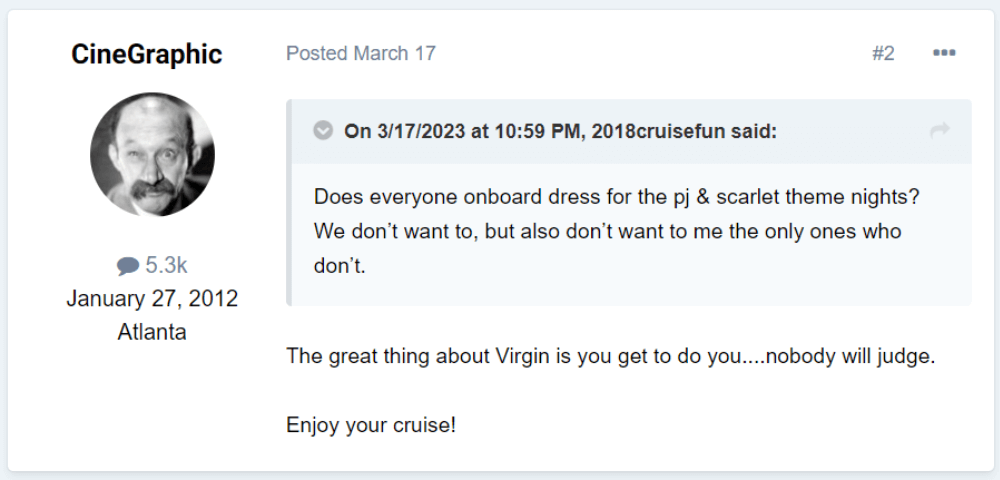 Theme nights
Instead of formal nights, Virgin Voyages has themed nights. These are advertised as taking place on every sailing, but if you book a short cruise then check as they may not always be available.
You can check in advance by downloading the Sailor App before you sail – this will show you the entertainment schedule for your cruise.
Pajama Party
Typically held on the first night of a cruise, the pajama party is exactly how it sounds – the chance to get out onto the pool deck and dance around in your cosiest PJs!
Don't take your best set – you're likely going to be getting very hot and sweaty under the evening sun and as you dance around, so you don't want to spoil them. Maybe pack an extra set just for the PJ night.
To be clear, this is a full-blown party – not a 'typical' pajama party where you'll relax and watch movies. Don't come expecting a quiet event!
Scarlet Night
Scarlet Night is the big night on your cruise – often held on the second-last night of your cruise, but that can vary, so check the Sailor App for details of your sailing when you've booked.
For this, it's all about wearing red. Either a full red outfit or just a splash of red will do. And don't worry if you don't own anything red – you'll still be allowed to join the party!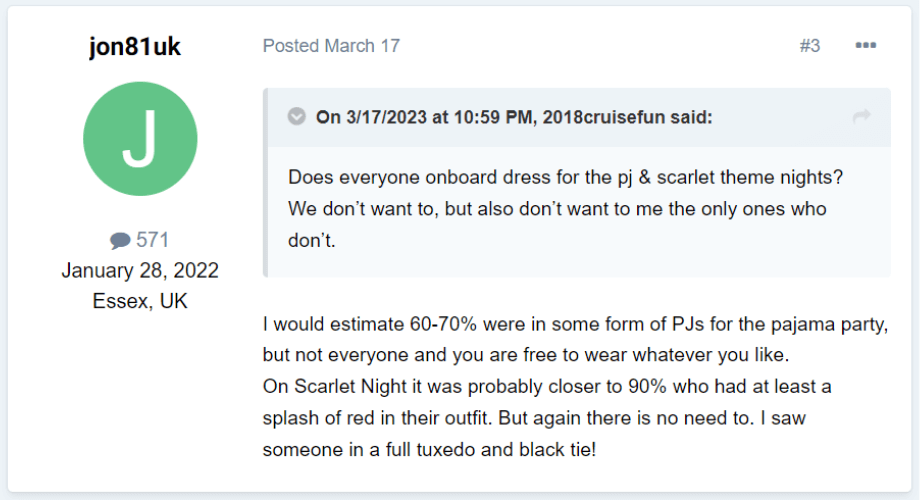 Check out this video to see what you can expect on Scarlet Night…
Secret Party
Sometimes, Virgin Voyages hosts secret parties that are invite-only. There's not a lot of detail about these online – they're very hush-hush.
But the way to get an invite is to get yourself noticed by the crew. If you like the idea of an exclusive event, then do take your most striking outfits, and make sure you're the life of the party.
Other outfits to pack for a Virgin Voyages cruise
Here's a quick checklist of some other outfits to remember for your Virgin Voyages cruise.
Swimwear
Many people want to look their best during the day on a Virgin Voyages cruise, so don't forget your chic swimwear. Again, wear what makes you comfortable, but a lot of people like to dress to impress.
80s workout gear
Virgin Voyages' sailings have a lot of fitness classes that you can sign up for, so if you're interested then you'll want to pack your gym gear. A fun one is the retro 80s workout – some people bring their own 80s workout outfit especially, so feel free to join in.
No swimwear?
One quick note – at The Perch on your Virgin ship, topless sunbathing is permitted. If you don't want tan lines then this is the place to go.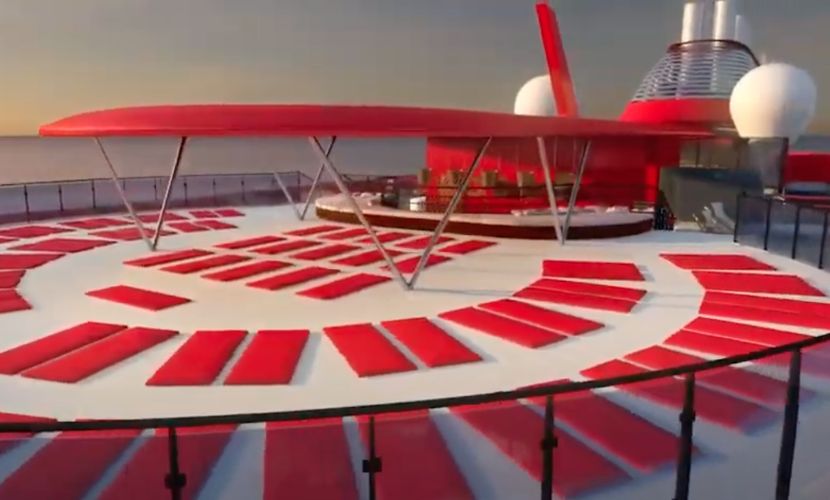 Final word
You don't need to worry about a formal dress code for Virgin Voyages – but there is still a checklist of things to pack, including something red and your PJs for some fun-packed party nights.
Overall, Virgin Voyages is a relaxed cruise line where adults can let their hair down. If, for you, that involves glamming up then go for it. But if you just want to wear a nice t-shirt and jeans then that's totally fine too.
Of course, as well as Virgin Voyages' dress code you'll also want to consider other things like the weather, the destinations you're visiting and thew activities you plan to do on board. So, for more info, be sure to check out my Ultimate Guide To What To Wear On A Cruise.
Related Posts: