There are many cruises which offer sailings exclusive to the LGBTQ+ communities. These companies are dedicated to providing a cruise experience purely for gay, lesbian and queer guests, often chartering ships to destinations including the Caribbean, the Mediterranean and further afield.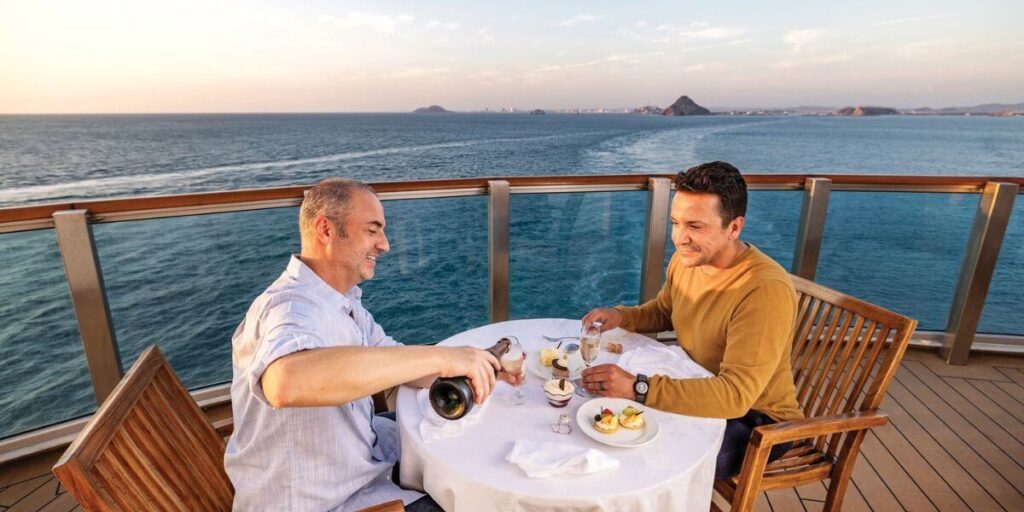 The most popular companies which offer sailing experiences where the whole ship is for these communities are listed below. These bring comfortable, inclusive environments where you'll feel free to be yourself.
Are there any gay cruises?
There are lots of cruise companies and travel companies which provide itineraries just for gay people. Some companies offer cruises exclusively for gay men, while others also include lesbian, bisexual and more. Key companies to consider for an all-gay cruise are listed below.
The Most Popular LGBTQ+ Cruises
1. Atlantis Events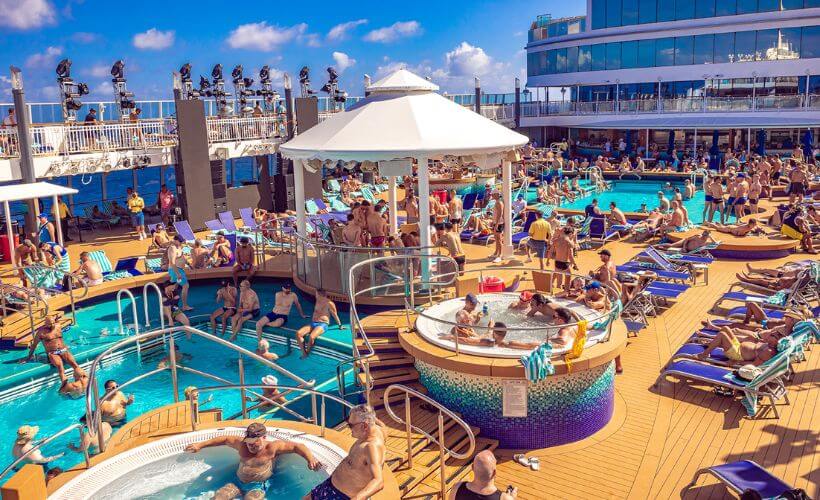 Since launching in 1991, Atlantis Events has grown to become the biggest travel company in the world offering holidays for the gay and lesbian communities.
With over 20,000 guests annually, the company provides sailings with inspiring itineraries visiting destinations including South America and the Cayman Islands.
The company provides all-gay cruises in its offering, chartering mega-ships from cruise lines including Royal Caribbean and Norwegian Cruise Line.
This offers guests the chance to enjoy incredible activities, dining experiences and accommodation. Each cruise features special events unique to the Atlantis Events sailings such as motivational speakers, drag performances and LGBTQ+ movies available on demand in your stateroom.
2. La Demence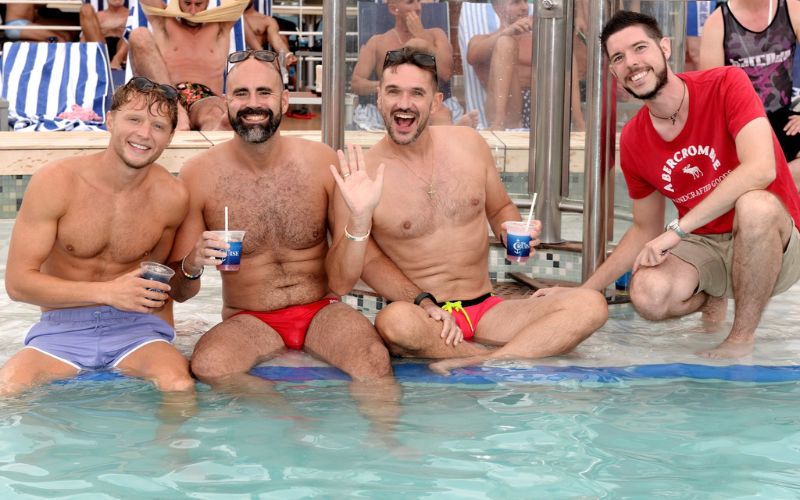 Another exclusively gay company for travel is La Demence, an agency specialising in custom, tailored gay travel.
The cruise elements are aimed at gay-only passengers and involve chartering ships from popular cruise lines to sail to destinations. Most recently the company has chartered Royal Caribbean's Explorer of the Seas.
Aspects of the sailings include shore excursions in intimate groups, DJ sets onboard and a nudist deck for nude sunbathers looking to relax discreetly.
The company is powered by the popular gay nightclub in Brussels, Belgium, with which it shares the same name. Primarily catering to a European crowd, most passengers on board are male.
3. GaySail
GaySail (and its accompanying business – GayNudeSail) is one of the world's leading specialists for gay cruise holidays.
With over 30 years of experience in the travel business and chartering 45 cruises, plus 15 private sailings, each year, they are a market leader to gay men of all nationalities.
Exploring destinations including Greece, Croatia, the Caribbean, South Pacific and Thailand to name a few, all guests as well as crew on board the ships are gay – so passengers feel completely at ease to be themselves while on holiday.
Sailings vary from 10 to 14 guests aboard chartered yachts or catamarans. All sailings include the service of a skipper and accommodation, with specific itineraries also including dining, harbour fees, taxes and more.
4. Pied Piper Travel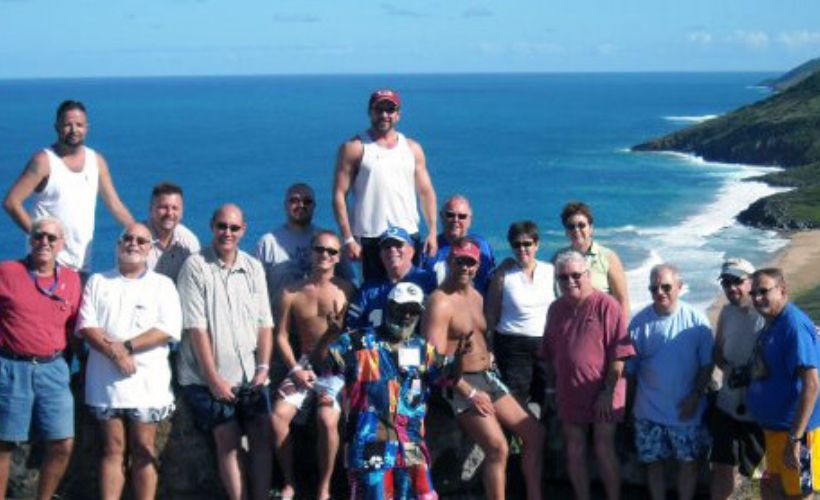 A premier agency for gay and lesbian cruises, Pied Piper Travel offers an extensive variety of cruise destinations and ships for all members of the gay and lesbian communities. With over 32 years of experience and some of the most competitive rates, the company arranges small, intimate getaways up to large ocean ships.
Trips span the globe with a portfolio of 50 group sailings already planned through to 2024, Pied Piper Travel brings cruisers to Antarctica, Rio carnival and New Zealand, plus many more destinations. The company charters ships from the likes of Celebrity Cruises, Cunard, Royal Caribbean and Princess Cruises.
While aboard the ships, guests can enjoy cocktail parties, all meals and entertainment, special events and activities as well as your exclusive Pied Piper Host.
5. Out Adventures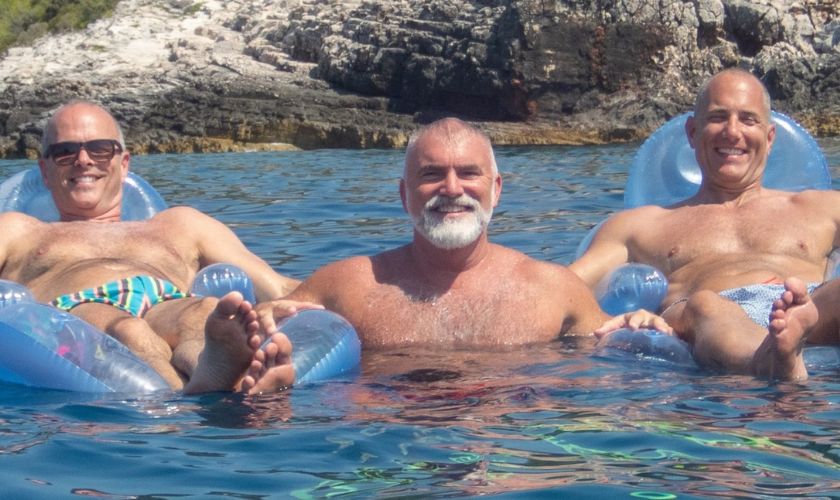 Catering mainly to gay men, Out Adventures provides gay cruisers with the chance to explore the world in small groups.
Often only 40 people per getaway, the cruises are situated on luxury yachts and riverboats which provide fine dining and excellent service while you explore hidden and often unreachable destinations.
Typical guests are between 40-55 years and North American, with a mix of singles and couples on board. Depending on your vacation, drinks, dining, taxes and fees may or may not be included as packages vary on location and time of year.
6. Olivia Travel
Olivia Travel is one of the biggest travel companies specialising in trips for lesbians. Having organised vacations for over 350,000 women, the company is a specialist in hosting exciting travels for women in these communities.
From river cruises to large-scale ocean cruises, Olivia Travel charters full ships so that guests on board can be completely relaxed and comfortable in themselves. Life encompasses much of the same activity as standard cruising such as workshops, dance parties and karaoke, as well as specialised programs and meet-ups unique to the company.
7. Source Journeys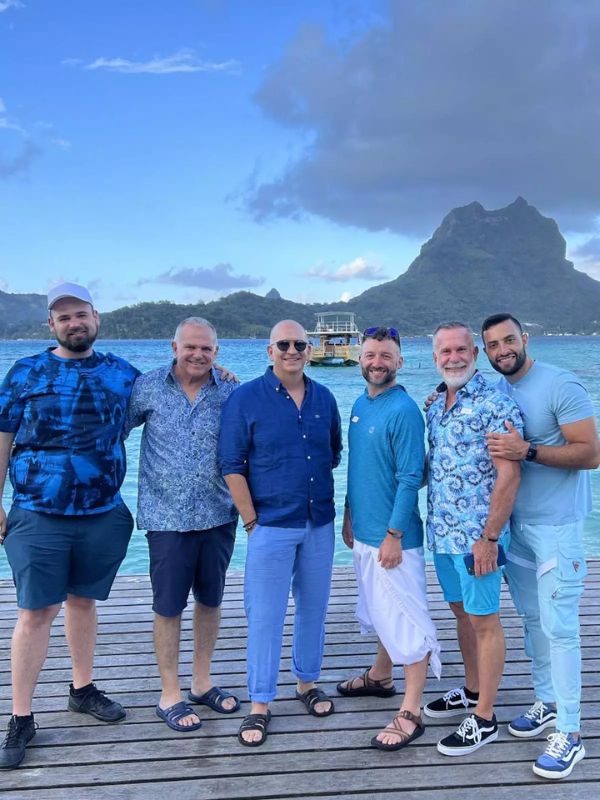 Source Journeys, also formerly known as Source Events, is a great choice for those seeking LGBTQ+ travel opportunities. While not exclusive to gay-only sailings, cruises are LGBTQ+ friendly and aimed at the luxury market of travel.
The company has over 20 years of experience in travel for LGBTQ+ guests and has undertaken charity work and support for human rights and social justice throughout that time, being true advocates for the LGBTQ+ communities.
Packages include sailing to Italy and along the Amalfi Coast, or venturing to the magical shores of Turkey and Cappadocia, each itinerary varies in destination and experience so there is something for everyone.
8. VAYCAYA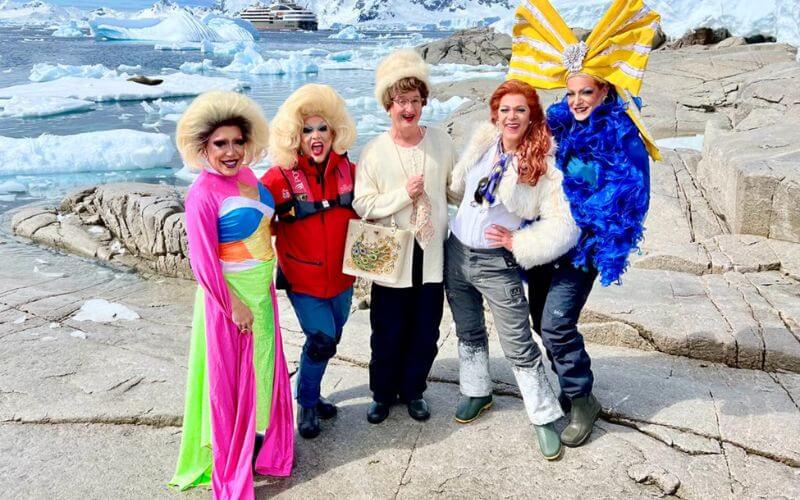 VACAYA is one of the largest adult-only holiday businesses which caters to the LGBTQ+ communities. The company charters entire luxe ships – typically Celebrity Cruises – which bring an indulgent, relaxing experience to those seeking a world-class, gay-friendly cruise holiday.
Destinations you can visit include South America, the Seychelle Islands and Iceland, with life on board including pop-up concerts, themed deck parties and fitness classes. Fares include accommodation, meals, entertainment, sports and staff assistance.
9. OUTBound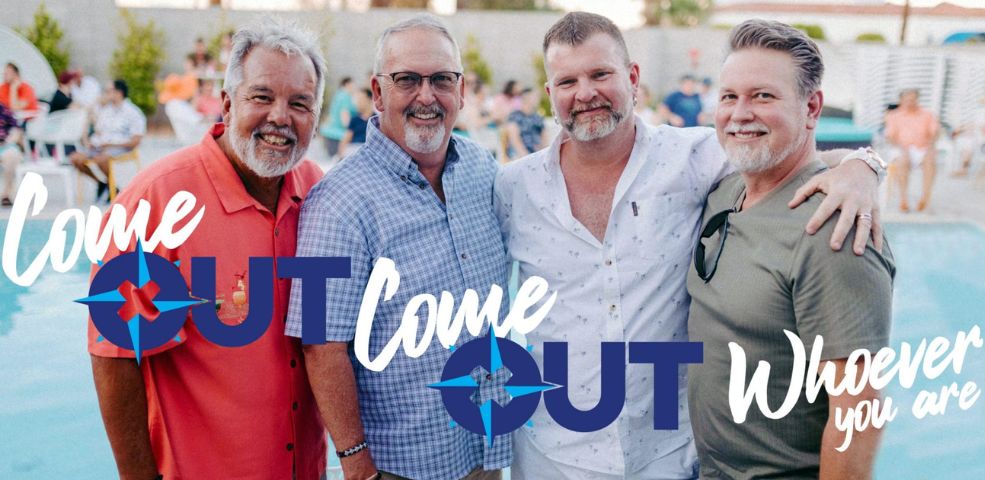 OUTbound offers ocean and river cruises to those in the LGBTQ+ communities with one size that doesn't fit all ethos around travelling the world. Specially crafted experiences offer an authentic encounter to all destinations the company visits, from the Danube River in Budapest to the plains of Africa.
The company partners with local, often LGBTQ+ tour operators, to ensure that this experience is continued while ashore and assist guests with connecting further with the wider communities. Exclusive experiences in art and culture, history and natural beauty all combined to make OUTbound an exciting choice for those who choose it.
10. RSVP Vacations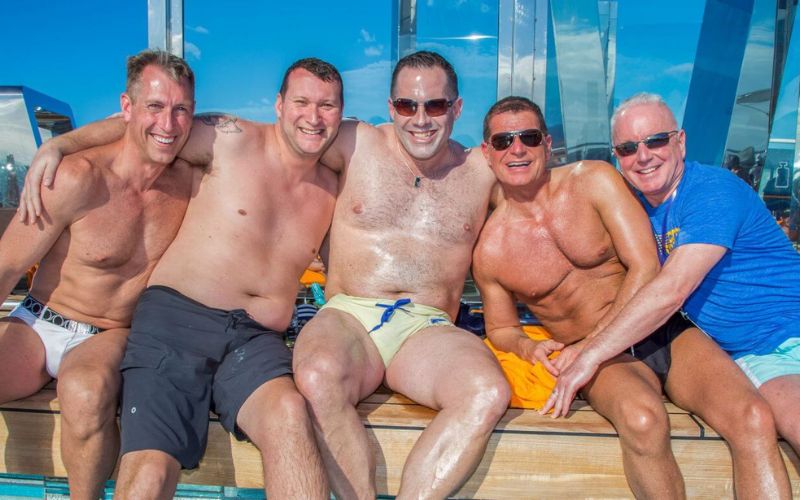 With a contemporary vibe and exciting onboard activities, RSVP Vacations are tailored to gay cruise guests. Having sailed with over 150,000 gay, lesbian, bisexual, transgender and straight-allied customers since beginning in 1985, the company is a great option for those looking for full-ship charters.
RSVP Vacations charters full ships from some of the world's mega-ships to small river cruises, think cruise lines including Holland America Line, MSC Cruises or AmaWaterways. On board, the company creates its own rules with pool games, famous T-dances, bingo, costume contests and more to ensure everyone has a fantastic experience.
11. Brand g Vacations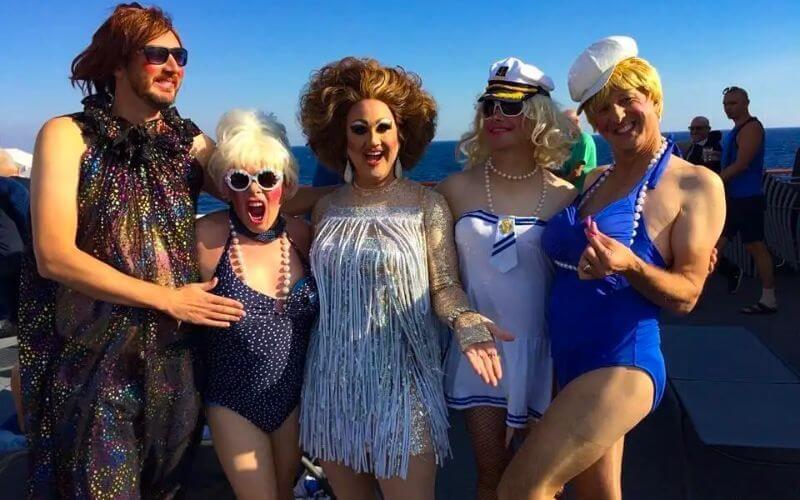 Specialising in river and ocean cruises as well as land tours, Brand g Vacations brings an intimate travel experience to LGBTQ+ explorers and allies. After being founded in 2011, the company set out to offer worldwide itineraries for groups of up to 200 guests, though this is likely set to increase as the brand expands to luxury ocean cruises in 2023.
Though not exclusive to gay cruisers, the company offers a much closer experience with fellow guests thanks to the smaller capacity. Guests also include more mature demographics, usually 40+ in age. This means there's more of a relaxed vibe on board and often a more all-inclusive experience with transfers; upscale hotel stays; unlimited beverages; curated entertainment and more included in your cruise fare.
12. R Family Vacations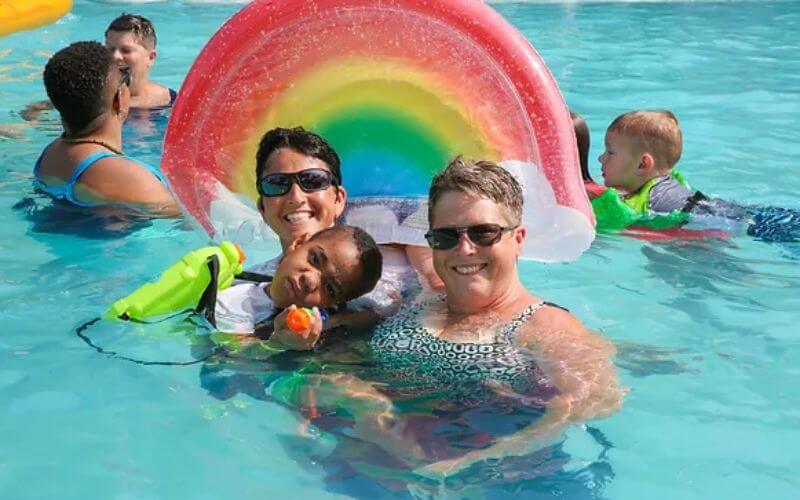 The first LGBT family travel company, R Family Vacations provides opportunities for LGBTQ+ families to set sail, connect and share in the joy of travel while feeling confident and comfortable.
Being a leader in these vacations for over 20 years, the company charters some of the biggest cruise lines in the world, including Royal Caribbean's Wonder of the Seas, to offer Broadway shows, comedy, dance parties and special family dinners catered to the LGBTQ+ audience.
The company has also recently expanded into adult-only, small-ship sailings for passengers seeking a quieter, more luxurious getaway,
LGBTQ+-Friendly Cruise Lines
People of the LGBTQ+ communities should feel comfortable on any cruise ship and any instances of that not being the case will be extremely rare.
Many of the top cruise influencers such as Gary Bembridge from Tips For Travellers and Ben and David from Cruise With Ben & David cruise very regularly. I have never heard them report any issues associated with their sexuality, aside from beds being made up as singles despite a request for a double, which although annoying, has always been quickly rectified.
Alongside companies which are exclusively for LGBTQ+ travellers, there are also companies and cruise lines which promote an inclusive environment as one of the reasons why you should choose them.
A few of these are highlighted below…
13. Virgin Voyages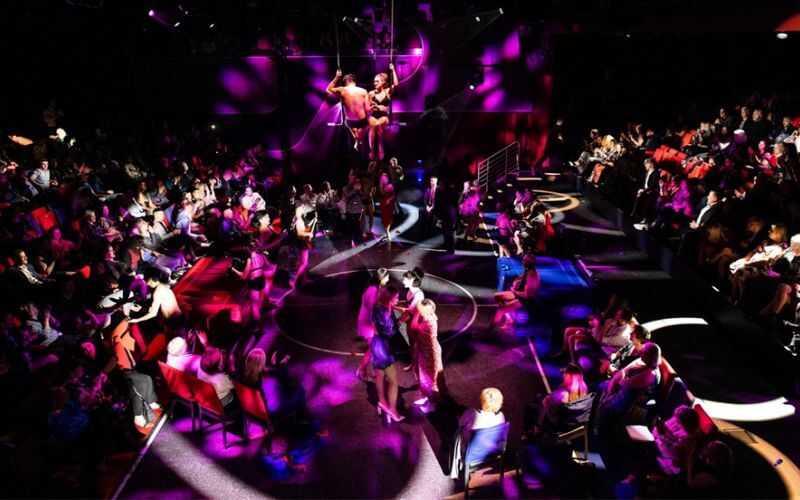 One of the newest cruise lines in the industry, Virgin Voyages has shaken up the cruise industry since launching in 2020. The brand has always been well known for its celebration of the LGBTQ+ community and the Virgin Voyages line is no different.
Only guests aged 18+ are allowed aboard the ships, where you'll find a tattoo parlour, risque entertainment and resident drag queens. No to mention dining and live shows which are next level.
The cruise line has received positive reviews from the LGBTQ+ community, praising its gender-neutral bathrooms, drag shows and diverse staff as some of the ways it's supporting the community.
14. Royal Caribbean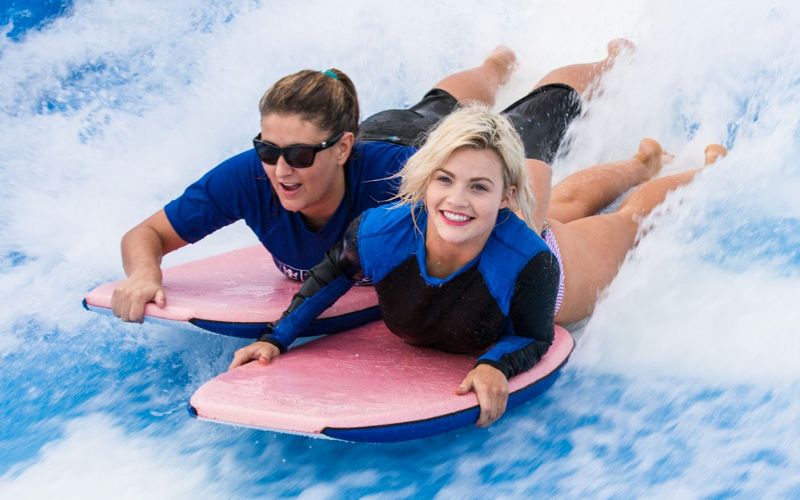 As a member of the International LBGTQ+ Travel Association and a popular cruise line used by Atlantis Events, one of the biggest all-gay travel providers, Royal Caribbean provides one of the most welcoming and inclusive experiences for LGBTQ+ guests.
From attentive staff and especially-organised meetups to entertainment options and features catered to the community, the cruise line offers the chance for LGBTQ+ guests to meet like-minded travellers and relax feeling comfortable on board.
In 2016, the line was also one of the first cruise lines to earn the Gay Traveller Approved title from GayTravel, further showcasing its support to the LGBTQ+ community.
15. Celebrity Cruises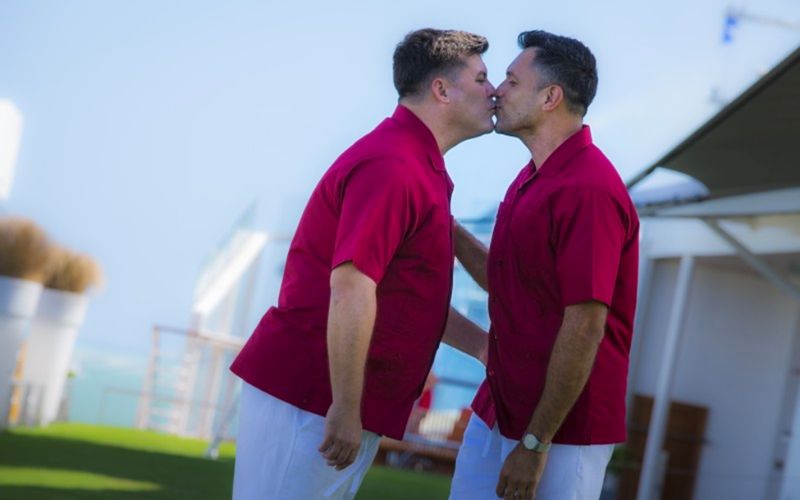 Celebrity Cruises has long been a supporter of the LGBTQ+ community, celebrating Pride Month with extravagant annual parties and offering daily activities and gatherings of LGBTQ+ guests aboard their ships.
The line has also won many prestigious awards in recognition of its support including the best cruise line for LGBTQ+ passengers, which is why its included in this list.
However, in this video, gay couple Ben and David commented that in their experience, Celebrity Beyond wasn't as diverse as they might have expected.
Here's the video, starting from around 30 minutes in when Ben made the comments about their experience as a gay couple…
However, he did also say that this was their first cruise with Celebrity, so it might not be the same on all cruises.
Gay Cruise Vacation FAQs
What happens on gay cruises?
Gay cruises typically include fully-chartered ships on which you can expect entertainment, parties, and hosted events all specially designed for gay cruisers. You can look forward to travelling with like-minded people and feeling comfortable in inclusive environments while travelling to some of the best destinations in the world.
Are gay cruises fun?
Gay cruises are incredibly fun! Not only are you travelling with fellow gay cruisers, but the entertainment and shows have been specially curated for those on board. Think Celine Dion tributes, drag queen bottomless brunches and wild deck parties like you've never seen before!
How much does a gay cruise cost?
Fares depend on the company or cruise line you choose, as well as the destination. Many companies are also branching into luxury yachts or ocean cruises, which would cost more, though more inclusions are featured in your fare. It's recommended to research your company and/or cruise line of choice beforehand to check your budget aligns with what they can offer.
Does Carnival have gay cruises?
Carnival Cruise Line is gay-friendly, though it doesn't offer gay-only cruises itself. The company has a long history of supporting the LGBTQ+ community and provides several itineraries which cater to these communities.
Does Royal Caribbean have gay cruises?
Royal Caribbean supports the LGBTQ+ communities with a range of fun-filled itineraries which cater to these guests. The cruise line itself doesn't offer any gay-only cruises, but external companies such as Atlantis Events charters ships in the fleet for their sailings which are exclusive to the LGBTQ+ communities.
Does Disney do gay cruises?
Disney as a brand is widely known for being inclusive across all of its parks, resorts and cruise ships. Disney Cruise Line doesn't offer specific gay cruises, but the line is incredibly welcoming to the LGBTQ+ community and all guests are encouraged to be part of the magic experience. 
Are Viking cruises gay-friendly?
Viking River Cruises is open to welcoming LGBTQ+ passengers on board its river cruises and regularly hosts events as well as charters for those sailing as part of this community. Advertising campaigns and inclusive policies further support that Viking is an excellent choice for LGBTQ+ cruisers considering a river cruise that is welcoming and inclusive.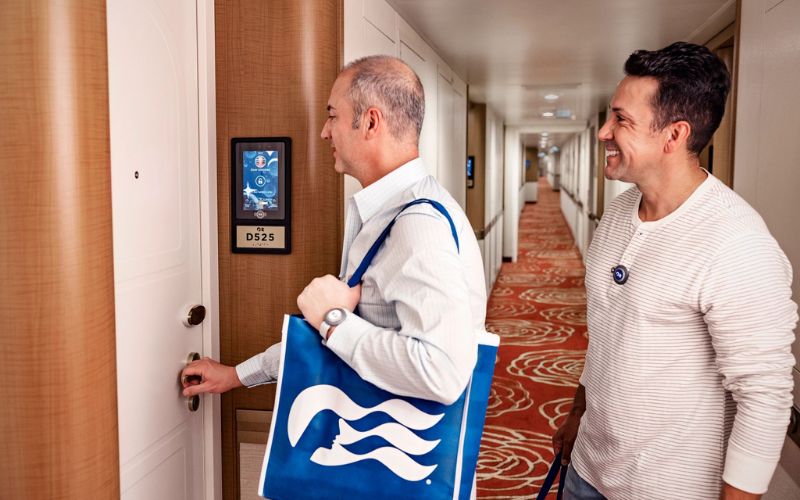 Related Posts: