Royal Caribbean's Wonder of the Seas is one of the largest cruise ships in the world, but how does it compare to the Titanic?
In this guide, we'll take a closer look at the two ships in terms of not only size but also the facilities, technology, and cost to build.
When the Titanic was built in 1912, it was the largest ship in the world. But a lot has changed in the past 110 years, and today's mega-ships like Wonder of the Seas would actually make the Titanic look pretty small in comparison!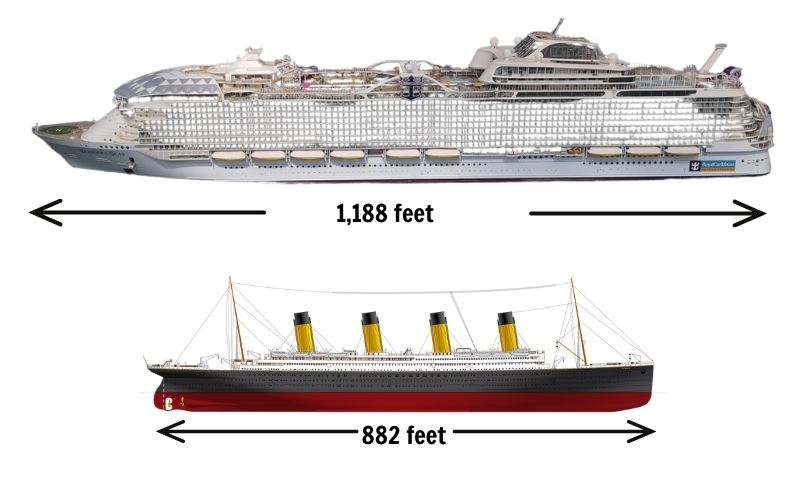 In this Wonder of the Seas Vs Titanic guide:
How Does Wonder of the Seas Compare to Titanic in Size?
The Wonder of the Seas size is five times that of the Titanic size, with an internal volume of 236,857 GT compared to 46,328 GT. At a length of 1,188 feet and a width of 210 feet, Wonder of the Seas is 35% longer and 127% wider than Titanic.
It might be surprising that, in the Wonder of the Seas and Titanic size comparison, the older ship is not that much shorter. But when you take everything into account, you see why Wonder of the Seas can host so many more features and guests.
Wonder of the Seas can accommodate 9,288 people (of which 6,988 are guests and 2,300 are crew). This is much more than the 2,435 guests and 892 crew members that could be accommodated on the Titanic.
The following table shows some key stats to compare Titanic with Wonder of the Seas…
| | Titanic | Wonder of the Seas |
| --- | --- | --- |
| Gross Tonnage | 46,328 GT | 236,857 GT |
| Length | 882 feet | 1,188 feet |
| Width | 92.5 feet | 210 feet |
| Guest Decks | 9 | 16 |
| Guests | 2,435 | 6,988 |
| Crew | 892 | 2,300 |
While Wonder of the Seas was considered the largest cruise ship in the world in 2022, she wasn't the longest. Sister-ship Harmony of the Seas is four inches longer than Wonder of the Seas, with a length of 1188.1 ft compared to 1187.8 ft. Both have since been surpassed in terms of size and length by Icon of the Seas.
How Fast Is Wonder of the Seas Compared to the Titanic?
Titanic and Wonder of the Seas have similar cruising speeds, with both cruising at 21 to 22 knots and a maximum possible speed of around 23 knots. This equates to around 25 miles per hour.
Speed isn't particularly important for cruise ships, as they're designed to make leisurely journeys and have plenty of time to get from one port of call to the next. Both Wonder of the Seas and Titanic are pretty average in terms of speed. But even the fastest cruise ship, Cunard's Queen Mary 2, can only reach top speeds of 30 knots.
Read more: How Fast Do Cruise Ships Go?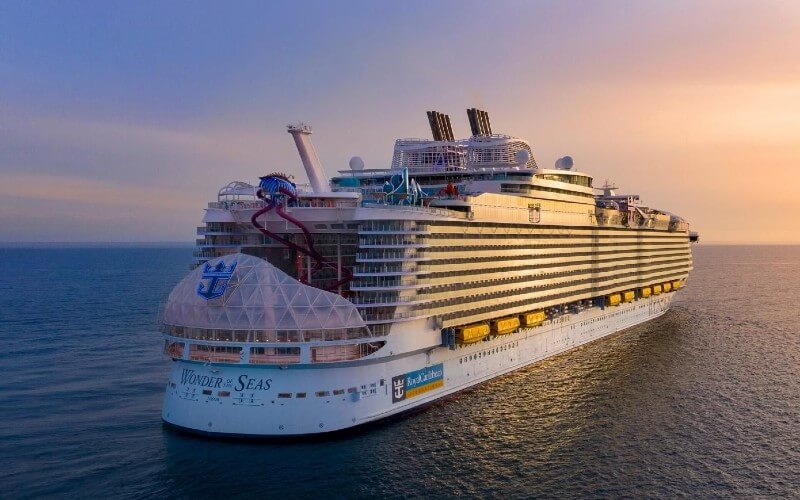 Facilities on Titanic Vs Wonder of the Seas
Although it's interesting to compare Wonder of the Seas and Titanic in terms of size and speed, I think that the most interesting comparison comes when you look at things like accommodation, swimming pools and dining. This shows just how far cruise ships have come over the past century.
Take a look at this infographic that shows what you can expect from Wonder of the Seas. It was released before the ship launched, so it's a little out of date – we know the godmother is Marie McCrea by now! But it's still a really easy way to see the ship summed up.
Then, read on to learn more about the facilities offered on the Titanic…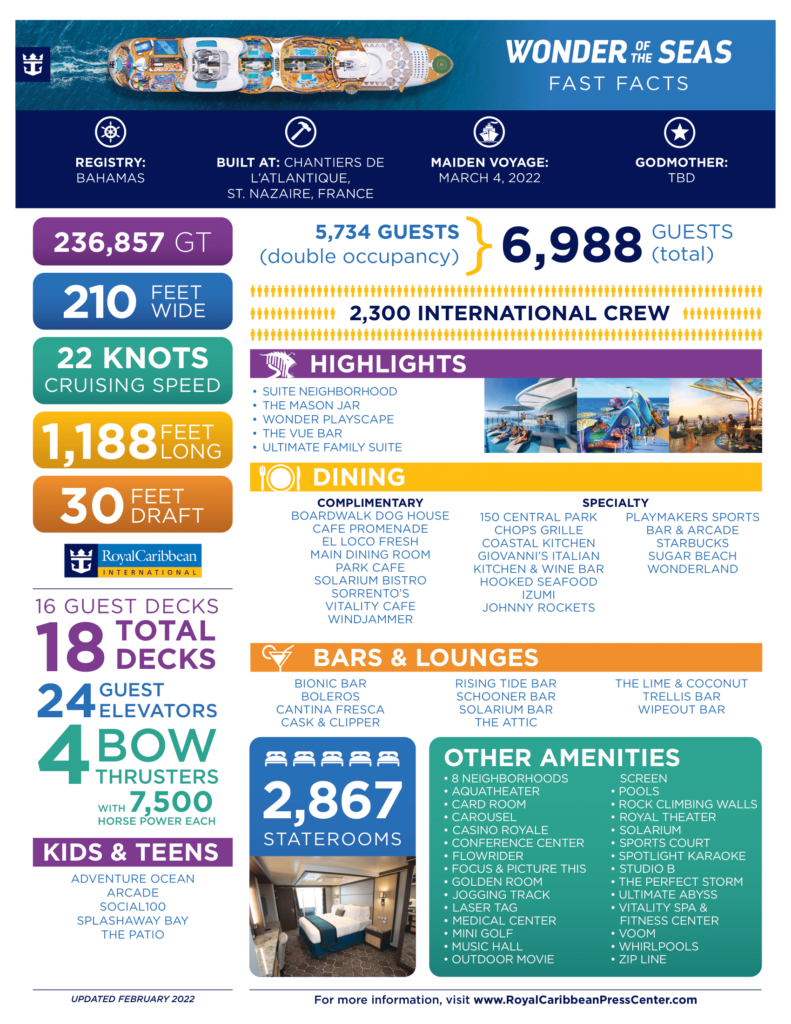 Activities
On board Wonder of the Seas, guests can enjoy a whole host of activities such as zip-lining, rock climbing, surfing, laser tag and mini-golf. The ship has a huge ten-storey slide, a full-size carousel, and an outdoor movie screen.
Titanic had a squash court as well as deck games like quoits and shuffleboard. To pass the time, guests enjoyed playing cards, dominoes and chess.
Wonder of the Seas has chess too, but it's on a much larger scale!
Swimming Pools
Wonder of the Seas has four swimming pools (plus a kids' pool), nine outdoor whirlpools and a waterpark featuring three high-speed slides.
By comparison, whilst Titanic did have a swimming pool, it was only accessible to first-class guests and had set times for men and women. This video shows what it looked like…
Dining
Wonder of the Seas has 20 restaurants of which nine are complimentary and the rest are available for an extra fee. There are also 19 bars and lounges where you can enjoy a drink.
Titanic had four restaurants. These were the A la Carte Restaurant, the Dining Saloon, the Verandah Cafe and Cafe Parisien.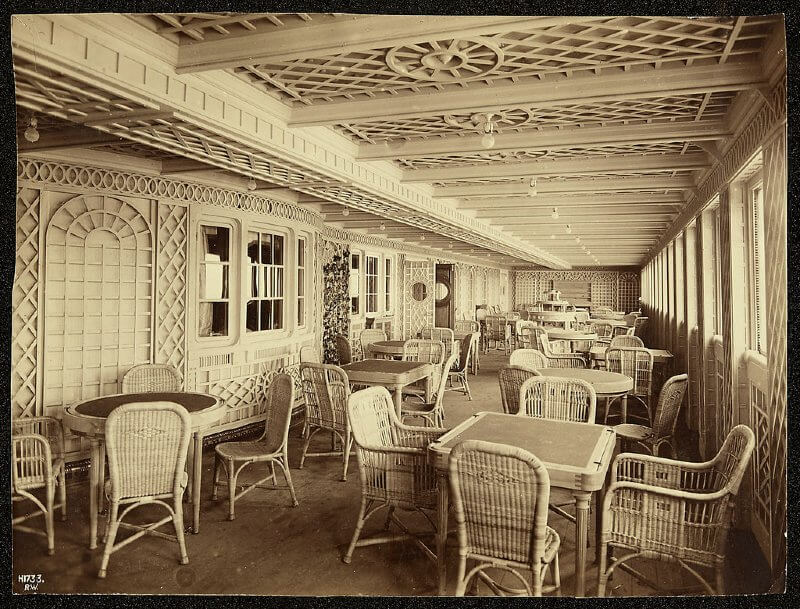 Accommodation
Wonder of the Seas has 2,867 staterooms. There are options to suit everyone, from the cheapest windowless rooms to the Ultimate Family Suite which comes complete with a private jacuzzi on the balcony and a slide to get from the bedroom to the living room.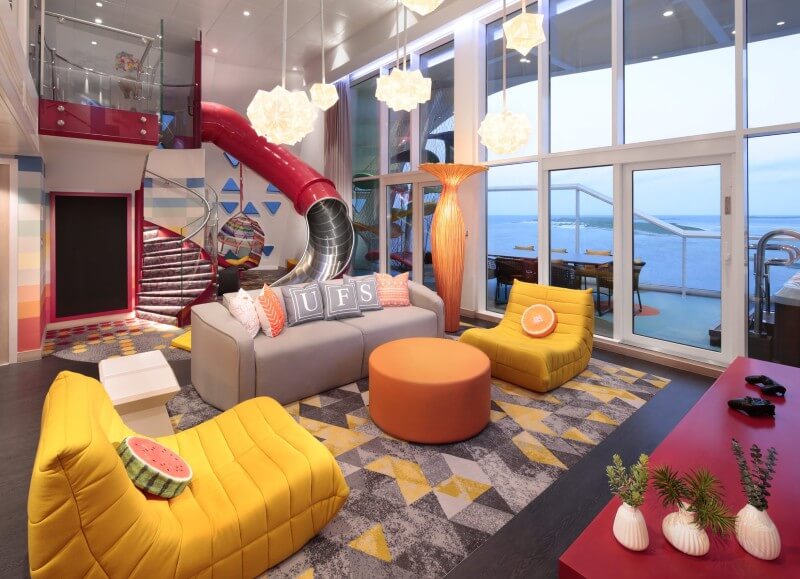 The top suites on Titanic were the Deluxe Parlour Suites. These had two large bedrooms, two walk-in wardrobes, a private bathroom and a spacious sitting room with a faux fireplace and writing desks.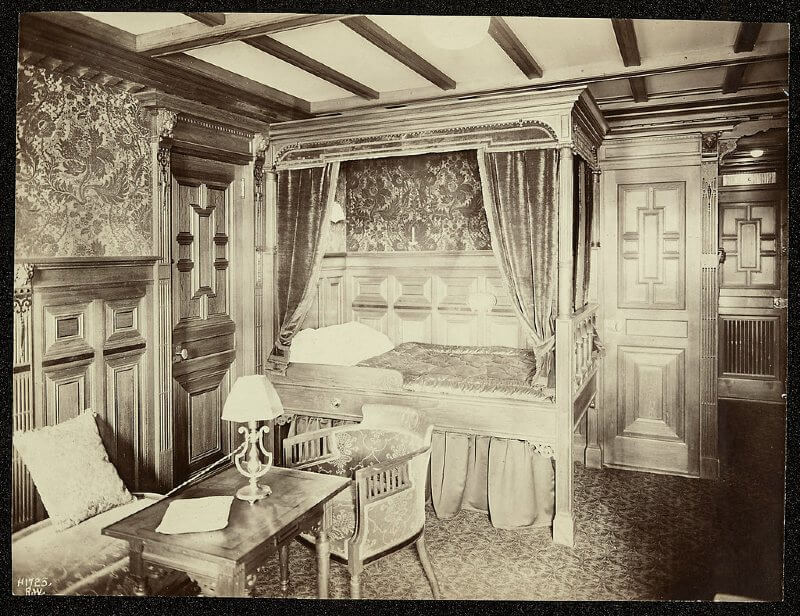 Safety
As we all know, the Titanic tragically sank after it struck an iceberg on its maiden voyage in 1912, despite being hailed as 'unsinkable'.
So you may be interested to know how modern cruise ships like Wonder of the Seas compare in terms of safety. Could Wonder of the Seas sink?
While it's technically possible that Wonder of the Seas could sink, it would be highly unlikely to happen. During a storm, a rogue wave could cause Wonder of the Seas to capsize and sink, but this would happen slowly enough for all passengers and crew to escape.
Titanic had 20 lifeboats onboard – enough to evacuate 1,178 people out of the 2,240 passengers and crew on board when the ship sank. While Wonder of the Seas only has 18 lifeboats, these are much larger and can accommodate every person on the ship.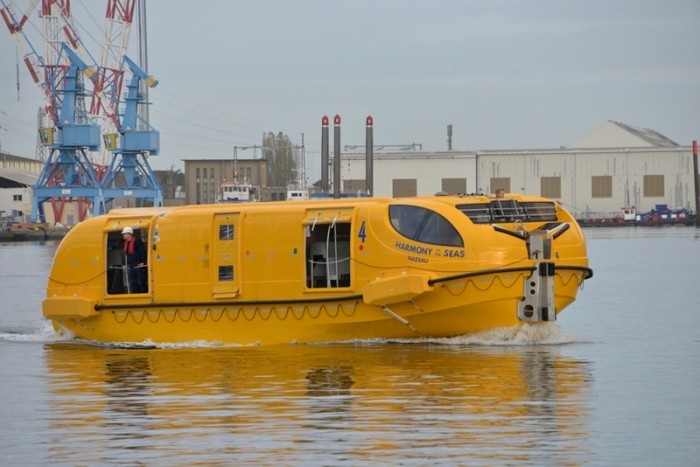 Cost
Wonder of the Seas cost $1.35 billion to build, whereas Titanic cost $7.5 million. Even when you factor in inflation, the Titanic would have only cost around $200 million in today's money, meaning that Wonder of the seas cost over six times as much in relative terms.
Read more: How Much Does A Cruise Ship Cost To Build & Operate?
Cruises on Wonder of the Seas start at $731 per person for a 7-night Caribbean cruise. The cheapest tickets on Titanic cost £7. This is equivalent to around $900 today.
Staying in the Ultimate Family Suite for Christmas week on Wonder of the Seas would set you back around $85,000. That's still cheaper than the most expensive First Class suites on Titanic which cost £870, or $104,000 in today's money.
While a cruise on Symphony of the Seas is cheaper than a cruise on Titanic in relative terms, most people did not have enough money to afford cruises a hundred years ago, whereas we generally enjoy more disposable income in modern society.
Read more: How Much Was A Ticket On The Titanic?
To Conclude
Wonder of the Seas is a much larger ship than Titanic in every dimension. Cruise ship design and technology have come a very long way over the past century, with ships like Wonder of the Seas featuring far more facilities and activities for guests to enjoy.
While the cost of building the largest cruise ships has increased, the relative ticket prices have come down. So, as well as being safer than ever before, modern cruise ships also offer much more value for money than those of the past.
NEW DEALS JUST RELEASED!
Don't miss the latest Royal Caribbean offers…
Related posts: