If you've never cruised before, you might be wondering what the rules are around alcohol and where it's permitted on the ship.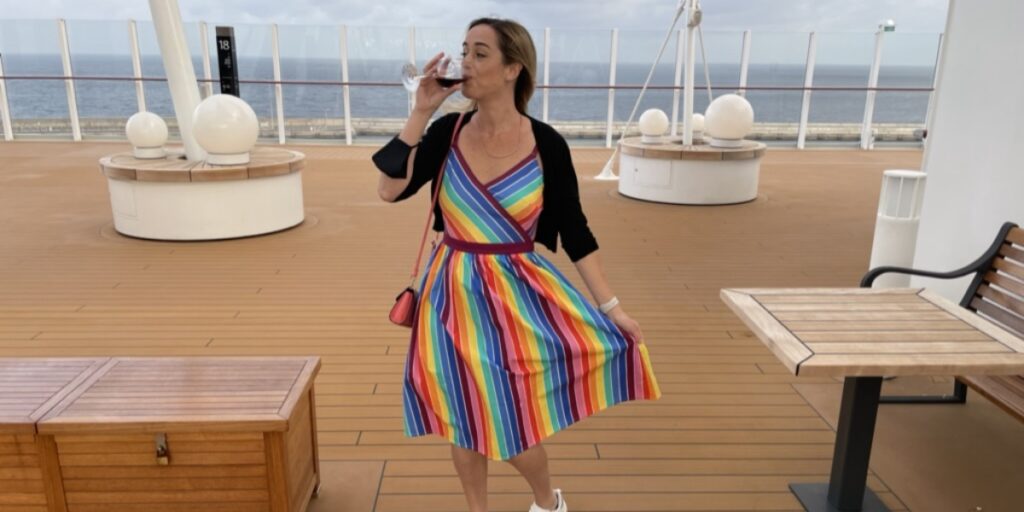 Are there strict bar areas that you have to stick to, or can you walk around with your drink?
Let's take a look.
Can you walk around a ship with alcoholic drinks?
Generally, you are allowed to walk around a cruise ship carrying alcoholic drinks with you. As long as you're behaving respectfully, you're welcome to grab a drink from any bar or server and take it with you around the ship.
There might be some limitations depending on the cruise line and where you're headed. Obviously, you won't be able to take a drink with you on certain attractions on a cruise line, and some shops may ask you to finish your drinks outside before you browse.
But there's usually no problem with ordering a drink and then heading off around the ship to explore and find somewhere nice to enjoy it.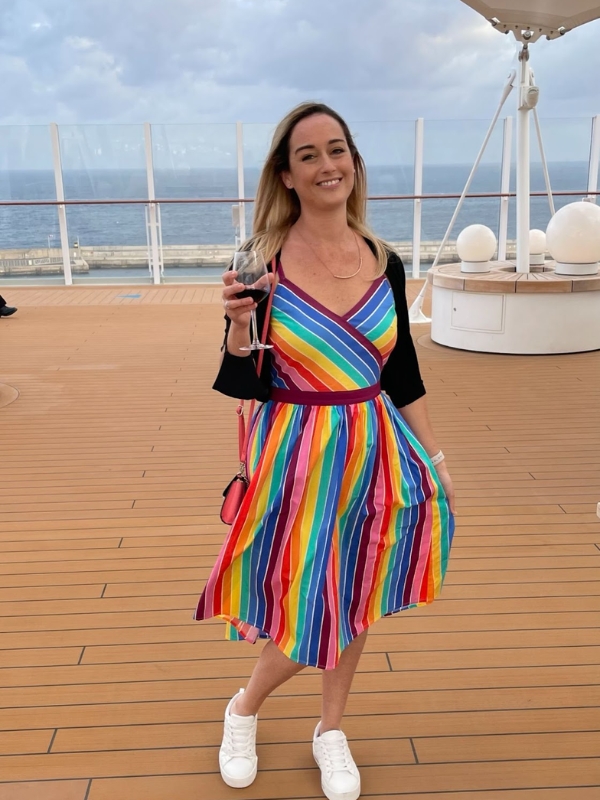 Can you drink around the pools?
On most cruise ships you'll be allowed to drink around the pools, and some have poolside bars to even encourage this. However, you might not be allowed to have a glass container – your drink may be poured into a plastic cup if you're poolside.
If you buy a drink in a glass in another location on the ship and you then head to the pool, a crew member may ask you to move or may bring you a plastic cup to swap your drink into. It's purely for safety reasons, so nobody slips over on a wet surface and breaks a glass.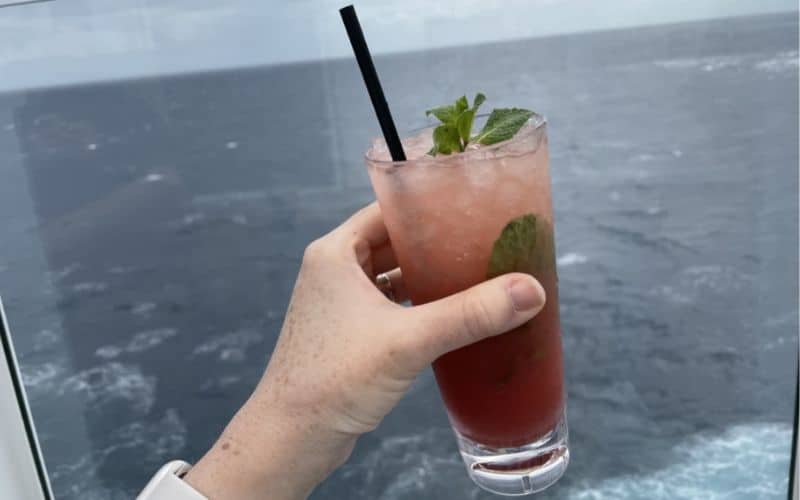 Can you drink in a hot tub?
Most cruise lines allow guests to drink while in the hot tub, provided they're drinking out of a plastic or aluminium container. Glass is banned for obvious safety reasons. Some cruise lines will even have servers walking around the pool area, taking orders and delivering drinks to guests in the hot tub.
So if your idea of heaven is to sit in a hot tub and sip on a cocktail, you should be fine – provided you've ordered your drink in a plastic cup or you order from a server while you're in the hot tub. Just be careful not to spill it while you're enjoying the bubbles.
In my experience, MSC Cruises doesn't allow guests to drink in the hot tub, and they'll tell you to get out. This is weird, because that seems the be the only thing that the crew on deck do enforce!
They certainly don't police anyone who's reserving sunbeds with towels or skipping the handwashing station at the entrance to the buffet.
Can you take a drink to your cabin?
Guests are welcome to take drinks back to their cabin on a cruise. You can head to a bar, order a drink, and then carry it back to your room to enjoy it. A lot of guests enjoy a nightcap this way.
In theory, there's nothing to stop you from taking a drink back to your cabin, finishing it, and then pouring yourself a drink from the alcohol you've brought onboard and carrying it around with you to the rest of the ship.
If you're on a ship that charges a corkage fee for wine you've brought onboard, but only when you're drinking in public spaces, this is one way you can get around it.
Can you take a drink into the restaurants?
You can take alcoholic drinks into the restaurants with you, but there are also drink servers in the restaurants who can take your order for you, so you don't need to.
Some cruise lines offer freedom dining where you can turn up for a table whenever you want, but there might be a wait – so it may be a good idea to take a drink with you while you're waiting to be seated.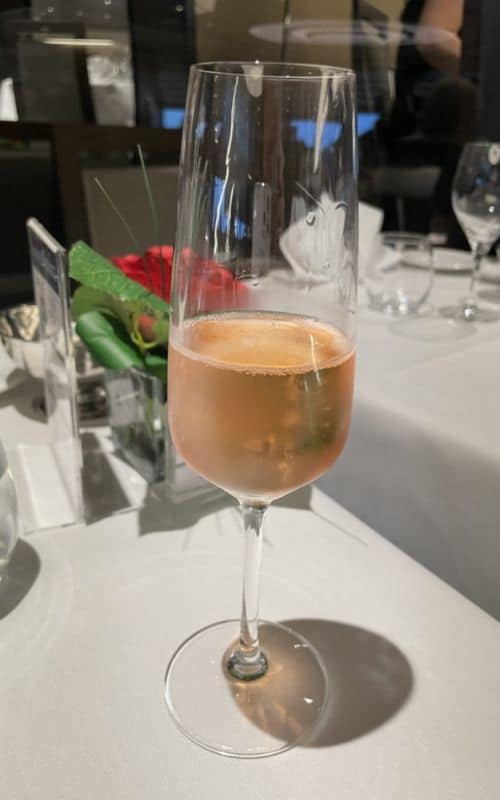 The one thing to note is if you plan on taking bottles of wine into the restaurant. If it's wine that you've brought from home, then you might be charged a corkage fee.
Can you take alcoholic drinks into the ship's theatre?
You can usually take drinks into a theatre on a cruise ship, but be aware that most cruise ship theatre seats won't have cup holders, so you may need to hold onto your drink or place it on the floor and hope you don't kick it over by accident.
Some cruise lines won't let you take drinks in and will stop you at the door and ash you to finish them. But others have more of a lounge-style setup with tables and chairs, and have drinks servers who'll bring your drink to you. So it varies by ship.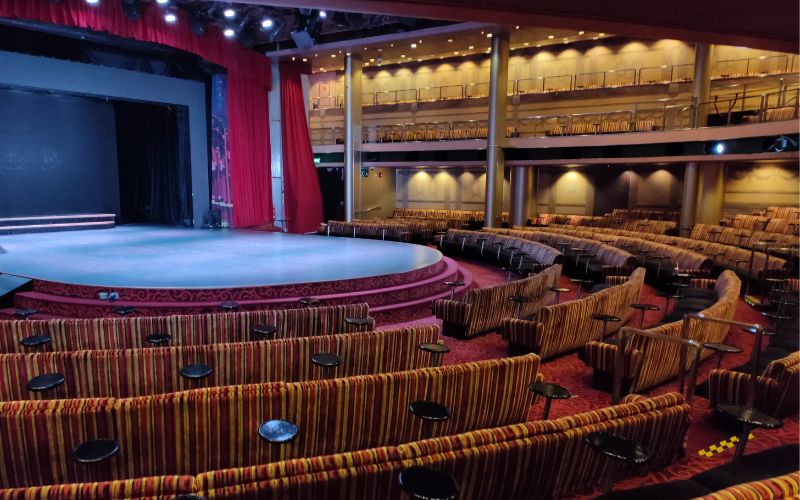 Can you take drinks into the spa on a cruise ship?
You'll likely have no problem with taking drinks into the spa on your cruise. Iced water with fruit is usually available in there, and you may also be able to order Champagne. But if you happen to have an unfinished drink at the time of your booking, just take it in with you.
Here's a photo of me enjoying an iced coffee in the spa on Enchanted Princess…
Final word
On most cruises, you're welcome to wander the ship with a drink in your hand, at least in most areas. It's just like one large resort, so grab your favourite tipple and then find your perfect spot to enjoy it. Just make sure you ask for plastic glasses if you want to head over to a pool or hot tub.
Related Topics