Quotes about the sea can be very powerful and these short quotes pack a lot of meaning into just a few words.
Short, simplistic quotes are easy to remember and can provide inspirational mantras for us to live by. These short quotes are also great to use as captions for Instagram posts or slogans to add to items such as t-shirts.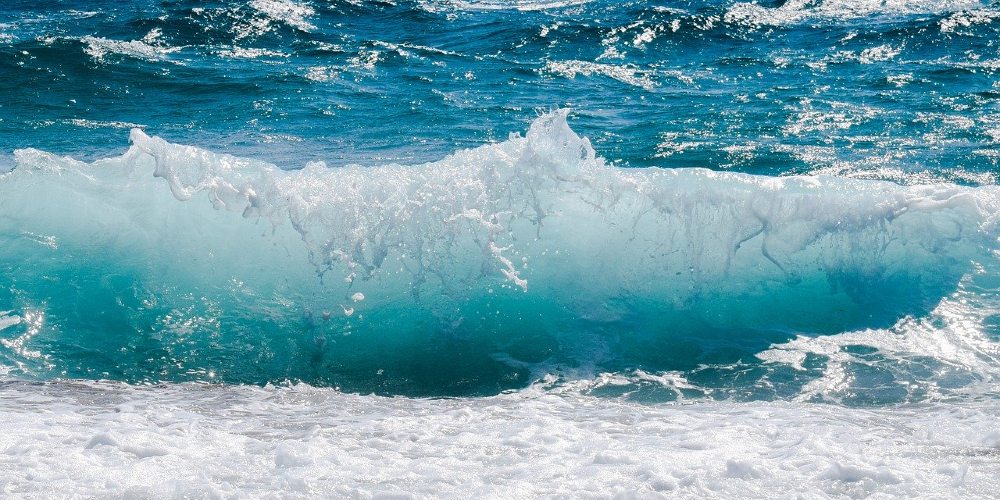 If you'd like more quotes about the sea which are particularly relevant to 2021, you should also look at this list of rough sea quotes and this list of calm sea quotes.
I also find a lot of inspiration in quotes about the beach. I've found a great list of beach quotes here and some more beach quotes here.
Now, let's dive into this list of the best short sea quotes and sayings…
The best short quotes about the sea
"Life is like the ocean, it goes up and down"

– Vanessa Paradis
Vanessa Paradis is a French singer, model and actress. She became a pop star at the age of 14, married Johnny Depp and is now a fashion icon and a spokeswoman for Chanel. This quote is attributed to her, although the context behind it is unknown.
---
"I need vitamin sea."

– Unknown
It's not known who came up with this clever play on words. But time spent by the ocean certainly has a similar effect on our health as Vitamin C.
---
"Live in the sunshine, swim the sea, drink the wild air."

– Ralph Waldo Emerson
Ralph Waldo Emerson was a 19th Century Americal lecturer, philosopher and poet. This famous line is from his poem 'Merlin's Song'.
---
"The sea does not like to be restrained."

– Rick Riordan, The Lightning Thief
'The Lightning Thief' is a fantasy-adventure novel written by Rick Riordan. This quote comes from the main character, Percy Jackson, who embarks upon a quest to travel across the United States and reach the gates of the Underworld.
---
"Individually, we are one drop. Together, we are an ocean."

– Ryunosuke Akutagawa
Ryunosuke Akutagawa was a Japanese poet and writer from the 1920s. He is regarded as the 'Father of the Japanese short story' and his works have been translated into many languages.
---
"The cure for anything is salt water: sweat, tears or the sea."

– Isak Dinesen
Isak Dinesen is a pen name of Karen Blixen, a Danish author who is best known for the book 'Out of Africa'. This quote is an excerpt from her short story, "The Deluge at Norderney". In this story, the character is considering curing depression by throwing themselves into the ocean.
---
"Let the waves carry you where the light can not"

– Mohit Kaushik
Mohit Kaushik is an Indian actor. The origins of this short quote about the sea are unknown.
---
"Sometimes in the waves of change, we find our true direction"

– Unknown
This is a quote that is very relevant to a lot of people in 2020 and 2021. Just as the tide changes, other things in our life can change too, and this can push us towards the path that we were destined to follow.
---
"Smell the sea and feel the sky, let your soul and spirit fly"

– Van Morrison
Van Morrison is a Northern Irish singer-songwriter. This quote is a line from the song 'Brand New Day' which featured on his 1970 album 'Moondance'.
---
"Let the sea set you free"

– Unknown
This is a nice short sea quote which you'll commonly see printed on cushions, wall art and coasters. It's meaning is open to interpretation as the ways in which the sea can set you free will be unique to each person's circumstances.
---
"A rising tide lifts all boats"

– Sean Lemass
This aphorism was originally coined by Irish politician Sean Lemass and made famous by John F. Kennedy, who used it often. It means that when an economy is performing well, everyone will benefit from it.
---
"The sea, once it casts its spell, holds one in its net of wonder forever."

– Jacques Cousteau
Jacques Cousteau was a French explorer and pioneer of marine conservation. This famous quote means that once you begin to explore the sea, you will be so mesmerized by its wonders that you'll always want to learn more.
---
"A lot of people attack the sea, I make love to it."

– Jacques Cousteau
This quote by Jacques Cousteau demonstrates how his attitude towards marine conservation was different to so many others at the time.
---
"How foolish to believe we are more powerful than the sea or the sky."

– Ruta Sepetys
Ruta Sepetys is a bestselling writer of historical fiction. This quote is a from her novel, Salt to the Sea.
---
"The ocean is calling and I must go"

– Unknown
This short ocean quote is adapted from a similar quote – 'The mountains are calling and I must go'. The original quote is by John Muir, a Scottish-American naturalist who was known as 'John of the Mountains'.
---
"The sea is a desert of waves, A wilderness of water."

– Langston Hughes
Langston Hughes was an American poet. This sea quote is a line from one of his poems – Long Trip.
---
"How inappropriate to call this planet Earth when it is clearly Ocean."

– Arthur C. Clarke
Arthur C. Clarke was an English science-fiction write, undersea explorer and futurist. This quote about the sea refers to the fact that the ocean covers around 71% of the planet's surface.
---
"Darling, it's better, down where it's wetter. Take it from me!"

– Sebastian The Crab
This is a line from the song 'Under the Sea' from the 1989 movie 'The Little Mermaid'.
---
"The sea is as near as we come to another world."

– Anne Stevenson
Anne Stevenson was an American-British poet and writer. This line from one of her poems can be found at the entrance to Hull's aquarium, The Deep. There's no denying that some ocean creatures are so remarkable that they could indeed be from another planet.
---
"The ocean is a mighty harmonist"

– William Wordsworth
This is a line from the poem 'On the Power of Sound' by 16th Century English poet, William Wordsworth. It highlights how vital the ocean is to life on planet Earth.
---
"Even the upper end of the river believes in the ocean."

– William Stafford
William Stafford was an American poet and pacifist. This quote is a line from his poem, Climbing Along the River. It means that you should believe in something, even if you have no proof that it exists.
---
"Eternity begins and ends with the ocean's tides."

– Unknown
This quote about the ocean refers to the role that the tides play in life on Earth. Without the ocean's tides to churn up material in the ocean, there would be no ecosystems and life as we know it would not exist.
---
"A smooth sea never made a skilled sailor."

– Franklin D. Roosevelt
This is a famous quote by the American president, Franklin D. Roosevelt. The meaning behind the quote is that we need to be challenged in order to develop and improve. It can be applied to many aspects of life including work and relationships.
---
Final thoughts
Do you have a favourite short quote about the ocean that's not here? I'd love for you to add it in the comments below.
Related posts: