Cunard Line has lifted the cloche on some of the new dining experiences that guests will be able to enjoy on Queen Anne when she debuts for the cruise line in early 2024.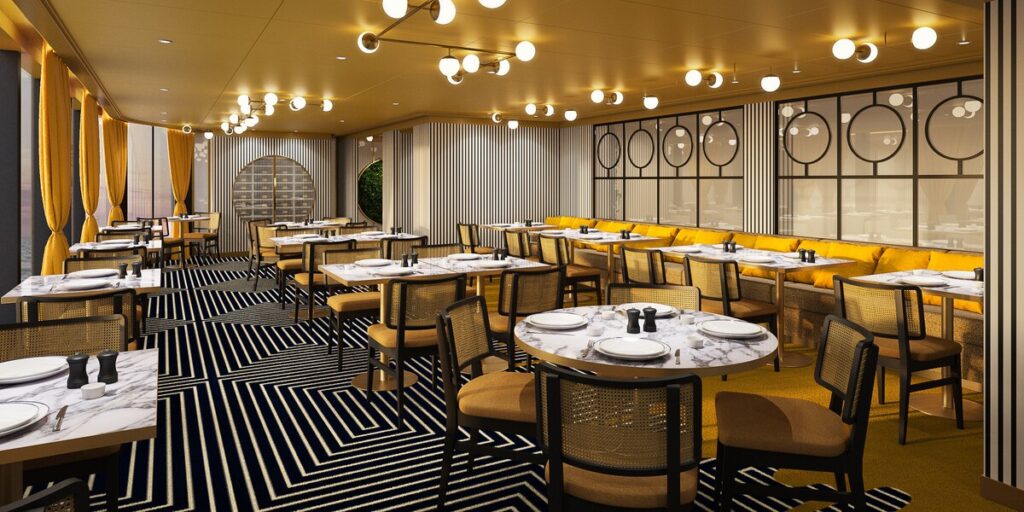 There are five speciality restaurants that guests can dine in, all of which offer unique cuisines and fantastic settings – as well as an additional surcharge, similar to speciality restaurants on other ships in the fleet.
Each of the restaurants will retain the standard White Star Service you would expect of Cunard Line, with wonderfully attentive waiting staff and elegant decor.
Tramonto is the new Mediterranean venue on the ship. It features inspiration from across the region, including southern Spain, the Italian islands, and hints of Africa and Arabia too.
Sir Samuel's is named as a tribute to the originator of the cruise line, Samuel Cunard. The cuisine includes steak dishes, seafood platters and more, with a focus on carefully chosen ingredients for their taste but also their sustainability.
Aji Wa focuses on Japanese cuisine, with a menu that will change throughout the ship's seasons. There'll be a sushi bar, a yakitori grill and plenty of favourite dishes, including bao buns, gyozas and tempura.
Aranya is the Indian restaurant on the ship, which takes classic dishes and puts a creative spin on them. It's a fun way to sample the spiced tastes of this region.
And finally, The Golden Lion is a favourite from other Cunard ships that will continue on Queen Anne, serving traditional pub dishes, including the classic Sunday roast.
All of the restaurants on Queen Anne are being designed in partnership with the famous Michelin-starred chef Michel Roux, promising exciting tastes and unique combinations.
Queen Mary 2 Mishap
The exciting news for Queen Anne comes off the back of a small fright for sister ship Queen Mary 2.
While docked in Civitavecchia last week, she broke free of her moorings and floated away from the pier. She was quickly secured thanks to tugboats, but she did lose both the forward and aft gangways to the ocean.
Thankfully nobody was injured during the incidents, and she continued to sail the rest of her itinerary as planned.
Related Posts: