This is a sponsored post by Marella Cruises.
Ever wondered about the most scenic, relaxing, and convenient way to explore the vast beauty of the United States? If you've been dreaming of witnessing majestic landscapes, vibrant cities, and rich cultural diversity, but feel overwhelmed by the logistics of it all, you've docked at the right port.
Travel can be stressful, and when you consider just how vast the US is, if you want to visit more than one state it can be complicated. That's why a cruise can be your perfect solution!
A cruise is not only a luxurious escape but also a remarkably efficient way to see the best of the USA. And when it comes to USA cruises, Marella has a great choice of itineraries for you.
So, let's take a look at what you can expect from a Marella cruise to the USA…
Here's Where Marella Sails To In The USA:
Boston
Charleston
Fort Lauderdale
Key West
Miami
Newport
New Orleans
New York
Portland
Port Canaveral
Tampa
Marella Cruises visit ten different ports across the West Coast of the USA. But that's not all. Itineraries also include calls in the Caribbean, Bahamas or Canada.
Marella Cruises USA Discount Code
If you book your Marella USA cruise now, you can save an extra £100 per booking! Just use code US100.
(Valid until 31st May 2023 on May – October 2023 sailings. T&Cs apply)

There are four exciting itineraries to choose from…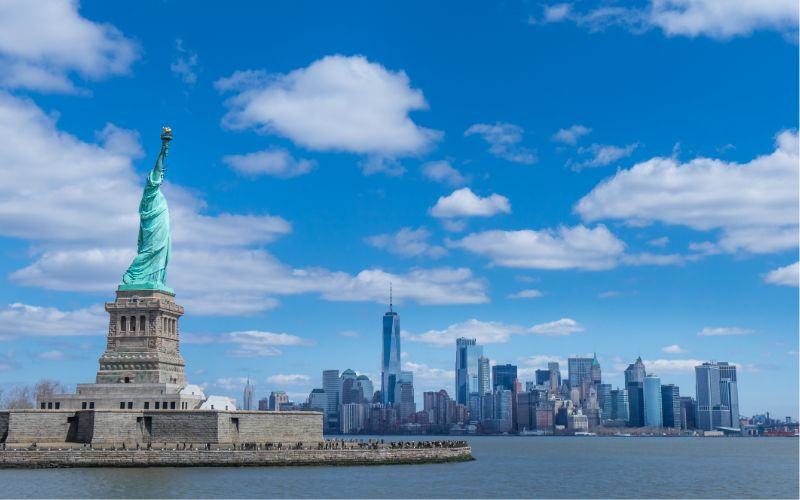 This cruise is designed to showcase the diversity and vibrancy of the United States and its neighbouring regions, offering you a perfect blend of urban excitement, historical charm, and tropical paradise.
Departing from sunny Port Canaveral, Florida, our first stop is the idyllic city of Charleston, South Carolina.
Known for its well-preserved antebellum architecture and rich history, Charleston will charm you with its Southern hospitality. Here you can meander through the cobblestone streets, explore the historic district, and sample the famed Lowcountry cuisine.
Next, we dock in the city that never sleeps – New York City – for two exhilarating days.
From the towering skyscrapers to the bustling streets, the Big Apple offers something for everyone. Shop 'til you drop on Fifth Avenue, marvel at the iconic skyline, or immerse yourself in the city's rich cultural scene.
As we journey back towards Florida, we stop at Freeport in the Bahamas.
It's a tropical paradise, where the beaches are white, the water is crystal clear, and the pace is delightfully slow. Snorkel in the colourful reefs, indulge in the local cuisine, or simply relax on the beach.
The cruise ends as we dock back at Port Canaveral on Day 8, but not before offering you one more exciting attraction – The Kennedy Space Center. As a fitting conclusion to this voyage, you'll get a glimpse into the world of space exploration that will leave you starry-eyed and full of wonder.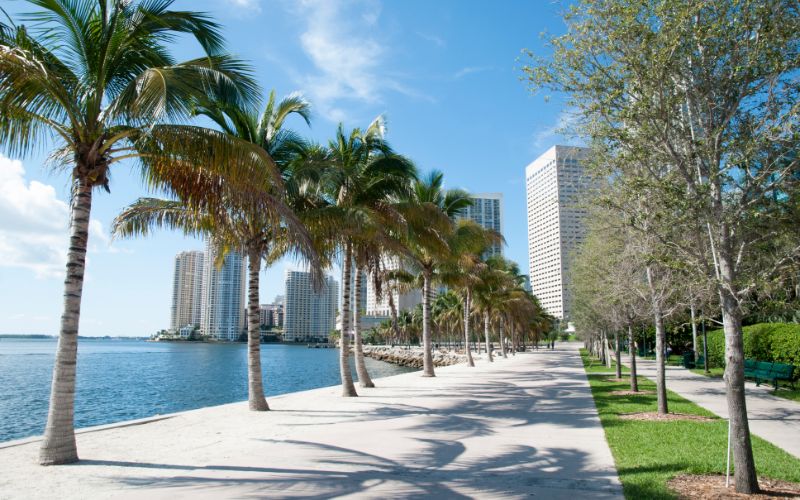 With three slightly different versions of this itinerary to choose from, the Sunshine States and Sands cruise gives you the option to experience a range of stunning ports, each offering its own unique allure.
Whether you're drawn to lush forests, vibrant cities, or tropical islands, these itineraries offer a little bit of everything, promising a cruise you won't soon forget.
Departing from Port Canaveral in Florida, the gleaming city of Miami is an important common stop across all itineraries.
Miami is a city where modernity meets tradition, where the pulse of city life is softened by the gentle sway of palm trees. You'll marvel at the Art Deco buildings, enjoy the beautiful beaches and sample the rich culinary scene during your full day in port.
A trip to Amber Cove, nestled in the lush Dominican Republic, is also included in each cruise. Here, your adventure takes you deep into the verdant forest, where the emerald canopy overhead hums with the vibrant pulse of nature.
The Sunshine States and Sands itineraries also visits the stunning shores of Grand Turk in the Turks and Caicos Islands. With its pristine beaches and azure waters, this island paradise is sure to charm you.
For the final stop, depending on the itinerary you'll visit either the Bahamian gem of Nassau, the charismatic Key West in Florida or the beautiful island of Bimini in the Bahamas.
By the time you return to Port Canaveral on Day 8, you'll have a treasure trove of memories to take home.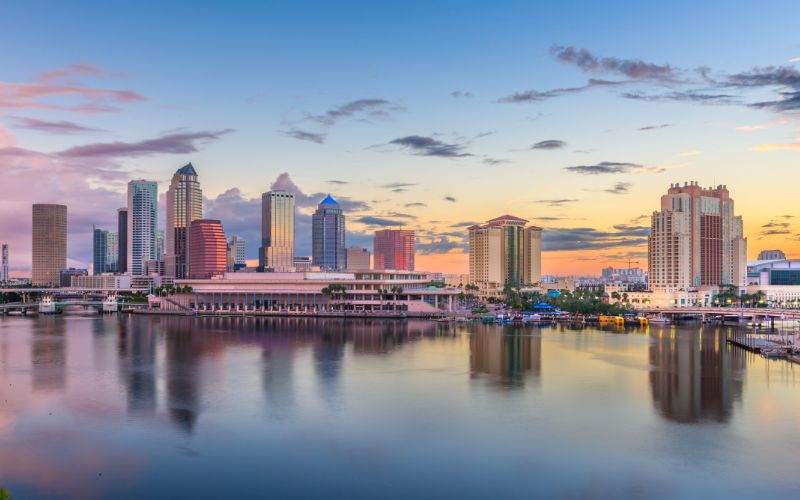 This cruise starts from Port Canaveral, Florida, and sails towards an array of diverse and captivating destinations. The two two iterations of Floridian Favourites have slightly different routes which offer a blend of art, adventure, and relaxation, ensuring you enjoy the best of the Floridian and Bahamian coasts.
Both itineraries include two days in the dynamic city of Tampa, Florida. Here, you'll be immersed in the city's vibrant culture, with plenty of time to explore Tampa's renowned art museums. Discover world-class exhibitions showcasing pieces from local and international artists, providing a feast for the eyes and the soul.
Depending on your chosen route, you'll either experience the pirate sites of Nassau or the balmy beaches of Bimini in the Bahamas. Soak in the sun, dive into crystal-clear waters, or embark on a treasure hunt – the choice is yours.
Finally, both itineraries lead you to Fort Lauderdale, Florida, where you can partake in thrilling airboat rides in the Everglades. This unique experience offers close encounters with Florida's wildlife and a deeper appreciation for its unique ecosystem.
By the time you dock back at Port Canaveral on Day 8, you'll be leaving with a suitcase full of unforgettable memories and experiences.
This unforgettable 15-day cruise, sets sail from Port Canaveral, Florida, and visits an array of captivating destinations in the USA and Canada. With each port offering its own distinct charm, this cruise is a fantastic way to explore the beauty and diversity of the northeastern coast.
After two relaxing days at sea, we'll drop anchor at the beautiful coastal town of Newport, Rhode Island. Known for its stunning Gilded Age mansions and rich maritime history, Newport also boasts some of the freshest seafood you'll ever taste. Spend a day relishing succulent lobster rolls, clam chowder, and other local delicacies that capture the essence of New England cuisine.
As we journey north, we'll visit the charming cities of Portland, Maine, and Saint John, New Brunswick, offering you a glimpse of quaint coastal life and captivating natural beauty.
Then, it's on to Nova Scotia, where the vibrant city of Sydney awaits. From its bustling markets to its intriguing museums, Sydney offers a rich cultural experience that blends the historic and the contemporary.
Our next stop is Halifax, Nova Scotia's capital, where you can explore the city's maritime heritage, walk along the historic waterfront, or indulge in some of the region's finest seafood.
From there, we'll set sail for Boston, Massachusetts. Known for its European-style architecture and significant role in American history, Boston will captivate you with its unique blend of past and present.
After two more days at sea, where you can unwind and reflect on your journey, we return to Port Canaveral, marking the end of a voyage that promises to leave you with a rich tapestry of memories and experiences.
Back to Back Itineraries
If a week just isn't enough, Marella makes it easy for you to book back-to-back itineraries. You can enjoy the Sunshine State and Sands followed by the American Dream, or vice versa.
The Floridian Favourites followed by the American Dream is also a popular choice for anyone who wants to explore as much of the USA as possible during their cruise.
Cruise & Stay Options
Marella's USA cruises are perfect to combine with a week's hotel stay in Florida. Whether you want to spend some time relaxing on the beaches or around the pool, or visit Florida's most thrilling theme parks and attractions, you'll have plenty of time to do so.
Marella's USA cruises are perfect to combine with a week's hotel stay at a wide-range of handpicked hotels in Florida. Whether you want to spend some time relaxing on the beaches or around the pool, or visit Florida's most thrilling theme parks and attractions, you'll have plenty of time to do so.
What's Included in a Marella USA cruise?
Marella cruises offer fantastic value for money as SO MUCH is included in your cruise fare. Your cruise includes flights and transfers, accommodation on the ship, food, all-inclusive drinks, activities and entertainment, and all tips and charges.
You can read more about exactly what you get for your money here.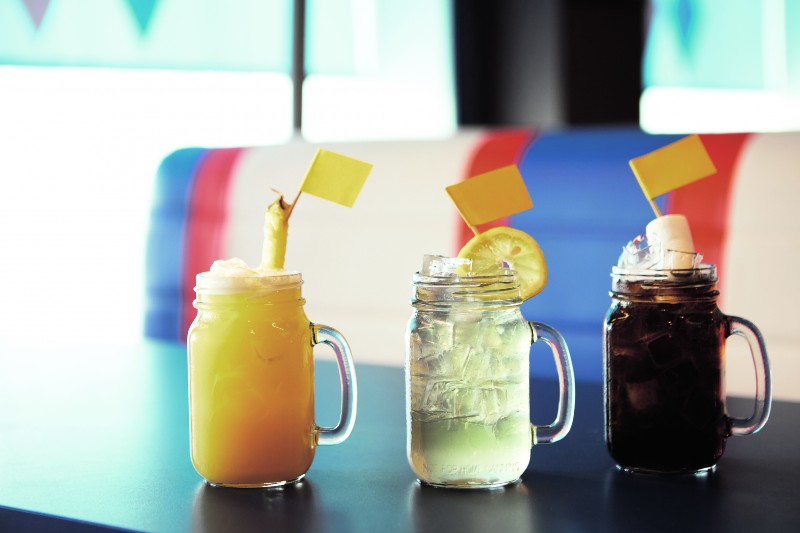 About Your Ship
Marella cruises to the USA are all onboard Marella Discovery. A shining star in the Marella Cruises' fleet, this ship is renowned for its blend of modern amenities and timeless elegance.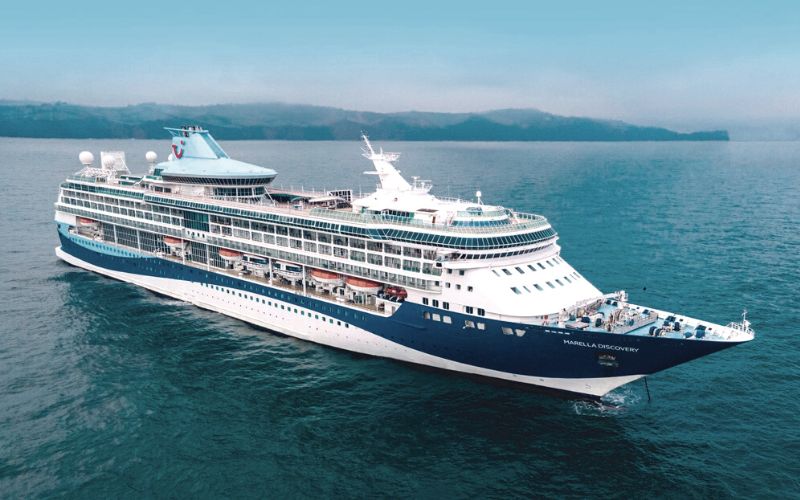 This mid-sized cruise ship offers an intimate yet vibrant cruising experience, accommodating approximately 1,830 passengers with a choice of cabins.
Onboard, guests can enjoy a wide array of dining options, from sumptuous buffets to fine dining restaurants, as well as a variety of bars and lounges. The ship also boasts numerous leisure and entertainment facilities, including a Broadway-style theatre, rock climbing wall, mini-golf course, and an outdoor movie screen, a luxurious spa, state-of-the-art gym and multiple swimming pools.
See how the Marella cruise ships compare.
To Conclude
And there you have it – a tantalizing glimpse into what you can expect from a Marella cruise to the USA.
Whether you're exploring the vibrant streets of New York, soaking up the sun in Florida, or delving into the rich history of New England, Marella Cruises offers an experience that is as diverse as it is unforgettable.
With Marella Discovery's extensive amenities and world-class service, your journey at sea promises to be as enriching as your time in port. From savouring exquisite cuisine to participating in thrilling onboard activities, every moment aboard is designed to be a memorable one.
So why wait? Embark on a Marella cruise and let the magic of the USA enchant you. From iconic landmarks to hidden gems, this is your chance to discover the best the country has to offer, all while enjoying the unparalleled comfort and convenience of cruise travel.
Marella Cruises USA Discount Code
If you book your Marella USA cruise now, you can save an extra £100 per booking! Just use code US100.
(Valid until 31st May 2023 on May – October 2023 sailings. T&Cs apply)
Related Posts: