Since the global pause in cruising, more people have become interested in tracking the locations of cruise ships. It can be fascinating to see where cruise ships are anchored in the sea right now and where they're cruising to next.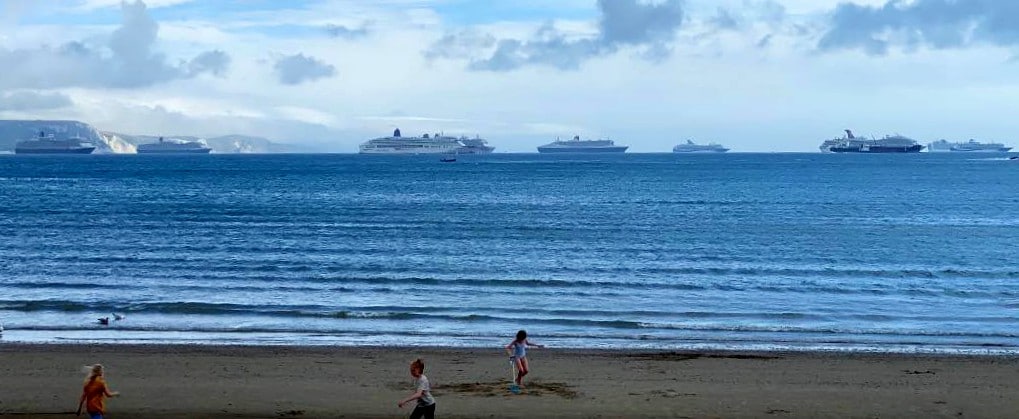 You can use these exact cruise ship locations to plan a sightseeing trip to see the cruise ships anchored at sea. You may also be interested to see where cruise ships are heading to get clues as to when cruising will resume for a particular ship.
Take a look at the live cruise tracker below. Beneath, you'll find some handy tips on how to best use it.
How to use the cruise ship tracker
1. Select the ship type
By default, the map shows all ships including cargo vessels, tankers, tugs and fishing boats. To see cruise ships and ferries only, click or tap on the filter icon, disable all ship types and then select 'passenger vessels'. Then click or tap the filter icon again to go back to the map.
Of course, if you're interesting in all of the shipping movements, you can use the live ship tracker to find all sorts of vessels as well as cruise ships.
2. Change the location or zoom in
By default, this cruise ship tracker is set to show where cruise ships are sailing off the south coast of the UK.
However, you can easily see cruise ship locations anywhere in the world. Just drag the map to where you want to see. You can also zoom in and out for a closer look (e.g. by using the scroll wheel on your mouse or the + and – in the top right).
3. Find a particular ship
To find the location of a particular cruise ship, just click or tap on the magnifying glass icon and type the name of the ship e.g. 'Ventura'. Click or tap the magnifying glass again to close the search facility and see the cruise ship map.
4. See cruise ship info
If you click or tap on a ship, you'll be able to see whether the ship is anchored or moving, at what speed and the destination that the ship is heading for.
Troubleshooting
This live cruise ship tracker should work on most mobile devices. However, it can be a bit fiddly to use on a small screen. For the best experience, I recommend visiting this page on a laptop or desktop computer.
Use this cruise tracker for ship spotting
Ship spotting has become a popular pastime, particularly in the UK, where cruise ships are now anchored in places where they wouldn't usually be.
Cruise ships that should be cruising in the Mediterranean or around the Caribbean have instead found themselves floating in the English Channel. These empty cruise ships have earned the nickname 'ghost ships' as they do not have any passengers and only a few crew members.
The best places to spot cruise ships in the UK
If you're wondering where are all the cruise ships anchored in the UK today, the easiest way to find out is to take a look at the cruise ship tracker. While many cruise ships are anchored off the south coast of England, you may be able to see them in the north of England too using this cruise ship locator.
Top locations for cruise ship spotting in the UK:
Weymouth Bay
Torbay
Bournemouth
Lyme Bay
Boat trips to see cruise ships
For a close up look at the ghost cruise ships, you can take a trip in a small boat, ferry or even a jet ski out to see them. Prices cost around £12 to £20 per person.
Here are some links to the companies offering sightseeing tours to see the cruise ships:
If you already have a ship spotting boat trip booked and want to see which cruise ships are in Weymouth Bay, Bournemouth Bay or Torbay today, then the cruise ship tracker will give you that information so you know what to expect.
Cruise ship spotting in the US
If you live in the US and are wondering if you can spot cruise ships anchored off the coast of Florida, then sadly, you can't. These cruise ships are anchored in groups between Florida and the Bahamas, so it's not possible to see them from the shore.
Use the cruise tracker to see where ships are heading
Where do stayction cruises go?
UK staycation cruises often sail around the English channel. One great advantage of taking a cruise rather than other kinds of UK holidays is that cruise ships can move to follow the best weather. This means that if it's cold and rainy in the UK, cruise ships with UK guests can cruise around the coast of France where the weather may be better.
If you have a friend who's on a cruise ship today, you can use the cruise ship finder to see exactly where they are.
Cruise ship repositioning
Another handy use for the cruise ship tracker is to follow the movements of cruise ships around the world. This can give us clues as to when particular cruise ships may come back into service.
For example, if you see that a ship is sailing cross the Atlantic Ocean, this may mean that it is transporting crew members or getting ready to resume cruising in Europe or the Caribbean.
FAQs
How many cruise ships are still at sea?
Almost all cruise ships are still at sea. With the global pause in cruising, some of the oldest cruise ships have been scrapped. However, the majority of cruise ships are still out at sea, anchored in the ocean with a reduced crew awaiting their return to carrying passengers.
Is there an app to track cruise ships?
There are several mobile apps that track cruise ships. Some of these, like the MarineTraffic app use live satellite data to track all kids of ships including cruise ships. Other apps, like the Shipmate app don't have live data so they're not as accurate, but they do have lots of other useful features for cruisers.
The cruise ship tracker on this page is powered by MarineTraffic so it uses the latest and most accurate satellite data. You can even zoom right in for a closer look at each ship!
Where is the best place to see cruise ships in Weymouth?
The best place to see cruise ships in Weyouth is Bowleaze Cove. This is a loely beach which us easy to get to as it has a car park plus free parking on the road. There's a restaurant nearby where you can watch the cruise ships in Weymouth Bay while you eat.
Related Posts: