Jewel of the Seas is still a very popular ship in the Royal Caribbean fleet, despite being one of the older ships still sailing and being much smaller than the famous super-ships of later classes.
Many people have enjoyed fantastic cruises on this smaller Royal Caribbean ship, but there are some who haven't had the perfect time – often, because they didn't do their research and they chose a cabin that wasn't suited to them.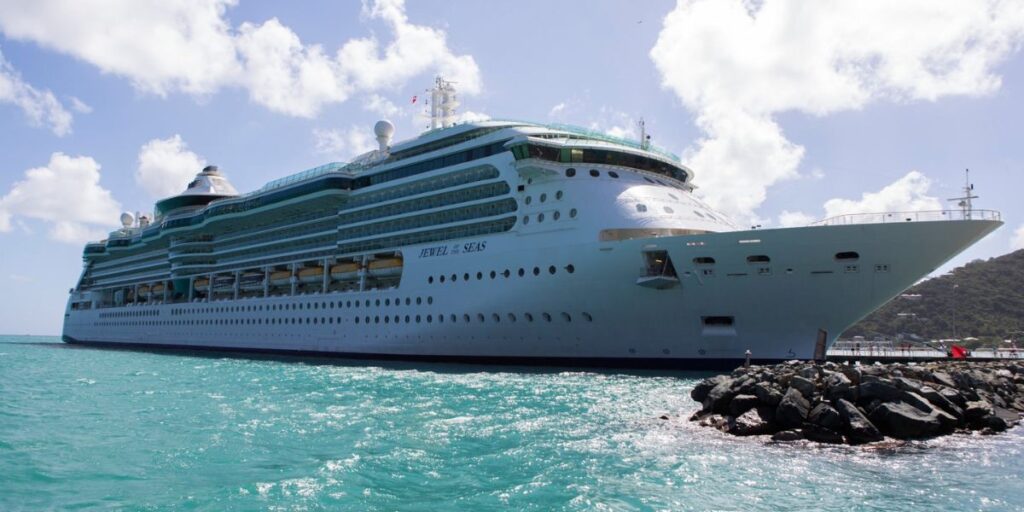 So get a step ahead, and use my guide to find out the cabins to avoid on Jewel of the Seas, along with the best cabin options to choose from.
How to Choose the Best Cabin
Some things to look out for are specific to a ship, while others are tips for all cruise ships. To help, I've made a free checklist of everything to look out for when booking a cabin, regardless of the ship you're on. Leave your details here if you want a copy, and I'll send it right over.
The Different Rooms on Jewel of the Seas
To understand the best rooms and the cabins to avoid on Jewel of the Seas, it's best to start by looking at all the cabins onboard. There are 1,072 rooms in total, which includes 61 Suites.
Of all the rooms on the ship, 54% have a balcony, which is pretty consistent with most of the ships in the fleet – the smaller and older Vision-class ships stand out for having a much lower percentage, though.
In total, Jewel of the Seas has 19 different cabin types, although some of these are only marginal differences. Here's the list in full, including sizes and where you'll find them:
| Room | Type | Max. guests | Decks | Average Size (sq ft) | Average Balcony Size (sq ft) |
| --- | --- | --- | --- | --- | --- |
| Interior | Inside | 4 | 2-4, 7-10 | 170 | N/A |
| Interior Accessible | Inside | 3 | 3-4 | 258 | N/A |
| Studio Interior | Inside | 1 | 4 | 108 | N/A |
| Ocean View | Ocean View | 4 | 2-4 | 170 | N/A |
| Ocean View Accessible | Ocean View | 4 | 2-4 | 276 | N/A |
| Connecting Oceanview | Ocean View | 4 | 3-4, 7 | 170 | N/A |
| Spacious Ocean View | Ocean View | 2 | 7-8 | 170 | N/A |
| Ultra Spacious Ocean View | Ocean View | 6 | 7-8 | 265 | N/A |
| Ocean View Balcony | Balcony | 4 | 7-10 | 179 | 20-41 |
| Ocean View Balcony Accessible | Balcony | 2 | 7-10 | 271 | 131 |
| Connecting Ocean View Balcony | Balcony | 2 | 7-10 | 179 | 41 |
| Spacious Ocean View Balcony | Balcony | 5 | 7-10 | 204 | 41 |
| Junior Suite | Suite | 4 | 10 | 299 | 41 |
| Junior Suite Accessible | Suite | 4 | 10 | 362 | 86 |
| Grand Suite – 1 Bedroom | Suite | 4 | 10 | 385 | 106 |
| Owner's Suite – 1 Bedroom | Suite | 4 | 10 | 532 | 57 |
| Owner's Suite – 2 Bedroom | Suite | 8 | 7-9 | 584 | 151 |
| Ocean View Suite – No Balcony | Suite | 8 | 10 | 592 | N/A |
| Royal Suite | Suite | 4 | 10 | 952 | 172 |
Jewel of the Seas Room Sizes
One thing that's important to note is that the room sizes in the table above are averages. While most rooms will be right, there may be some that are a little larger than others.
It's a good idea to browse the Jewel of the Seas deck plans on the Royal Caribbean website, because then you can see all of the rooms to scale – and maybe grab yourself a room with a little more space.
Accessible Cabins on Jewel of the Seas
The Accessible cabins on Jewel of the Seas are those that have been adapted for wheelchair users. This means they'll have slightly wider doors, and a wet room instead of a traditional bathroom, with supports.
There are plenty of options available, including the cheapest interior rooms and suites, too. So whatever your budget, if you need an adapted room then you'll be able to pick one that's in your price range and has the amenities you want.
Jewel of the Seas Cabins to Avoid
While there are no real 'bad' rooms on Jewel of the Seas, there are some that might be best avoided, depending on your personal preferences. So this is a list of the cabins you might want to avoid on the ship.
1. Obstructed View Balcony Cabins
Balcony Cabins 7050 to 7090, 7550 to 7590, 7110 to 7150, 7610 to 7650, 7160, 7164, 7664, 7670
On many cruise ships, some of the ocean view or balcony cabins that you can book will be advertised as having a restricted view. It is often the lifeboats that are the cause, but it can also be steel railings (due to high winds) or other objects in your view.
Typically, to make up for the partially ruined view, you pay less for these rooms – so it's a good value option for cruisers who don't mind not having an unspoilt balcony or window view.
Jewel of the Seas, officially, doesn't have any obstructed view cabins. However, those Balcony Staterooms I've listed all have a partially-blocked view due to an overhang that covers the lifeboats on the deck below.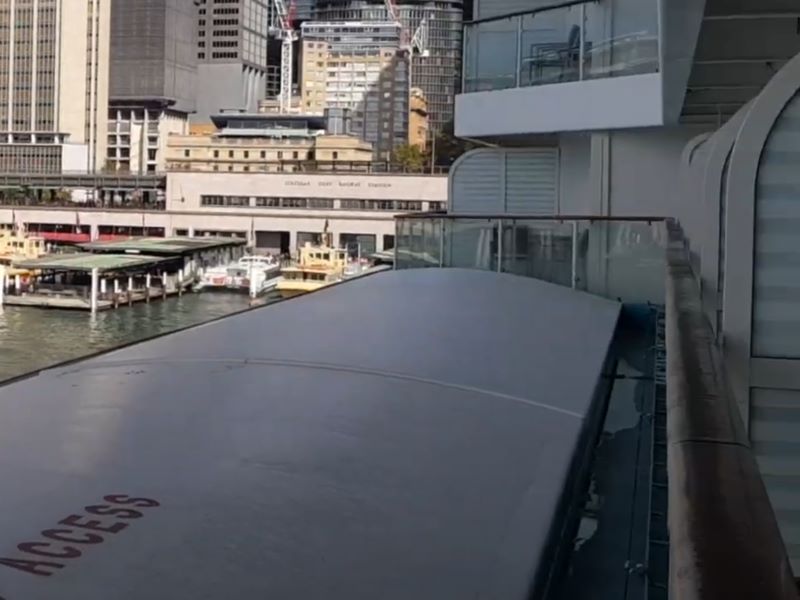 They are noted as having an obstructed view on the deck plans, which is better than on Serenade of the Seas or Radiance of the Seas, which don't even mention the obstruction! But don't expect a discount – which is a bit cheeky.
2. Cabins Below the Pool Deck
1028 to 1052, 1528 to 1552
A common problem on cruise ships is the noise that can carry through the floor or the ceiling. And one of those problematic spaces is on Deck 10, situated right underneath the pool deck.
Specifically, it's the sound of deck chairs being scraped across the wooden deck that can often wake guests in the early hours. If you enjoy a lie-in, consider avoiding this part of the ship directly underneath the pool areas.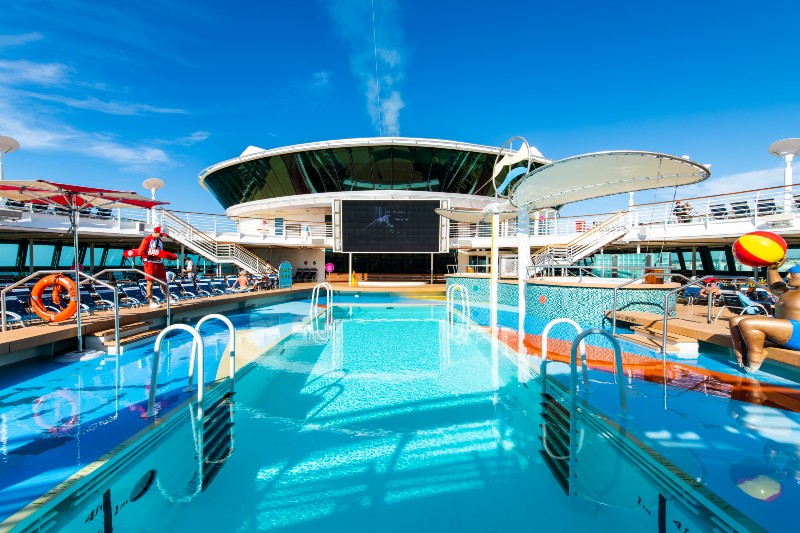 3. Cabins Above the Theatre & Bars
Most of Deck 7
Another potentially noisy spot is Deck 7, since on the deck below you've got the Theatre and several of the ship's bars. So this is less of a problem if your priority is a lie-in, but if you like an early night, you might find the evening noise runs a little long and is a little loud.
That's my second recommendation for avoiding rooms on Deck 7 – if you want a good balcony view and a peaceful night, then definitely skip these rooms.
4. Small Studio Interior Cabins
While it's great that Jewel of the Seas offers single cabins for solo travellers, think carefully before you book one. The size of these cabins is pretty small and even on your own, they can feel a bit cramped.
If the price is good and it removes all single supplement fares, then it's probably worth it. If not, consider booking a regular interior cabin and paying a little extra – you'll get almost double the space.
5. Connecting Cabins
There are plenty of options for connected cabins on the Jewel of the Seas, but if you're not planning to book both of the linked cabins, it might be a good idea to steer clear of them.
The door that connects these cabins is thinner than a regular cabin wall. So, even when it's shut and locked, you might catch some of the sounds from the neighbouring room.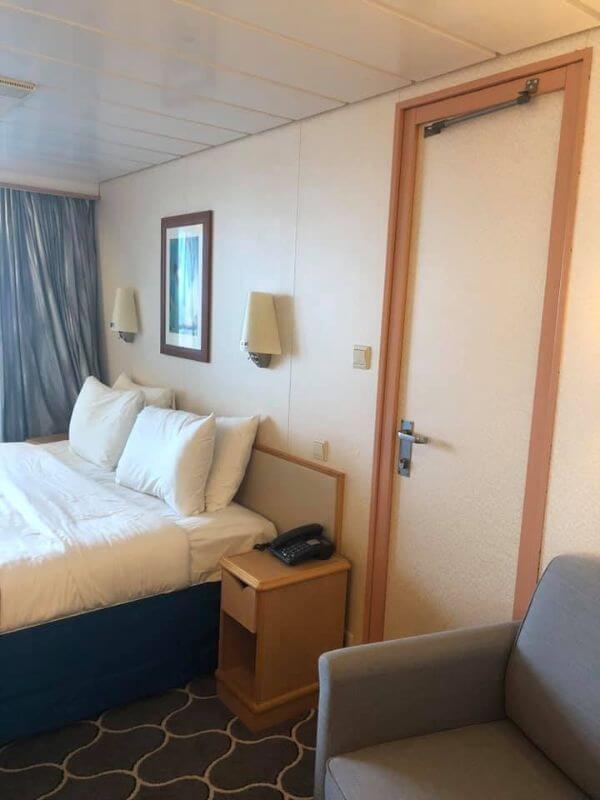 Typically, this isn't much of an issue unless your neighbors are being loud. But if they are, especially when you're attempting to catch some shut-eye, it can get pretty annoying – and let's face it, who wants their sleep disrupted?
6. Smaller Cabins for Families
A lot of the Interior and Ocean View cabins can sleep up to four guests, but when those sofa beds and pull-down beds are in use, they become very cramped, very quickly.
If you're travelling with more than three people on Jewel of the Seas, I would recommend you either book an Ultra Spacious Ocean View, or choose a suite.
Best Rooms on Jewel of the Seas
1. Aft-View Spacious Balcony Staterooms
The balcony staterooms on Jewel of the Seas are already good choices, since they're pretty roomy, but the Spacious Balcony Staterooms just feel that bit more special with the extra square footage.
And the best of those are at the rear of the ship with an aft view. Aft views are always popular on cruise ships – you're sheltered from any wind and being able to look out over the ship's wake is pleasant.
These rooms do cost a bit more than a regular Balcony Stateroom but if you want to make the most of your balcony, they're a great choice.
Take a look at this video for a closer look at this cabin type…
2. Interior Staterooms
Jewel of the Seas is a little dated in places, and she is an older ship. So when I recommend the Interior Staterooms as some of the best on the ship, it's not because they're stunning, or because they're packed with the latest tech like you might find in modern Royal Caribbean interior rooms.
But, they are a decent size – not big, but there are many smaller cabins on other cruise ships. And they're a good price too. If you're on a budget then the interior rooms are a really solid choice, especially if you want a good sleep – being in total darkness with no window can be very soothing.
Here's a video of this cabin type for you…
3. Royal Suite
The Royal Suite is expensive, and for most people, it'll be well outside their budget. But you can't mention the best staterooms and suites on Jewel of the Seas and not include it.
Compared to the rest of the rooms on the ship, it's huge, and yet it isn't designed to be crammed full of people. It's all about enjoying luxurious space, with a balcony that's bigger than hundreds of the actual staterooms on the rest of the ship! Plus you can take advantage of some great suite perks too.
Read more: Royal Caribbean Suite Perks
What is the Best Deck on Jewel of the Seas?
The best decks on Jewel of the Seas are decks 8 and 9. Here you'll find some of the better accommodation options, and you'll be surrounded by cabins above and below, which helps to minimise the noise levels.
What is the Best Room on Jewel of the Seas?
The best room on Jewel of the Seas is the Royal Suite – it's huge and has a very large balcony. The Owner's Suites, the Ocean View Suite, and Grand Suites are other good options. For guests who can't afford a suite, the Spacious Balcony Staterooms are the best choice.
Choose Your Own Room or Go For the 'Guarantee' Option?
When you book a Royal Caribbean cruise, you're typically presented with two options – let the cruise line decide your room for you, or pay an extra fee to select your exact room. You'll be shown two prices:

If you are happy for Royal Caribbean to choose your room then you still get to decide what type of room you want – Inside, Ocean View etc. – but the cruise line picks exactly which one. This is called a 'guarantee' cabin.
Benefits of choosing your cabin number:
Choose your preferred location on the ship
Book two cabins next to each other
Avoid undesirable cabins
If you don't really mind which cabin you're assigned to, then just pay the lower fee and let Royal Caribbean decide where to put you. But if you want to avoid those noisy locations, it's best to pay a bit more and choose your cabin number.
Find More Information About Jewel of the Seas Cabins
I've spent a lot of time researching this guide, using Facebook groups and forums. If you want to spend a bit more time digging even deeper, then check these out:
NEW DEALS JUST RELEASED!
Don't miss the latest Royal Caribbean offers…
Related Posts: