Can't get enough of cruising? It can be tough when your next cruise is months away and you just want to spend all of your time daydreaming about where you'll go, the food you'll eat and that amazing feeling of just being out on the ocean.
While it's not the same, you can at least scratch that itch a little by watching some cruise TV shows. There are various cruise programmes on TV, and while they're often older repeats, they still offer an interesting insight into everything that happens behind the scenes. Plus with online streaming services, it's easier than ever to catch up.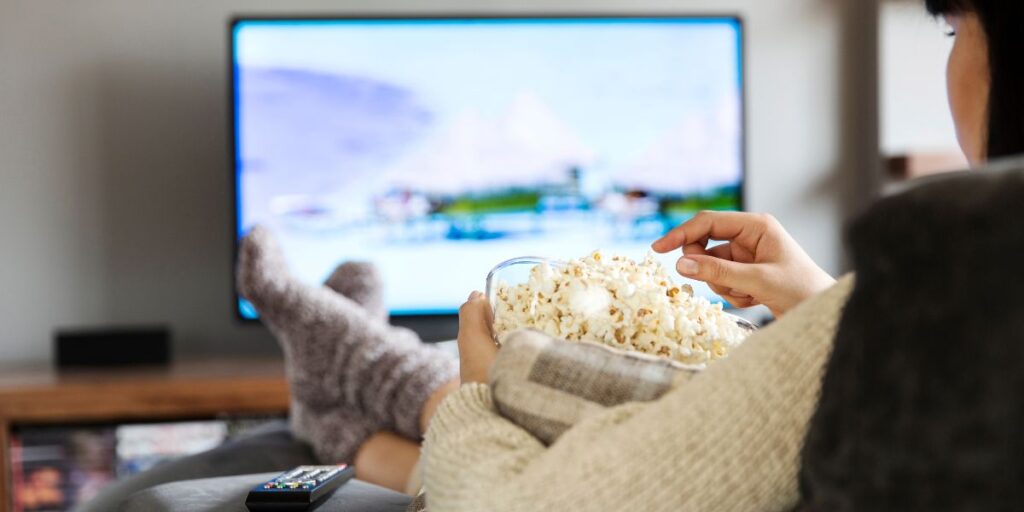 Here are 11 cruise shows on TV that you can enjoy in the UK right now.
1. The Cruise (BBC)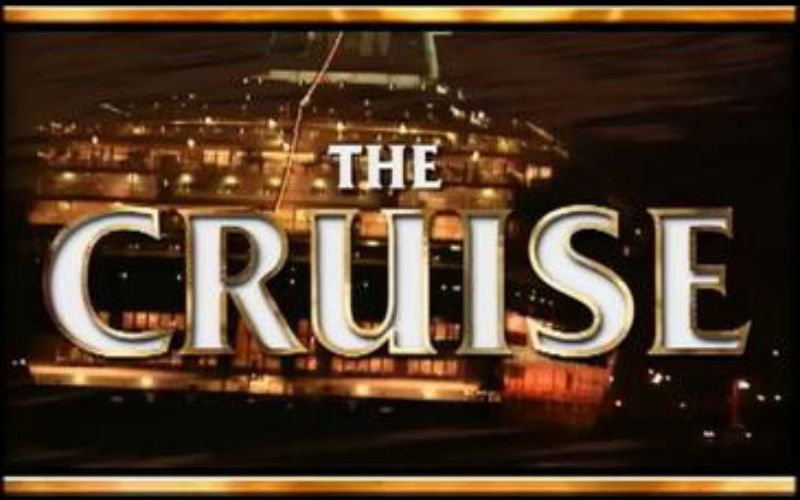 Where to watch it now: BBC iPlayer
Number of seasons: 1
First aired in 1998 and widely considered to be one of the original 'docusoaps' – a documentary filmed to be dramatic and episodic – The Cruise charted the maiden voyage of the Celebrity Cruises ship Galaxy, which has since been sold to Marella Cruises and sails as Marella Explorer.
The 12-episode series showed the ship sailing around the Caribbean and made stars out of some of the crew featured on board, especially Jane McDonald, the cruise ship singer who was enjoying her first headline booking.
There was a short follow-up series, called Return to…The Cruise that reflected on the original series from Jane's perspective. There are 5 episodes of that show also available, but it consists of a lot of clips of the original.
2. The Cruise (Channel 5)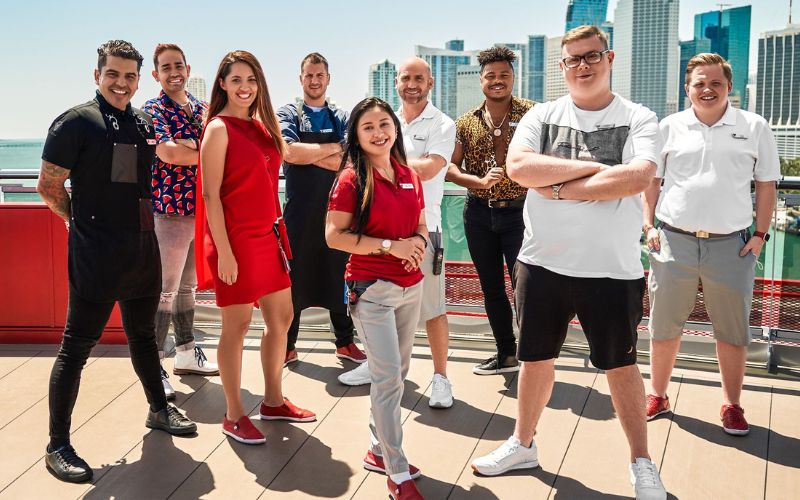 Where to watch it now: My5 Player
Number of seasons: 1
Another series entitled 'The Cruise', this one is more recent and focuses on Virgin Voyages, specifically The Scarlet Lady cruise ship. It has 8 episodes, all focusing on different parts of cruise life on this modern ship.
There's a look at the no-kids policy of Virgin Voyages in one episode, and one that's dedicated to how ships manage to turn around all of the supplies they need and get them to the right departments onboard during port days.
To confuse matters, there is a third TV series called The Cruise that was shown on ITV, which focused on Princess Cruises. That's no longer available on the ITV Hub, unfortunately, which is a shame as it had six seasons.
3. Cruising with Jane McDonald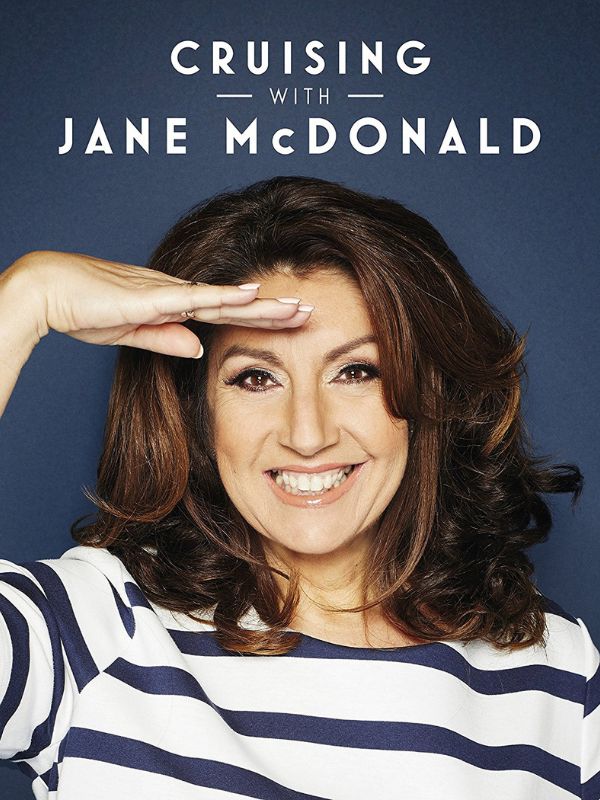 Where to watch it now: My5 Player
Number of seasons: 7
The same Jane McDonald that starred as a slightly nervous cruise ship singer in BBC One's The Cruise is now one of Britain's most prominent cruise ship travel show hosts. She has 7 series of her own show under her belt, where she travels the whole world on various ships for different cruise lines.
There is more of a focus on the destination with these series – episodes are titled based on where the ships are sailing too, and it's more of a traditional travel show that follows Jane visiting landmarks and destinations.
But you do still get to see some parts of the cruising experience as part of the show, as Jane shares her expert knowledge of the cruise industry and chats to various members of the crew.
4. Cruising with Susan Calman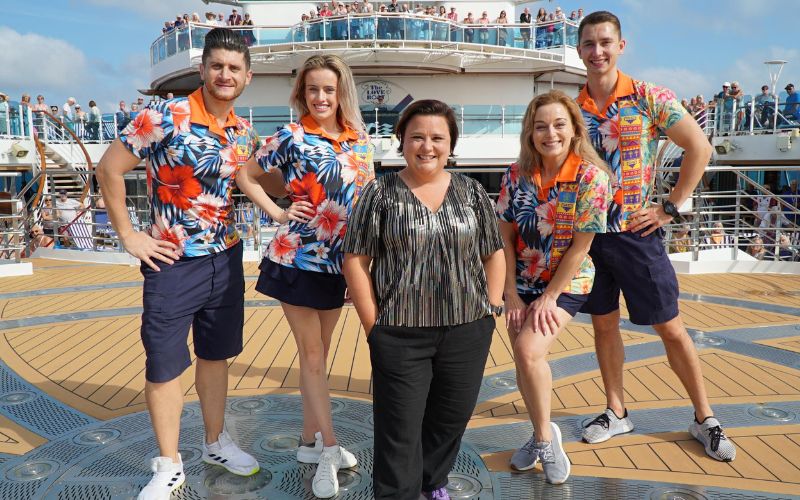 Where to watch it now: My5 Player
Number of seasons: 1
There's not a lot to say about this show, as it simply picks up the mantle of 'Cruising with Jane McDonald' and puts Susan Calman into the host position instead. Calman is an established stand-up comedian and panel show guest who boosted her popularity with an impressive run on Strictly Come Dancing in 2017.
Similar to the Jane McDonald series, there's a closer focus on the destinations with this show, as you get to see Susan sailing around the Mediterranean on Regal Princess, with later shows focussing on ports around the Caribbean and into the Panama Canal with a cruise on the Holland America ship Eurodam.
5. Jane McDonald: Cruising…
Where to watch it now: My5 Player
Number of seasons: 1
A spin-off from Jane McDonald's 'Cruising With' series, she also starred as the host of a series of one-off specials focussing on different destinations. These included a mix of clips from the earlier series, all packaged together with Jane's reflections on the key destinations for cruising.
There are 8 specials, each one running for around 100-120 minutes, including Cruising the Med, Cruising Scandinavia, Cruising USA and also Christmas Cruising.
So if you have a particular destination that you love and you just want to focus on that, you can enjoy an in-depth special dedicated to that region.
6. Billion Pound Cruise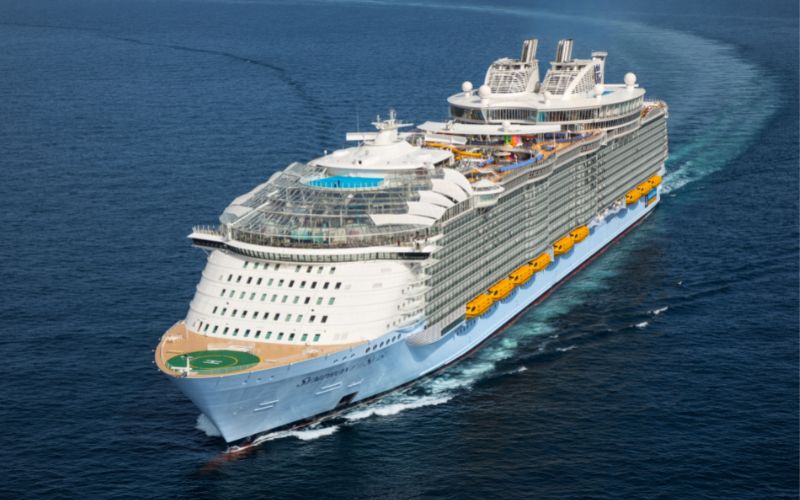 Where to watch it now: Channel 4 Online
Number of seasons: 1
The Billion Pound Cruise is a show that ran for three episodes, with a compilation episode released at the end, all based around the Symphony of the Seas. Each episode looks at a different aspect of life on the ship, with Episode 1 focusing on embarkation day and the logistics of preparing the ship for 6500+ new guests.
The second episode takes a deep dive into the ports of call, and how the ship manages to stay on schedule. Finally, the third episode is dedicated to everything there is to do on board. With a run-time of just 47 mins and over 70 activities, 14 bars and lounges and many more restaurants, it doesn't quite have the time to cover everything…
7. Mighty Ships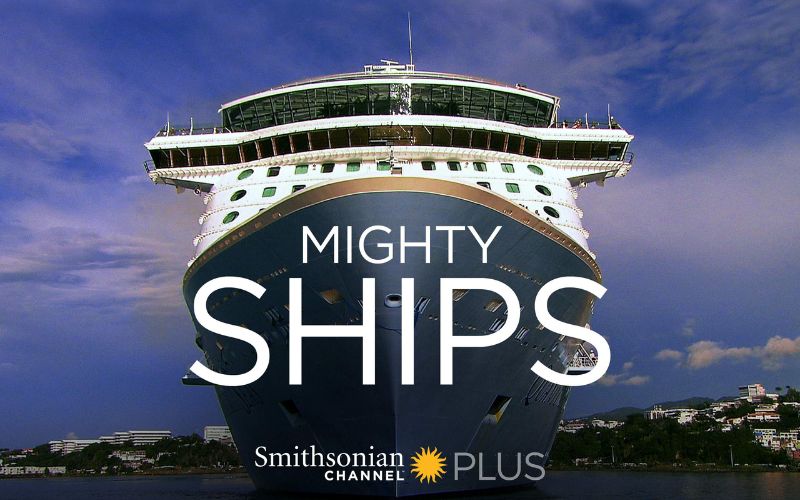 Where to watch it now: Prime Video (Discovery+ Pass required)
Number of seasons: 10
Mighty Ships is a documentary series that has been running since 2008, which looks at some of the biggest and most impressive ships in the world, how they were built, their crew and how they operate day-to-day.
The series is not dedicated to cruise ships, so there are episodes on all manner of impressive vessels. But a handful of episodes do look at cruise ships.
In particular, look out for:
The original one-off special, looking at Queen Mary 2
Season 3 Episode 5, looking at Oasis of the Seas
Season 5 Episode 1, looking at Norwegian Epic
Season 5 Episode 3, looking at Le Boreal
Season 6 Episode 3, looking at Crystal Serenity
Season 7 Episodes 1 & 2 looking at Norwegian Breakaway
Season 8 Episode 1, looking at Quantum of the Seas
Season 9 Episode 6, looking at MS Fram
Season 10 Episode 4, looking at MSC Meraviglia
Episodes last for 45 minutes and go into great detail about the ships themselves, rather than the destinations they sail to. You'll need to buy a Discovery+ pass on Prime Video in order to watch the series now.
8. Mighty Cruise Ships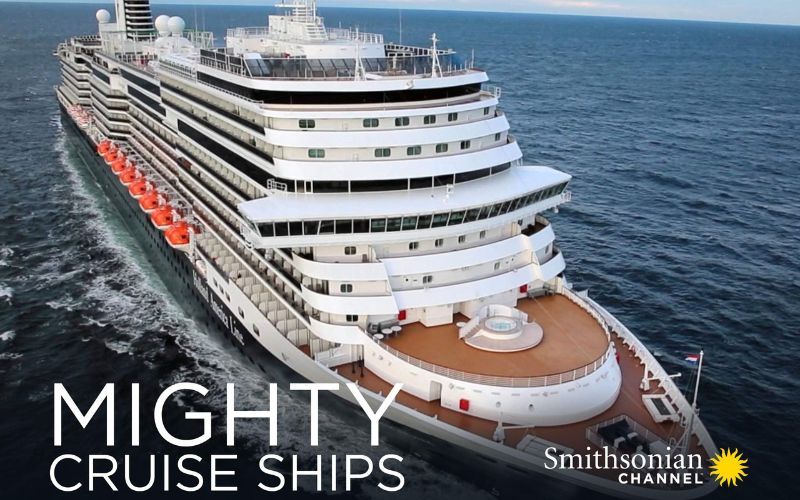 Where to watch it now: Prime Video (Discovery+ Pass required)
Number of seasons: 4
Following the success of Mighty Ships, a spin-off series called Mighty Cruise Ships was first shown in 2014 on the Discovery Channel. There were 26 episodes in total – 6 in each of the first three seasons, and 8 in the final season.
Every episode followed a similar structure to the normal Mighty Ships series, looking at one ship in great detail. Many of the most famous cruise lines in the world were featured, with in-depth looks at Symphony of the Seas for Royal Caribbean, Sky Princess for Princess Cruises, and Carnival Vista for Carnival, among others.
But some smaller ships were also included too, including Royal Clipper for Star Clippers, the MS Roald Amundsen for Hurtigruten, and Kristina Cruises' MS Ocean Endeavour, so it's a fantastic series for seeing a full breadth of cruise ships.
9. Billionaire Cruise Ship: Paradise Island
Where to watch it now: Channel 4 Online
Number of seasons: 1
This was a one-off TV special that ran for 90 minutes, looking at the private island Ocean Cay that belongs to MSC Cruises.
The special offers an all-access look at the island, including how staff are trained to serve the cruise ship guests and the rehearsals and logistics that go into all the live entertainment and transporting guests to and from the island.
It's a good documentary, and definitely worth watching if you've ever cruised to any of the privately-owned islands in the Caribbean.
10. The Love Boat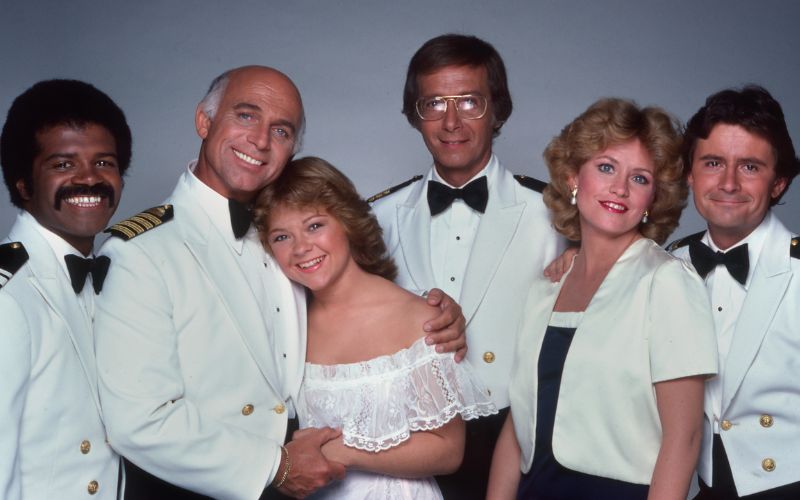 Where to watch it now: Paramount+
Number of seasons: 9
No list of cruise TV shows can be put together without mentioning the most famous fictional show set on a cruise ship. The Love Boat ran from 1977 until 1986 with 9 seasons and 5 specials, and it was a comedy-drama that followed various crew members on the ship.
Filmed on the Princess Cruises ship Pacific Princess, the fun show offers a lot of twists and turns but also gives you a view of what life is like on a cruise ship – even if it is heavily dramatised. You get to see a lot of the ship (and her sister, Island Princess, which was sometimes used).
And you get to enjoy the theme tune, which is a classic.

Suggested read: The Untold Story of the Love Boat Actress Behind Cruise Director Julie McCoy
11. The Good Ship Murder
The Good Ship Murder is a TV show first introduced in 2023. A crime drama series, it's set on a luxury Mediterranean cruise ship – specifically the MSC Virtuosa.
Each week, a detective-turned-cabaret singer solves a new murder onboard with the help of the First Officer.
So far there's only one season but hopefully it gets picked up for more in future!
Where to watch it now: My5
Number of seasons: 1
12. Cruise 1st TV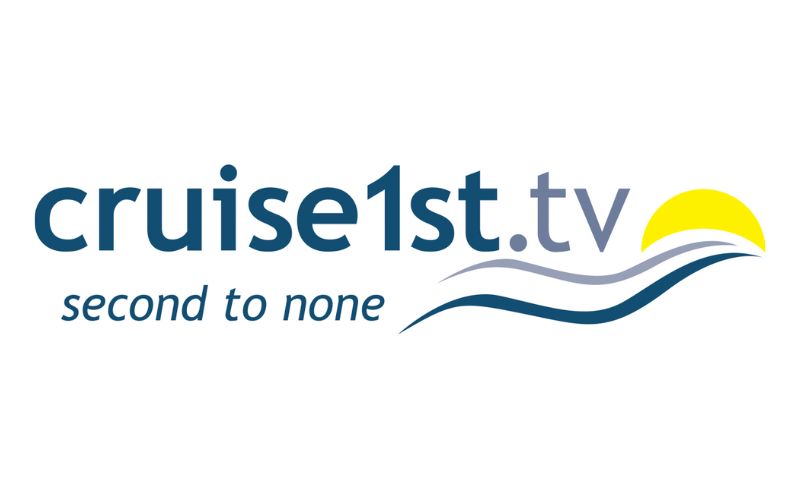 Where to watch it now: Sky Channel 688
Number of seasons: n/a
Not really a TV show per say, this is instead a TV channel available on Sky that is dedicated to cruising and, in particular, cruise deals.
Whether you want to book with Cruise 1st or just watch the channel to get an idea of the deals available, and then go to your preferred travel agent, that's up to you. But it is good for getting inspired for your next cruise.
Also recommended: YouTube
I've not included this on the list as it is definitely not a TV show, but it's worth mentioning that YouTube has thousands of videos all about life on a cruise ship. You can see official videos from cruise lines that showcase different ships, or travel vlogs from experts, or just keep up with your favourite cruise lovers on their own cruise adventures.
Related Posts: