Carnival is one of the most popular cruise ships in the world, and with 24 ships across 8 different ship classes, it can get a little confusing when trying to work out which is the most modern, or which is the best.
That's why I've written this guide to take you through each of the Carnival ship classes in turn so you can see which one is best for your next Carnival cruise holiday.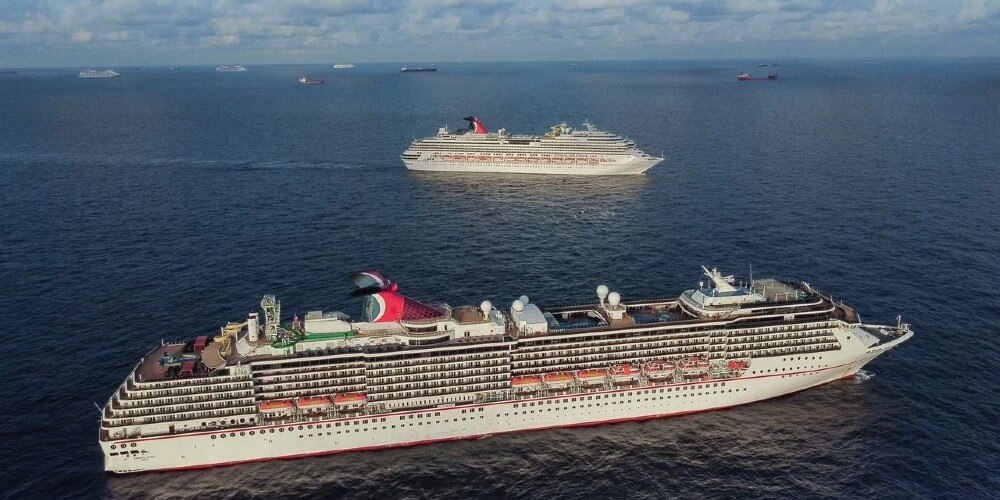 How many classes of ship does Carnival have?
Carnival has 8 classes of cruise ships:
Excel – Ships launched in 2021 (with more to join)
Vista – Ships launched between 2016 and 2019
Sunshine – Ships launched between 2013 and 2021
Dream – Ships launched between 2009 and 2012
Splendor – One ship launched in 2008
Conquest – Ships launched between 2002 and 2007
Spirit – Ships launched between 2001 and 2004
Fantasy – Ships launched between 1991 and 1998
There are two ships due to launch in 2022 and 2023 respectively, both of which will form part of the Excel class.
Carnival Ships By Class
Most of the eight classes have three ships, although there are a couple that have fewer and one that has more. Ships within a class are called 'sister ships' which means they're built to a similar design and will have similar (but not always identical) features on board.
Generally, ships within a class will be able to carry around the same number of passengers and offer a similar experience. But every ship is unique in some way.
List of Carnival ships in each class:
Excel – Mardi Gras (to be joined by Carnival Celebration in 2022 and Carnival Jubilee in 2023)
Vista – Carnival Vista, Carnival Horizon, Carnival Panorama
Sunshine – Carnival Sunshine, Carnival Sunrise, Carnival Radiance
Dream – Carnival Dream, Carnival Magic, Carnival Breeze
Splendor – Carnival Splendor
Conquest – Carnival Conquest, Carnival Glory, Carnival Valor, Carnival Liberty, Carnival Freedom
Spirit – Carnival Spirit, Carnival Pride, Carnival Legend, Carnival Miracle
Fantasy – Carnival Ecstasy, Carnival Elation, Carnival Paradise
Carnival Ship Classes By Size
Usually, ships within a class will be roughly the same size. It's something to pay attention to, especially since the largest class (Excel) is around 2.5 times the size of the smallest class (Fantasy).
| Class | Average Gross Tonnage |
| --- | --- |
| Excel | 181,000 |
| Vista | 133,000 |
| Dream | 128,000 |
| Splendor | 113.000 |
| Conquest | 110,000 |
| Sunshine | 102,000 |
| Spirit | 88,500 |
| Fantasy | 72,000 |
Remember that bigger doesn't automatically mean better, although considering much of the appeal of Carnival is in the fun-packed activities onboard, you will enjoy more of those if you choose a bigger ship.
Different sizes work best for different sailings. The largest ships are amazing, since you get access to the most exciting things like aerial bikes, trampolines and even a rollercoaster! But smaller ships are sometimes a little quieter, and they can sail to some places that larger ones can't.
So, there's a balance to be struck, unless you love a party atmosphere and are dead-set on the biggest ship you can choose.
Suggested read: Carnival Cruise Ships by Size (2022)
The Different Classes of Carnival Ships
Need a little more help? Here's a quick overview of each class, and what to expect.
Excel Class
Ships: Mardi Gras (2021), Carnival Celebration (due 2022), Carnival Jubilee (due 2023)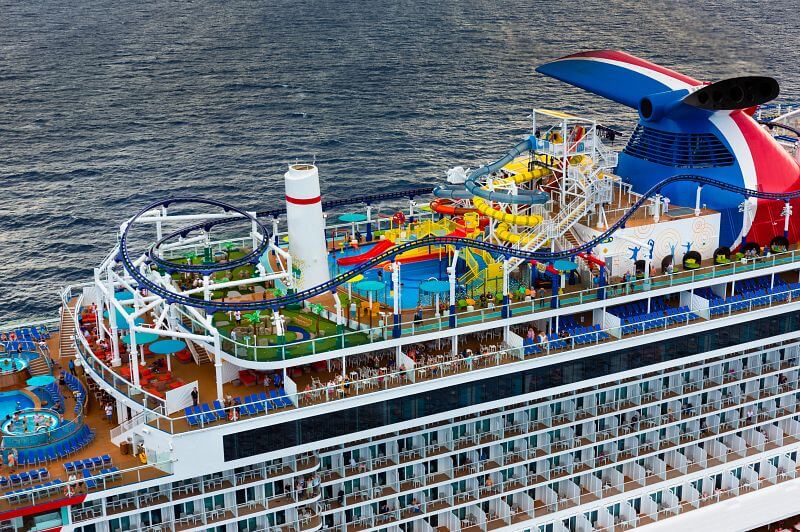 Carnival's Excel class ships are their largest by far, and also the first to be powered by LNG, a more efficient and environmentally-friendly fuel than the traditional diesel used by cruise ships.
They're also packed with some incredible features, including the world's first roller coaster at sea – Bolt. There are a ton of other fun features too, including the live Family Feud game.
The ships are split into six distinctive zones, with a huge range of places to eat, relax and have fun in each. If you want to experience everything that Carnival has to offer and you don't mind a busy ship, then sailing on an Excel-class ship is probably perfect.
Suggested read: The Newest Carnival Ships
Vista Class
Ships: Carnival Vista (2016), Carnival Horizon (2018), Carnival Panorama (2019)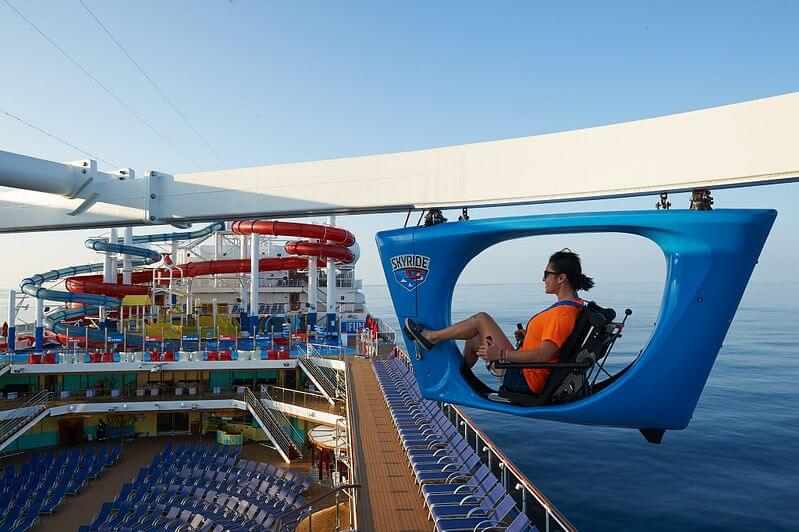 The Vista-class ships in the Carnival fleet are larger than many others in the fleet, without quite reaching that super-ship status. Instead, they're just a great example of a ship that packs in some amazing features without being at all overwhelming.
It's a Carnival ship, so it's never likely to be 'quiet', but you will be able to easily explore and walk around the ship without getting tired. And they have some fantastic features exclusive to the class.
Chief among these is SkyRide, a really unique way to enjoy the view as you pedal around an elevated course at your own pace, overlooking the pools and the expansive ocean.
Sunshine Class
Ships: Carnival Sunshine (2013), Carnival Sunrise (2019), Carnival Radiance (2021)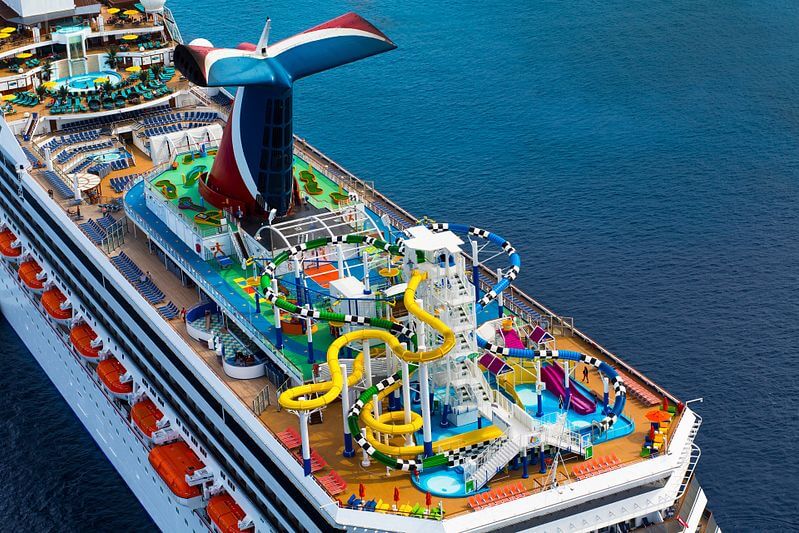 The Sunshine class of ships were formed when Carnival gave the Carnival Destiny a massive refurbishment, renaming her as Carnival Sunshine in the process. She was the flagship of the Fun Ship 2.0 programme, a $2 billion investment into the fleet to add a host of new features.
All three ships in the Sunshine class are actually revamps of older ones – Sunrise was built in 1999 as the Carnival Triumph, and Radiance was originally the Carnival Victory, built in 2000. Despite these ships all being older, since the Fun Ship 2.0 refurbishments they are considered some of the best in the whole fleet.
Dream Class
Ships: Carnival Dream (2009), Carnival Magic (2011), Carnival Breeze (2012)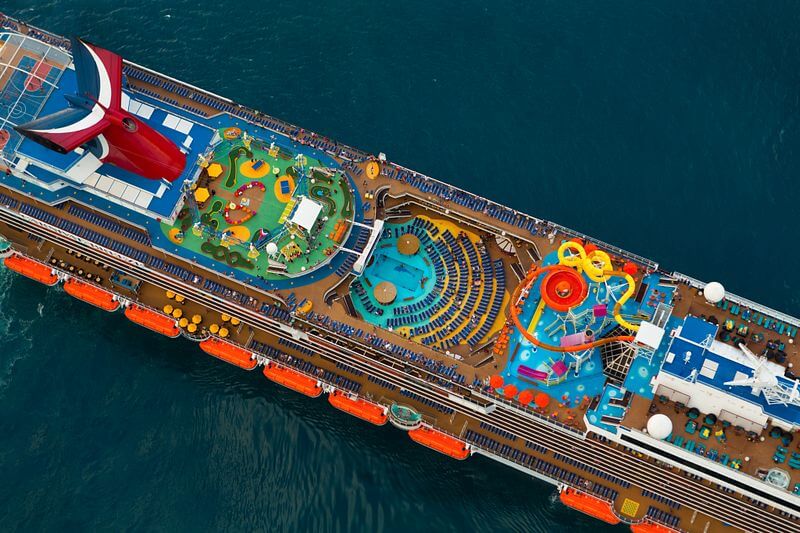 When they were first introduced in 2009 with Carnival Dream, the Dream class ships were the largest Carnival had offered by some distance, able to carry around 700 more passengers than earlier ships.
While they've been surpassed now by the Vista and later the Excel class ships, they still have some really exciting features onboard, although not as many as the bigger ships.
You'll still get to enjoy exciting things like the SkyCourse rope walking course above the sports deck, and the 4D Thrill Theatre, along with Carnival's signature speciality dining venues like Guy's Burger Shack.
Splendor Class
Ships: Carnival Splendor (2008)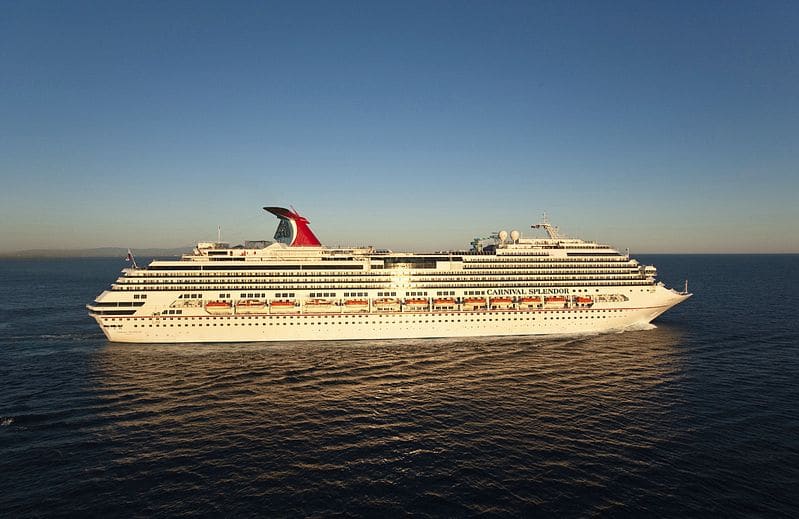 The reason that Carnival Splendor is in a class of her own is because she wasn't originally intended for the Carnival fleet – instead, she was being built for Costa Cruises, but during construction she was transferred to Carnival instead.
She was one of the first wave of ships to be given the Fun Ship 2.0 refurbishments in 2016, so while she's now a little older she does still have plenty of exciting things to see and do onboard.
She tends to offer more specialist itineraries too, sailing either to Alaska or around Australia and New Zealand.
Conquest Class
Ships: Carnival Conquest (2002), Carnival Glory (2003), Carnival Valor (2004), Carnival Liberty (2005), Carnival Freedom (2007)
Some of the Conquest class ships have been through multiple refurbishments by this stage, so even though they are between 15 and 20 years old they aren't showing their age.
As they aren't the biggest ships in the fleet, they aren't able to house all of the latest features or dining venues, but Carnival has carefully refitted each one to maximise the available space, combining the benefits of a smaller ship with the excitement and atmosphere that Carnival is known for.
Unsurprisingly, these patriotically-named ships tend to only sail from the US, usually to the Bahamas and the Caribbean.
Spirit Class
Ships: Carnival Spirit (2001), Carnival Pride (2002), Carnival Legend (2002), Carnival Miracle (2004)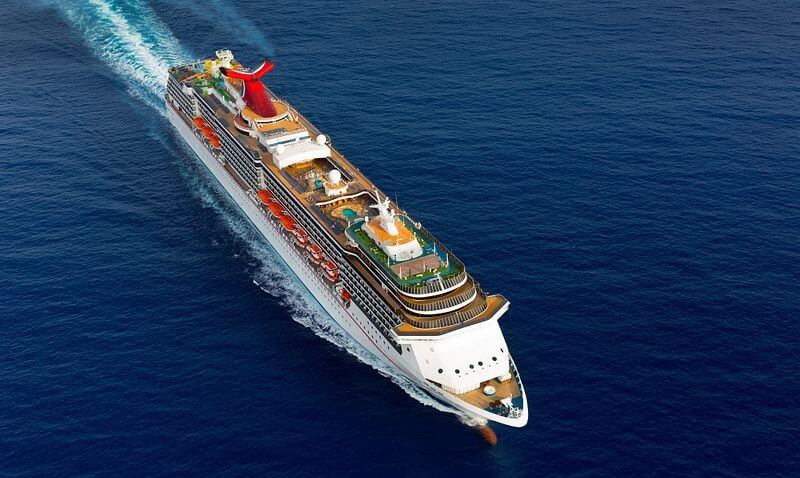 Carnival ships are known for being fun and vibrant, but if you don't want anything too rowdy then the older Spirit class of ships could be ideal. They can each carry a maximum of 2,124 passengers at double occupancy, which is less than half the biggest ships in the fleet.
They've all been refurbished as part of the Fun Ship 2.0 programme but they aren't big enough to host all of the features, so don't expect to see everything you would on the biggest ships.
One area where there is still plenty of variety is in the dining venues though – with the popular RedFrog pub, BlueIguana Cantina and Nouveau Steakhouse just some of the options available.
Fantasy Class
Ships: Carnival Ecstasy (1991), Carnival Elation (1998), Carnival Paradise (1998)
The oldest ships in the Carnival fleet (and in the case of Carnival Ecstasy, by some distance), these ships pack in a surprising number of modern features thanks to their more recent refurbishments.
Elation and Paradise in particular are still quite modern and have a contemporary waterpark with multiple waterslides, and there are plenty of places you can choose from for relaxing and eating too.
One of the main things that you'll notice about the older Carnival ships is that they have very few balcony rooms, so unless you have the budget for a suite, you may have to make do with an ocean view room with a window.
Carnival Ecstasy will retire from the fleet late in 2022.
Carnival Ship Classes FAQ
Which Carnival ships have Cove balconies?
Cove balconies can be found on the Dream, Vista and Excel-class ships in the Carnival fleet. These balconies are more private and enclosed, and have more space than a regular balcony. The downside to a Cover balcony is that they are more shaded, and they may be closed off during bad weather.

Which Carnival ships Havana rooms?
Carnival's Havana Cabanas are available on the Vista-class ships (Carnival Vista, Carnival Horizon and Carnival Panorama) and on the Excel-class Mardi Gras. These stunning rooms have a private outdoor patio space, and guests enjoy exclusive use of the Havana pool and hot tubs.
Which Carnival ships have waterslides?
Every single one of the Carnival cruise ships has at least one waterslide. Most have a full WaterWorks waterpark onboard too – the only exceptions are Carnival Conquest, Carnival Valor, Carnival Liberty (Conquest class) and Carnival Splendor (Splendor class)
Which Carnival ships have a roller coaster?
The Bolt Ultimate Sea Coaster, the first roller coaster at sea, is available on Mardi Gras and will be included on the other ships in the Excel class (Carnival Celebration and Carnival Jubilee) when they launch.

Which Carnival ships have casinos?
Every ship in the Carnival fleet has a casino. Most also have a dedicated casino bar – the exceptions are Mardi Gras (Excel class) and the Vista-class ships (Carnival Vista, Carnival Horizon and Carnival Panorama).
Which Carnival ships have Dive in Movies?
Carnival offers Dive-in Movies on 18 of its ships, including those in the Excel, Vista, Sunshine, Dream, Splendor and Conquest classes, as well as Carnival Spirit and Carnival Pride from the Spirit class. Guests can enjoy movies and major sporting events poolside.
Which Carnival ships have the Cloud 9 Spa?
The Cloud 9 Spa is Carnival's luxurious onboard spa, and it is available on the Excel, Vista, Sunshine, Dream, and Splendor class ships. Of these, only Carnival Dream, Carnival Breeze, Carnival Magic and Carnival Splendor have the Cloud 9 Spa Hydrotherapy Pool.
Which Carnival ships have an IMAX movie theater?
Only two ships in the Carnival fleet have an IMAX movie theatre – the Carnival Vista and Carnival Horizon, both in the Vista class of ships. IMAX screens are larger and have improved sound, with guests able to enjoy some of the latest Hollywood blockbusters while at sea.
Related Posts: