Whether you're looking to enjoy a varied diet of food throughout your cruise, or you've got particular dietary preferences and needs (or the kids are just fussy eaters), you don't need to worry on Carnival Celebration – the choice of dining options is incredible.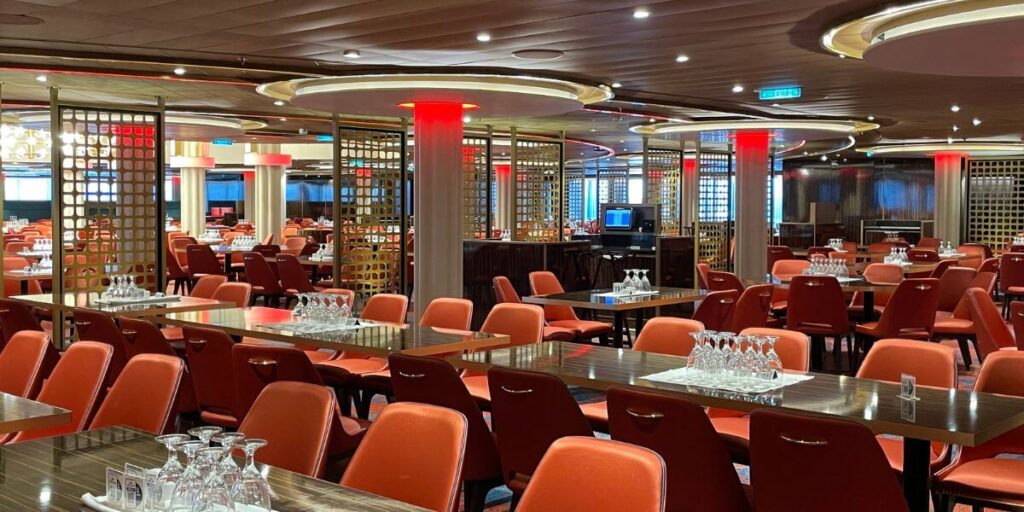 Many of the restaurants and other venues are included in the fare, although some do cost extra.
So, let's take a look at the different places you can grab breakfast, lunch, dinner or a light bite during your Carnival Celebration cruise.
List of Complimentary Dining Venues on Carnival Celebration
Here's a look at all the complimentary dining venues you can enjoy on Carnival Celebration:
| Restaurant | Type | Breakfast? | Lunch? | Dinner? | Snacks? |
| --- | --- | --- | --- | --- | --- |
| Big Chicken | Fried Chicken | YES | YES | YES | – |
| BlueIguana Cantina | Mexican | YES | YES | YES | – |
| Chibang | Chinese and Mexican | – | YES | YES | – |
| Deco Deli | Sandwiches | – | YES | YES | – |
| Guy's Burger Joint | Burgers | – | YES | | – |
| Guy's Pig and Anchor BBQ | BBQ | – | YES | Paid | – |
| Lido Marketplace | International Buffet | YES | YES | YES | – |
| Main Dining Room | Varied 3-Course Dining | YES | – | YES | – |
| Miami Slice | Pizza | YES | YES | YES | YES |
| Room Service Breakfast | Continental Breakfast | YES | – | – | – |
| Seaday Brunch | Brunch | YES | YES | – | – |
| Street Eats | Street Food (Bao Buns, Kebabs, Loaded Fries) | – | YES | – | – |
| Swirls Ice Cream | Ice Cream | – | – | – | YES |
It's worth pointing out that these are the official categorisations of the dining venues, but you don't have a limit on how often you visit them. So if you want to head to Street Eats for lunch, but then grab a burger from Guy's and call it a snack, then go for it.
The good news is that the ship has an excellent gym, if you're at all concerned about how much you're eating!
Miami Slice is a new pizzeria, replacing similar pizza venues on other Carnival ships. Here you can get free pizza at any hour of the day, all freshly prepared using authentic dough.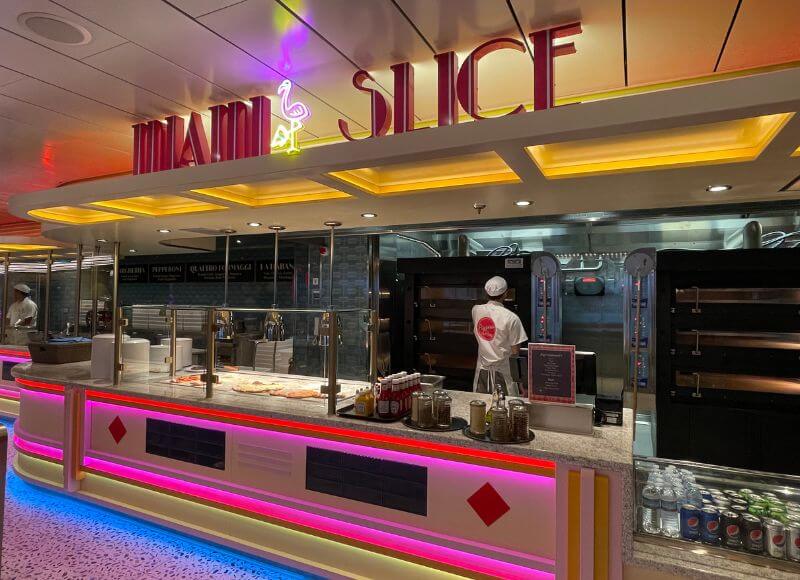 Deco Deli is another new venue for Carnival Celebration, although again there have been deli sandwich bars on other ships previously. This offers an expanded menu though, including Miami-inspired staples such as croqueta, Cubano and pan con lechon sandwiches served on authentic Cuban bread.
Other popular venues that are returning include Big Chicken (a fried chicken joint created by Shaquille O'Neal, because why not?)
There's also Street Eats – a food cart style venue that has stations serving different kinds of loaded fries, bao buns, and kebab skewers each day.
The Blue Iguana Cantina is always popular and served Mexican delights like tacos and burritos.
If you're vegan, this is one of the few places where you can find vegan food on Carnival Celebration, although nothing is labelled for you and you should avoid the rice as it contains butter!
And of course, who could forget Chibang – the Chinese and Mexican fusion restaurant that debuted on sister ship Mardi Gras. This is a great place to eat for free on Carnival Celebration.
If you're feeling healthy then you'll falso ind a very small salad bar by the adult pool called Fresh Creations.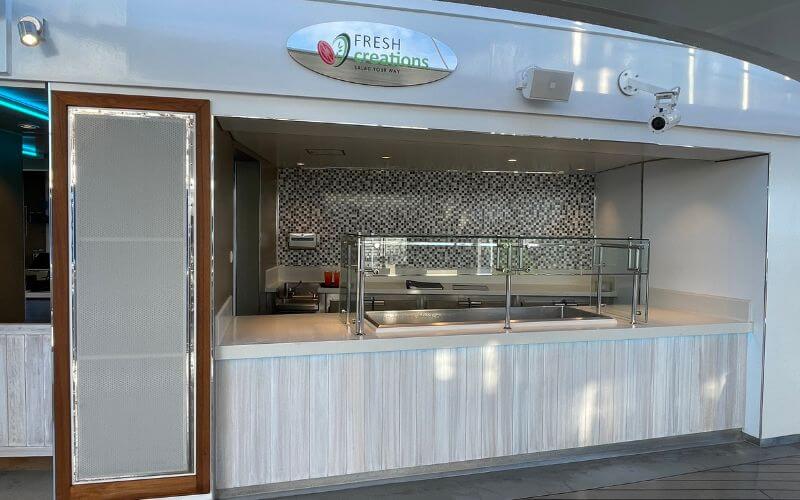 Plus, of course, you have the Main Dining Rooms – Carnivale and Festivale. Here, you can enjoy a served breakfast in the morning (or brunch on a seaday, if you want a lie-in) plus full three-course dinners in the evenings.
And when you want something more casual, the Lido Marketplace is the ship's buffet venue. Here there are many different stations serving cuisine from around the world, including lighter bites, main meals and, of course, sweets and desserts.
List of Speciality Dining Venues on Carnival Celebration
There are 16 different speciality dining options on Carnival Celebration, although not all of them could be classed as unique venues.
Here's a look at the speciality dining options that you can enjoy on the ship:
Restaurant
Type
Breakfast?
Lunch?
Dinner?
Snacks?
Bonsai Sushi
Sushi
–
YES
YES
–
Bonsai Sushi Express
Sushi Takeout
–
YES
YES
–
Bonsai Teppanyaki
Teppanyaki
–
YES
YES
–
Carnival Kitchen
Cookery classes
Cucina del Capitano
Italian
–
–
YES
–
Emeril's Bistro 1396
Creole
YES
YES
YES
–
Green Eggs and Ham Breakfast
Breakfast
YES
–
–
–
Guy's Pig & Anchor Smokehouse
BBQ
–
Complimentary
YES
–
JavaBlue Cafe
Coffee & Cakes
–
–
–
YES
Pizza Delivery
Pizza
YES
YES
YES
YES
Room Service
Various
Complimentary
YES
YES
YES
Rudi's Seagrill
Seafood
–
–
YES
–
Seafood Shack
Seafood
–
YES
YES
–
Steakhouse
Steaks
–
–
YES
–
Steakhouse Selections
Steaks
–
–
YES
–
The Chef's Table
Fine Dining
–
–
YES
–
Sounds good, right? Now, let's take a closer look at each of the specialty restaurants on Carnival's newest ship, what you get, and how much they cost.
Bonsai Sushi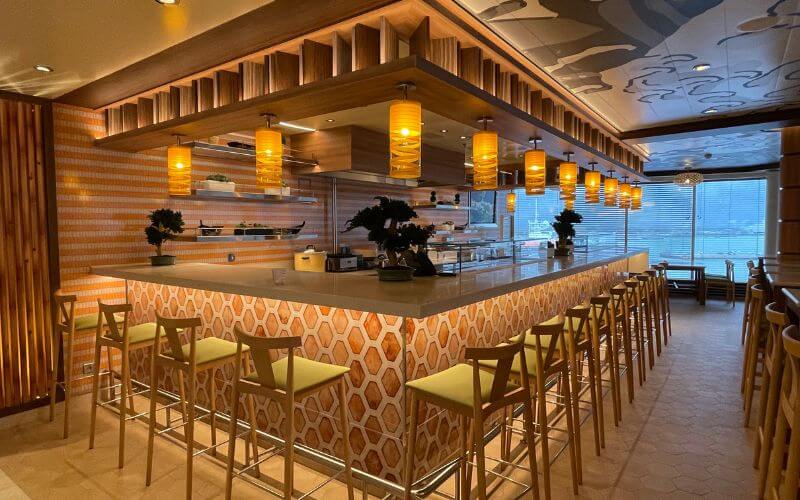 Meals: Lunch & Dinner
Type: Sushi
Price: $5-7 per roll, other items vary
Bonsai Sushi is a beautiful venue that offers a range of a la carte sushi and sashimi options, along with a wide variety of rolls and authentic soups, plus a selection of side dishes and desserts (and sake too). It's a modern venue with bonsai trees at each table, offering a picturesque place to sit and enjoy your sushi.
It's relatively cheap too, costing just a few dollars per sushi roll. Obviously, if you're here for dinner then you might spend a bit more on a larger meal, but for lunch you really don't have to worry about expensive charges – you can easily eat for less than $10 per person.
Bonsai Sushi Takeout
Meals: Lunch & Dinner
Type: Sushi
Price: $5-7 per roll, other items vary
While it's great to kick back and enjoy your sushi in the Bonsai restaurant, sometimes it's just not possible. There's a lot to see and do on Carnival Celebration, and you won't always have time to grab a table and enjoy the full dining experience. Thankfully it's really easy to order a takeout box of some of your favourite sushi dishes and sides.
Grab a box as you're on the way to the theatre or to grab a live music performance in a bar – you won't miss out on your sushi, and nor will you miss out on the show. Who said you needed to compromise on your vacation? Again, this is classed as a Lunch & Dinner venue, but feel free to grab a sushi roll as a snack too.
Bonsai Teppanyaki
Meals: Lunch & Dinner
Type: Teppanyaki
Price: Lunch $35, Dinner $38
The Bonsai Teppanyaki grill is not just a restaurant, it's a food performance. Here you'll sit around the chef's hot plate and watch as they serve up some extraordinary dishes, blending both their culinary and their dramatic flair for a real show.
You can try a variety of options, ranging from fillet mignon and various impressive seafood dishes to some of the best grilled tofu you'll ever taste. This is an interactive food experience, so make the most of it. And if you can't decide on a meal, choose a combination of two.
Carnival Kitchen
Meals: Culinary School
Type: Various
Price: $30 (60 min classes), $59 (120 min classes)
Not so much a dining venue as a fun experience related to eating, this is the Carnival cookery school, where you'll have the chance to learn how to make some of the dishes that are prepared on the ship – but then you do get to eat them, so it definitely counts as a restaurant of sorts!
There are many different classes you can take, including learning to make pizza or pasta, baking cakes, picking up some BBQ skills or trying some of the signature dishes from across the ship's venues, including the famous Chocolate Melting Cake. And the benefit here is that you can take your knowledge home and relive some of your favourite cruise food memories.
Cucina del Capitano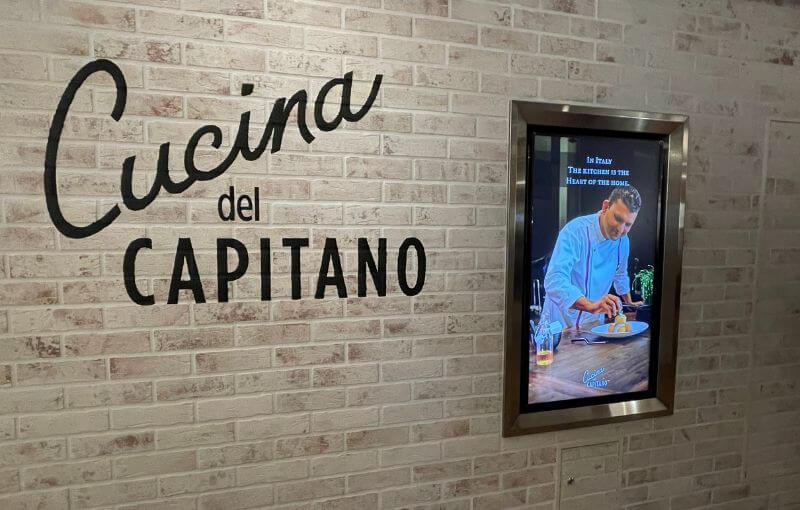 Meals: Dinner
Type: Italian
Price: Adults $18, Kids $6
This great value Italian restaurant has an amazing authentic atmosphere – from the chequered red and white tablecloths, to the crew's family portraits on the wall and the bustling atmosphere of family conversation. Everything feels like a really traditional family dining venue.
Of course, the food's pretty good too! Expect antipasti, entrees, various pasta dishes all cooked fresh and some delicious Italian desserts for afters too. This is a low-cost speciality restaurant, and reservations aren't necessary but are recommended.
Emeril's Bistro 1396
Meals: Breakfast, Lunch & Dinner
Type: Creole
Price: A La Carte, $3+
Emeril's Bistro returns after making its debut on Carnival Celebration's sister ship Mardi Gras. Set up by Emeril Lagasse, this will be his second restaurant at sea and it offers some incredible Creole dishes straight from the heart of New Orleans.
Some of the options you can look forward to include duck and sausage gumbo, jambalaya, fried oysters, BBQ shrimp, breakfast po-boys, bananas foster crepes and more. Serving meals throughout the day with many dishes starting from $3-4, you don't want to skip this venue.
Green Eggs and Ham Breakfast
Meals: Breakfast
Type: Fun Breakfast with Character Meets
Price: Adults £10, Kids $8
The Green Eggs and Ham book features the line "I like green eggs and ham! I do! I like them Sam-I-Am! And I would eat them in a boat…" – so why don't you? The Green Eggs and Ham breakfast has a small cover charge and includes some fun and unique breakfast items – yes, including green eggs.
More importantly, you'll also get to meet Dr Seuss characters while you eat, with photo opportunities available. If you're sailing with kids then they'll love this dining experience – trying strange coloured foods and having the chance to hug the Cat in the Hat.
Guy's Pig & Anchor Smokehouse
Meals: Dinner (Lunch is complimentary)
Type: BBQ
Price: A La Carte, $4-16
At Guy's Pig & Anchor Smokehouse, you can sample some classic slow-and-low meats all infused with sumptuous BBQ flavours. Take your pick from brisket, pork, dry-rubbed chicken and more, smoked to perfection over hickory and apple wood.
The venue also doubles up as a brewery, so you can sample some fresh beers and enjoy live music while you dine too. And if you're not sure whether you want to give it a go, come at lunchtime – the food's free, so you can sample it to your heart's content.
JavaBlue Cafe
Meals: Snacks
Type: Coffee and Cakes
Price: Cakes $2
The JavaBlue Cafe is a great coffee shop that also serves a selection of cakes, starting from just $2. Options include Blue Velvet Cake, miniature cheesecakes, oversized cookies and more – plus chocolate-covered strawberries can be bought for 75 cents each.
That's a super cheap price for a sweet snack, ideal as an accompaniment to your afternoon coffee that's designed to help you keep pace with all the fun you'll be having onboard, so that you don't crash too early before dinner.
Pizza Delivery
Meals: 24/7
Type: Pizza
Price: $5 Delivery Fee (Pizza is free)
Everyone loves pizza. And everyone loves free pizza – which is available from Miami Slice on board. But not everyone loves having to make the trip to grab their pizza when they're in the middle of a very important sun-lounging day, or when it's late at night and you're cosy in your PJs in your stateroom.
So just use the app on your smartphone to place your order, and for a $5 fee your pizza will be brought right to you. It's available across the ship, and 24/7 too, so you never need to go hungry, or give up your sun lounger either.
Room Service
Meals: Lunch, Dinner & Snacks (Breakfast is complimentary)
Type: Various
Price: Varies
Some of the items on your room service are free, including continental breakfast items. Others do have a small charge, whether it's a small hot snack or a chilled beverage.
All you need to do is dial room service from the phone in your stateroom and your order will be with you before you know it. Woken up at 3 am with a grumbling belly? It's a good thing that the room service is 24/7 then – just don't wake up your family when you call to place your order.
Rudi's Seagrill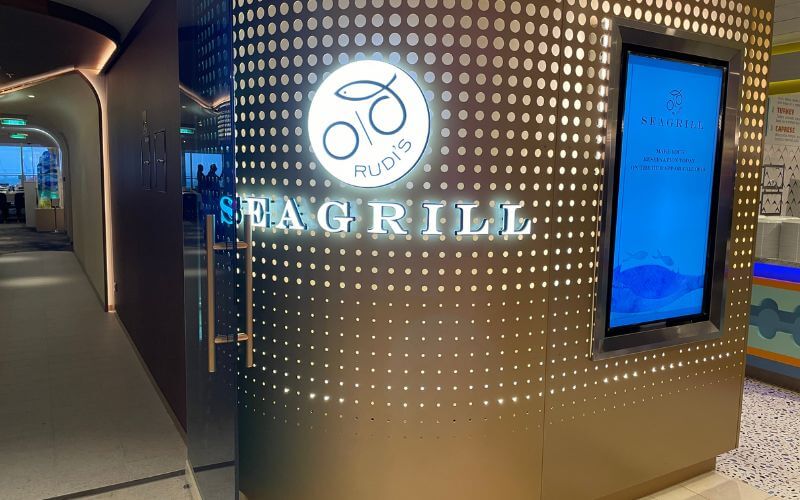 Meals: Dinner
Type: Seafood
Price: Adults $48, Kids $13
One of the more upmarket restaurants on Carnival Celebration (and with a cover charge that matches), Rudi's Seagrill is a quality seafood restaurant designed by master chef Rudi Sodamin.
This is a more elegant venue, where menu options will include things like crab-stuffed lobster tail imperial and a luxurious seafood bisque. It's a great choice for a more formal meal (although it isn't stuffy). However, if your kids are fussy, then it might not be for them since the dishes are quite intricate.
Seafood Shack
Meals: Lunch & Dinner
Type: Seafood
Price: A La Carte $4-16
Love seafood but not in the mood for a more fixed meal at Rudi's? Head to the Seafood Shack instead, where you can enjoy some more casual menu options at lower prices too, including lobster rolls, clam chowder and the classic fish and chips.
Grab a table with an ocean view, kick back and sample some of the affordable seafood dishes served fresh – and don't worry, just because it's a budget venue doesn't mean the food is low quality.
Fahrenheit 555 Steakhouse
Meals: Dinner
Type: Steaks
Price: Adults $48, Kids $13
Another of the pricier restaurant options on Carnival Celebration is the steakhouse, which offers some of the finest cuts of beef along with other classic steakhouse dishes. The atmosphere is premium but not super-formal – it's your typical steakhouse vibe.
Reservations are definitely needed here, and the steakhouse is always one of the more popular venues on a Carnival ship, so try to book early if you can so that you can secure a good time.
Steakhouse Selections
Meals: Dinner
Type: Steak
Price: $23
If you want to sample some of the succulent cuts of meat from the steakhouse restaurant but you couldn't get a reservation, or the rest of your travelling party aren't interested, just head to the Main Dining Room.
Alongside your main menu is a Steakhouse Selections list, where you can enjoy some (but not all) of the steak dishes served in the specialty restaurant. You won't pay the full steakhouse cover charge since you won't get the full experience, but there is a $23 extra charge for these menu items.
The Chef's Table
Meals: Dinner
Type: Fine Dining
Price: $80-99
The most premium dining experience available on Carnival Celebration, the Chef's Table is a private restaurant where groups of up to 14 guests can sample an exquisite menu put together carefully by the chef, and all paired with a selection of wine fines to match.
It's an expensive venue but it's a proper fine dining experience set over multiple courses. This isn't grabbing a quick bite, but making your dinner into the focal point of your whole evening. If you want to sample some exceptional food then this is a wonderful option, especially if you're travelling as part of a larger group and can all enjoy it together.
To Conclude
As you can tell, you really aren't short of dining options for your Carnival cruise. I love just how much variety there is in the complimentary options, and also how many of the specialty venues only charge small fees for their dishes. There are only a couple that have hefty cover charges, and those are some excellent restaurants that many view as worth it.
But you can clearly see that, if you don't want to, you don't have to pay anything extra for your food on your Carnival cruise. But if you do have some Carnival onboard credit to spend during your voyage, there are also many great options available for special snacks or meals.
If you'd like to take a closer look at the menus for each of the complimentary and specialty restaurants on Carnival Celebration, you can do so here: Carnival Cruise Dining Menus.
Do you have a favourite venue?
Related Posts: