Ever wondered if there's more to the name Celebrity Cruises than just a name? Is it a cruise line that attracts celebrity guests? Do they even hire celebrities to make your cruise feel more special?
Or is it just a name – an indication of how they make every guest feel on board?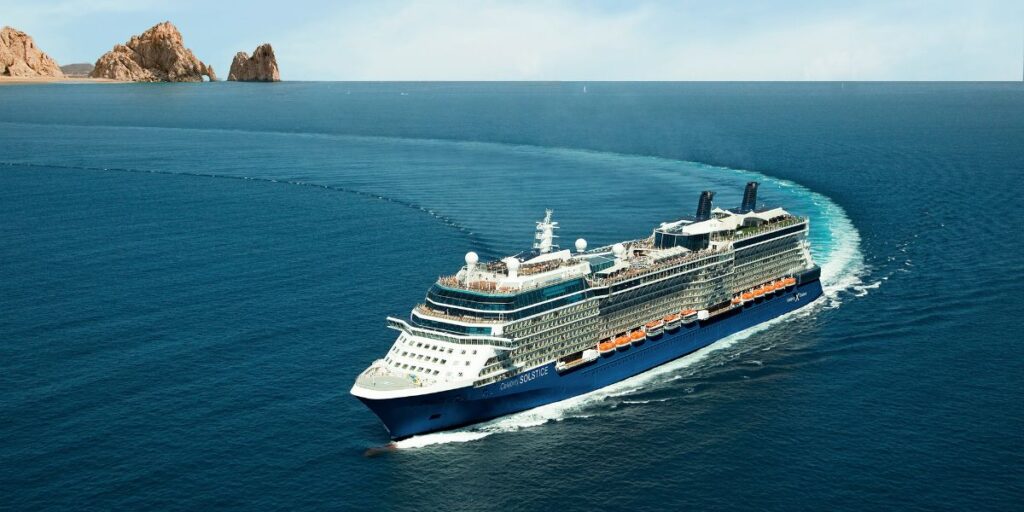 Do Celebrity Cruises actually have celebrities on them?
Celebrity Cruises does have a selection of themed sailings that include celebrities, but they don't have celebrities on them at all times of the year. Celebrity Cruises are known more for the premium cruise experience, rather than for hosting a lot of celebrity special events.
But there are a handful of carefully curated themed cruises where you can enjoy meeting some major names. Otherwise, you may just have to hope that you spot a celebrity enjoying their own cruise vacation.
There aren't many tales of celebrities being spotted randomly on Celebrity Cruises or indeed on many cruise ships at all, and yet that doesn't mean they don't enjoy a cruise.
And you could argue that Celebrity Cruises is probably one of the more likely cruise lines for celebrities to choose when enjoying their own vacation. The ships are contemporary and premium, offering a quality experience above the mass-market ships of Royal Caribbean and Carnival.
If a celebrity were to cruise with Celebrity then they would likely book a suite, so that they could enjoy quieter parts of the ship. So even if the ships did have celebrities on board, it would all be very discreet and the chances of you spotting them would be very low indeed.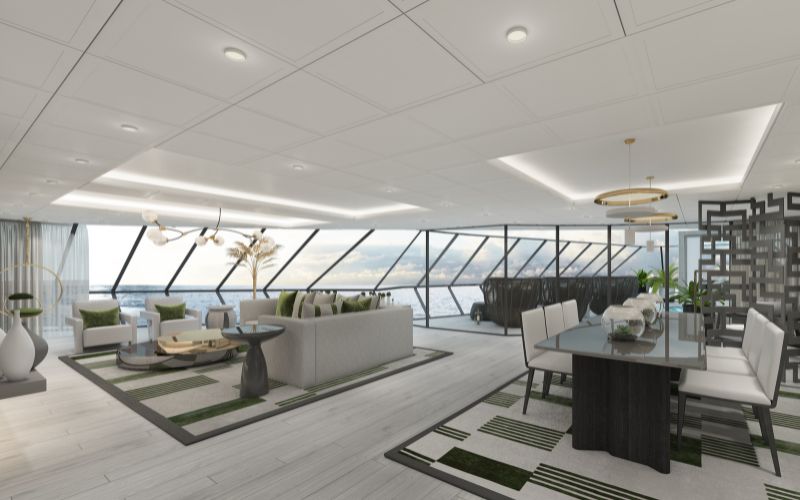 What celebrities are on Celebrity Cruises?
Celebrities that you can cruise with on Celebrity Cruises include Gwyneth Paltrow, as part of a special partnership with her company, goop, and various musicians on themed cruises such as Kool & The Gang, The Hollies, and Billy Ocean.
Celebrity Cruises doesn't tend to pack out their sailings with celebrity entertainers beyond specially-chosen music cruises.
But the cruise line does sometimes partner with elite names in various fields to offer a range of experiences that are suited to the premium customer that sails with Celebrity.
The 'goop at Sea' cruise is a great example, where you are able to cruise with CEO and Hollywood actor Gwyneth Paltrow as she holds Q&A sessions around her wellness advice, while there are special culinary events held on the ship.
Sometimes there is the opportunity to sail with a renowned chef and enjoy their own tailored menu. These don't tend to be TV chefs as they often are with some other cruise lines, but instead, they are names more known in the world of fine dining. Daniel Boulud is one such example.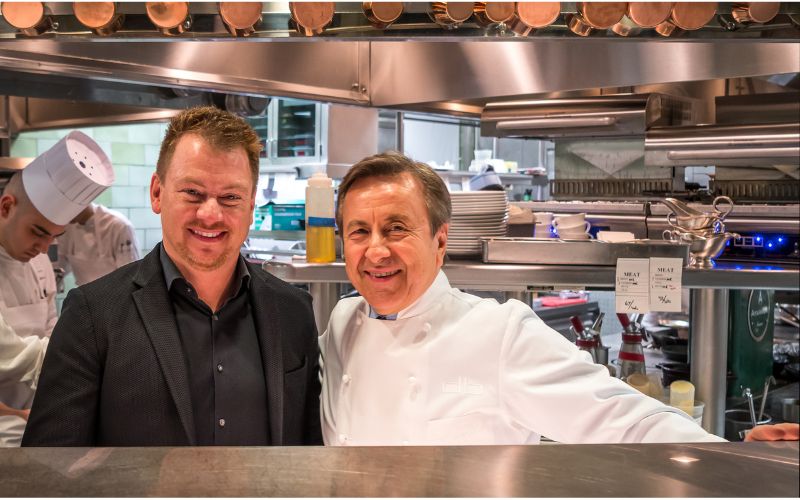 Of course, one of the most famous celebrities in all the world is Santa Claus himself, and there are holiday cruises where you can enjoy a visit from the man himself, with younger guests receiving a gift from him too.
And one recurring cruise that you could argue was a celebrity one – depending on your definition – is the 'Celebrate with the CEO' cruise that sees you sail with Lisa Lutoff-Perlo, the President and CEO of Celebrity Cruises. If you're a cruise aficionado and you love Celebrity Cruises then you may consider Lutoff-Perlo a celebrity.
Similarly, Captain Kate McCue is something of a Celebrity with over 400k followers on Instagram and a whopping 3 million on TikTok. She's the current captain of Celebrity Beyond.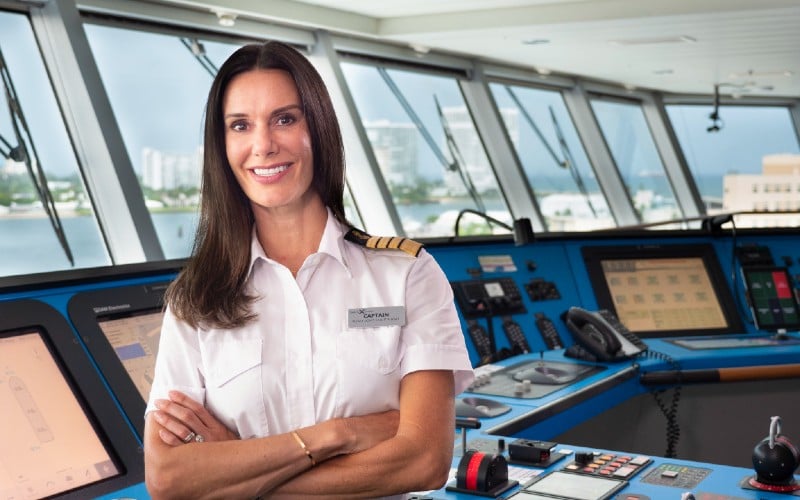 Do celebrities go on cruises?
It's hard to say whether celebrities go on cruises for their own vacations. The most famous celebrities will often go to great lengths to hide their plans for their holiday, so that they can relax. Some celebrities have definitely been spotted on cruise ships in the past.
If a celebrity was to cruise, they wouldn't spend most of their time on the main pool deck surrounded by every other guest. Even on a ship with just 3,000 people, that's still a lot of others who could pester them for photos or conversation.
Celebrities, whether you like them or not, deserve to have some form of private time on their holiday. A cruise can offer that, especially in suite accommodation where there are many more private spaces to relax.
But then often celebrities will take advantage of their status to enjoy perks such as free cruises, in exchange for some publicity.
List of cruises with Celebrities aboard
It's impossible to give a list of every cruise with a celebrity because they change so often – people may take part in one-off cruises, and plans can change at short notice with celebrities who often have many different bookings.
Of course, the easiest way to guarantee seeing a celebrity is to book one of the special chartered music cruises or other themed cruises where celebrities will appear, perform and attend various events.
These could be Star Trek actors appearing on a special themed cruise on Royal Caribbean's Navigator of the Seas, or AEW wrestlers performing live on NCL's Norwegian Pearl, or legendary San Francisco 49ers players on a Royal Caribbean Liberty of the Seas sailing.
Then there are more regular appearances. P&O Cruises often have Olly Smith or Eric Lanlard on board for special events, as well as dancing cruises that feature Craig Revel Horwood.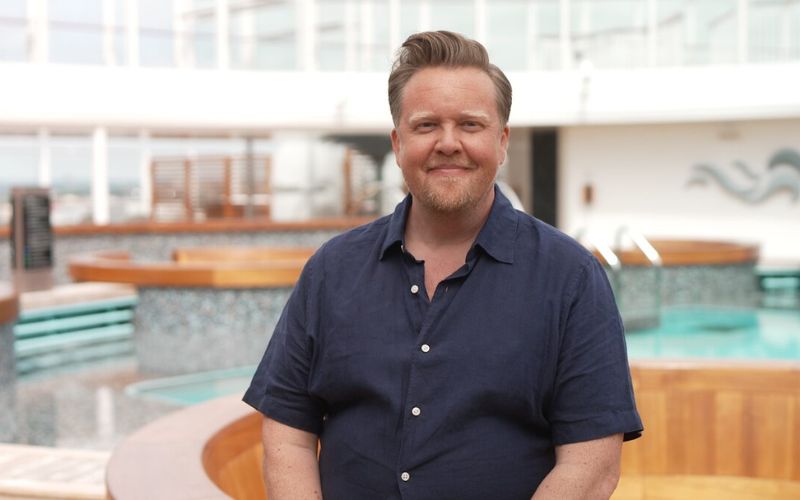 Mark Ronson doesn't appear on cruise ships, but he does host some gigs at the private beach club in the Bahamas that is exclusive to Virgin Voyages cruisers.
And Princess Cruises often invites guest speakers and singers onto their European sailings, with past guests including British actress Nina Wadia and singer Gareth Gates.
To conclude
Despite the name, Celebrity Cruises is not the best choice of cruise line for celebrity spotting. They don't have a massive range of themed cruises featuring celebrity guests, and any celebrities that enjoy their own holiday on board will be sticking to the suite areas away from the crowds.
There are plenty of other options if you want to spot someone famous, but the only way to guarantee it is to choose a special cruise where the celebrity is appearing at a named event. Don't just hope that you'll see celebrities randomly, otherwise you may be disappointed.
Related Posts