Booking yourself a cruise with Virgin Voyages from Miami? There are a couple of key things you'll need to know – which port terminal are you sailing from, and where can you park nearby if you're driving?
I've got you covered – here's a look at everything you need to know about getting to Miami easily for your Virgin Voyages cruise.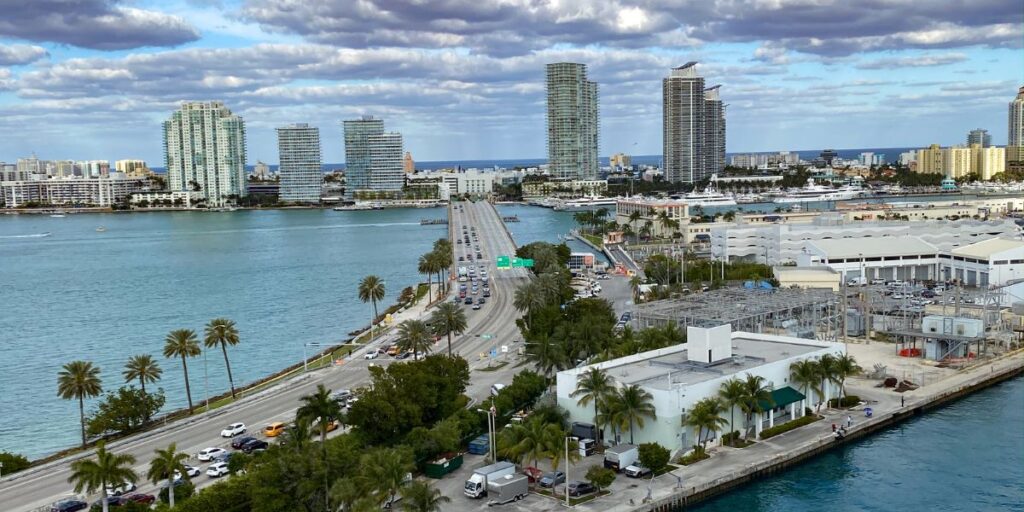 Where does Virgin Voyages sail from in Miami?
Virgin Voyages sails from Terminal V at the Port of Miami. This is Virgin Voyages' own terminal, named for the cruise line, and it's the closest terminal to mainland Miami.
However, due to the road directions, that doesn't mean it's the first one you'll get to when driving to the port – other terminals are first on the one-way system.
The full Virgin Voyages Miami port address is:
Terminal V, 718 N Cruise Boulevard, Miami, FL 33132.
To be clear, the name 'Terminal V' is because it's Virgin's cruise port – it's not a numbered system using Roman numerals.
The Terminal is one of the newest at the Port of Miami. It opened in February 2022, and it's a very modern space that makes you feel like you're on vacation from the second you arrive in the building.
The company Arquitectonica designed the building to reflect the same style as the Virgin Voyages ships, but also the Miami surroundings, blending both into a unique building.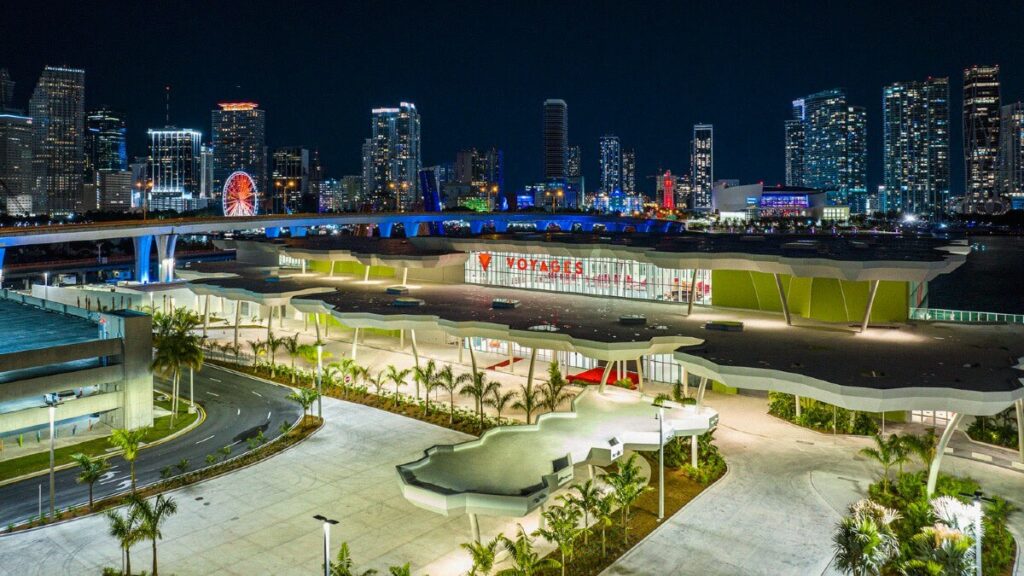 Where is the port for Virgin Voyages in Miami?
Terminal V for Virgin Voyages cruises is situated on Dodge Island, an artificial island connected to mainland Miami by Port Boulevard bridge. As you arrive on Dodge Island, Terminal V is directly on your left, though you'll need to follow the road system to get to it.
Here it is on a map…
It's also possible to get to the port via Watson Island, adjacent to the port island. A lot of sat nav systems may take you this way, since you arrive on the island on the correct side for the terminal.
If you're flying into Miami Airport, the cruise port is in a really convenient location – you're just 10 miles away, and the drive is along major roads so it only takes an average of around 17 minutes in either direction.
If you're driving, you'll want to put the directions into your navigation system for Parking Garage G – this will take you where you need to go. That is, unless you decide to park elsewhere.
Where To Park For A Virgin Voyages Cruise From Miami
If you want to drive to the terminal for your Virgin Voyages cruise, you'll need to book your cruise parking in advance to guarantee yourself a space. There are a few good options that you can choose from, including official parking at the site.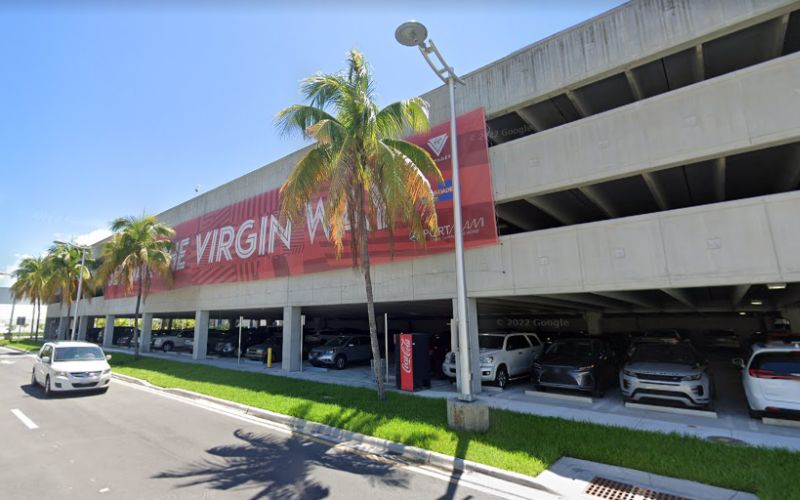 Distance from port: 0 miles
Cost: From $22 per day
The most convenient option for parking at the Port of Miami is… to park at the Port of Miami.
Each cruise terminal has its own parking garage, which you can drive straight up to, and then you're at the port and ready to begin embarkation. It also means that, at the end of your cruise, you don't have to work out getting back to your car with your luggage.
It is the most expensive option though, and while rates can vary, you should expect to pay around $22 per day. For a 7-day cruise that's over $150 – so it's important to budget for it.
Still, a lot of people prefer this choice since it is so convenient, and it takes away some of the stress of getting to the port. Plus, because the only people that visit the garages tend to be cruise passengers, crime rates are extremely low.
Parking Garage G is the one you want for Terminal V.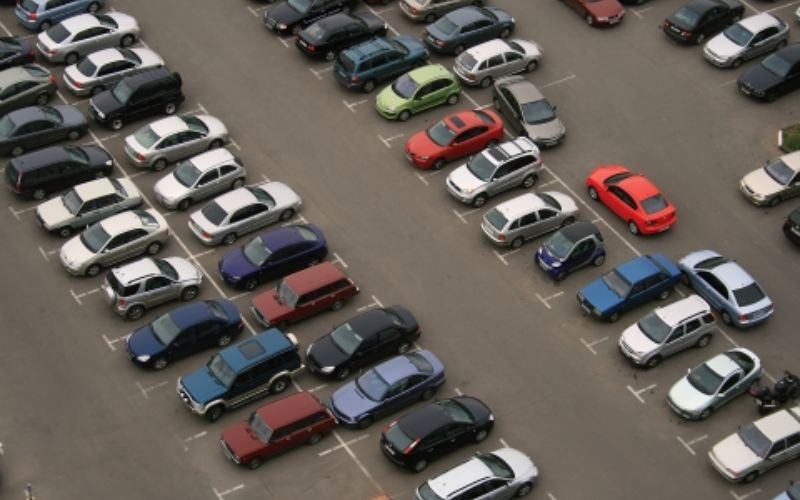 Distance from port: 2.5 miles
Cost: From $10 per day
Safe Cruise Parking is an independent parking lot with a gate, and it is monitored by security 24/7 so you can leave your vehicle without worrying about it. It's situated around 2.5 miles from the terminal, so it's a little far, but there's a free shuttle taking you there every 30 minutes, and the shuttle will bring you back too on disembarkation day.
Prices start from around $10 per day before tax – so expect to pay closer to $90 for a week-long cruise.
That's a pretty hefty saving compared to the parking at the port, and since the shuttle is free, you just need to decide whether that convenience of parking at the port is worth $60 to you.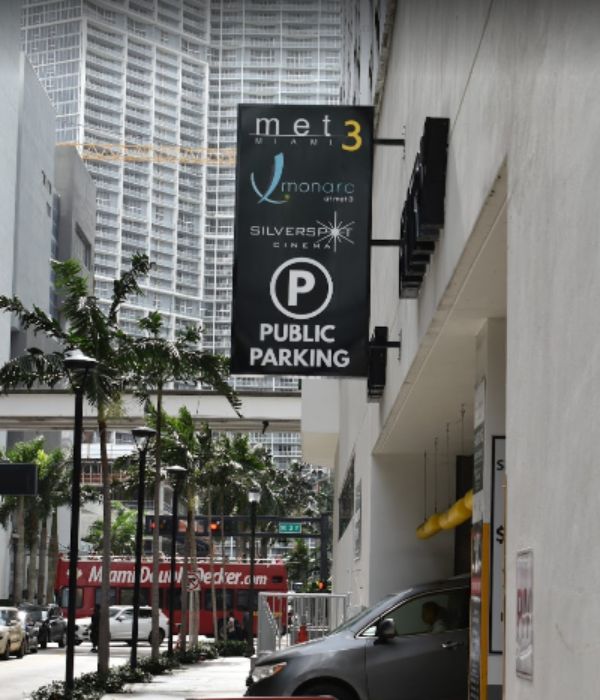 Distance from port: 2 miles
Cost: From $11 per day
Premier Cruise Parking is a parking garage situated a couple of miles from the Port of Miami. It's an enclosed garage, so a good choice if you don't want to return to your car after your cruise and burn yourself on the seat belt due to the blazing Miami sun.
A free shuttle will take you to and from the cruise port, and rates are reasonable – starting from around $11 per day before tax, so approximately $100 for a week-long stay. That's still a lot cheaper than parking at the terminal, so if you want to save money, this is a solid option.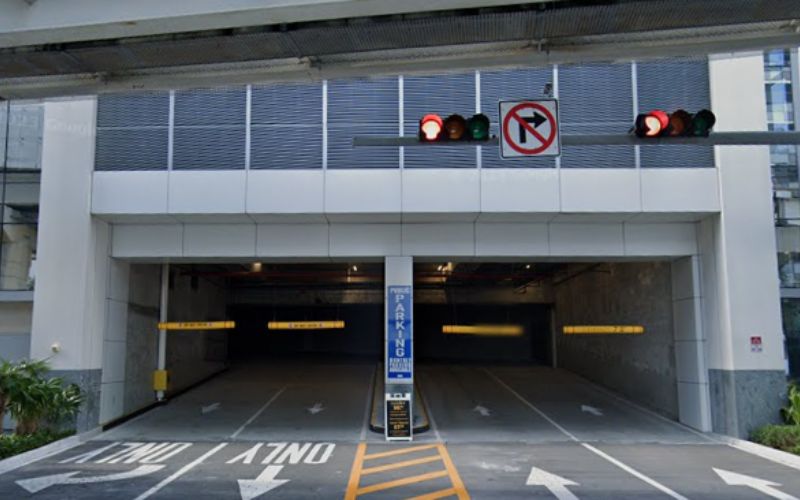 Distance from port: 1.5 miles
Cost: From $10 per day
WeParkIn Miami is another parking garage situated in Downtown Miami that provides alternative parking if you don't want to stay directly at the port. It's one of the closest options to the port, although with the free shuttle you don't really notice the difference between this and the garages/lots that are a mile further out – the travel distance is very similar.
Prices are again very reasonable, from around $10 per day before tax, so around $90 per week on average. However prices do vary by date, so it may be more expensive if the time of year is in high demand.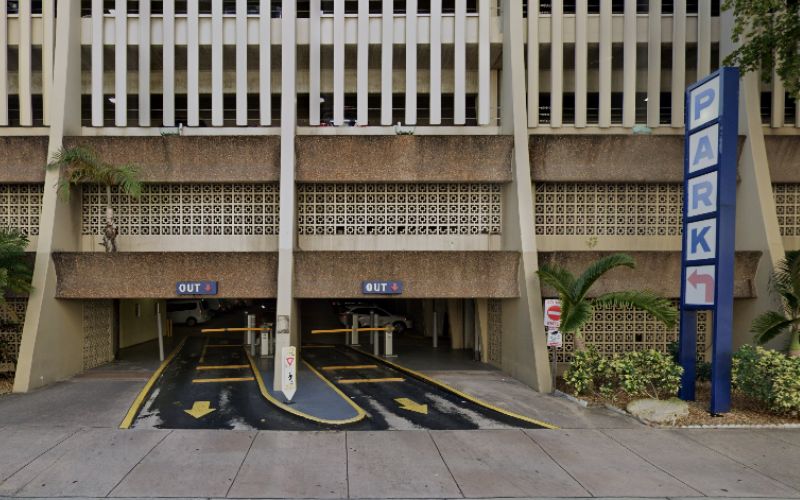 Distance from port: 10 miles
Cost: From $9 per day
If you want the cheapest parking possible, one of the best options is the JetPork Park and Ride Center situated close to Miami International Airport. You'll pay around $9 per day before tax, so a 7-day cruise normally comes in at around $75 – half the price of what you'd pay if you parked at the terminal.
Just a heads up – while there is a shuttle service, and it only takes 10 minutes, there is a limit of four passengers per booking. If you're travelling with a larger party, you may prefer to drop guests and luggage off at the port, and then drive back yourself to park and get the shuttle.
Final word
The Virgin Voyages terminal Miami, or Terminal V, is really easy to get to but you can shop around if you want to get a cheaper parking deal than parking right at the terminal itself.
Shuttle buses are free and quick, but for the ultimate convenience a lot of people just prefer to pay the extra and park right at the terminal. It's up to you – parking there or saving money and parking nearby are both good options.
Related Posts: