There are some great hotels in Fort Lauderdale, Florida near the airport and the cruise port.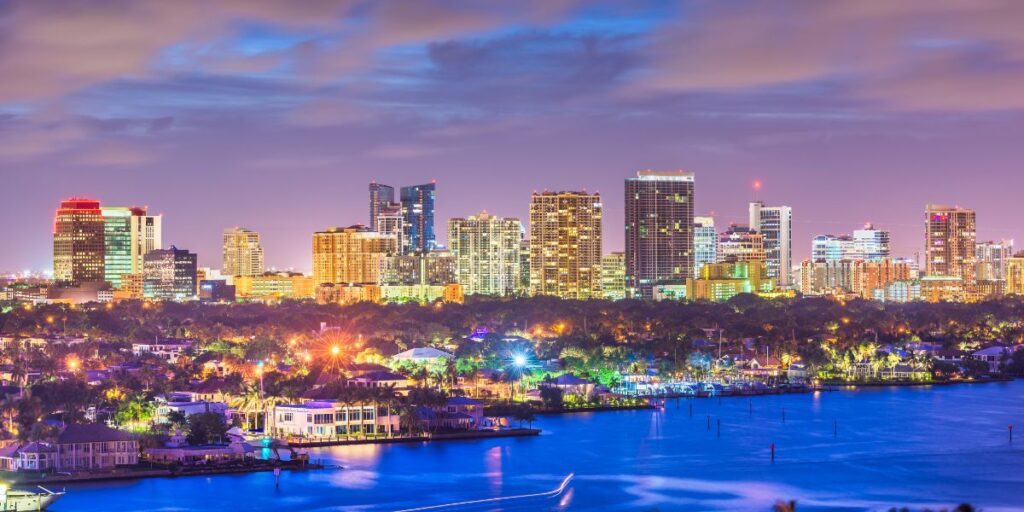 Because the airport is only a couple of miles from the cruise terminals, it's one of the best places to arrive a little early and enjoy some rest and relaxation with a hotel stay before you set sail. Or, you could book a night after your cruise, so everything isn't as rushed.
While there are hundreds of hotels throughout Fort Lauderdale, I've taken a look at the best hotels near Port Everglades cruise port that are no more than 2 miles from the terminal, so that you don't have to worry about expensive cab fares.
Let's take a look…
Map of Hotels Near Fort Lauderdale Airport & Cruise Terminal
First, let's take a look at the map to see where Fort Lauderdale-Hollywood International Airport is compared with Port Everglades Cruise Terminal.
As you can see, the distance is just three miles and so the journey from Fort Lauderdale airport to the cruise port will take just 5 to 10 minutes in a taxi or shuttle bus.
So, if you're staying overnight between your flight and cruise, it makes sense to choose a hotel that's in the immediate vicinity. Many of the local hotels have pools, restaurants and free WiFi, so you can relax on the evening before and the morning of your cruise. Plus, it gives you a handy place to store your luggage while you go off sightseeing.
The Best Hotels Near Fort Lauderdale Airport For Cruise Passengers
Now, let's take a look at which is the best options for a hotel near Fort Lauderdale cruise port. I obviously haven't stayed in all of these hotels myself, so instead, I've studied the online reviews, prices and what's included in your stay.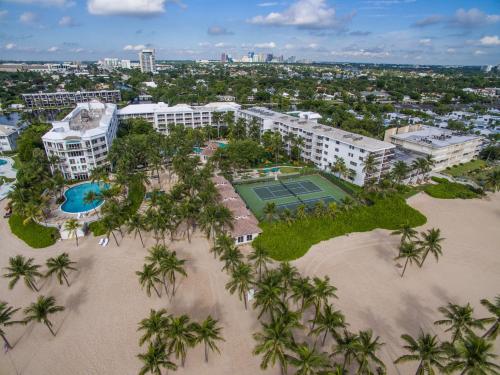 Price: $$$
Perks:
Free WiFi
Multiple restaurants
Luggage storage
The Lago Mar Beach Resort is an impressive beach-front hotel situated just on the other side of the Stranahan River which leads into Port Everglades, so you're only a very short distance from the port – around a 9-minute drive in a taxi.
The major downside to the hotel is the lack of a shuttle service to the airport or cruise terminal, but it's easy enough to make your own way.
It's a stunning 4* resort that has some fantastic family facilities, so whether you're staying for just one night or you're looking to extend your holiday, you'll love your time here. There are multiple restaurants to choose from, and some excellent sports facilities. You can even book a pre-cruise massage if you're feeling fancy.
And you'll get a great view of the cruise ships coming into port – which is a fantastic way to get excited about your voyage.
Price: $$$
Perks:
Free WiFi
Airport shuttle service
Within walking distance of some terminals
The Hyatt Place hotel is one of the best-situated hotels for the cruise port – you're less than a mile from the Royal Caribbean and Princess terminals, so you can walk straight there from the hotel on the morning of your cruise.
It's only two miles from the airport as well, with a free shuttle service running in both directions.
The hotel itself is pleasant and modern, with free WiFi access in guest rooms along with a large flatscreen TV. There's a cafe on site serving snacks and Starbucks coffee, as well as 24-hour meals, while there's an outdoor pool if you've got some time to kill with the kids.
Price: $$$
Perks:
Free WiFi
Airport shuttle service
Within walking distance of some terminals
Luggage storage
The Crowne Plaza is a chain hotel brand that you can trust for quality, and this particular hotel also benefits from a fantastic location, right in the middle of the airport and cruise terminal. There's a free airport shuttle service, and you could either walk the mile to the cruise terminal or just hop in a cab since the cost will be low.
Rooms are clean and modern, with free WiFi. The hotel has a restaurant serving TexMex and international dishes, and there's a cocktail bar, too if you want to get into the cruise mood a little early.
Price: $$$
Perks:
Luggage storage
Within walking distance of some terminals
The Renaissance is a really attractive and stylish hotel that's very close to the cruise terminals, offering a relaxing place to unwind the day before or after your sailing.
It does have some downsides – there are no shuttle services to or from the airport, and WiFi isn't available at the hotel either. Wired internet is available off the reception area but it costs $10 per day to use it.
But if that's not important, then you'll enjoy a beautiful and quiet hotel with a swimming pool, and there's luggage storage, too, if you have a bit of time after you check out to explore the area.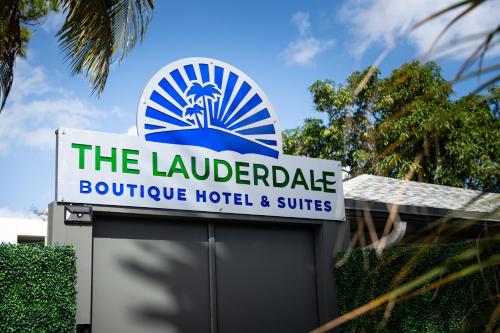 Price: $$
This boutique hotel is a smaller, family-run location with a beautiful sun terrace where you can unwind. It's a little further out from the cruise terminal – you're going to need a taxi to get there and back – but the journey is still fast; you can have a lazier morning while you get ready to board.
Being smaller, there aren't a lot of facilities at the hotel, but you can at least enjoy free WiFi throughout, and there are family rooms available. There's also an ATM, which could be useful for stocking up on some currency that you can dish out as tips on your cruise.
Price: $$$
Perks:
Free WiFi
Airport shuttle service
Luggage storage
The Four Points is a mid- to premium-range hotel with good facilities, including a large fitness centre and the 1800 Bistro & Bar, which offers American dishes for breakfast and dinner. There's free WiFi and a heated swimming pool and sun terrace if you have time to relax a little.
In terms of location, it's really close to the airport – just 8 minutes away – with a free shuttle running back and forth. It's just outside a comfortable walking distance to the cruise terminal if you have a lot of luggage – about 1.5 miles – but you won't need an expensive cab to get you there either.
Price: $$$
Perks:
Within walking distance of some terminals
Luggage storage
The Embassy Suites by Hilton is a luxurious hotel situated in an incredible location – with some cruise terminals just a 10-minute walk away. It's the ideal place if you want the quickest journey to the port in the morning, without sacrificing on hotel quality.
However, while the rooms are spacious and immaculate, and the swimming pool is idyllic, there are some downsides. WiFi access is charged at this hotel, as is the service for the airport shuttle. For a pricey hotel, it's a shame you also have to pay for these extras, while other cheaper hotels include them free.
Price: $$$
Perks:
Free WiFi
Airport shuttle service
Within walking distance of some terminals
Luggage storage
Holiday Inn Express is traditionally a budget hotel chain – a step up from motels, but offering simple, clean accommodation with few frills or extra benefits. This one breaks the mould a little, because it has some nice perks, including free airport shuttles and free WiFi, and it has a great location within a few minutes walk of the cruise terminal.
But it's also not cheap – in fact, it's more expensive than some of the traditionally premium chain hotels situated close by. But if you're travelling from the UK or Ireland, you'll really appreciate the traditional breakfasts served – a great way to start embarkation day.
Price: $$$$
Perks:
Free WiFi
Concierge service
Multiple restaurants
If you want a magnificent hotel as a way of starting your cruise in style, you'll be hard-pressed to find a better choice than the Marriott. Expect excellent service and quality from the moment you step into reception, until the second you check out. And also expect to pay for that service – prices at the Marriott are significantly higher than other hotels in the area.
You're also a little further away from the cruise port, without any shuttle services running to the terminal or to the airport, which at this price level is a little disappointing. But if you're determined to splash out on the best vacation possible, then the Marriott is the ideal luxury choice for your pre-cruise stay.
Price: $$$$
Perks:
Within walking distance of some terminals
Luggage storage
The Hilton at the Fort Lauderdale Marina has everything you would expect from a classic Hilton hotel – premium guest rooms furnished with high-quality linens, a modern and upmarket restaurant serving continental breakfasts and a varied dinner menu, and excellent service from every member of staff.
Unfortunately, it shares the same problems as it does with its Embassy Suites – WiFi is not free (and costs quite a bit, at $10 per day), and there are no complimentary shuttles. You are only a short walk from the cruise terminals, at least.
Price: $
While this list is looking at the best hotels, it's important to remember that you may not want the very best hotel if you're just looking for a place to rest your head the night before you cruise, instead of flying in on embarkation day in a rush. The Budget Inn, as the name suggests, is a no-frills choice that's a short taxi ride from the airport and cruise terminal.
Rooms are clean and perfectly comfortable, with a modern style. And there's free WiFi, which not even some of the most luxury hotel chains nearby can offer to guests. For a cheap stay, this is a great choice.
Price: $
Perks:
Free WiFi
Within walking distance of some terminals
Don't let the name fool you – this hotel doesn't just offer extended stays, and you can book it for a single night before your cruise sails, or once you've disembarked from the ship.
It's another budget option that is very similar in style to the Budget Inn, but in a much better location – you're just a few minutes' walk from some of the cruise terminals including Princess and Royal Caribbean. It's slightly more expensive per night, but still cheap enough to be considered a budget option.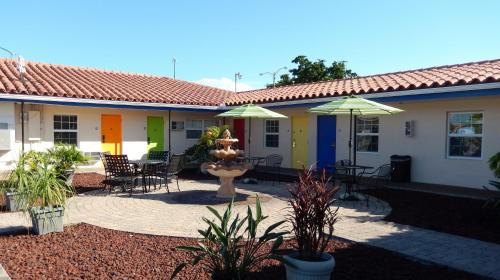 Price: $$
The Haven Hotel is another budget-friendly hotel option that's closer to the airport than the cruise terminal, but still just within a short distance of the port if you're getting a cab ride. The rooms are light and modern, if a little basic, but you do get free WiFi access.
While the hotel facilities are basic, there are plenty of restaurants in close walking distance, so it's a good base for a pre-cruise stay if you can't get booked into the cheaper Extended Stay America Suites hotel.
Price: $
The Vacation Inn Motel is very close to the Haven Hotel, meaning it's another good choice if you want to be close to the airport and only a short Uber or cab ride from the port terminal.

This is cheaper than the Haven Hotel, but that's reflected in the quality. Rooms are definitely comfortable, but the decor is a little retro – it's very much the motel vibe.
Still, free WiFi access is convenient especially at these prices, and you're close to restaurants. If you're just looking for a basic room to take away the rush of embarkation day then there's nothing wrong with a cheap night in this friendly motel.
Recommendation
While there are some excellent hotels on this list to suit a range of budgets, my recommendation would be the Lago Mar Beach Resort, especially if you're cruising with the family. It's not the most expensive, but as a resort, it's packed with things to see and do, which is great if you have a few hours to kill and don't want to wander too far.
The service is great, the food gets really good reviews too, and you have a view of the ships coming into port, which is fun for the whole family – nothing's more exciting than seeing your ship arrive, if you're awake early enough anyway!
Related Posts: