The MS Zaandam is one of the oldest ships still sailing for the Holland America fleet. Part of the Rotterdam Class (often shortened to R-class), she is one of two small ships sailing for the fleet after over 20 years of service.
Despite two of the four R-class ships having been sold off, the MS Zaandam is still sailing for the cruise line for the foreseeable future. And like many older ships, she has some quirks, some of which are related to her accommodation choices.
In this guide, I'm going to take you through the various stateroom options available on MS Zaandam, and tell you the best and worst choices to help you book your perfect cruise.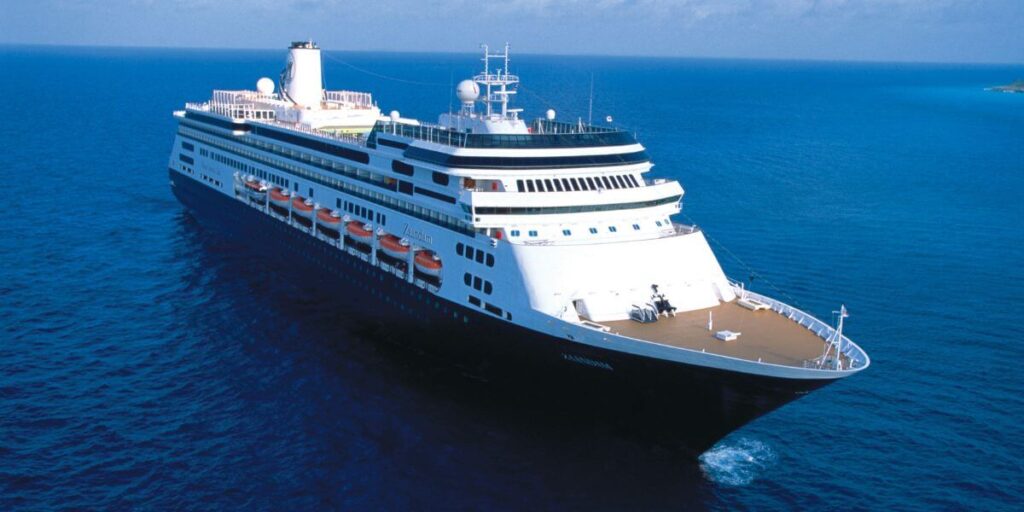 MS Zaandam Cabin Types
There are three main cabin types you can choose from on MS Zaandam. These each have subtypes of cabins within them…
Inside – Large
Ocean View – Standard, Partial Sea View Large, Fully Obstructed View, and Porthole
Suites – Vista, Neptune or Pinnacle
Let's take more of a look at each of these cabin types, so you can get an idea of which one is the best for you…
Interior Staterooms on MS Zaandam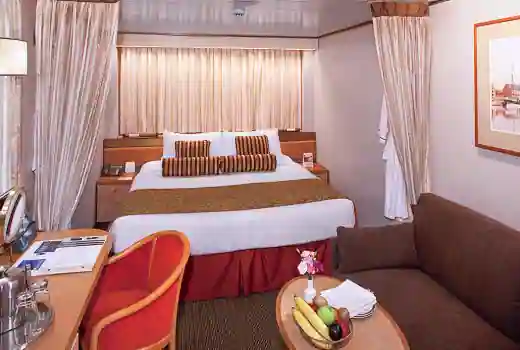 MS Zaandam has just one type of Inside cabin that you can book:
| Room | Sleeps | Size |
| --- | --- | --- |
| Large | 2-4 people | Approx. 160-180 sq. ft. |
As they are with any cruise ship, Interior cabins are always going to be the cheapest option. They're great if you're on a budget and plan on spending most of your time outside of your cabin, exploring everything that MS Zaandam has to offer.
While there is only one official classification of Inside Stateroom on MS Zaandam (other ships in the fleet have both Standard and Large options), that doesn't mean they're all the same.
Some of the staterooms are Triples, with a sofa bed included for a third guest. And some are Quad rooms, which have a sofa bed and a pull-down bed, sleeping a maximum of four.
The Triple rooms are split across the first and second decks (Dolphin Deck and Main Deck) while the Quad rooms are all on the Main Deck. There are some Inside Staterooms on higher decks, but these are all for two people only.
I often like to cruise in the cheapest inside stateroom with my children, so these would be the rooms to go for on this ship – but if you're looking for the cheapest family cruise, Holland America probably isn't the cruise line for you. It's a more premium option.
Ocean View Staterooms on MS Zaandam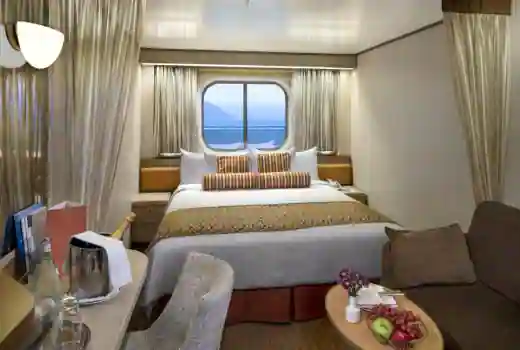 There are four types of Ocean View Stateroom available for guests to book on MS Zaandam:
| Room | Sleeps | Size |
| --- | --- | --- |
| Ocean View | 2-4 people | 200-255 sq. ft. |
| Partial Sea View | 2 people | 200-255 sq. ft. |
| Fully Obstructed View | 2 people | 200-255 sq. ft. |
| Porthole | 2-4 people | 200-255 sq. ft. |
The next step up from an Interior Stateroom, Ocean View Staterooms have a window that lets you see out over the ocean. The window is nice and large for most of the staterooms, and lets a lot of bright, natural light into the room.
The only difference is a handful of Ocean View staterooms near the front of the ship on the Dolphin Deck and Main Deck, the lowest passenger decks on the ship. These have two small portholes instead of a picture window. You won't get much of a view but you will get some natural light.
All of the Ocean View staterooms on MS Zaandam are larger than the Interior Staterooms.
Some of the Ocean View staterooms have either a partially-obstructed or fully-obstructed view. There are two staterooms at the aft of the ship on the Navigation Deck where there's a staircase leading right up to the Lido Deck which partially blocks the view from the windows.
Other rooms on the Lower Promenade Deck have views partially or fully blocked by structural beams on the ship.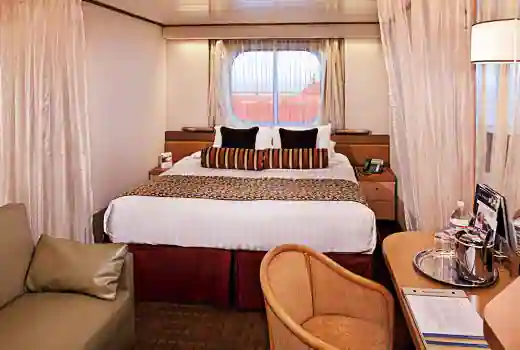 The rooms with restricted views, and the rooms with portholes, are cheaper, as you'd hope. They're a good choice if you don't care about the view but just want the natural light, especially if you like to know whether it's morning without having to check your phone.
Again, there are some that sleep families, with options for three or four guests. And again, those for four people have a sofa bed and a Pullman bed. The Partial Sea View rooms and the Porthole rooms do only sleep two guests though.
A note on Verandah Staterooms
One of the biggest differences between the R-Class ships and the more modern ships in the Holland America fleet is a lack of Verandah Staterooms on these older ships.
That's not to say there are no rooms with a balcony – but they are all classed as suites. In reality, a lot of the Vista Suites on MS Zaandam are a similar size to a typical Verandah Stateroom on the more modern ships.
So, if you were looking for a regular Verandah Stateroom, you're unfortunately going to be disappointed on MS Zaandam. If outside space is important, you'll need to book a suite.
Suites on MS Zaandam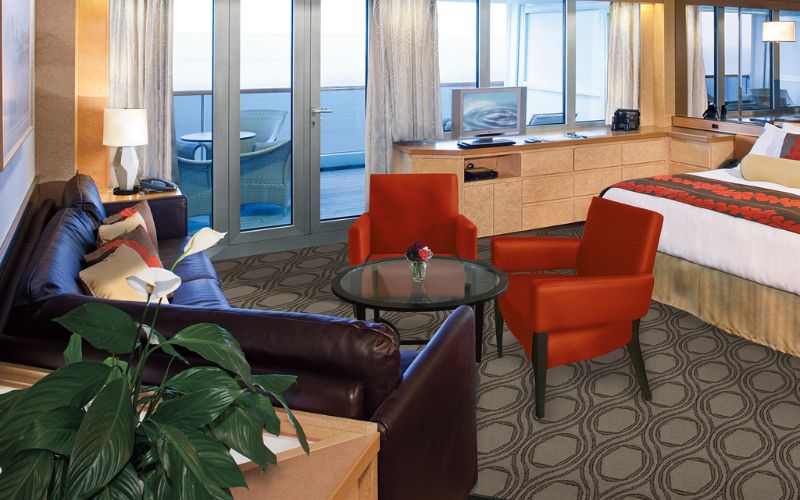 The different types of Suite on MS Zaandam are:
| Room | Sleeps | Size |
| --- | --- | --- |
| Vista Suite | 2-3 people | 290 sq. ft. |
| Neptune Suite | 2-4 people | 390 sq. ft. |
| Pinnacle Suite | 2-4 people | 1,130 sq. ft. |
There are three types of suites on MS Zaandam. She doesn't have any Signature Suites like you would find on some of the more modern ships in the fleet. Signature Suites typically bridge the gap between Vista Suites and Neptune Suites.
Vista Suites
Vista Suites are very much an entry-level into the suite class with Holland America – like I said earlier, they're essentially just a Verandah Stateroom that you would find on other ships, but with one or two additional benefits.
Take a look at this video for a closer look at a Vista Suite:
Neptune Suites
Neptune Suites are larger again, and they have a lot more additional benefits. Just a heads up if you were checking the deck plans yourself – Neptune Suites are marked as sleeping up to three guests, but their sofa beds are bigger and can accommodate two smaller guests. So you can comfortably fit four people in one.
Pinnacle Suite
There's just one Pinnacle Suite on MS Zaandam. It's extremely spacious (with a Verandah that's bigger than some of the actual staterooms on the ship) and it includes an oversized whirlpool bath too.
Again, a sofa bed large enough for two guests is included if you want to enjoy this suite with your family.
If you like the idea of a suite but aren't sure which to choose, then you should be sure to compare the different perks that you get with each. Take a look at my Holland America Line Suite Benefits Guide to find out more.
Special Cabin Types on MS Zaandam
Beyond the standard selection of staterooms on MS Zaandam, there are a few more choices you can make.
Accessible Rooms
Almost all cruise ships have accessible stateroom and suite options – designed for guests with additional accessibility needs. And MS Zaandam is no different.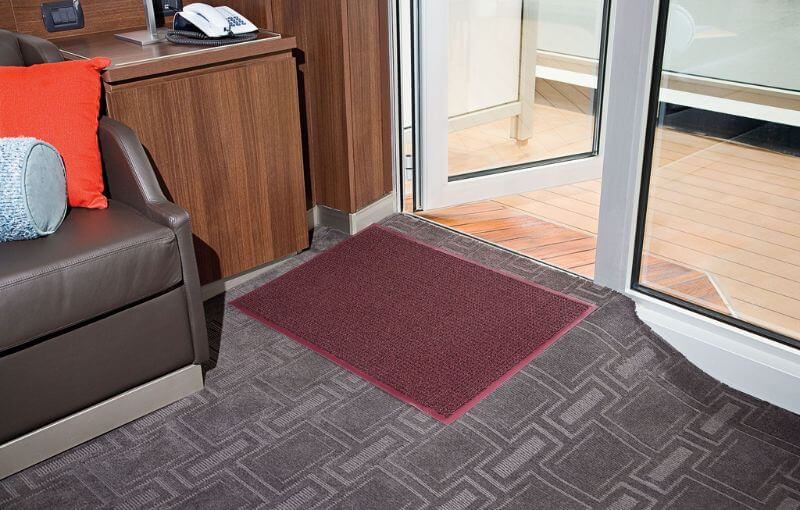 On MS Zaandam, the accessible rooms are split into two categories – Ambulatory Accessible, and Fully Accessible.
Ambulatory Accessible rooms are those which aren't designed for wheelchair users, but that have small modifications to handle other accessibility needs for guests. On MS Zaandam, these rooms include:
9 Ocean View Staterooms (including some with obstructed views)
3 Interior Staterooms
Fully Accessible rooms are suitable for wheelchair users, with widened doorways and a roll-in shower. These include:
1 Neptune Suite
4 Vista Suites
4 Ocean View Staterooms (including 2 with porthole views)
Connecting Rooms
While there are some staterooms on MS Zaandam that are suitable for 3 or 4 guests, the additional beds aren't the biggest. They're fine if you're travelling with younger children, but for teenagers or other adults, they will be a little cramped.
But there is another option – there are connecting cabins that guests can book if they want two staterooms side-by-side. These have a doorway between them, which is normally locked. If your party has booked both rooms, you can ask for the door to be unlocked, giving all guests access to both rooms.
Connecting rooms are available for Ocean View Staterooms only on MS Zaandam.
A note on Spa Rooms…
You might've heard about Spa cabins on Holland America ships – these are special cabins and suites that are situated close to the spa, and that have extra spa-themed features in the rooms themselves.
Unfortunately, those rooms aren't available on R-Class ships. If you love the idea of a relaxing spa-retreat-themed cruise, consider booking one of the newer Holland America ships instead.
How To Choose The Best Room
There are a lot of different decisions that factor into picking the best cabin for your cruise, and as you can tell, there are many different stateroom options on MS Zaandam to choose from too!
To help you out, I've created a checklist that you can work from, which tell you what you should be looking for when you decide to book a cruise.
All you need to do is pop your email address and name into the form below and it'll be sent straight to your inbox.
MS Zaandam Cabin Grades
When choosing the best room on Zaandam, one thing that you'll need to get your head around is the cabin grades.
Every cruise ship labels rooms with a cabin grade – this is usually one or two letters at the start of the room number which tell you what kind of room it is.
Different cruise lines have systems that vary slightly, but with Holland America, you just need to know what the letters stand for – that tells you the type of room. Then the digits afterwards will tell you what deck you are on, and specifically which room you're in.
The cabins all have a four-digit number, and the first number tells you which deck you're on.
Dolphin Deck – 1800-1964
Main Deck – 2500-2715
Lower Promenade Deck – 3300-3431
Verandah Deck – 6100-6228
Navigation Deck – 7001-7088
The Promenade Deck, Upper Promenade Deck, Lido Deck and Sports Deck don't have any staterooms to book.
Here's a rundown of the different grades of cabins on MS Zaandam:
| Cabin Grade | Type |
| --- | --- |
| PS | Pinnacle Suite |
| SA, SB | Neptune Suite |
| A, AA, B, BB, BC | Vista Suite |
| C | Ocean View Stateroom with shower only |
| D, DA, DD, E, EE, F, FF | Ocean View Stateroom with bath and shower over |
| G | Ocean View Stateroom – Porthole View |
| H | Ocean View Stateroom – Partially Obstructed View |
| HH | Ocean View Stateroom – Fully Obstructed View |
| I, J, K, L, M, MM, N | Interior Stateroom |
The Worst Cabins on MS Zaandam
Now before we get to the best cabins on this ship, let's take a look at some rooms that you may wish to avoid. It's not that these are always bad, but depending on your circumstances, you may wish to steer clear of these rooms…
1. Cabins that could make you seasick
7058 to 7086
Some people are more prone to getting seasick than others, and most cruise passengers never need to worry about it. However, if you are one of the unlucky ones who suffers, there are certain staterooms you should avoid that can make things worse.
Those are mainly the staterooms towards the aft of the Navigation Deck. Basically, with seasickness you want to avoid being on higher decks, and you want to be as central as possible – the higher you are, and the further towards the front or rear of the ship, the more you'll feel the motion.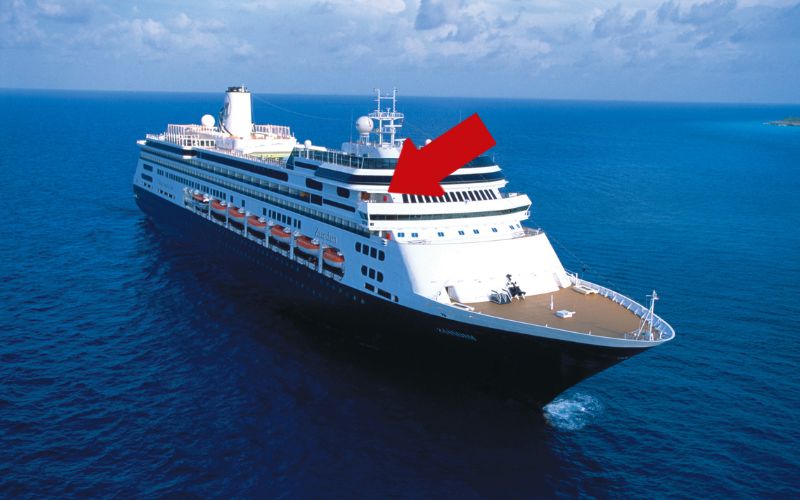 The Navigation Deck hosts the Bridge right at the front of the ship, so it's only really the aft you need to worry about.
If you do suffer from seasickness, choose a mid-ship cabin on a lower deck.
You might assume that, because MS Zaandam is a smaller ship, it's not a massive issue. Yet while it's true you don't have rooms on the 10th deck, you have to bear in mind that as a small ship you will feel more of the motion everywhere on board.
2. Connecting Staterooms if you don't use them
Various
On any cruise ship, connecting staterooms are handy for families and larger groups. Even more so on MS Zaandam, where there aren't as many standard staterooms that sleep multiple guests.
But that's not the reason to avoid booking them if you don't need them. True, someone else might make better use of them, but there's an even more practical reason why you should avoid them if you won't be booking the adjacent room too.
Cruise ship staterooms are made from a metal frame, which offers a decent level of soundproofing. Cut a door into it – even a closed one – and that soundproofing is partially compromised.
The door may stay locked, but you'll likely hear your neighbours, especially if they're loud. Which also means they may hear you.
If you value your privacy, book a non-connecting room instead.
3. Obstructed Ocean View Staterooms
Any G, H or HH stateroom
This really depends on whether the view is important to you or if you just like the idea of having some natural light.
The G grade cabins have portholes, which really don't offer much of a view at all, especially as they're so much closer to the waterline.
H staterooms aren't too bad – your view is only partially blocked by steel support beams. But HH rooms have a fully blocked view by those beams.
If you want a view without the cost of a suite, you're best choosing any Ocean View cabin beginning with C, D, DA, DD, E, EE, F or FF instead.
4. Rooms directly below the swimming pools
7005 to 7029
If you're someone who enjoys a lie-in every morning, you may wish to avoid rooms directly below the Lido pool and the Sea View pool areas.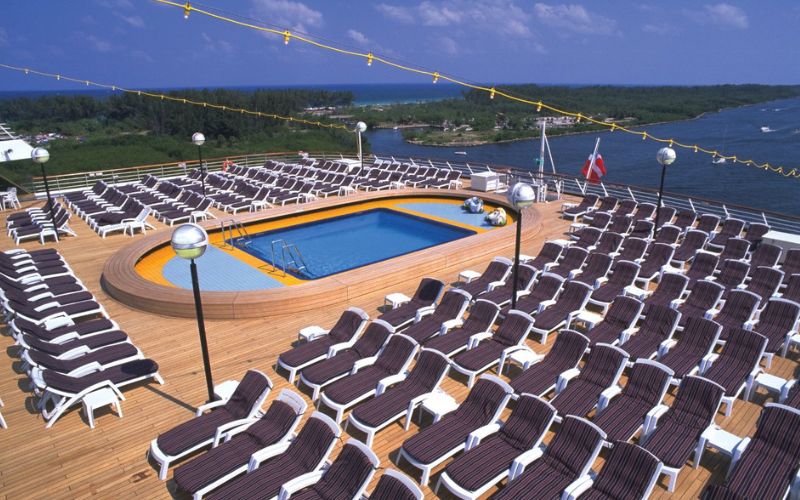 You won't hear the noise at night here. But what you may well hear is the sound of people grabbing a lounger first thing in the morning.
And not just reserving a lounger, but dragging it along the decked floor – and that is a sound that will carry right through your ceiling.
If you appreciate a lazy morning, and you don't want early risers on the pool deck waking you up, book a room elsewhere on the ship.
5. Rooms right next to the lifts/elevators
1824 to 1829, 1881, 1883, 1894, 1896, 1898, 1915, 1917, 1919, 1926, 1928, 1930, 2544, 2546, 2547, 2549, 2618, 2620, 2621, 2622, 2623, 2625, 2650, 2652, 2654, 2655, 2657, 2659, 3325, 3326, 3331, 3332, 3363, 3364, 3366, 3389, 3391, 3394, 3396, 6115, 6117, 6119, 6120, 6122, 6124, 6165, 6167, 6169, 6170, 6172, 6174, 6197, 6199, 6201, 6202, 6204, 6206, 7056, 7057, 7058, 7059, 7060, 7061
Ideally, when choosing your cabin, you don't want one that is opposite the elevator area.
It's not super-noisy, but it does mean there's a lot more foot traffic coming past your room – and that can generate a bit of volume, especially late at night.
Again, with the size of MS Zaandam it's never a huge issue since there aren't thousands of cabins, but things will be a little quieter slightly further from the elevators.
It's less of an issue towards the front of the Navigation Deck – as this is where the Pinnacle Suite and Neptune Suites are located, there are fewer rooms and so less foot traffic.
6. Rooms where privacy may be an issue
All Ocean View rooms on the Lower Promenade Deck (beginning with 3)
The Lower Promenade Deck is a classic deck on the MS Zaandam, in that it actually has a full promenade all around the ship. It's a lovely spot for a sheltered stroll.
Except that there are Ocean View staterooms located on that deck – which means the promenade runs right past your window. Yes, if you choose to leave your curtains open, people will be able to see into your room.
This might not concern you, but if you enjoy being able to get ready at a leisurely pace, without drawing the curtains all the time, it's definitely a deck to avoid.
Also, be aware that there is some seating on the deck. You may open your curtains and find yourself staring at the back of someone's head.
7. Noisy interior cabins
M and MM cabins, 1923 to 1947
When browsing the reviews of MS Zaandam, most of the feedback is generally really positive. But one recurring issue was the noise coming from the engines when you book an Interior room on the lowest deck.
Being close to the engines can be noisy, especially the closer you are to the centre of the ship – hence why Interior Staterooms tend to have more problems with it. It's better to book a higher deck if you're concerned about the noise or vibrations of the engines.
The Best Cabins on MS Zaandam
So those are the worst cabins you could book on MS Zaandam – depending on you and your travelling party. What about the best? Which are the real gems of the ship that are always worth your consideration? Let's take a look…
1. Unobstructed Aft-View Staterooms
2702, 2713, 2715, 3429
The most sought-after views on most cruise ships are those over the wake at the aft of the ship. As you're sailing you get to see the churning waters you leave behind, and you have the benefit of shelter as the ship moves in the opposite direction.
On MS Zaandam those views aren't as amazing simply because these rooms are on lower decks, but it's still cool to look out over the wake, and they're definitely preferable to other Ocean View staterooms on the same decks.
2. Pinnacle Suite
PS7001
No list of the best accommodations on MS Zaandam would be complete without a mention of the Pinnacle Suite, the largest suite on the ship by a significant distance.
As a guide, you could fit as many as six Interior Staterooms inside the Pinnacle Suite, and that's just the indoor space – the balcony is also twice the size of the smaller Interior Staterooms too.
You can see more of the Pinnacle Suite in this video…
It's not just about space though – the amenities and the perks you get for booking this suite are what really make it special. Relax in a whirlpool bath, enjoy a complimentary Mimosa each morning in your suite with breakfast, skip past lines almost everywhere on the ship – you'll really get the VIP treatment.
It is, of course, extremely expensive compared to other staterooms and suites so it's not for everyone. But if you have the budget available and want to treat yourself, it's a fine choice.
3. Navigation Deck Aft Staterooms if you smoke
7050 to 7086
On most cruise ships these days, you are very limited in where you can smoke. It's banned in your stateroom (including on the balcony) and in most public areas of the ship. On MS Zaandam, there are two smoking areas – the casino, if you're playing, and the Sea View Bar on Deck 8.
If you're a smoker (which includes e-cigs), it can be inconvenient to trek halfway across the ship when you want to smoke. But there are some staterooms situated just one deck below the Sea View Bar, so it's only a short walk to the staircase or the elevator and you're in a comfortable, sheltered smoking space.
Don't worry if you're a non-smoker and you book one of these rooms – it doesn't tend to drift down, since it is an open-air bar – the wind will carry the smoke away. That makes these rooms a good choice for smokers, but not a bad choice for non-smokers.
Unless you get seasick, as these are some of the cabins I'd suggest avoiding for that reason too.
What is the best deck on MS Zaandam?
There is no simple answer for the best deck on MS Zaandam. Typically most people prefer a deck with staterooms above and below, ideally higher up the ship. The only deck surrounded by staterooms above and below on Zaandam is the Main Deck, which is low on the ship.
This makes it great for anyone who might suffer from seasickness, but it does hamper the view. You could argue that the Navigation Deck is the best deck, since this hosts the best suites on the ship.
But really, most people across any deck won't have many problems at all with sound coming through the floor or ceiling and so are likely to be fine.
NEW DEALS JUST RELEASED!
Don't miss the latest Holland America Line offers…
Final thoughts
The MS Zaandam definitely has her quirks – it's not often you find a cruise ship that has suites with balconies, but no Verandah Staterooms. Nor are there many cruise ships these days with a promenade deck right outside your window.
None of the cabins I've listed above are outright bad. It all comes down to personal preference. And remember that some of those with downsides will be cheaper, and that might be more important to you.
If you want to learn more, you can check the same resources I did:
There's no specific Facebook group just for the Zaandam, but the general group for Holland America cruisers is very active and should be able to answer any questions you have.
NEW DEALS JUST RELEASED!
Don't miss the latest Holland America Line offers…
Related Posts: