Alaskan cruises are really spectacular – the dramatic scenery, the wildlife, the quaint towns – it's a breathtaking part of the world. And not just because the cold air takes your breath away!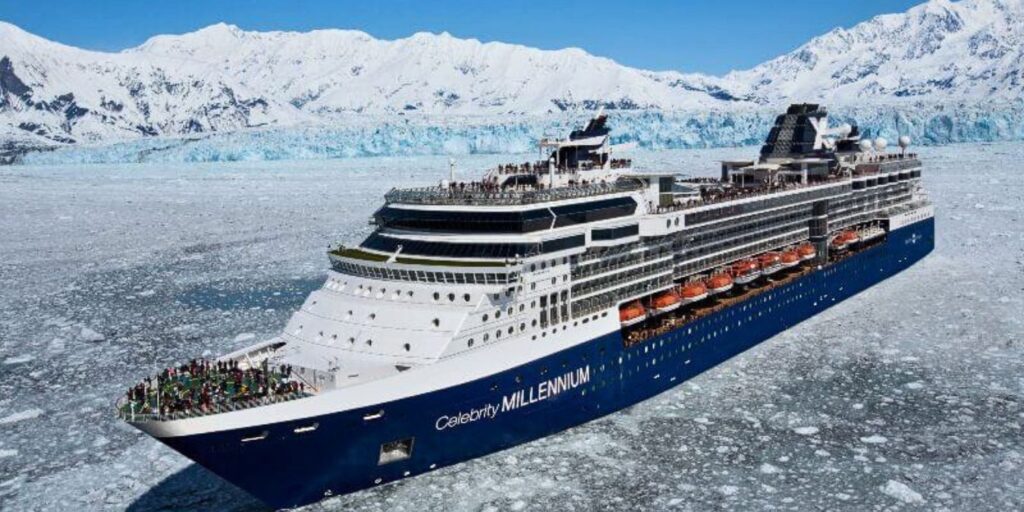 But which side of the ship should you be looking to book for your Alaska cruise? Is the port side or the starboard side better?
In this guide, I'll tell you everything you need to know.
Which side of the ship is best on an Alaska cruise?
The side of the ship that's best for an Alaska cruise depends on your itinerary and sailing direction. If travelling northbound, a starboard-side cabin will give you more views of the glaciers and ports. For southbound cruises, a portside cabin would be preferred.
Suggested read: Port & Starboard – Which is which?
Alaska is a gorgeous part of the world for the three things I mentioned in the intro – the towns, the glaciers and the wildlife. The view of the towns doesn't matter too much, because you'll get a much better look at them when you visit the port. It's nice to have a view across the town as you approach, but it's not essential.
With the wildlife, you never know from which side of the ship you might see a pod of dolphins or a whale, so again it doesn't really matter too much either way.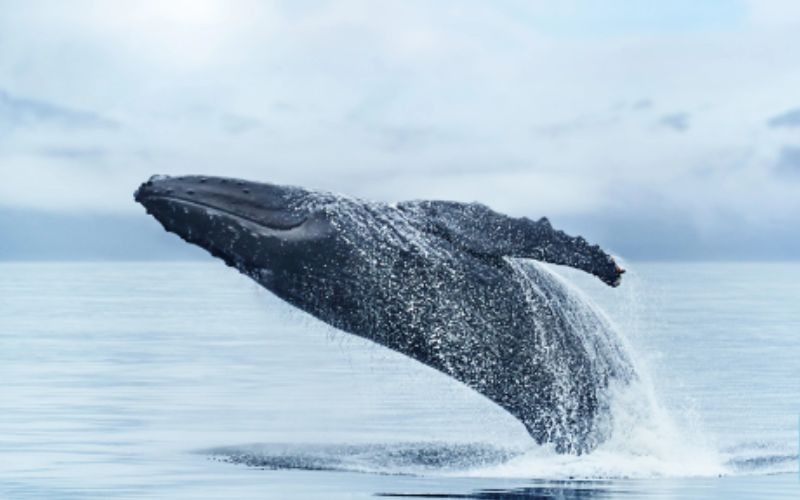 But the glaciers and the natural scenery are a major reason people love to cruise to Alaska, and for that you'll only get a good view from your cabin if you're on the correct side of the ship as you sail past.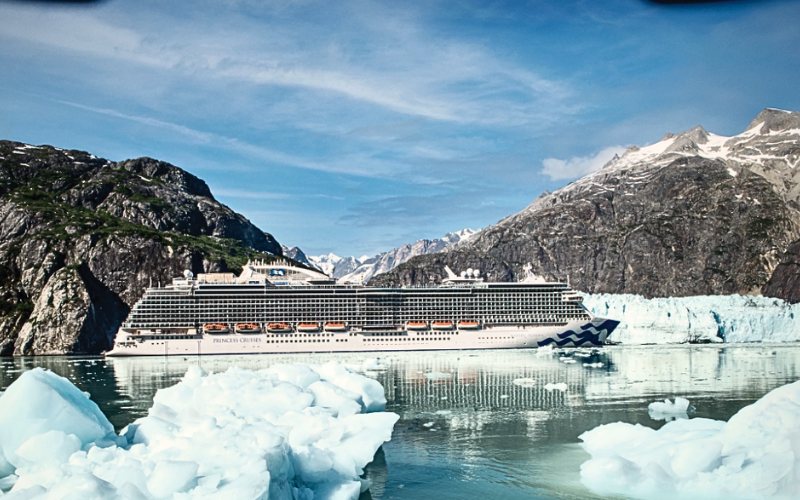 This means you want land to be outside your cabin, with the Gulf of Alaska – the ocean – on the opposite side.
And for northbound cruises that'll mean a cruise on the starboard side of the ship, whereas for southbound cruises you should aim for a portside cabin.
Having trouble remembering which side of the ship is starboard or port side? You're not the only one, don't worry.
Here's my guide to 9 easy ways to remember port and starboard so that you don't get confused when booking your Alaskan cruise holiday.
What are the main departure ports for Alaska cruises?
There are four main departure ports for cruises to Alaska – Seattle in mainland US, Vancouver in Canada, and then Seward and Whittier in Alaska itself.
Cruises from Seattle and Vancouver are northbound, or may be a round-trip. Cruises from Seward and Whittier are almost always southbound.
You can see these ports on the map below…
A lot of the cruises from Seattle are shorter trips – 7-night cruises that are round-trips that don't make it as far as Anchorage and Seward. Instead, they focus on the Alaska cruise ports nearer the Canadian border, such as Juneau, but will typically include seeing at least once glacier.
On these cruises, it doesn't particularly matter which side of the ship you're on because you'll usually get a good view on both legs of the journey.
Cruises from Vancouver are more likely to be a one-way trip to Seward or to Whittier, although there are some longer itineraries that are round-trips. And then the cruises from Seward and Whittier are almost always exclusively one-way, southbound cruises to Seattle or Vancouver.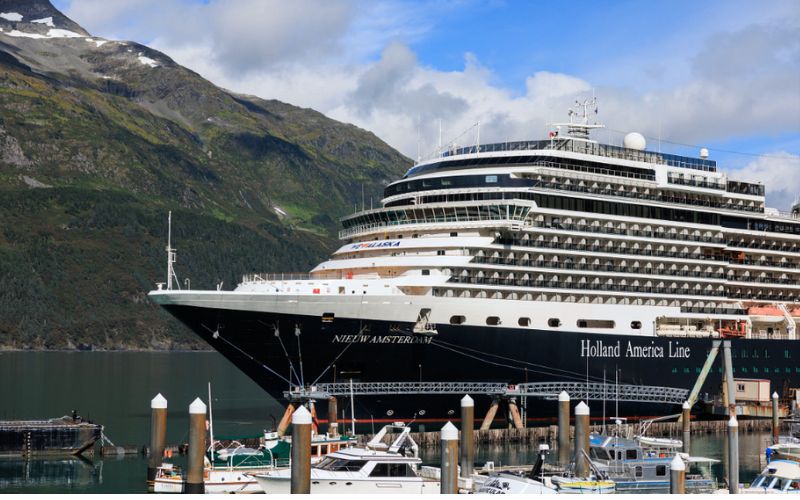 It's important to know all this so that you can understand your itinerary easier and plan whether you want to book a specific side of the ship or not.
Which side of the ship is best for northbound Alaska cruise?
A northbound Alaska cruise would be best experienced from the starboard side of the ship. This keeps the land and glaciers of Alaska on the same side as your cabin, meaning you can enjoy the stunning scenery from the comfort of your room or balcony.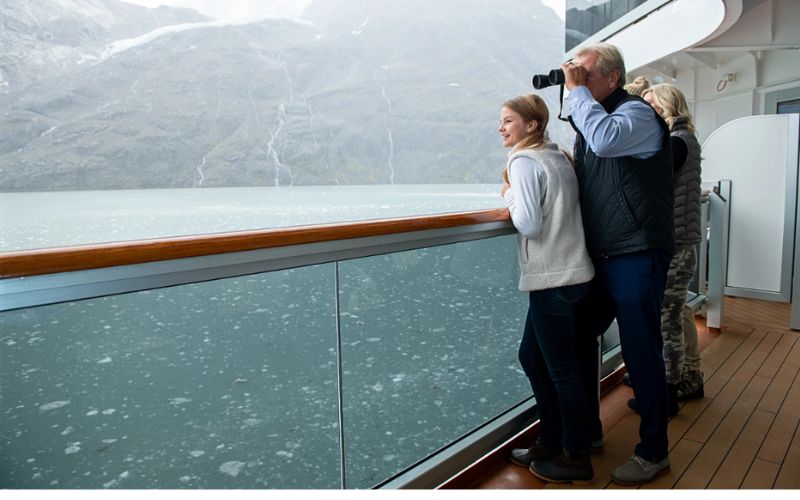 Obviously it depends on which cabin type you book as to whether it matters – I'll cover that more below. But remember that if you end up with a port side room then it's not the end of the world. It's never a far walk from a lounge or an open deck that offers the same stunning views.
Which side of the ship is best for an Inside Passage Alaska cruise?
It doesn't matter which side of the ship you're on for a cruise through the Inside Passage. As the name suggests it's a passage where you're surrounded by land on the starboard side and islands on the port side – the scenery on both sides is equally stunning.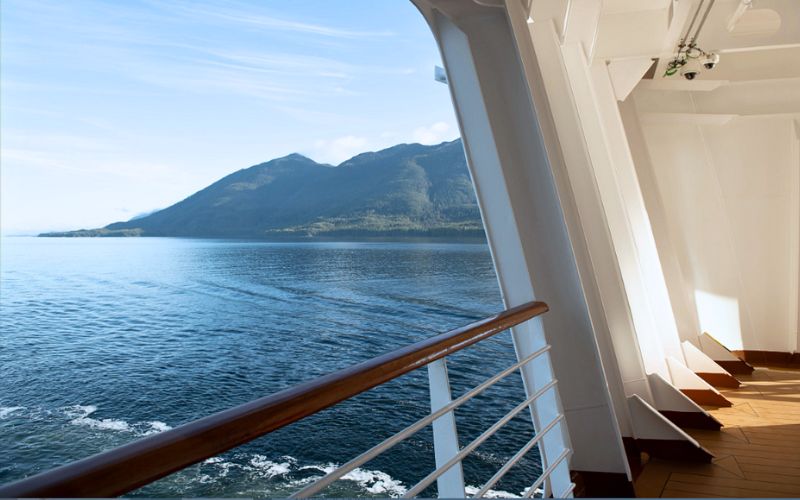 There are some key ports in the Inside Passage, including Wrangell, Petersburg and Juneau, so if you're travelling northbound you'll get a better view of those from the starboard side. But the towns can be enjoyed as you wander through them on the port day – so the port side will be just as good in terms of the actual scenery.
The only difference is when cruising past Glacier Bay at the northern end of the Inside Passage. Here you might want to be on the starboard side as you'll get more of a view, though the ship will often circle the area to give everyone a great photo opportunity.
Which side of the ship is best for an Alaska cruise from Seattle?
Alaska cruises from Seattle will either be northbound one-way, or round-trip cruises. For one-way northbound cruises, you should book a starboard cabin, to make sure you get the best views of the land. For roundtrip cruises, it won't matter as the port side gets great views on the return leg.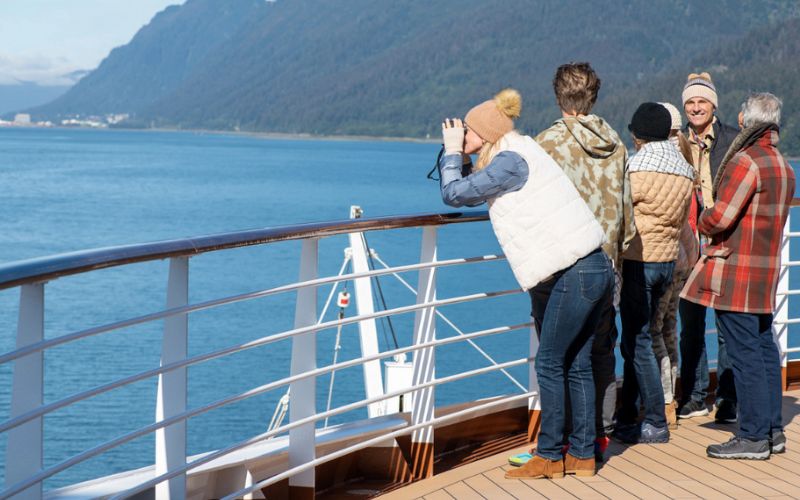 It's always important to review your itinerary and trace the route that your ship will be sailing so that you know for sure which side of the ship you want to book on.
In most cases it's pretty straightforward – the ship will travel northbound in a fairly straight line from Seattle, so you know you should be on the starboard side for the best views.
But check whether it is only going through the Inside Passage on the return leg – if that's the case then the port side may be marginally better, although you'll be surrounded by scenery on both sides of the ship.
What cabin type is best for an Alaska cruise?
The best cabin types for an Alaska cruise are those with a balcony since you'll get a completely unspoiled view of the amazing scenery around you. Ocean-view cabins are good but aim for a cabin with a large window so you can properly soak in the view.
The whole discussion of which side of the ship is better for an Alaska cruise is moot if you are on a budget and plan on booking an inside cabin. Those cabins don't have any kind of view at all so the side of the ship doesn't make a difference.
Depending on the ship, there may be ocean view cabins you can book but check what kind of view they offer. Some of the cheapest cabins might only have a porthole which offers a terrible view. Some will have a picture window and some may have a full floor-to-ceiling window – those would be the best cabins to really soak up the scenery if you're set on an ocean view.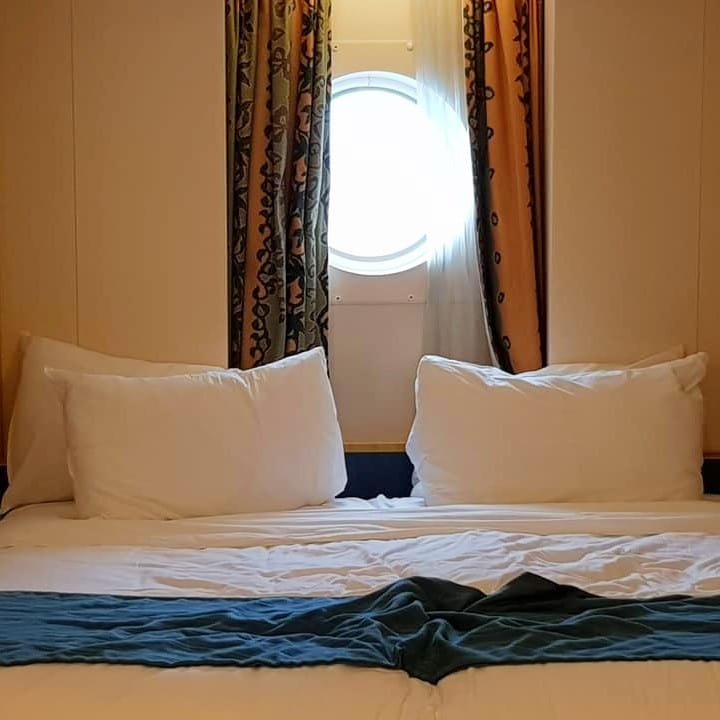 But a balcony will always be the best choice – either a balcony cabin or a suite with a balcony. Your view is unspoiled, and you can look down over the railing if there are any swimming creatures along the sides of the ship, something you might struggle with from a window.
Just brace yourself for the weather though – you won't be sitting on your balcony in a bikini like you would be in the Caribbean or Mediterranean. You'll want to keep warmer clothes near the sliding balcony door if you want to slip out and enjoy the view, especially early in the morning or late at night.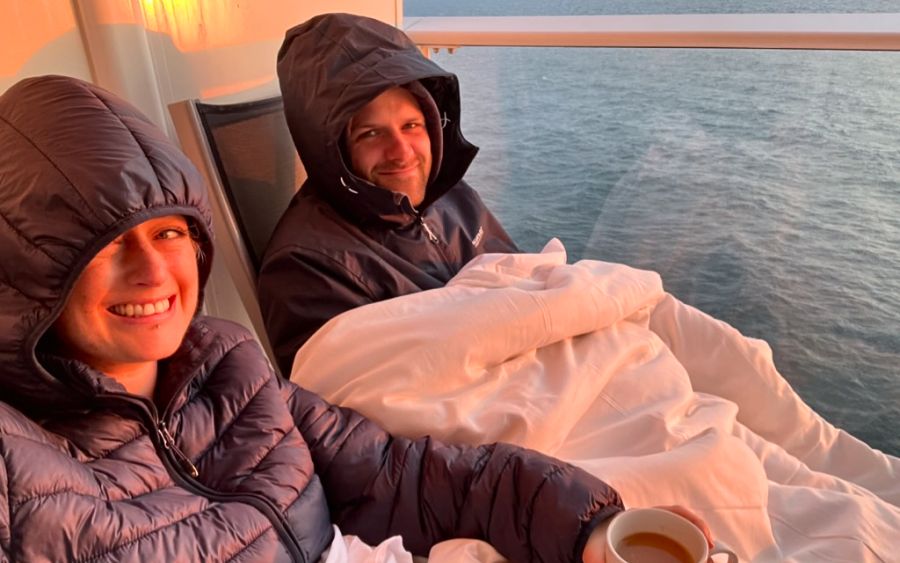 Suites will have larger balconies, but on an Alaska cruise, this might not be important to you. A smaller balcony where you can stand and take in the glaciers and mountains may be all that you need, so weigh that up when deciding how much you want to spend.
But what about ship location? It's not just about port and starboard side. A forward cabin – one near the front of the ship – might limit you to only accessing your balcony when the ship is in port and not moving, due to the winds. Whereas an aft cabin with a view to the rear of the ship is often the most treasured.
If you book an aft-facing balcony, you don't need to worry about port or starboard side. You'll get an amazing view regardless. And the same can be said of some forward-facing cabins. There are some ships which have ocean view cabins right at the front of the ship with huge windows – they'd be a good choice too.
In terms of deck, you'll want a higher deck, provided you aren't prone to seasickness. This will offer the longest-reaching views, and in Alaska that's well worth it. Lower decks are still good choices, but you won't get the same kind of view.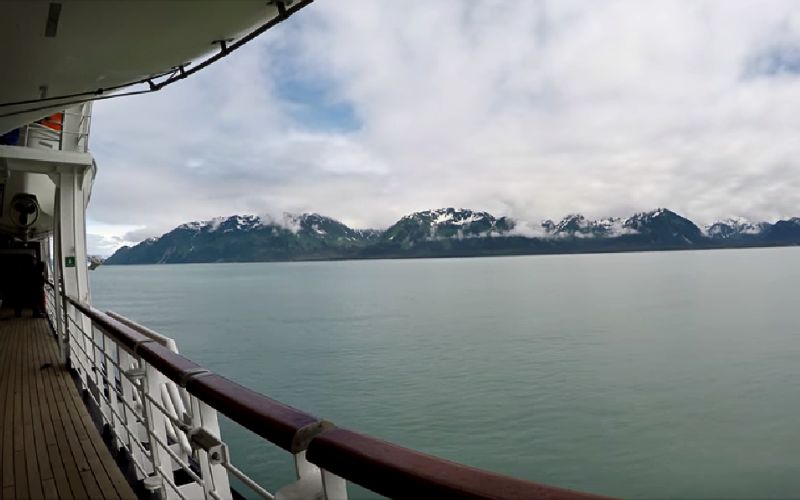 What are the best ports of call to see from your cabin on an Alaskan cruise?
The key ports of call for an Alaska cruise – in terms of the natural scenery – tend to be Juneau, Glacier Bay, the Hubbard Glacier, Seward and Anchorage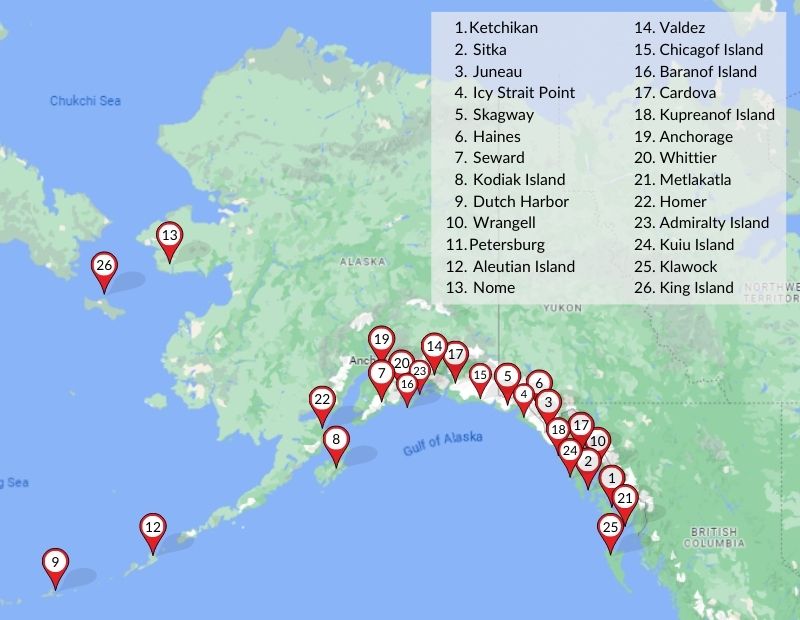 This is important if you're on a round-trip cruise that travels both north and south. You might think that it doesn't matter which side of the ship you book in that case, but it may do.
You'll want to check which ports you'll visit when travelling north, and which you'll visit on the return leg. If most of the best ports are on one leg of the journey then you'll want to book a cabin on the side of the ship that'll give you the best view of those.
With some of these ports, it doesn't actually matter. Ships that visit the Hubbard Glacier tend to do a 360-degree sail around, so you'll get a view of the glacier from all angles. And with Anchorage, the port is surrounded by amazing scenery on all sides.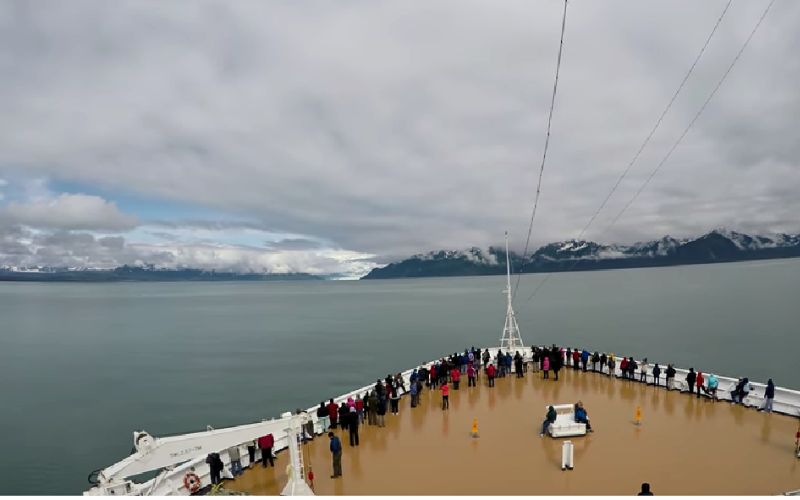 But for Juneau – which includes the Mendenhall Glacier – Glacier Bay and Seward, plus the sailings in between them, you'll want to make sure you are on the right side of the ship as you cruise to them, ideally.
Suggested read: Guide to Alaska Cruise Ports
Is it worth paying extra to choose your cabin on the 'right' side?
Whether it's worth paying the extra to choose your cabin on the 'right' side of the ship for an Alaska cruise depends entirely on you and what's important to you.
If you're on a tight budget, it might be better to book on the 'wrong' side of the ship, since you can save money and still have a lovely sea view, and the chance of seeing swimming dolphins or a whale.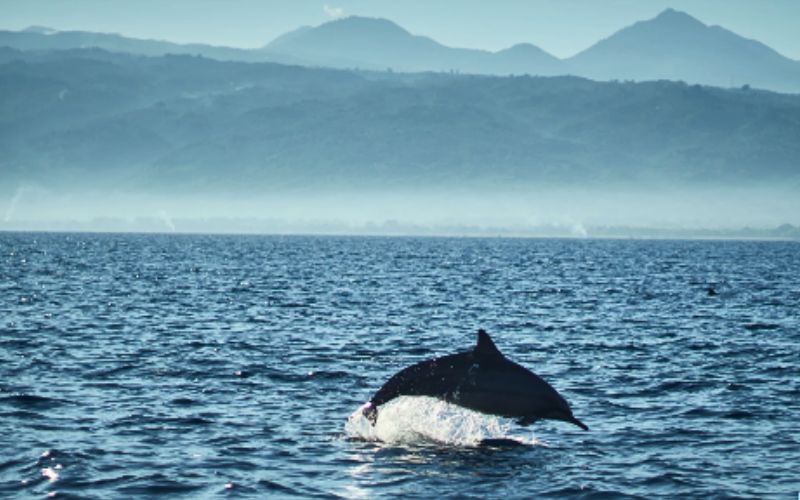 And remember it's not like you're missing the view on the 'right' side of the ship – you just need to leave your cabin to enjoy it, and find a lounge or deck space on the opposite side.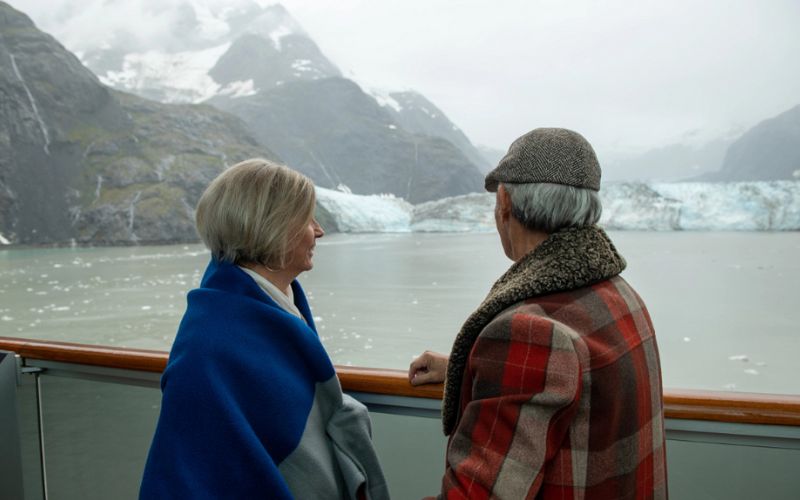 But if you have the budget for a 'right' side room then it is pretty special – having the curtains open and waking to views of white glaciers is a magical experience.
There's no single right answer, because it also depends on whether you're someone who likes to spend time relaxing in their cabin, or if you're only in there to sleep, shower and change. If most of your time is spent relaxing elsewhere on the ship then there's no reason to pay more for a better view.
Final word
Ultimately, you just need to remember that if you want a cabin facing the Alaskan scenery, then get a starboard side one for northbound itineraries, and a port side one for southbound itineraries.
Cabins on the 'right' side may be more expensive though, so if you're happy walking a short distance to a deck or lounge, then you can save by choosing one on the 'wrong' side.
But if you're dead-set on getting the full Alaska experience from your balcony, just make sure you check the itinerary to know which side of the ship is right for you.
Related Posts: