Azamara has four cruise ships – Azamara Quest, Azamara Journey, Azamara Pursuit and Azamara Onward.
In this guide, we'll compare the four ships, looking at the age, history, size and amenities of each vessel. This will help you to know if you should be choosing an Azamara ship solely on the destinations offered, or if other factors should play a role in your decision making.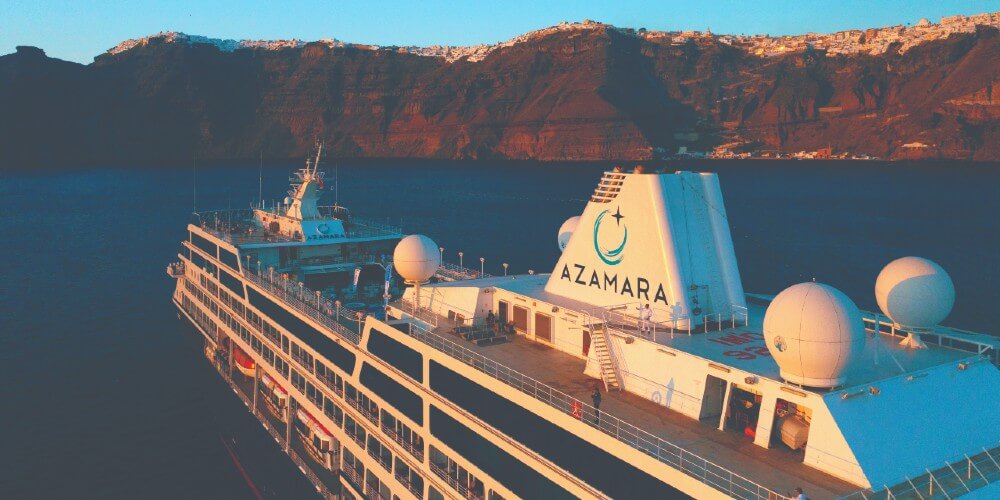 Azamara Cruise Ships
The following table compares the four Azamara ships…
| Ship | Built | Joined Fleet | Refurbished | Size (Gross Tons) | Guests | Crew |
| --- | --- | --- | --- | --- | --- | --- |
| Azamara Journey | 2000 | 2007 | 2021 | 30,277 | 690 | 408 |
| Azamara Quest | 1999 | 2007 | 2016 | 30,277 | 704 | 408 |
| Azamara Pursuit | 2001 | 2018 | 2018 | 30,277 | 702 | 408 |
| Azamara Onward | 2000 | 2022 | 2022 | 30,277 | 684 | 408 |
As you can see, the ships were all built within a couple of years around the millennium and are each identical in terms of gross tonnage (volume).
How many passengers are on Azamara cruise ships?
Azamara cruise ships are relatively small, with each accommodating between 684 and 704 guests based on double occupancy. Some rooms have sofa beds, which would take the maximum occupancy up to 826 if all berths were in use.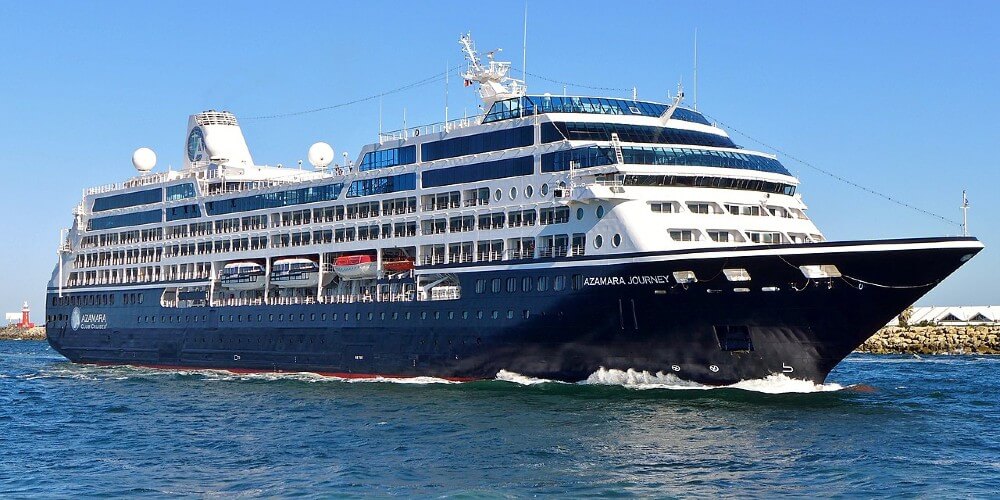 Azamara Deck Plans
When comparing the deck plans for the four Azamara ships, the layouts are virtually identical. There are some slight differences in cabin configurations and the locations of accessible rooms, but on the whole, the ships are the same.
One important distinction between the ships can be observed on Deck 8 of Azamara Onward. On the other ships, this deck is half balcony staterooms and half suites. However, on Azamara Onward, almost the whole deck comprises suites. That's why the guest capacity is slightly lower on Azamara Onward, compared to the other ships in the fleet.
The Azamara cruise ships are all identical in terms of restaurants, pools, spas, and entertainment venues. Any differences will be minor and decorative.
What is the newest Azamara cruise ship?
The newest Azamara cruise ship is Azamara Onward. Formerly, Pacific Princess for Princess Cruises, the ship was handed over to Azamara on 21st January 2021 and made her maiden voyage for Azamara on 2nd May 2022.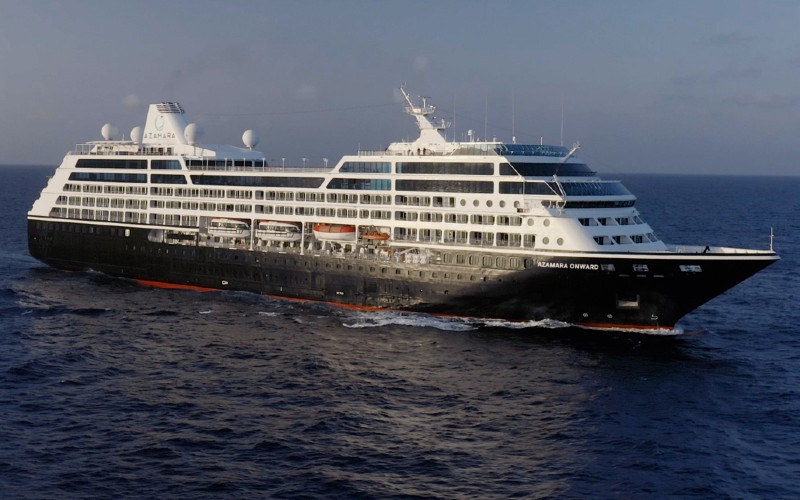 NEW DEALS JUST RELEASED!
Don't miss the latest Azamara offers…
The History of Azamara's Cruise Ships
Azamara Cruises was founded in 2007, several years after the Azamara ships were built. Founded by the Royal Caribbean Group, Azamara was created to compete with Oceania Cruises, a luxury cruise brand owned by Norwegian Cruise Line Holdings.
In 2009, Azamara Cruises was rebranded to Azamara Club Cruises, before being renamed to simply Azamara in 2019.
When Azamara was founded in 2007, the first two ships, Azamara Quest and Azamara Journey, we obtained from Royal Caribbean Group's Pullmantur Cruises brand. Instead of being transferred to Celebrity Cruises as planned, they were instead used to launch the new Azamara brand.
In 2018, Azamara bought Adonia from P&O Cruises and renamed it to Azamara Pursuit.
In 2021, Royal Caribbean Group sold the Azamara brand to the private equity firm Sycamore Partners. The company then bought Pacific Princess from Princess Cruises and renamed it to Azamara Onward.
Here's a little more on the history of each Azamara ship:
Azamara Quest History
2000 – 2003: R Seven for Renaissance Cruises
2003 – 2006: Delphin Renaissance for Delphin Seerisen
2006 – 2007: Blue Moon for Pullmantur Cruises
2007 – Present: Azamara Quest for Azamara
Azamara Journey History
2000 – 2003: R Six for Renaissance Cruises
2003 – 2005: Blue Star for Pullmantur Cruises
2005 – 2007: Blue Dream for Pullmantur Cruises
2007 – Present: Azamara Journey for Azamara
Azamara Pursuit History
2001 – 2003: R Eight for Renaissance Cruises
2003 – 2007: Minerva II for Swan Hellenic
2007 – 2011: Royal Princess for Princess Cruises
2011 to 2018 – Adonia for P&O Cruises
2018 – Present: Azamara Pursuit for Azamara
Azamara Onward History
1999 – 2002: R Three for Renaissance Cruises
2002 – 2021: Pacific Princess for Princess Cruises
2022 – Present: Azamara Onward for Azamara
Other R Class ships
There were eight vessels launched in Renaissance Cruises' R Class in the late 90s to early 00s. So, in theory, if Azamara wanted to add more cruises to the fleet, there are four identical sister ships that the cruise line could seek to purchase.
However, the acquisition of these ships is unlikely because they are all currently owned by Ocean Cruises – Azamara's main rival.
Oceania Cruises R-class ships that are identical to Azamara ships:
R One – Currently Insignia for Oceania Cruises
R Two – Currently Regatta for Oceania Cruises
R Four – Currently Sirena for Oceania Cruises
R Five – Currently Nautica for Oceania Cruises
What to Expect from Azamara Ships
Azamara cruises are very much focused on the destinations, with immersive, port-intensive itineraries. The ships are large enough to cross oceans, yet small enough to call at smaller ports and sail into rivers.
On an Azamara cruise, you'll find a lot included in your cruise fare:
Drinks – standard spirits, wines, beers, water, soft drinks, tea and coffee
Gratuities (tips)
AzAmazing Evening events filled with music and dance
Shuttle service to and from port communities
Self-service laundry
Additional amenities for 'Veranda Plus' guests:
Free mini bar
One night of speciality dining
120 minutes of free wifi
One bag of laundry
Priority boarding and debarkation
Additional amenities for suite guests:
Butler service
Free mini bar
Speciality dining every day
In-suite afternoon tea
240 minutes of free wifi
One bag of laundry
Priority boarding and debarkation
Guests staying in Club World Owner's Suites, Club Ocean Suites and Club Spa Suites also get $300 per person on onboard credit.
Which Ship to Choose?
The four Azamara ships are virtually identical in terms of size, age and amenities. When it comes to choosing a ship for your next Azamara cruise, that makes it very easy. All you need to concern yourself with is your choice of destination. You can relax knowing that whichever ship you choose, you'll enjoy the same luxury experience.
NEW DEALS JUST RELEASED!
Don't miss the latest Azamara offers…
Related Posts: