I was invited to spend the weekend at Warner's newest hotel – Heythrop Park in the Cotswolds. Being a lover of cruises, I was keen to see if the rumours are true. Are Warner Leisure hotels just like cruise ships? Let's find out…
Location and First Impressions
Heythrop Park was built in the early 18th century and is nestled in 440 acres of parkland. As I drove down the long and winding driveway and approached the hotel, I was blown away but just how grand it was.
Check-in was fast and effortless and the staff were all incredibly friendly and welcoming.
Accommodation
I stayed in a Superior Room in the Manor House. The room was huge with a large bed, desk, sofa, armchair, fireplace, and a large bathroom with a freestanding bath and twin sinks.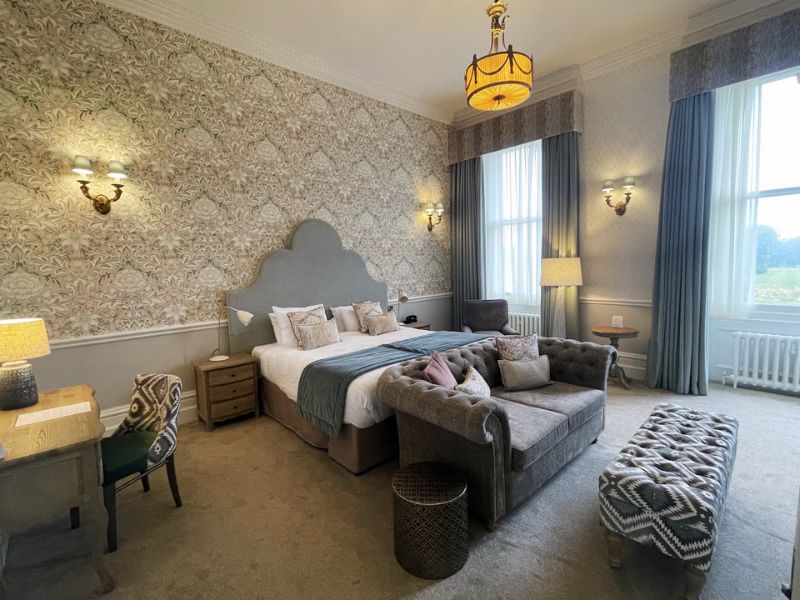 The ceilings were easily 15 feet high and there were several large windows that overlooked the gardens.
It's safe to say that my room at Heythrop Park was nothing like a cruise ship cabin! For starters, it was about ten times as large! If this room were on a cruise ship, it would be one of the top suites.
Winner = Warner Leisure Hotel
Dining
Heythrop Park has three restaurants – a fancy brasserie, a pub-style restaurant and the Market Kitchen which is part buffet, part table service.
When you book your holiday you can choose which restaurant you want to eat in and at what time. There are a variety of dining times to choose from over several hours and booking in advance means that you can try them all in a weekend.
Warner Leisure Hotel breaks include breakfast and evening meals. You can also have lunch for an extra charge and it's not expensive.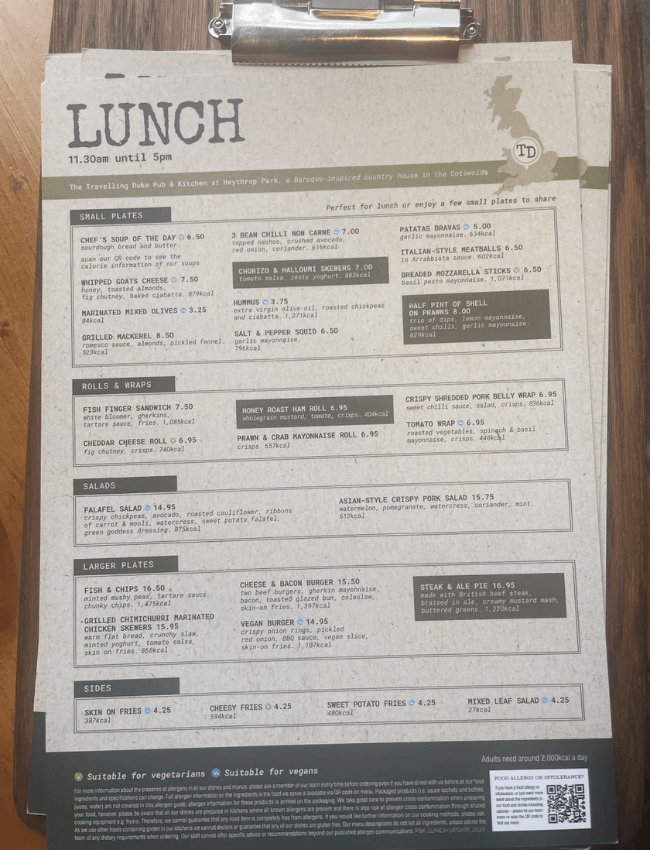 You'll pay extra for drinks and the prices of these vary. Wine is quite expensive at around £10 per glass, but beer is much more reasonable at £5 per pint. It is very nice wine though!
Each venue has a different menu and there's lots of choice.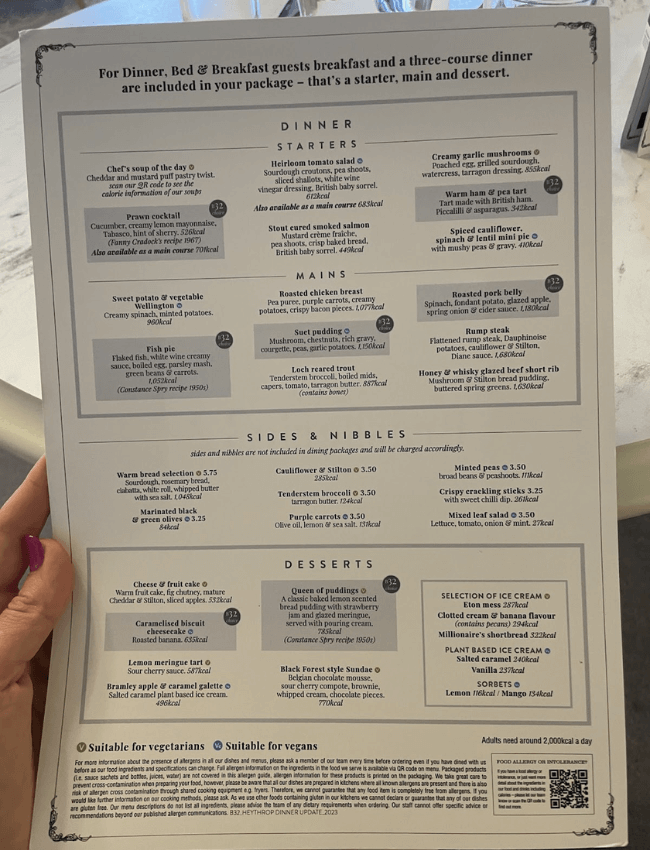 Being vegan, I was really impressed that I always had at least two options for starters, mains and desserts. The waiters always asked about allergies or dietary requirements too.
The food was incredible. I would even go so far as to say that it's better than most cruise ships.
Winner = Warner Leisure Hotel
Leisure Activities
Heythrop Park has a spa with an indoor swimming pool, two outdoor hot tubs, a sauna and steam room. This is all included, although you have to book in advance and can only visit once or twice during your stay.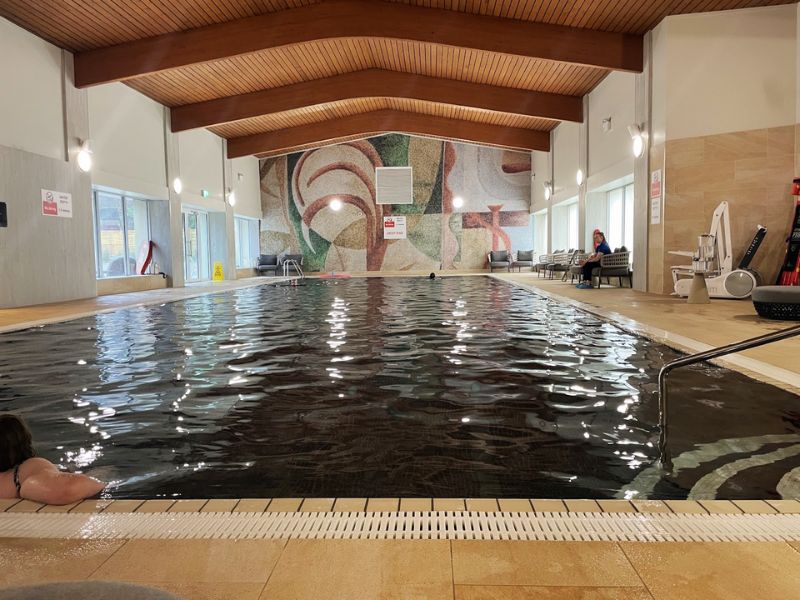 There are also lots of organised activities that you can book for no charge. These include tea tasting, rifle shooting and archery.
You can also enjoy lawn games like croquet, boules and giant Connect 4. There are lots of chess sets, card and board games too as well as quizzes and dance and fitness classes.
For an extra charge, you can hire bikes, enjoy spa treatments or attend classes like gin tasting or enjoy an afternoon tea.
Just like a cruise ship, there's so much to do that even on a rainy day it's impossible to be bored.
Warner Leisure Hotels are adults-only, and the activities are very similar to what you've found on a small, boutique cruise ship. Many of them are repeated throughout the day too, so you have plenty of chances to join in.
Entertainment
If you like live music, then Heythrop Park is for you. Each week there are a variety of acts on, so you can choose the one that you like the most, whether that's 80s tribute artists, classic rock or pop.
There are two venues, the theatre and the Live Lounge, so you can enjoy multiple shows each night, as well as afternoon shows.
I really enjoyed the music, especially the Take That tribute act, Re-Take That. However, I do personally like to see other types of entertainment on a cruise too, whether that's a comedian, acrobat, ventriloquist or West End-style show.
Service
I found the service at Heythrop Park to be impeccable. Every staff member was chatty and happy to help.
Cruise ships tend to hire crew members from all over the world, with many staff travelling from Asia to work on board. At Heythrop Park, the staff members were a mix of Brits and people from all over Europe. There was never a language barrier as there can be on some cruise ships.
Winner = Warner Leisure Hotel
Value for Money
Breaks at Heythrop Park start from as little as £100 per night. That includes breakfast, dinner, activities and entertainment. You have to pay for lunch and all drinks including tea and coffee after meals or in the daytime.
However, there's no set charge for tips as there often is on a cruise. Wifi is free of charge as well.
The cost of a stay at a Warner Leisure Hotel is similar to a cruise ship and offers great value for money, as most cruises do. It's worth looking out for any deals that are available too.
The Verdict: Is Heythrop Park Hotel Really Like a Cruise Ship?
I can conclude that Heythrop Park Hotel is incredibly similar to a cruise ship! The hotel itself is obviously more historic, given that it's over 300 years old. But it's just as beautiful as any modern or traditional cruise ship.
A Warner Leisure Hotel break offers the same great value for money and the guests are similar to the types of people who would take a luxury adults-only cruise.
So, if you like cruising without kids, then I would definitely recommend that you give a Warner Leisure Hotel a try.
I spoke to lots of other guests and most of them had stayed at other Warner Hotels too. They said that they're all quite different, and that Heythrop Park is one of their favourites.
Related Posts: