P&O Cruises ship Iona is the perfect ship for British families, with sailings from Southampton to a variety of European destinations and lots of onboard fun for kids of all ages.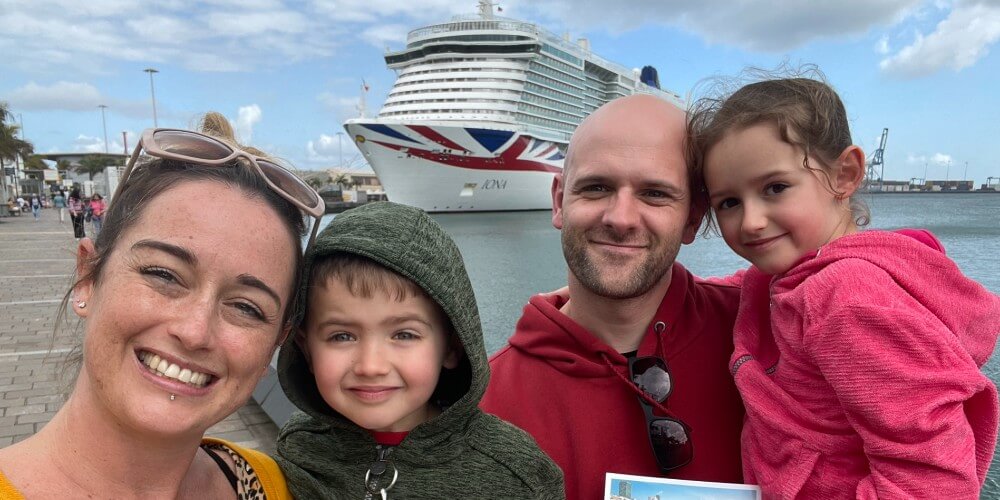 We loved our two-week cruise on Iona with our seven- and five-year-old kids and would definitely return. We've also since enjoyed a cruise on her sister ship, Arvia, and loved that one too.
If you've booked a cruise, or are considering booking a cruise on board Iona, read on for all the information about Iona's kids' clubs, family dining options and family-friendly destinations.
I also have detailed guides to Iona's cabins, restaurants and the first-ever gin distillery at sea.
Iona's Kids' Club
Just like the other family-friendly cruise ships in the P&O Cruises fleet, Iona offers The Reef club with a programme of entertainment and activities that will appeal to all youngsters of all ages – from toddlers to teens.
There isn't just one P&O kids club – instead, included in the cruise fare are kids' clubs which are split into different age groups and offer a safe and fun environment in the care of qualified Reef rangers.
Please check the latest kids' club with P&O Cruises before you book your cruise. This is particularly important if you have children in different age groups as you may find that they're not able to attend sessions at the same time, which could throw a spanner in the works when it comes to enjoying your child-free relaxation time!
NEW DEALS JUST RELEASED!
Don't miss the latest P&O Cruises offers…
Splashers – Age 2-4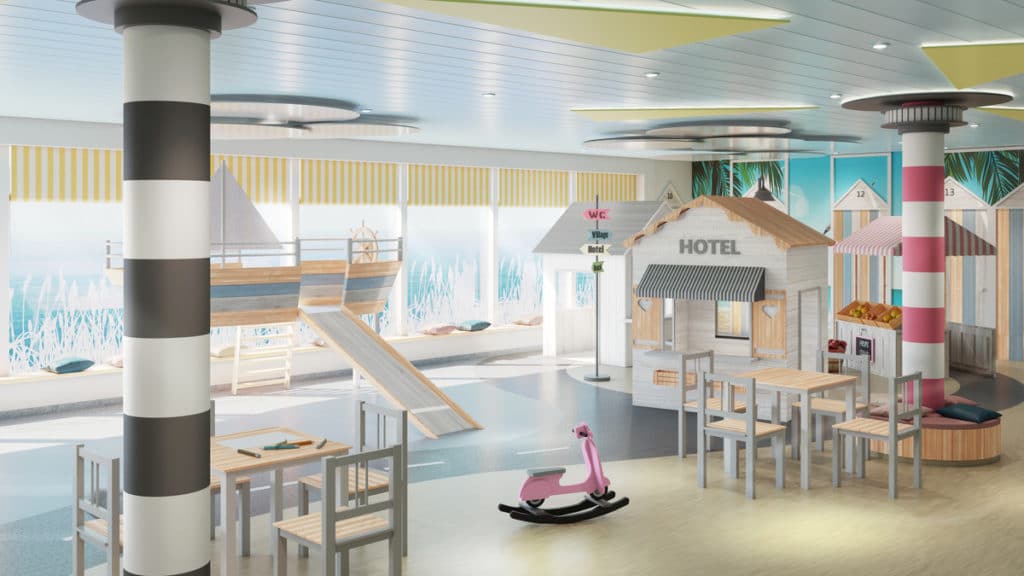 Two-, three- and four-year-olds will love the bright and colourful Splashers club which features slides, toys, books and activities such as arts and crafts and dressing up.
Surfers – Age 5-8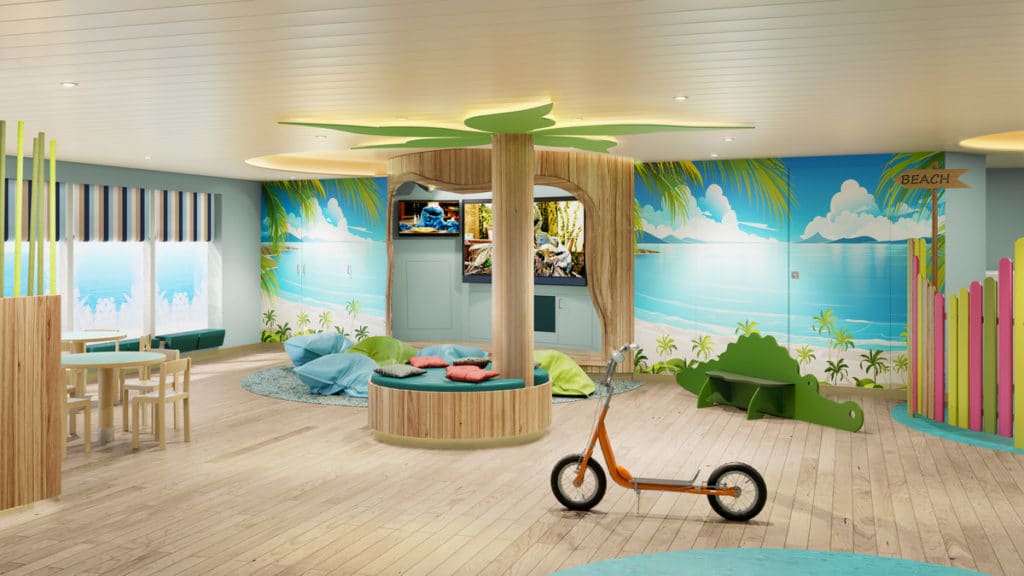 Five- to eight-year-olds can attend Surfers, the Iona kids club featuring a soft play area. Kids can play computer games, watch films and enjoy puppet shows. There are themed days such as Pirate Day and they'll be able to take part in treasure hunts around the ship.
Scubas – Age 9-12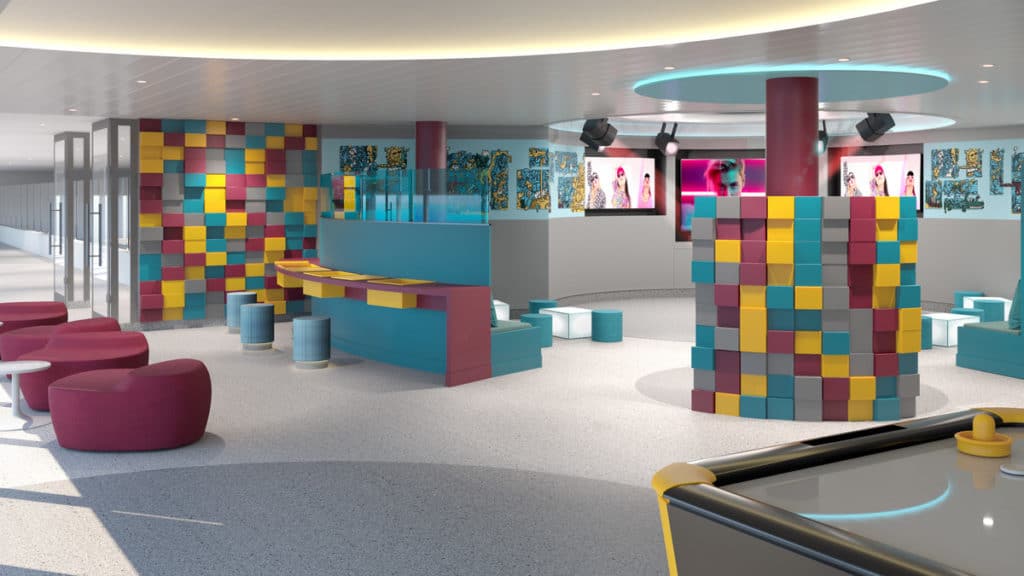 The Scubas club for nine- to twelve-year-olds looks really cool. It's relaxed and welcoming, with computer games, air hockey and pool tables. There' are organised activities available, or kids can just chat and play games with their friends.
Scene – Age 13-17
Teenagers have their own space on Iona, a hang-out called Scene, which is located on deck 6, far away from the kids' clubs. I really like this idea, as I know that many teens wouldn't go anywhere near a 'kids' club', but this is more of a chilled-out space where they can hang out with others, as well as testing their skills with the latest gaming technology.
Iona's Family Facilities
As well as the Reef kids' club, Iona hosts a myriad of other places where families can have fun together. So even if your child chooses not to attend the organised activities of the kids' club, there'll still be loads for them to do.
The Splash Zone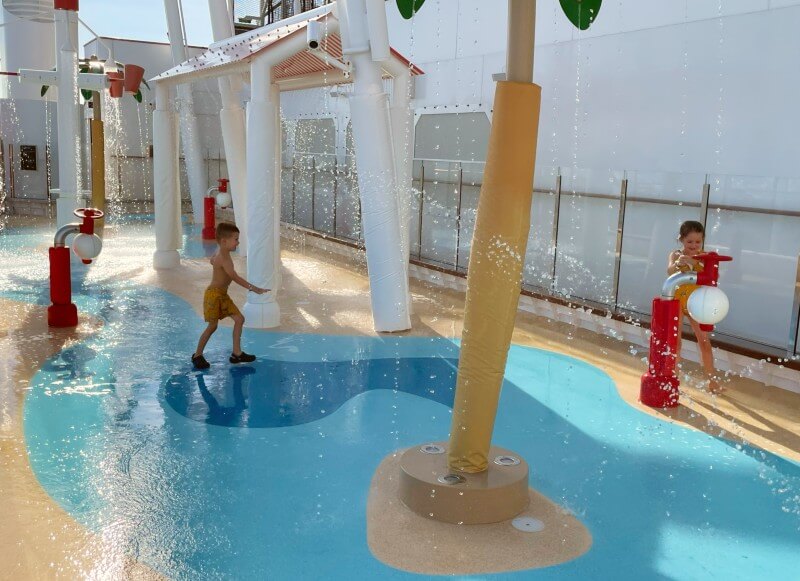 The Splash Zone is a really cool water-play area that is used by the kids' club at some times, and at other times parents can bring their children. I know that my two absolutely loved this – they even wanted to go in on a cold day, although I wouldn't recommend that!
The Nursery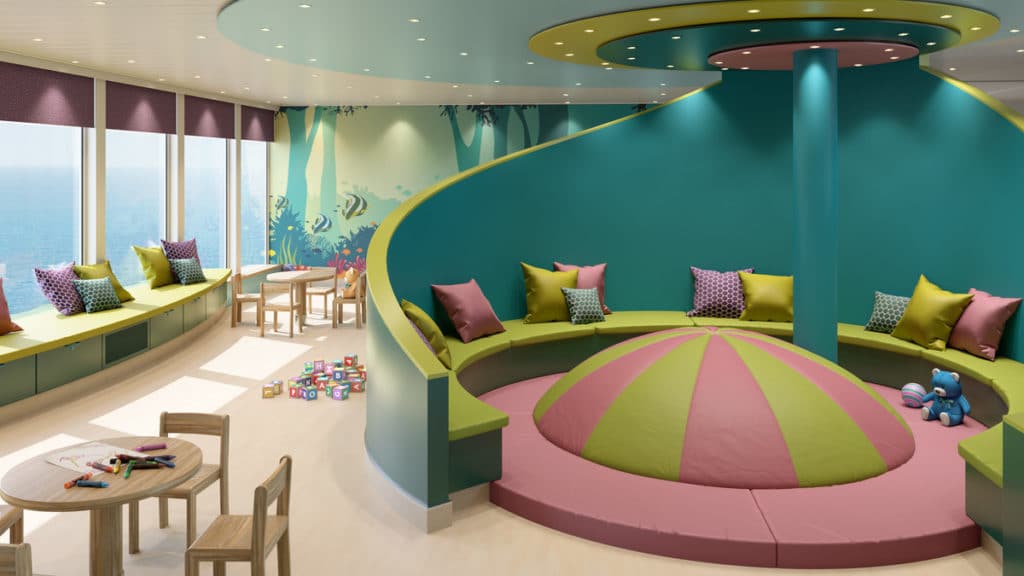 The Nursery looks like a really great area for babies and toddlers. Sadly, at the time of writing the nursery hasn't yet opened due to the restrictions. However, I do hope that it opens soon.
The Night Nursery
Iona also features the Night Nursery, which is one of the most-loved features of P&O Cruises' family-friendly ships by parents of under-fives. But again, this hasn't yet been able to open.
The idea behind the Night Nursery is that parents can leave their children between 6 pm and 2 am to sleep in a quiet area under the watchful eye of qualified staff. They are given a pager so that they can be alerted should their children wake.
We absolutely loved the Night Nursery on Britannia. Walking away from our sleeping children with a glass of wine in hand, heading out to the theatre or casino was such an invigorating feeling when you're used to a babysitter being a rare and special treat! Best of all, the Night Nursery, like all the other children's facilities, is completely free of charge.
Ocean Studios
Iona features a four-screen cinema complex. There are screenings throughout the day so families can always choose an age-appropriate film, complete with popcorn, ice cream and snacks. This is the perfect way to spend a rainy day at sea – because they do sometimes happen when sailing from the UK!
The Club House
The Club House is an indoor/outdoor space at the aft (that means rear, for cruise newbies) end of the Promenade Deck. Here, families can get together to play games and enjoy fun entertainment such as games shows.
Our favourite Club House activity was making models of Wallace and Gromit. Then the real Wallace and Gromit turned up to say hello!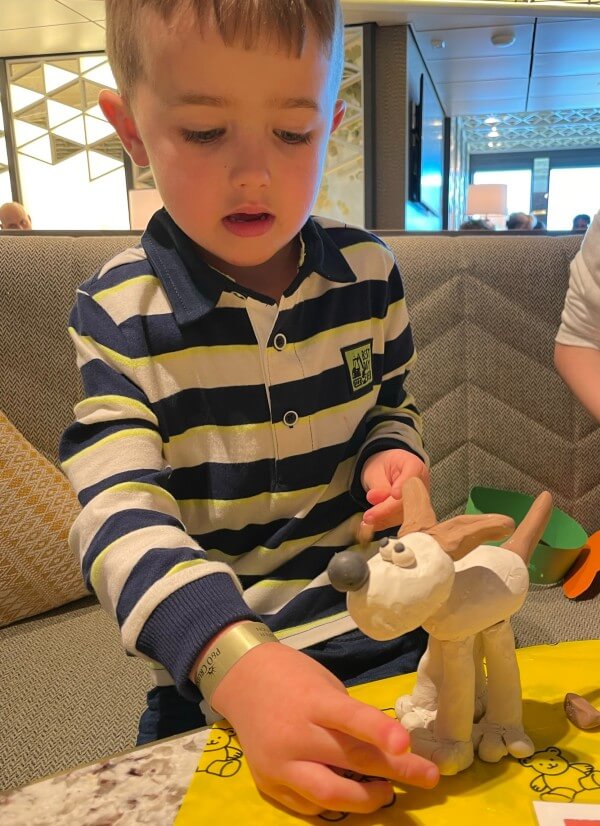 Wallace and Gromit
Wallace and Gromit could regularly be seen around the ship, as could their friend Sean the Sheep. There were always lots of Wallace and Gromit-themed activities and meet-and-greets on the daily program and we loved watching the Sean the Sheep movie in the theatre.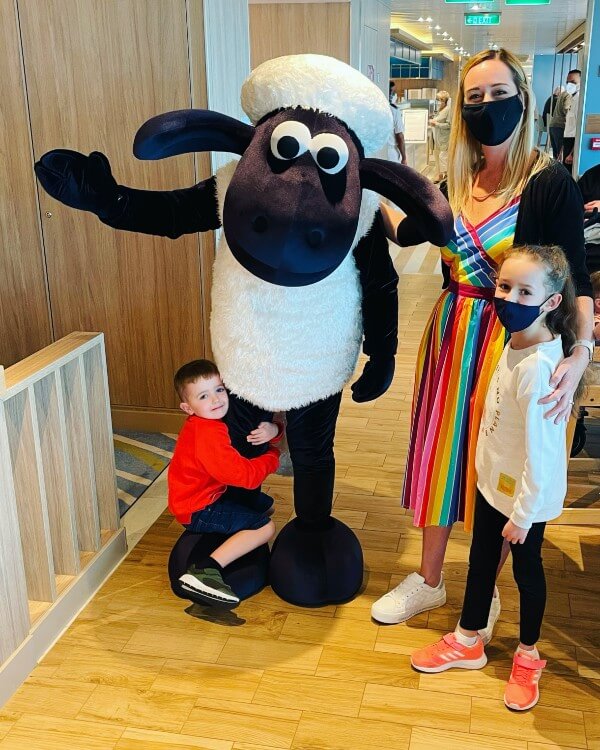 Swimming Pools and Hot Tubs
Iona has four swimming pools (excluding the spa):
Beachcomber pool – An outdoor pool at the front of Deck 18
Panorama pool – An outdoor pool at the aft of Deck 18 with plenty of seating in the sun and shade
Skydome pool – Located mid-ship on Deck 16, this large indoor pool has a domed glass roof. This pool transforms into a stage in the evening.
Infinity pool – A glass-sided pool at the aft of Deck 16 which offers spectacular views.
Iona has 24 hot tubs:
6 hot tubs surrounding the Beachcomber pool on Deck 18
2 hot tubs in the sunbathing area on Deck 18 mid-ship
2 hot tubs in The Retreat adults-only area on Deck 18
4 hot tubs on the Sun Deck on Deck 17
2 indoor hot tubs by the Skydome Pool on Deck 16
6 infinity hot tubs on the Promenade Deck on Deck 8
2 large hot tubs by the Sunset Bar at the aft of Deck 8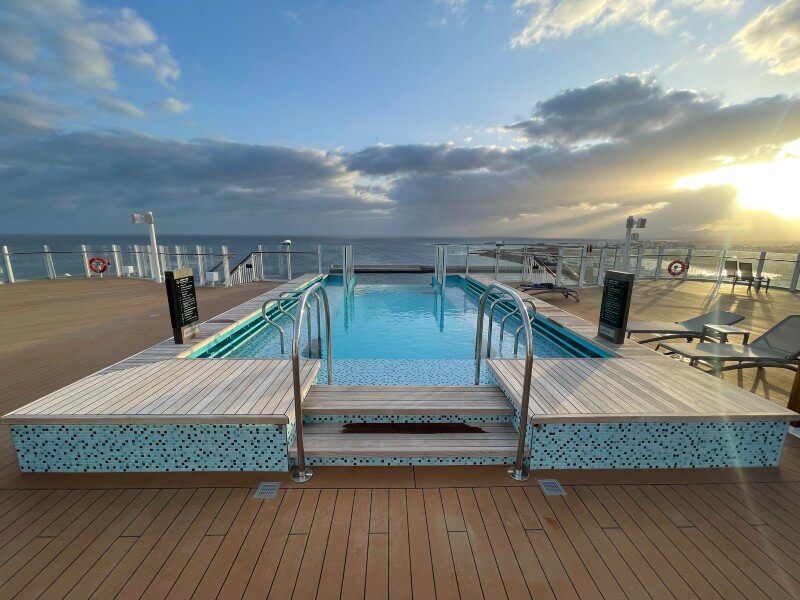 We found the Iona pools to be a little cold, even the indoor pool. However, because there were so many hot tubs, we were always able to find a warm jacuzzi to relax in, whatever the weather.
Pop-up Performances
Iona has two standout spaces – the Grand Atrium and the SkyDome. In these exciting entertainment hubs, families can enjoy surprising spectacles such as aerial performers and circus acts.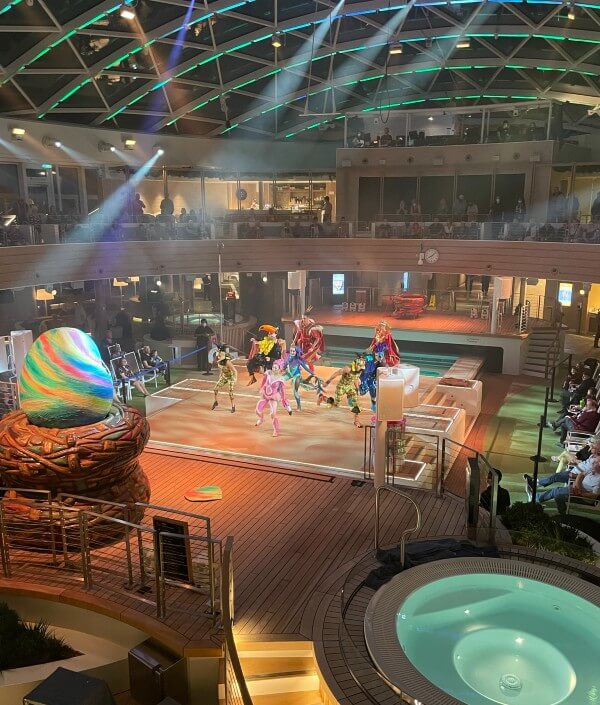 Family-Friendly Dining Options
Iona offers a great deal of flexibility when it comes to food with over 30 restaurants and bars to choose from.
Most of the dining venues on the ship are great for all ages, but there are some that are particularly great for kids…
Taste 360
Located poolside in the SkyDome, Taste 360 offers pizza slices, french fries, hotdogs, burgers and other street food options that kids will love.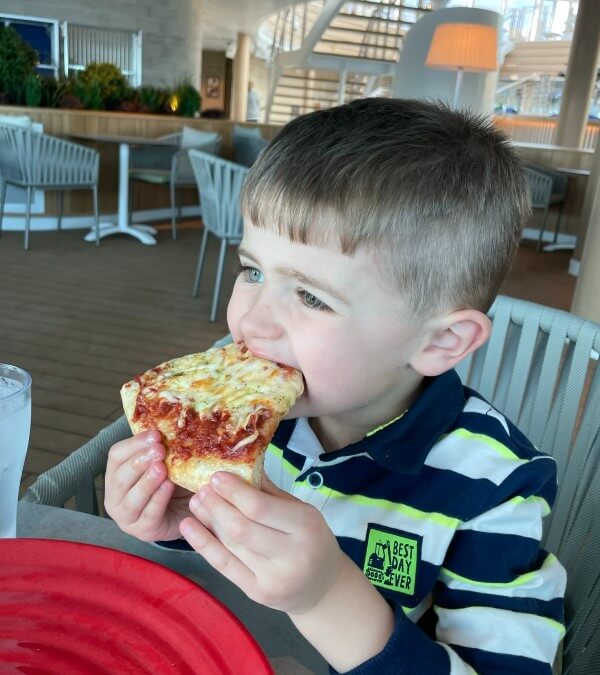 The Boardwalk Diner
Part of The Quays dining piazza, this American-style soul food diner serves up chargrilled burgers, hot dogs, southern-fried chicken, fries and much more. There's also a secret veggie burger (it's not on the menu, you have to ask for it).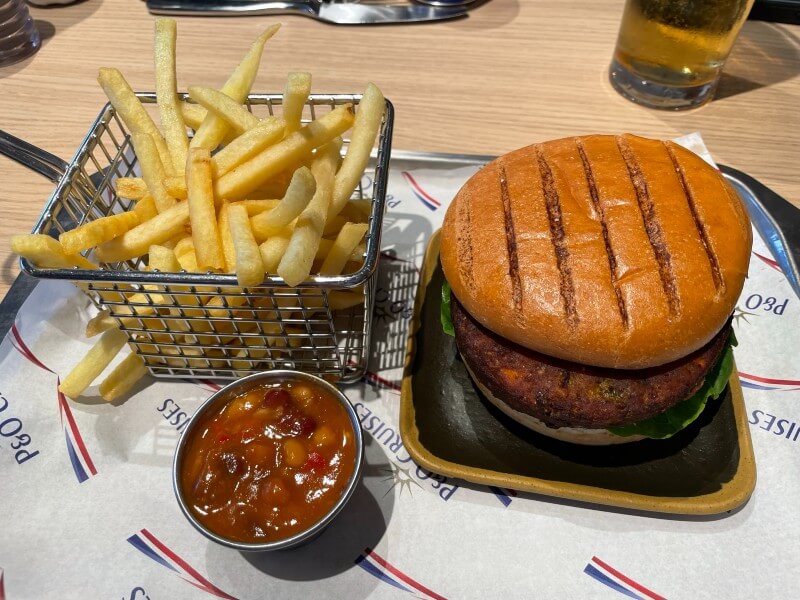 Hook Line and Vinegar
I just love the name of this fish and chip restaurant. Wherever you are in the world, cruisers can enjoy traditional British fish, chips and mushy peas.
The Horizon Buffet Restaurant
This self-service buffet restaurant is open around the clock and offers food from around the globe, accompanied by panoramic ocean views.
Each day at around 5 pm there's a special kids tea. The buffet is closed to everyone else while it serves up a selection of favourites that kids always love.
The buffet is also a great place to eat breakfast. Another secret for you – kids can have waffles on request. You won't see them on the buffet, but if you ask a staff member in a yellow apron, they'll get them for you.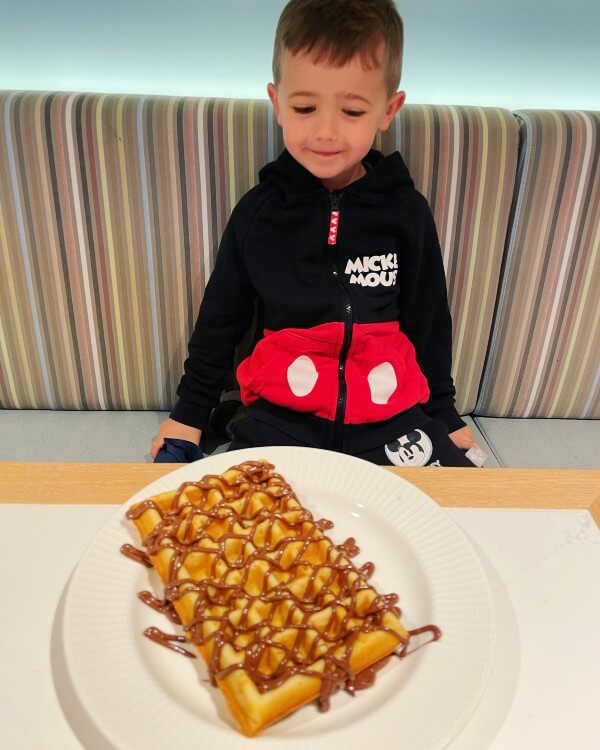 The Main Dining Restaurants
There are four main restaurants on board Iona and all offer Freedom Dining – which means that you can arrive at a time to suit you. Freedom dining gives the option to meet new people each night, or enjoy a romantic evening for two should the mood take you, which I think is just perfect.
Children are welcomed in the main dining room, even on formal nights. There's a great kids' menu which you can see here.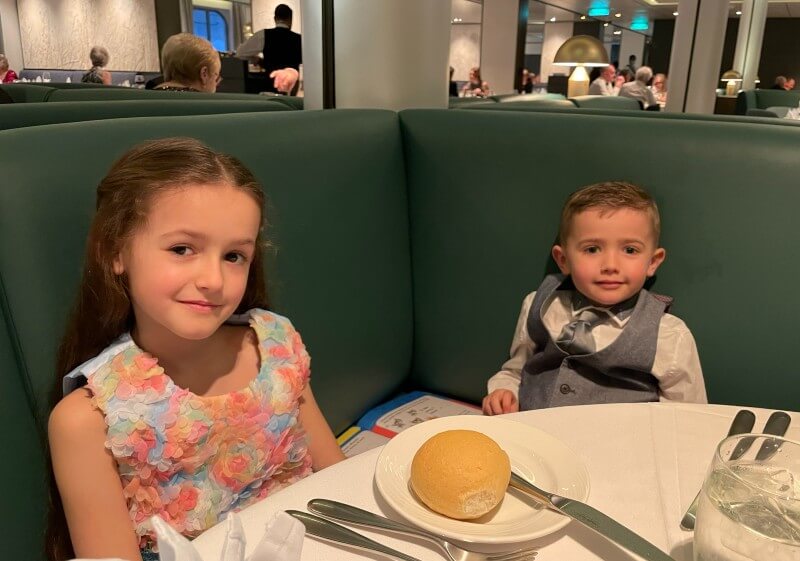 Snacks and Sweet Treats
In addition to all the restaurants mentioned, guests can also enjoy Italian-style gelato from the two Ripples ice-cream bars. I would highly recommend the ice cream afternoon tea. It costs £12, but it's large enough to feed the whole family.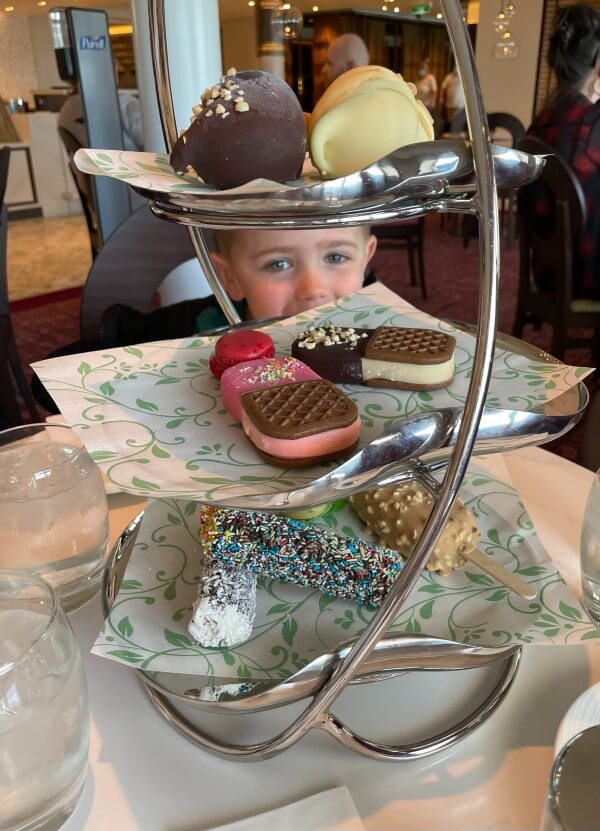 However, if you don't want to pay for ice cream, you can also get it from the buffet during kids tea for free. You don't need to eat a meal, you can just walk in and make yourself an ice cream at that time.
Read more: P&O Iona restaurants and bars
Family-Friendly Destinations
As well as ensuring that children are well catered for on board, P&O Cruises has also crafted a range of shore excursions that are perfectly planned to ensure that families have an amazing holiday when they leave the ship too.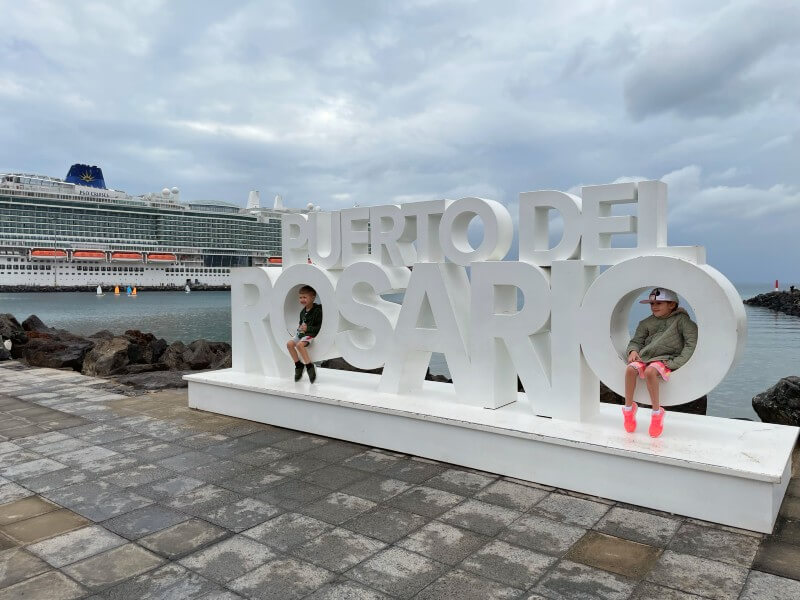 Spain, Portugal and the Canary Islands
Iona offers 14-night cruises to Spain and Portugal, as well as seven-night cruises to Germany, Holland and Belgium.
As well as winter sun, families sailing to Spain, Portugal and the Canaries will be able to enjoy child-friendly excursions such as:
Riding a cable car and toboggan in Madeira
Enjoy a tree-top high-ropes course in Cadiz
Making a splash in the Aqualand Maspalomas Water Park in Gran Canaria
Touring the Camp Nou stadium in Barcelona
Learning how to make traditional Portuguese custard tarts in Lisbon
The Norwegian Fjords
Iona will sail from Southampton to the Norwegian Fjords each week between April and September. On cruises to the Fjords, families will be able to enjoy an exciting range of excursions such as:
Visiting the Atlantic Sea-Park aquarium in Alesund
Meeting the animals at the Øvre-Eide Farm in Bergen
Spending the day building sandcastles at Sola Beach in Stavanger
Riding in an open-top buggy to see the Briksdal Glacier in Olden
Kayaking past waterfalls in Geirangerfjord
NEW DEALS JUST RELEASED!
Don't miss the latest P&O Cruises offers…
Final Thoughts
We loved our two weeks on Iona and would definitelt recommend this ship for families with children aged five to ten. One thing to consider if your kids are younger than this is that the kids' clubs might not be fully operational – so check with P&O for the latest info on that.
If you have older kids and teenagers who like to be constrantly entertained, then P&O Cruises' might not be the bets for them as you won't find any water slides, rock climbing walls, bumper cars or anything like that.
If you'd prefer a ship with those kinds of facilities, I recommend that you instead check out what Royal Caribbean has to offer here: The Best Royal Caribbean Ships for Kids.
Related Posts: