When you book a cruise – even on an older ship like Grandeur of the Seas – there are a lot of options when choosing which cabin you're going to stay in. And it's important you make the right call, because the wrong cabin can sometimes spoil a trip you've been looking forward to for a long time.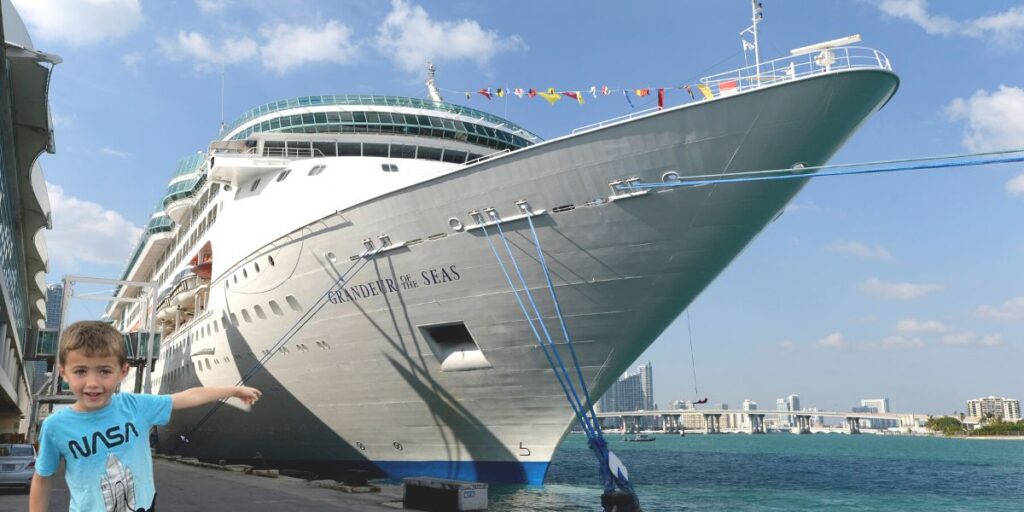 Don't worry – you don't have to make the decision on your own. In this guide I'll take you through all of the stateroom and suite options that are available on Grandeur of the Seas, and explain which are the best – and which are the worst.
With this guide, and my handy checklist, you'll have no trouble booking a cabin that's perfect for your needs and budget.
How to choose the best cruise cabin
I've made a free checklist of everything you should look out for when choosing a cruise cabin. If you'd like a copy, just leave your details and I'll send it over to you right this moment.
The Different Rooms on Grandeur of the Seas
There are 997 staterooms on Grandeur of the Seas, making her one of the smallest cruise ships sailing in the Royal Caribbean fleet. This includes 95 suites.
Only around 22% of the rooms on Grandeur of the Seas have a balcony. This is also a low percentage for Royal Caribbean, but typical of cruise ships of this era.
Grandeur of the Seas has 15 cabin types, split between inside, outside, balcony and suites. Here's a look at all of the options…
| Room | Type | Max. guests | Decks | Average Size (sq ft) | Average Balcony Size (sq ft) |
| --- | --- | --- | --- | --- | --- |
| Interior | Inside | 4 | 2-8 | 136 | N/A |
| Interior Accessible | Inside | 5 | 2-3 | 252 | N/A |
| Ocean View | Ocean View | 4 | 2-4 | 126 | N/A |
| Connecting Oceanview | Ocean View | 2 | 2-4 | 151 | N/A |
| Spacious Ocean View | Ocean View | 4 | 7-8 | 193 | N/A |
| Spacious Ocean View Accessible | Ocean View | 5 | 2-4 | 255 | N/A |
| Spacious Ocean View Balcony | Balcony | 4 | 7 | 195 | 39 |
| Spacious Ocean View Balcony Accessible | Balcony | 5 | 7 | 195 | 39 |
| Junior Suite | Suite | 4 | 7-8 | 243 | 74 |
| Junior Suite Accessible | Suite | 2 | 8 | 287 | 74 |
| Grand Suite – 1 Bedroom | Suite | 5 | 8 | 349 | 111 |
| Grand Suite – 2 Bedroom | Suite | 9 | 8 | 532 | 79 |
| Ocean View Suite | Suite | 8 | 8 | 535 | N/A |
| Owner's Suite | Suite | 5 | 8 | 517 | 111 |
| Royal Suite | Suite | 5 | 8 | 1326 | 128 |
Grandeur of the Seas Room Sizes
It's important to note that the sizes given above are average sizes for the room, and that some may be a little larger than others.
You can browse the Grandeur of the Seas deck plans to see all of the rooms on the ship to scale, which will help you find any that might have a little more space and therefore give you more value!
Connecting Cabins
A quick note on connecting cabins for Grandeur of the Seas. While there is a room type called 'Connecting Oceanview', that doesn't mean it's only ocean view cabins that have connecting doors.
If you want to book two cabins side-by-side for your cruise, and open the door between them, there are Interior and Balcony cabins that let you, as well as some suites.
The only reason Connecting Oceanview is listed as its own room type is presumably because some of the connecting Ocean View rooms are a lot more spacious, and deserve their own category.
Grandeur of the Seas Cabins to Avoid
There are some cabins that you may be better off avoiding when you book your Grandeur of the Seas cruise.
However, because the ship is quite small and the rooms are all pretty much a standard size, there aren't too many that you need to worry about.
Often larger cruise ships will have quirky rooms that are in bad locations, or are long distances from the rest of the ship, but there aren't too many concerns on Grandeur of the Seas.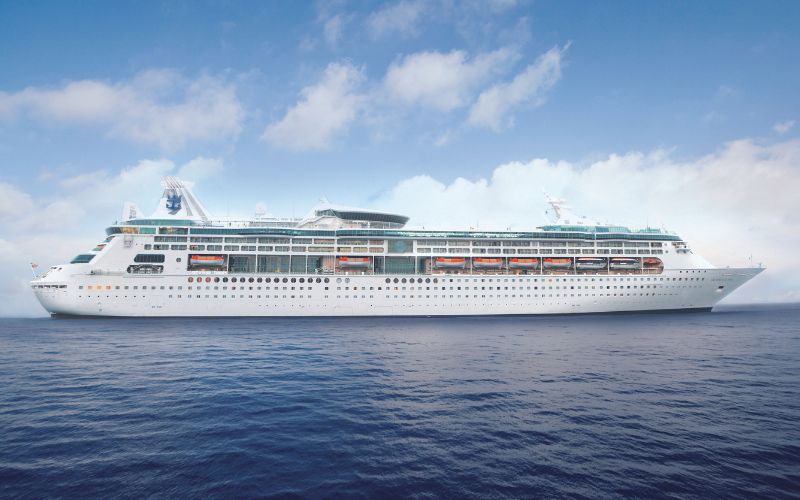 1. Cabins that can be loud
There are some parts of the ship where the noise can be heard either through your cabin's ceiling or through the floor.
One of these is the cabins towards the aft of Deck 2. You're just above the engines here so you might hear the hum, and feel the vibration. It depends on how sensitive your hearing is as to whether these will be an issue.
Suggested read: Is Deck 2 on a Cruise Ship Bad?
All of the cabins on Deck 4 can be at risk of noise from above. At the front of the ship, you've got the theatre directly above you. The mid-ship hosts a large casino on Deck 5, and towards the aft is the Main Dining Room.
The middle of Deck 4 is the worst affected by the casino but the staff can be working late to clean the restaurant, and the theatre shows can be loud until around 11 pm.
And then finally there are the cabins and suites on Deck 8. While this is a prime location on the ship, you are below the pool decks, and the scraping of deck chairs can often be heard first thing in the morning.
Worst affected are the Inside cabins on Deck 8 as they are directly below both pool decking areas.
2. Small cabins
All Interior and Ocean View cabins
Grandeur of the Seas is a smaller, older ship in the fleet for Royal Caribbean, and that also means that many of the rooms are smaller than you'd find on modern cruise ships too.
They're not tiny, and they do have a lot of storage space thanks to some clever design, but they're also a little cramped.
As you'll see from the video below, you'll need to contort your body a little to get into bed, and the bathroom is tiny with one of those dreaded shower curtains that cling to your body…
If you don't plan on spending a lot of time in your cabin, then save money and book one of these, absolutely.
But if you're travelling with kids and want to have 4 people in your cabin, I'd definitely recommend getting a bigger cabin and paying the extra. After all, once those Pullman beds are down, it'll be even harder to get into bed!
3. Connecting cabins if you don't need them
There are a lot of options for connecting cabins on Grandeur of the Seas, but if you don't intend to book both cabins that are connected, I would try to avoid booking them.
The door connecting these cabins is thinner than a cabin wall, and so even when it is closed and locked, you might hear what's going on in the room next to you.
It's normally not too much of an issue unless your neighbours are being loud, but if they are – especially when you're trying to sleep – then it can be very annoying, especially if you're trying to sleep.
Best Rooms on Grandeur of the Seas
1. Aft-View Junior Suites and Grand Suites
There's a prime spot on any cruise ship that experienced passengers love to try and book – the aft (rear), especially with a balcony.
You get the best view over the wake of the ship, and you're also sheltered from the natural wind caused by the movement of the ship. So it's one of the more relaxing spots, even if you are a bit of a further walk from the elevators.
On Grandeur of the Seas there are two cabin types with an aft-view balcony – Junior Suites on Decks 7 and 8, and Grand Suites with 2 Bedrooms on Deck 8. Those have the largest balconies and are fantastic if you can afford them.
The Junior Suite aft balconies are pretty big though, as you can see from the video below.
One thing to consider when deciding between a Junior Suite and a Grand Suite (aside from the space and the price) is that the perks you get with each are quite different.
I have guides to Royal Caribbean's Junior Suite perks and Grand Suite perks, that explain all of that for you.
2. Oceanview Suite for Families
The Oceanview Suite is situated at the front of Deck 8, and it's a fantastic suite if you're booking for a large family.
True, you don't get a balcony, which is a drawback. But instead, you get a lot of space, including a bedroom equipped with two lower singles and two fold-down beds for the kids.
The room is really spacious, and helps stop larger parties of up to 8 from getting under each others' feet. Take a look at this video to see just how large it is…
3. Royal Suite
The Royal Suite is the best cabin on the ship, but also the most expensive, so it's not the best choice for everyone. But if budget isn't a concern, it's a fantastic choice.
You get so much interior space, including a piano right at the centre of the room. There's a walk-in wardrobe off the bedroom, which has its own oceanview window. The balcony is off the living area and while it's not huge, it's way bigger than any other balcony on the ship.
Plus you get a split bathroom, including a shower cubicle and separate bath. It's very luxurious, even for a ship that can feel dated at times. Take a look at this video to see whether you think it's worth it or not…
What is the best deck on Grandeur of the Seas?
The best deck on Grandeur of the Seas is Deck 8, where you'll find the best suite accommodation including some fantastic aft-view rooms with amazing views. However, it can be noisy – ships toward the front of Deck 3 are best for peace and quiet.
With Grandeur of the Seas being one of the smaller ships in the Royal Caribbean fleet, there aren't really any decks that stand out as being really good, or really bad. Deck 8 does have the best rooms, but it's also below the pool deck and so can have issues with noise, depending on your location.
The forward part of Deck 3 is surrounded by cabins above and below and so that tends to be the quietest location. On many ships I wouldn't often recommend Deck 3 since it's buried far away from everything else, but on this ship it's not too bad at all.
What is the best room on Grandeur of the Seas?
The best room on Grandeur of the Seas is the Royal Suite – it's exceptionally spacious and has a large balcony where guests can unwind with an excellent view. However the Owner's Suite and the 2-bedroom Grand Suites, especially those with an aft view, are also great choices.
If a suite is outside your budget, then it's definitely worth trying to get a Balcony stateroom on Grandeur of the Seas – you'll get a lot more space than an Inside or Ocean View as well as your own private veranda where you can relax.
Choose your own room or go for the 'guarantee' option?
When you book a cruise with Royal Caribbean, you normally get two options – let the cruise line decide your room for you, or pay an extra fee to select your exact room. You'll be shown two prices:

If you are happy for Royal Caribbean to choose your room then you still get to decide what type of room you want – Inside, Ocean View etc. – but the cruise line picks exactly which one. This is called a 'guarantee' cabin.
Benefits of choosing your cabin number:
Choose your preferred location on the ship
Book two cabins next to each other
Avoid undesirable cabins
If you don't really mind which cabin you're assigned to, then just pay the lower fee and let Royal Caribbean decide where to put you. But if you want to avoid those noisy locations, it's best to pay a bit more and choose your cabin number.
Booking multiple cabins on Grandeur of the Seas
As I've mentioned, some of the cabins on Grandeur of the Seas have connecting doors. These are a good option for families, but they're not essential. You can always ask to just have cabins next door to each other, without the connecting door.
But, if you do this with guarantee cabins, then you'll have to request adjacent rooms, and there's no certainty that you'll get them.
Find more information about Grandeur of the Seas cabins
I've spent a lot of time looking at feedback about Grandeur of the Seas to put this guide together, but if you want to do your own additional research, you might find these resources useful:
You might also want to take a look at some of my other articles about cruising with Royal Caribbean…
Related posts: