This is a sponsored post by Marella Cruises.
Marella Cruises has just added a fifth ship to its impressive fleet. But before she could set sail for the first time, new ship Marella Voyager underwent a drastic dry-dock makeover.
Here a some of the incredible numbers behind the new ship…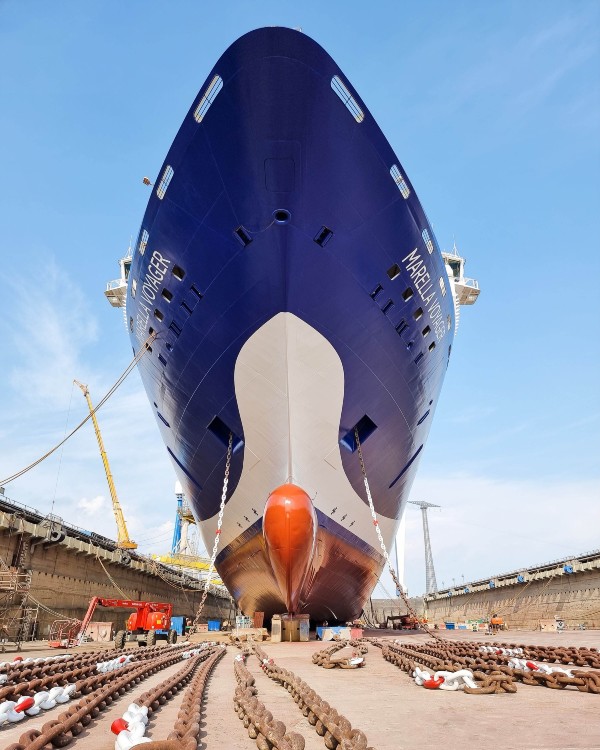 36 Days
Marella Voyager spent a total of 36 days in the dry dock in Cadiz. This included 24 hours to empty the dock and 12 hours to flood it at the end.
11,460 working hours
Marella Voyager's transformation took 11,460 dry dock working hours, equivalent to approximately 477 days!
More than 1,000 people
The workforce included 630 contractors, 193 technical crew, 120 yard personnel staff, and a team of 12 from technical projects, as well as hotel staff putting in additional working hours.
That's enough people to fill the Royal Shakespeare Theatre in Stratford-upon-Avon.
109,672 meals
Over 100,000 meals were served to the teams onboard Marella Voyager during the dry-dock renovation.
19,339 steps
During dry dock, hotel director Georgio Katikkis walked an average of 19,339 steps per day onboard the ship. No need for the gym after that!
37,600 square metres of carpet
The revamp involved laying 37,600 square metres of carpet. That's enough to cover five standard-size football pitches.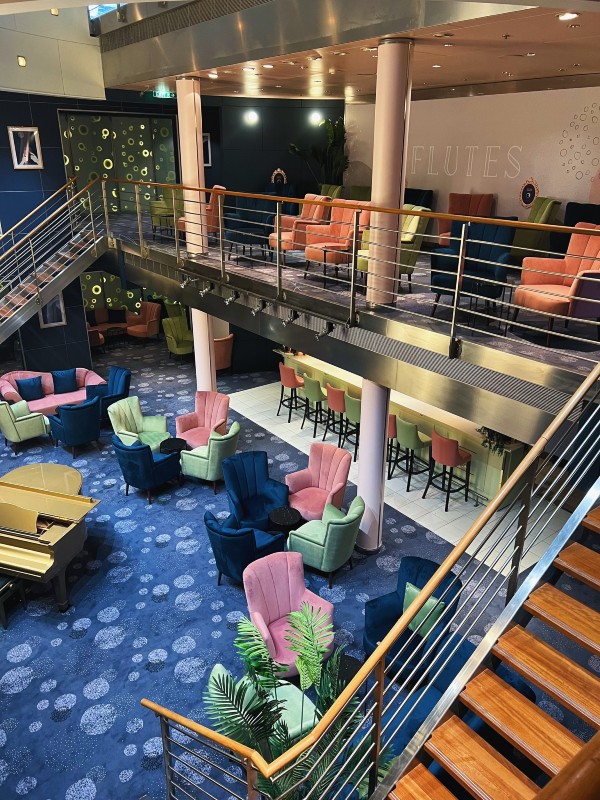 18,500 litres of paint
Painting the hull required 18,500 litres of paint – enough to fill 14 six-seater hot tubs.
6,000 metres of cabling
6,000 metres of technical cabling was installed. And that doesn't even include the IT equipment! At nearly four miles long, that's the distance between London King's Cross to London Victoria.
11,000 signs
Around 11,000 new signs have been hung up in and around the ship.
2,300 plants
The new Summer House venue has an indoor plant wall. It's made up of a whopping 2,300 individual plants!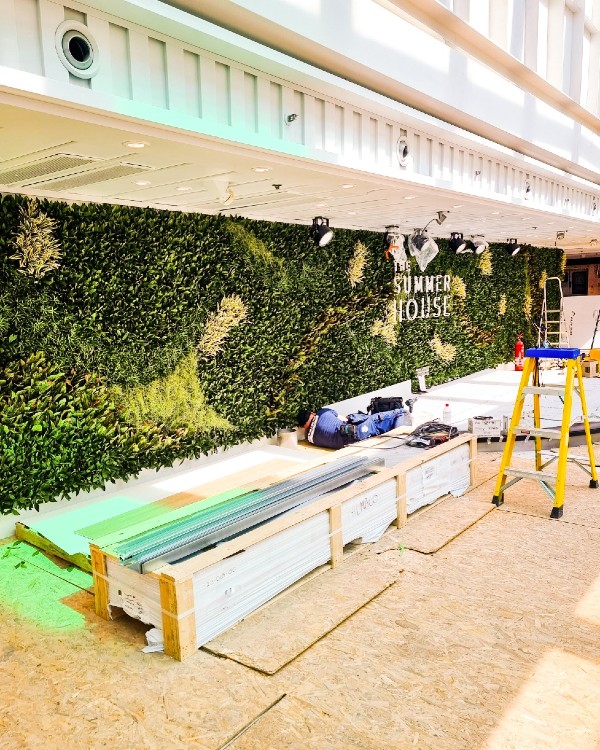 70,000 tiles
70,000 tiles were fixed to the walls, floors and counters in the new food hall venue, The Kitchens. Either those tiles are tiny or the food hall is huge!
Approximately 12,500 square metres of tiling has been installed across the whole ship.
14,000 planks of flooring
Approximately 14,000 planks of vinyl herringbone pattern flooring has been laid – and that's just in The Kitchens venue!
With 130 metres of counter worktops, you can start to imagine how large this dining venue is.
150 new dishes
A total of 150 new dishes have been introduced to guests on Marella Voyager, across 17 dining venues.
Great news for veggies – 25% of the dishes are vegetarian-friendly!
250 hours of menu development
Developing the new menus took a whopping 250 hours! That's the time it would take to walk from London to Nice in France.
900 theatre seats
Marella Voyager's Broadway Show Lounge has a whopping 900 seats. With two performances every night, you should have no problem catching any of the shows.
24 days of rehearsals
24 days is how long the entertainment cast had to learn and rehearse 12 new production shows before they boarded the ship.
500 costumes
The cast of the shows will wear more than 500 bespoke-designed costumes during their performances. That's a pretty big wardrobe!
850 instrumental tracks
For the shows, 850 individual tracks of instruments have been arranged and recorded. This is equal to 38,250 minutes of recording time. Or the equivalent of listening to Bob Marley's album, 'Exodus' 1,027 times.
300 quiz questions
Do you like the 'Teatime Teaser'? Well get ready because 300 quiz questions have been prepared for you!
Marella Voyager Cruises
Want to book your place onboard Marella Voyager? Check out the latest offers available now…
How big is Marella Voyager?
Marella Voyager is Marella Cruises' largest ship to date. She has an internal volume of 77,303 gross tons, and accommodation for up to 1,912 guests. She is 264 metres long (866 feet) and she has 14 decks in total, 10 of which are passenger-accessible.
Here's how Marella Voyager compares to the other ships in the Marella Cruises fleet:
| Ship | Year Built | Size (gross tons) | Passenger capacity | Length | Beam/width | Total Decks |
| --- | --- | --- | --- | --- | --- | --- |
| Marella Voyager | 1997 | 77,303 | 1,912 | 264m / 866ft | 32m / 106ft | 13 |
| Marella Explorer 2 | 1995 | 71,545 | 1,814 | 248m / 814ft | 32m / 105ft | 14 |
| Marella Explorer | 1996 | 76,522 | 1,924 | 260m / 852ft | 32m / 106ft | 13 |
| Marella Discovery 2 | 1995 | 69,130 | 1,836 | 264m / 866ft | 32m / 105ft | 11 |
| Marella Discovery | 1996 | 69,130 | 1,830 | 264m / 866ft | 32m / 105ft | 11 |
What was Marella Voyager before she joined Marella?
Marella Voyager was built by Meyer Werft in Papenburg, Germany, and launched in 1997. Originally, the ship was known as MV Mercury and was operated by Celebrity Cruises, a premium brand owned by Royal Caribbean Group.
In 2011, she was transferred to TUI Cruises where she became the second ship for the fleet, named Mein Schiff 2. She changed name again in 2019, becoming Mein Schiff Herz ("My Ship Heart").
In 2022, the ship was transferred to Marella and after a long and intensive dry-dock refurbishment, she set sail for Marella Cruises in June 2023.
What's onboard Marella Voyager?
Marella Voyager has 16 restaurants and 10 bars that you can enjoy during your cruise. Favourites include Abuela's Mexican restaurant, Platter, which specialises in sharing platters and The Kitchens – a food hall with eight different stations offering everything from roast dinners to Greek gyros!
On the top deck, you'll find a swimming pool with two whirlpools and a fun mini golf course. For those who like to stay active, there's also a jogging track and a fully-equipped gym.
Marella Voyager has plenty of evening entertainment too. The Broadway Show Lounge has a variety of exciting performances while The Arts House also has live music and entertainment. You can enjoy a few games in the casino, join in with the quizzes in the Squid and Anchor pub, then hit the light-up dancefloor in the Electric Rooms Lounge to finish off the night!
Where does Marella Voayger sail to?
During the summer season, Marella Voyager offers Mediterranean cruises, before she journeys across the Atlantic to provide Caribbean cruises throughout the winter.
Departing from Palma de Mallorca, the ship offers a variety of Mediterranean itineraries, including options for 7-night and 10-night cruises. The main focus is on the Western Mediterranean, which means the itineraries cover popular ports like Marseille, Tarragona, Naples, Barcelona, and Civitavecchia.
When it comes to Marella Voyager's Caribbean cruises, Bridgetown in Barbados serves as the base. Two primary itineraries are on offer. 'A Taste of the Tropics' encompasses visits to islands such as Guadeloupe, Tobago, and Grenada, while 'Tropical Delights' takes guests to Curacao Island, Aruba, and Bonaire.
You can learn more about Marella Voyager here, or visit the Marella Cruises website to check out the latest deals.
Marella Voyager Cruises
Want to book your place onboard Marella Voyager? Check out the latest offers available now…
Related Posts: