This is a sponsored post by Iglu Cruise.
From her homeport of Southampton, Anthem of the Seas has been taking passengers on extended sun-filled adventures and cultural mini-cruises all over Europe and beyond since 2015.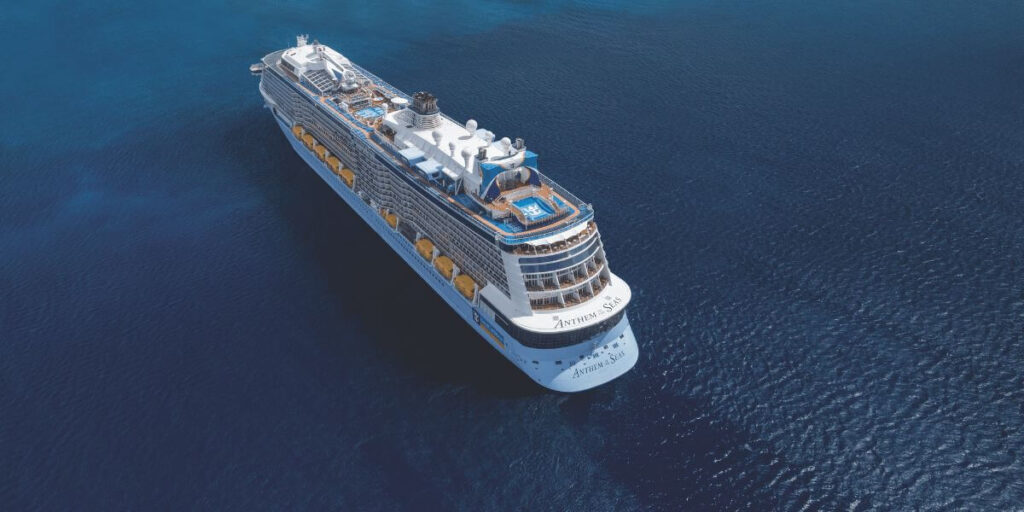 Boasting an incredible range of ground-breaking features, including cutting-edge technology, transformative venues, and the first-ever Virtual Balcony staterooms in the industry, Anthem continues to be one of the most popular ships among British cruise fans.
Anthem of the Seas truly raises the bar for cruising. Here are just a few of the incredible things you may expect when sailing aboard this incredible ship!
1. The North Star
For breathtaking 360˚ views of the surrounding ocean and ship, step aboard the North Star. 33 ft above sea level, this incredible attraction will elevate you to new heights both emotionally and physically!
A jewel-shaped capsule suspended high above the ship and out to sea, it's situated on the lido deck and the experience will last 15 minutes. To reserve this unforgettable experience, make sure you book it either ahead of your cruise or when on board via the Royal Caribbean app.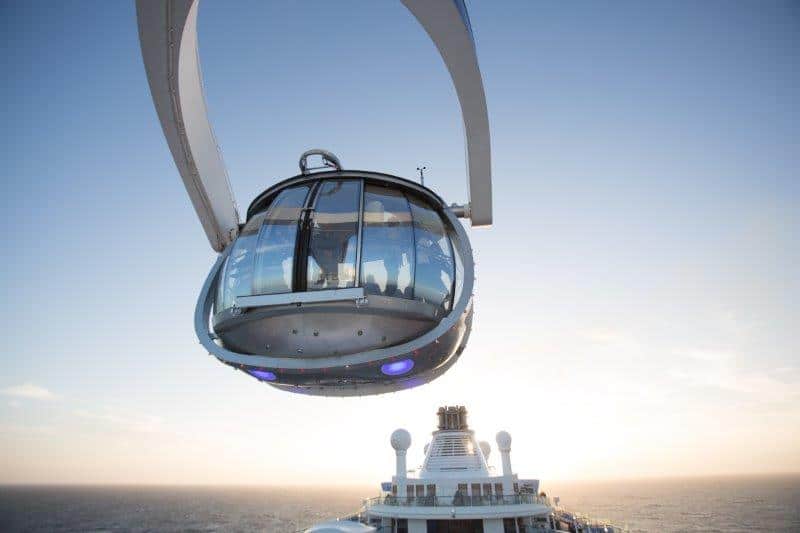 2. Seaplex
A groundbreaking indoor active space, the Seaplex is the largest of its kind at sea! Featuring a roller-skating rink, bumper cars, a circus school and a full-size basketball court, it's unlike anything you've seen before.
There's also a food truck – the first to ever feature on a cruise ship! So if you're craving a tasty snack after all the fun, you won't be stuck for delicious options.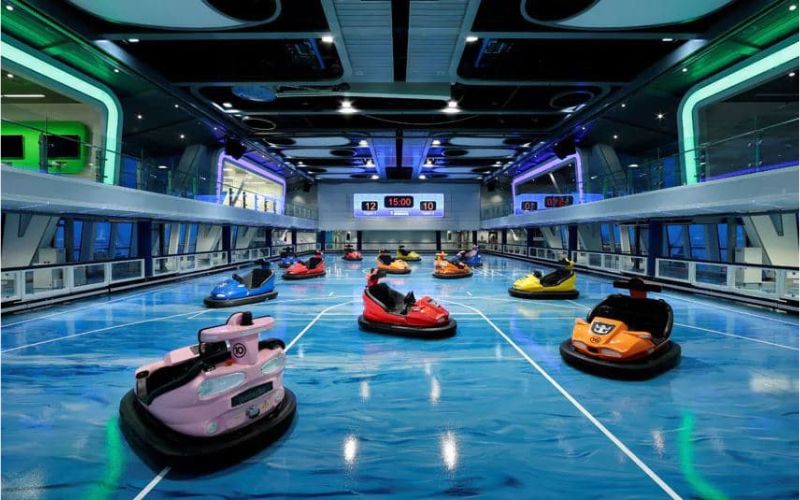 3. Two70°
Whether you visit Two70 during the day or night, you'll be amazed at what's on offer in this two-deck high venue. Featuring 270˚ sea views, during the day you can relax in one of its comfortable couches and indulge in a cocktail or two.
At night, the venue transforms as the lights go down and the music comes up. Featuring a 20 ft tall screen, awe-inspiring light shows and magical performance art, you can sit back and enjoy entertainment that's out of this world.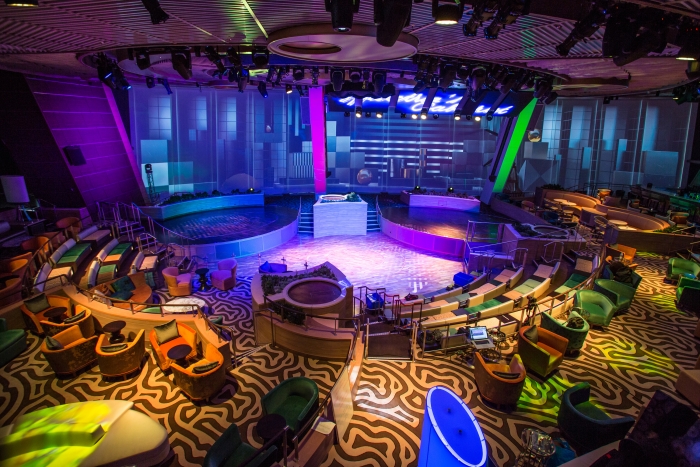 4. Ripcord By iFly
If you want to feel the thrill of flying, then the RipCord by iFly should be at the top of your list! An adrenaline-pumping experience you'll only find on Royal Caribbean, this exhilarating skydiving simulator will keep you floating in the air without you even having to leave the ship! Giving you the freedom of freefall, you can reserve this experience on board or via your Cruise Planner.
5. Accommodation
On the Anthem of the Seas, there are an incredible 2,900 cabins. These cabins, which are the largest of the Royal Caribbean fleet, were designed to ensure their passengers enjoy comfort and luxury to the highest degree.
There are also 375 cabins that include virtual balconies – an innovative feature that sets Royal Caribbean apart! Within the cabins, you can take advantage of great storage options and a modular design. And if you're travelling with your family or friends, there are even 'Family Connected' staterooms.
If you're looking to push the boat out, you could indulge in the two-story Loft Suite. The most luxurious accommodation option, it offers picturesque views and fantastic amenities, making you feel perfectly at home.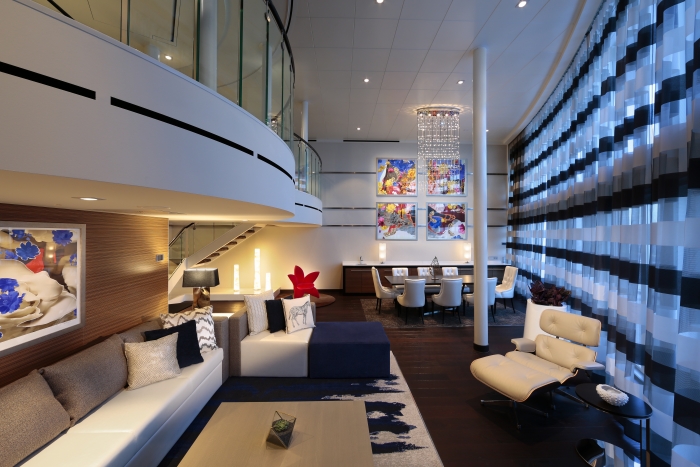 6. FlowRider
If you love to surf, you're in for a treat. This 40 ft long surf simulator is simply extraordinary and the perfect opportunity to practise your skills! Or, if you want to improve your bottom turn, you can arrange a private lesson. 12 metres long and with 100,000 litres of water, you'll feel exhilarated the moment you grab your board and head out on the FlowRider.
Read more: Your FlowRider Questions Answered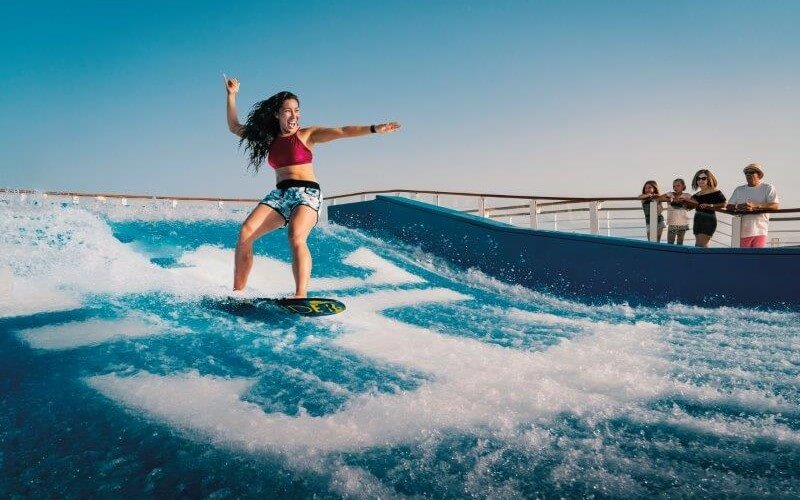 7. Rock Climbing Wall
200 ft above sea level, the Rock Climbing Wall isn't for the faint of heart. But if you're up for the challenge, this thrilling experience is just the ticket! Located on deck 15, it's a fun activity whether you're a beginner or a frequent speed climber.
Included in your cruise fare, you don't even have to make a reservation to enjoy the Rock Climbing Wall! Just keep in mind, however, that to climb Royal Caribbean's Rock Wall, you have to be at least 6 years old.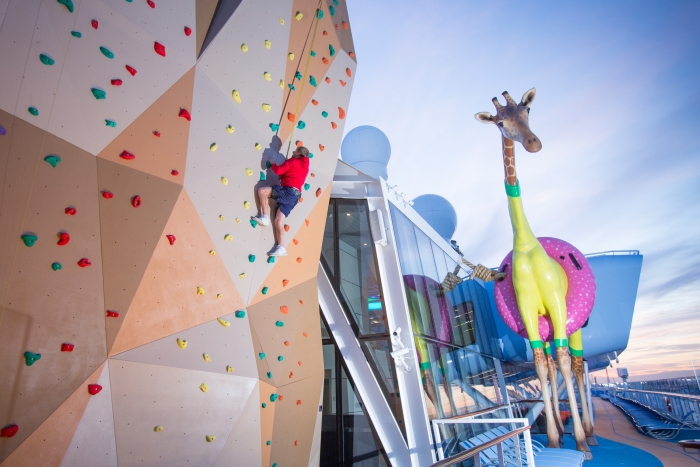 8. Vitality Spa
Indulge in a relaxing spa treatment at the Vitality Spa. From restorative massages to rejuvenating facials, this is the ultimate treat when at sea. Located on deck 15 at the top of the ship, there are 19 treatment rooms, a thermal suite, a rain shower, a sauna and a steam room to take advantage of.
And when you've had your sumptuous treatment, you can unwind in the Relaxation Suite and sip a refreshing cup of ice water or speciality tea!
As well as the opulent VitalitySM Spa, you can treat yourself to a manicure, pedicure or hair treatment at the nearby salon.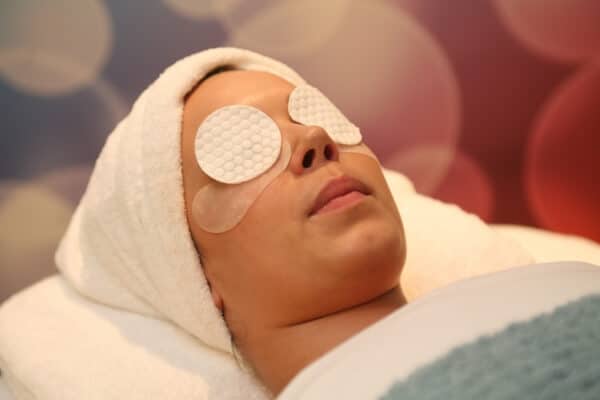 Related Posts: