Quantum of the Seas is one of Royal Caribbean's Quantum-class ships. Launched in 2014, she is one of the most high-tech ships in the Royal Caribbean fleet.
Quantum of the Seas Size
Royal Caribbean's Quantum of the Seas has a gross tonnage of 168,666 GT. Not to be confused with weight, gross tonnage is a measure of the internal volume of a ship. It's the best way to compare ships by size.
Quantum of the Seas is 348 metres (1,141 feet) long, which is about the same length as 11 blue whales or 3.2 football fields!
Quantum of the Seas has a beam of 41 metres (136 feet). Beam is another word for width, when we're talking about the size of cruise ships.
There are 16 decks on Quantum of the Seas and 9 of these have cabins. These are accessed by a whopping 16 guest elevators, with more elevators that are just for crew members.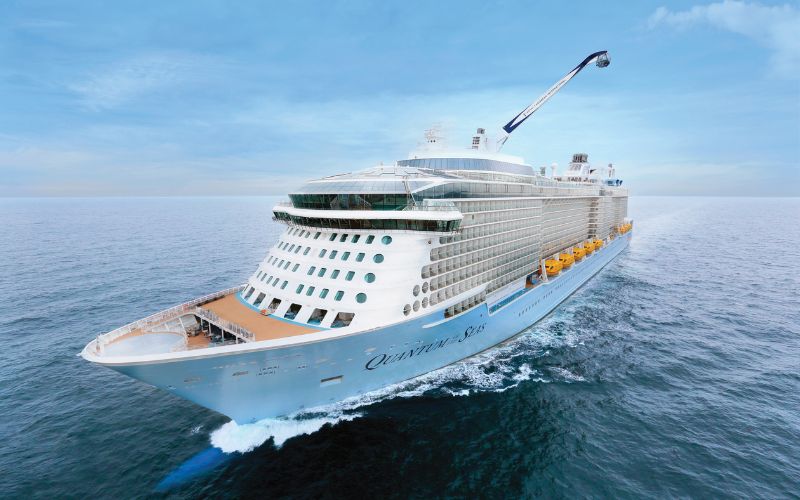 Quantum of the Seas Occupancy
Quantum of the Seas is pretty big for a cruise ship. She can accommodate 4,180 based on double occupancy. However, if every bed on the ship is in use, then this ship can accommodate up to 4,905 as well as 1,500 crew members.
Quantum of the Seas Speed
You may be wondering how fast Quantum of the Seas can go? Well, the top speed is 22 knots, which equates to 25.3 miles per hour. However, the ship usually sails much slower than this as the speed is dictated by the itinerary and the weather.
Building Quantum of the Seas
Quantum of the Seas was built in 2014 in Papenburg, Germany by the shipbuilder Meyer Werft. Like many Royal Caribbean ships, she was registered in Bahamas.
The ship cost $940,000,000 to build. She was Christened by Kristin Chenoweth and made her maiden voyage on November 2, 2014.
Quantum of the Seas has 2 sister ship in the Quantum Class: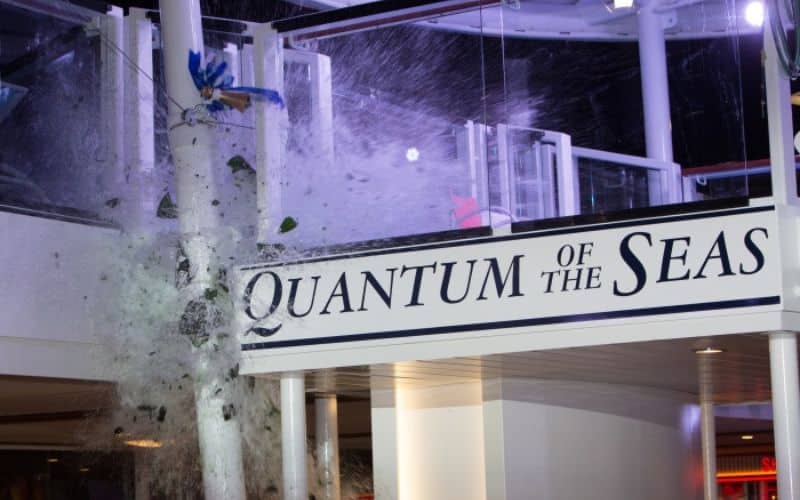 Facilities onboard Quantum of the Seas
You'll find plenty to do onboard Quantum of the Seas. Here's what you can expect to find on board:
Adventure Ocean
Adventure Ocean is the Royal Caribbean kids club, and includes AO Babies and AO Junior for younger guests. Children will love the huge range of activities on offer, and the dedicated spaces just for them.
Arcade
Get your game on at the arcade, where you'll find a host of different machines suited to all ages. There's a selection of video games, classic games such as skeeball, and prize games too.
AR Adventure
With AR Adventure, guests can enjoy some fantastic gaming experiences from their phone whenever they visit Two70. Log into the Royal Caribbean app and then choose from four action-packed challenges that make use of the entire space.
Broadway-Style Entertainment
Broadway-Style Entertainment
Bumper Cars
Head to the SeaPlex to take part in the only dodgems at sea. Guests aged 5+ can take part in this fun activity which is included in your fare on most sailings.
Casino Royale
Whether you're a poker or blackjack player, or you prefer to stick to machines, Casino Royale has it all. Play some games and potentially win some amazing jackpots in a lively, exciting atmosphere.
Conference Center
The conference facilities on a Royal Caribbean ship can accommodate up to 400 guests, and include facilities for meetings, theater-style events and even trade shows. These rooms can be hired for no additional fee by sailing guests.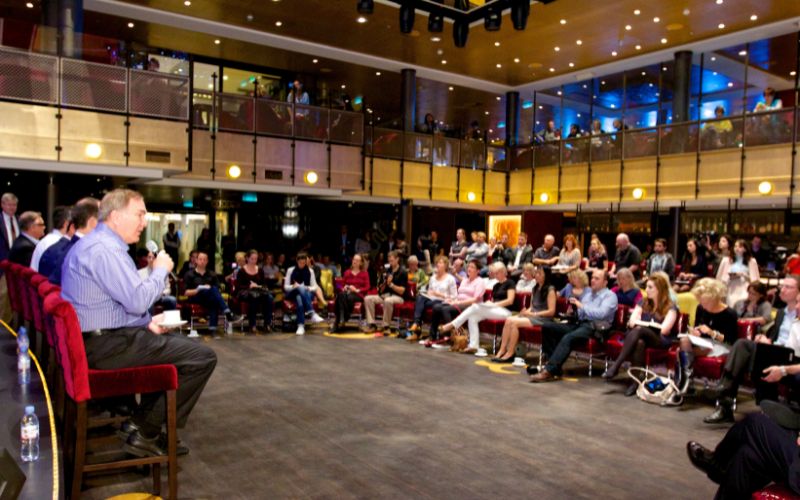 FlowRider
Hop on a surfboard or bodyboard and ride the waves with FlowRider, the only surfing simulator at sea. Included in your fare, this is a thrilling attraction for newbies and experienced surfers too.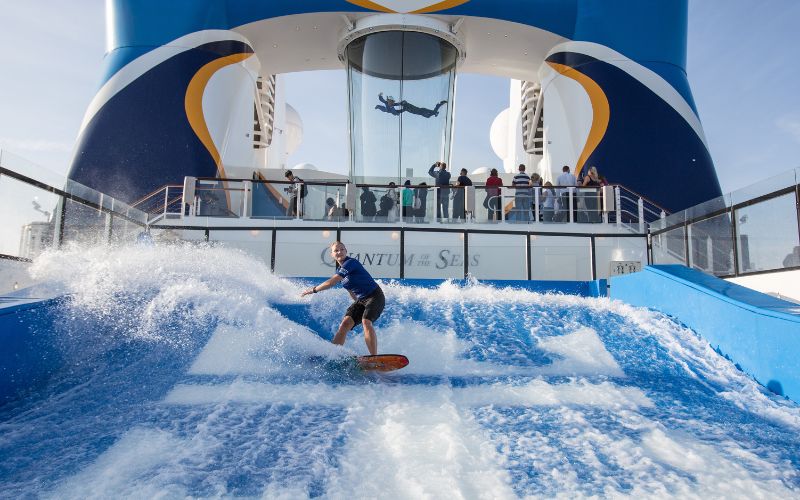 H2O Zone
The H2O Zone is a fun-packed water park on the ship designed for younger kids. Expect shallow swimming pools, waterfalls, geysers and of course a selection of water cannons perfect for targeting parents.
North Star
Hop into the North Star pod and you'll be lifted high into the sky for incredible 360-degree views in all directions. It's great fun whether you try it at sea, and look over the deck, or in port with long-reaching views of your destination.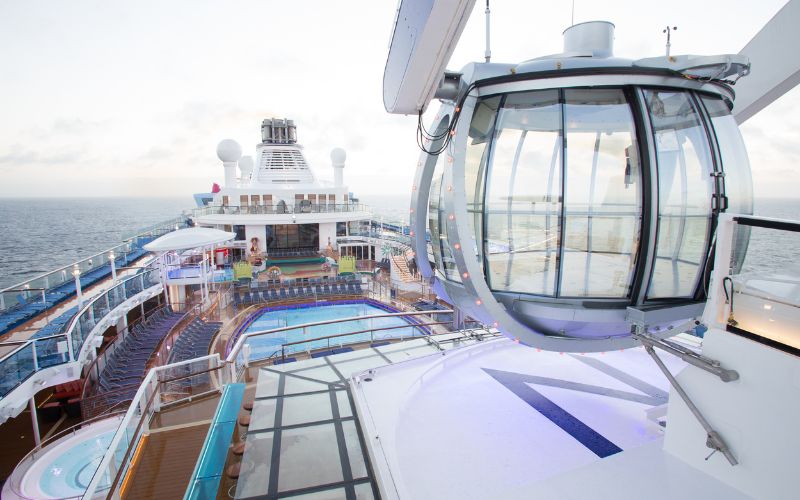 Outdoor Movie Screen
Cosy up on a lounger, grab the popcorn and enjoy epic entertainment on the outdoor movie screen. Newly-released movies, classic films and live sport events will be shown at various times.
RipCord by iFLY
If you've ever wanted to try skydiving but you're not keen on the flight to get there, RipCord is ideal. This simulator uses gigantic fans to let you experience the thrill of a skydive within an enclosed tube on deck.
Rock Climbing Wall
Whether you're a beginner or a speed-climber, the rock climbing wall is a cool place to hang out and enjoy amazing views. Included in your fare and with no reservation needed, you can scale the wall as many times as you like during your cruise.
Royal Esplanade
Situated at the heart of the ship, the Royal Esplanade is a neighborhood where you can grab a bite to eat or shop 'til you drop, with big-name stores including Cartier, BVLGARI and Hublot.
Running Track
If you want to keep up your fitness routine while on your cruise, the running track is the ideal place. Enjoy amazing views across the ocean as you complete every lap of the track, passing many of the ship's best features.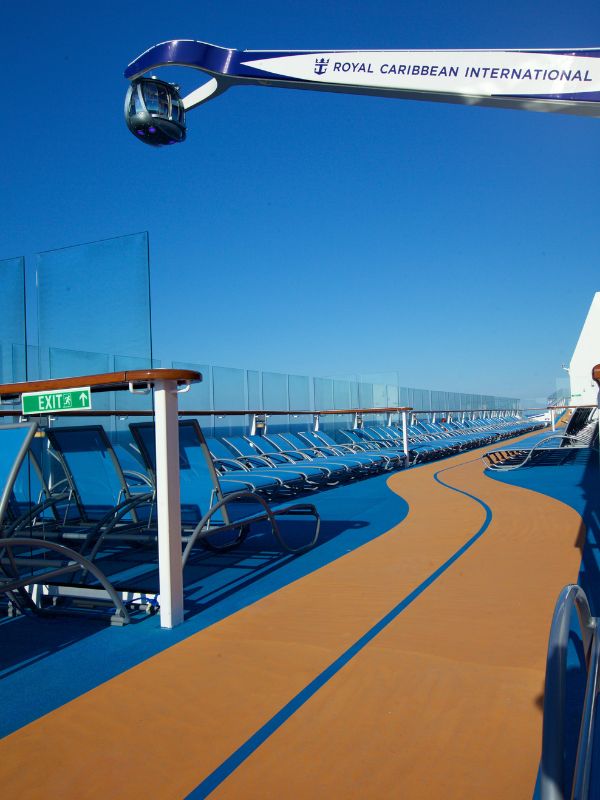 SeaPlex
The SeaPlex is an indoor activity venue where you can enjoy a wide range of sports and entertainment, including basketball, bumper cars and more. Around the sides there are bars and seating areas, with games consoles where you can relax as well.
Solarium
Exclusively for adult guests, the Solarium is an indoor and outdoor venue designed with pure relaxation in mind. Relax in the quiet pools, grab a cocktail and sit in a lounge space, or enjoy the cascading lagoons on some ships as you let stresses melt away.
Sports Court
The sports court is an outdoor area that hosts various different sporting activities during your cruise, aimed at the whole family. Games include basketball, volleyball and other court sports, with tournaments often arranged during your cruise.
Trapeze School
An activity at the SeaPlex, the Trapeze School lets guests 6 and older strap in for their first swing on a flying trapeze. You'll be led through lessons by a friendly expert who will teach you the ropes and make sure you have a soft, comfortable landing at the end.
Vitality at Sea Fitness & Spa / Spa
At the Vitality Spa, guests can enjoy a range of treatments designed to help them relax and recharge. From beauty treatments such as facials and body wraps, to soothing massages and bathing rituals, there is something for everyone – including a range of services aimed at teens and tweens.
Places to eat on Quantum of the Seas
Quantum of the Seas has a huge selection of restaurants, cafes and snack bars where you can enjoy breakfast, lunch, dinner or just a quick bite to eat. Some of these are included in your cruise fare and some have an extra charge.
Here are all of your dining options onboard Quantum of the Seas :
Chef's Table
If you want a formal, gourmet dining experience then Chef's Table is ideal. You'll be served five stunning courses during this white-tablecloth dinner in an exclusive setting, with every course perfectly paired with a different wine by the ship's onboard sommelier.
Chops Grille
The Chops Grille steakhouse is an iconic Royal Caribbean restaurant, known for its excellent selection of steak, fish and other meat dishes. This speciality restaurant is smart casual and offers a lighter menu for lunch alongside its main dinner selections.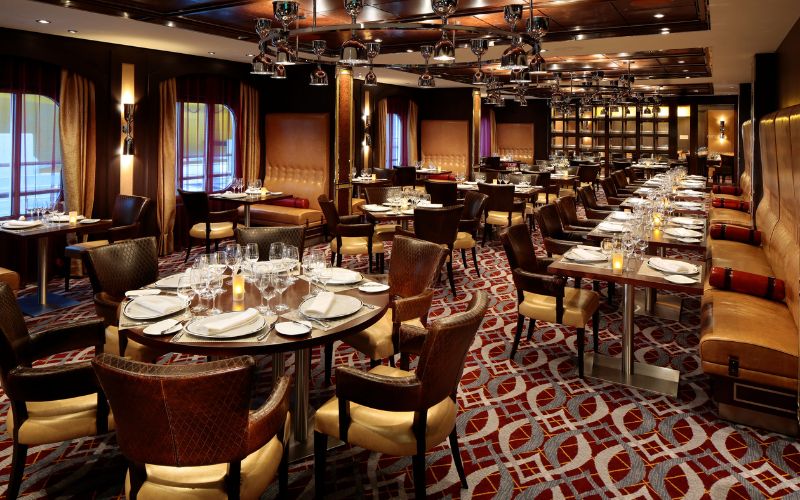 Coastal Kitchen
Exclusively for guests staying in a suite or members of the Pinnacle Club, this smart casual restaurant is included in your fare and offers fresh flavours from both the Mediterranean and California. Breakfast, lunch and dinner are all served here though Junior Suite guests can only visit for dinner.
Izumi
Izumi is a smart casual speciality restaurant that specialises in Asian cuisine, specifically focussing on Japanese classics such as sushi and sishimi. Over four courses (including two mains) you'll discover some amazing flavours whether you dine at lunch or dinner.
Jamie's Italian
With a menu that blends rustic Italian fare with contemporary takes on classic Mediterranean dishes, Jamie's Italian by Jamie Oliver is a great casual restaurant for the whole family. Seasonal ingredients are used in a changing lineup so that you'll always enjoy quality fresh food that tastes great.
La Patisserie
Try some French confectionary with a twist at La Patisserie. Here you'll find petits-fours, macarons (and the unique variant, the Stackaroon), along with artisan chocolates including bars mixed with all kinds of sweets and candy.
Main/Traditional Dining
If you choose Traditional Dining, you'll be given a set dining time for the Main Dining Room every night. You'll also likely have the same waiter throughout your cruise, who will learn all your favourites and make meal times even more special.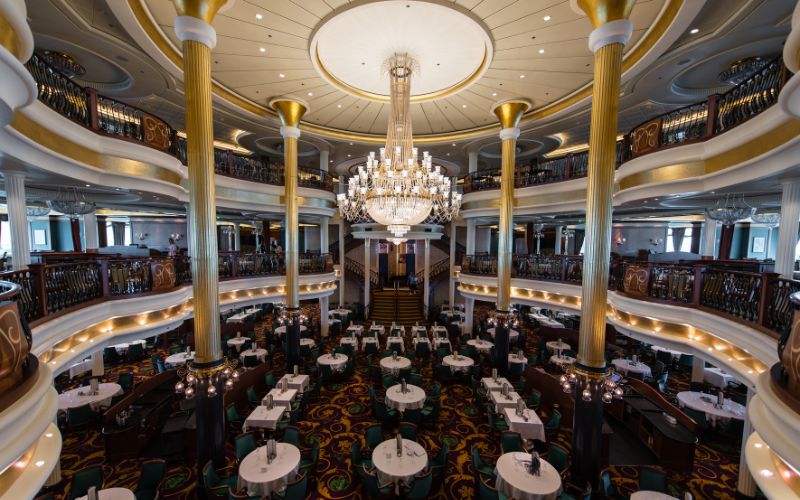 My Time Dining
With My Time Dining, you can choose when you take dinner, and you don't need to make a reservation (although you may have to wait for a table). You'll need to pre-pay your gratuities if you want this extra flexibility.
Room Service
Whether you want a late night snack or just a lazy morning in your stateroom, the room service menu has you covered. There are various hot and cold food items and drinks you can choose to have delivered to you.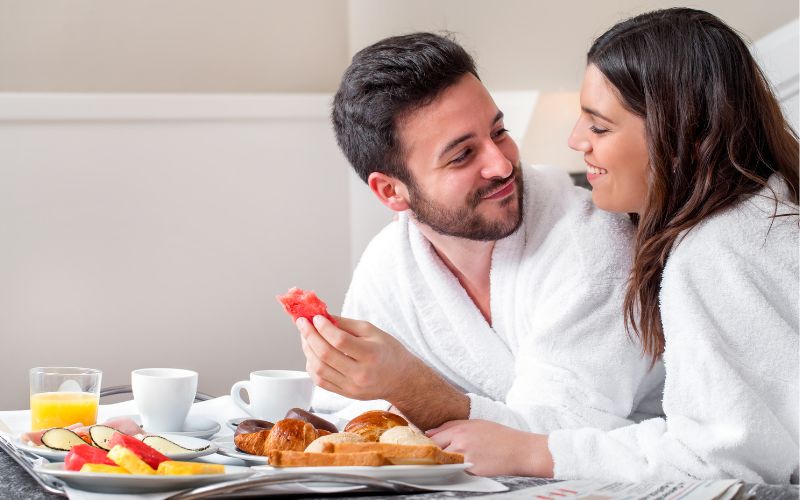 SeaPlex Dog House
Try a classic American hot dog as a light snack at the SeaPlex Dog House. There are other options available too if you want something different though, including a chicken dog and a German-inspired bratwurst with sauerkraut.
Sorrento's
This casual pizza restaurant serves all your favourites along with some unique pies packed with amazing ingredients. Head here for lunch or dinner, or with late opening you can grab a slice to round off your night.
The Cafe at Two70
This deli-style restaurant serves up a great selection of sandwiches, salads, soups and more, packed up as a picnic. The main attraction here is the incredible view from Two70 – you can dine with the best backdrop imaginable.
Windjammer Cafe
The Windjammer Cafe is the buffet restaurant on the ship. Open for breakfast, lunch and dinner, you can help yourself to a fantastic selection of hot and cold foods in a relaxed, casual atmosphere.
Wonderland
Wonderland is a spectacular restaurant serving dishes that resemble works of art. These unique dishes are a feast for the eyes as much as they are your stomachs.
Bars & Lounges Onboard Quantum of the Seas
There's no shortage of places to relax and enjoy a drink onboard Quantum of the Seas. You'll find lots of bars and lounges including outdoor pool bars, cocktail bars and live music venues.
Here are the places you can enjoy a drink on Quantum of the Seas:
Bionic Bar
Experience some of your favourite drinks made to order by a pair of robotic arms at the Bionic Bar. Just place your order on the screen and the arms will kick into gear, mixing your drink right before you.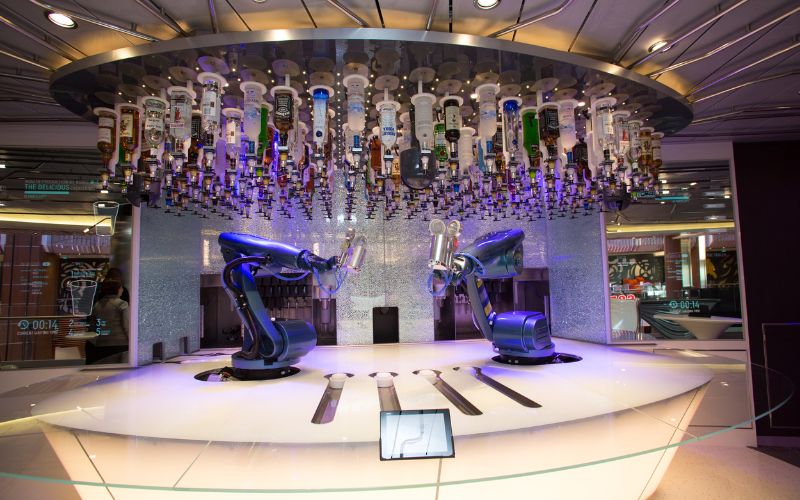 Boleros
Samba and salsa the night away at Boleros, the Latin club with a live six-piece band. As well as late night dancing, you'll also be able to enjoy some wonderful cocktails here including caipirinhas and mojitos.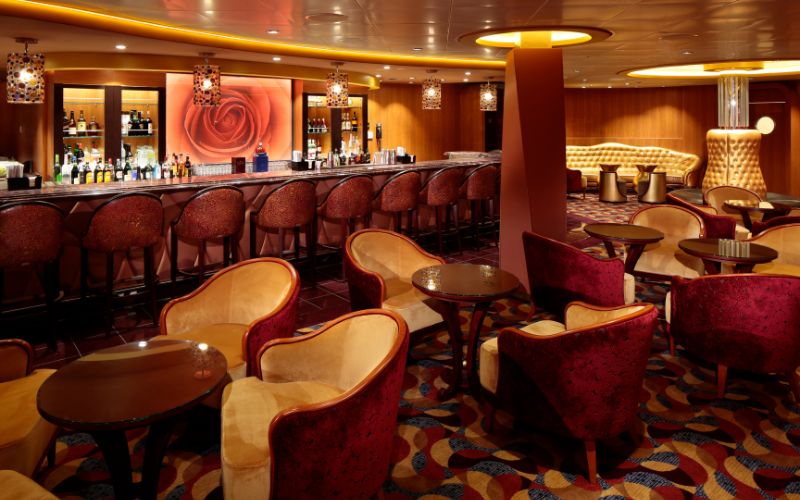 Concierge Club Lounge
Suite guests and those at the necessary level of the Crown & Anchor loyalty program can enjoy a quiet drink in the Concierge Club. As well as grabbing a drink, guests can enjoy hors d'oeuvres, make reservations and borrow movies and CDs too.
English Pub
The English Pub on-board your ship is an ideal place to grab a traditional beer or ale, or sample a UK-themed cocktail such as a James Bond Martini. Pop-up music performances keep the lively atmosphere going throughout the evening.
Music Hall
Music Hall is a lively venue that hosts some great rock cover bands, with a dance floor if you want to move along to your favourite tunes. If you prefer something cosier, grab a seat near the pool tables and enjoy a refreshing cocktail.
North Star Bar
The North Star Bar is situated adjacent to the North Star, and is the ideal place to grab a celebratory drink after you've made your ascent. While there are a selection of beers and wines available, it's the cocktails which prove most popular here.
Schooner Bar
This friendly, relaxing piano bar is the ideal place to unwind at the end of the night. Grab a seat next to the ship's mast, or next to a porthole and enjoy the view, while the singalong kicks in.
Vintages
Whether you're a wine enthusiast or you want to take your first step into trying new flavours, Vintages is a classy wine bar with an incredible selection. The staff are experts and can offer some fantastic recommendations if you're not sure what to try.
Related Posts: