If you're going on a Disney cruise you can be sure that there will be plenty of Disney princesses to meet. Let's be honest, some of them are pretty hot, right? 
Sure, they are designed for kids' movies, but somewhere along the line, they developed these perfect curvy figures and big eyes that make them, well, hot. 
Mirror, mirror, on the wall, who's the hottest of them all..? Let's take a look at the 17 hottest Disney princesses…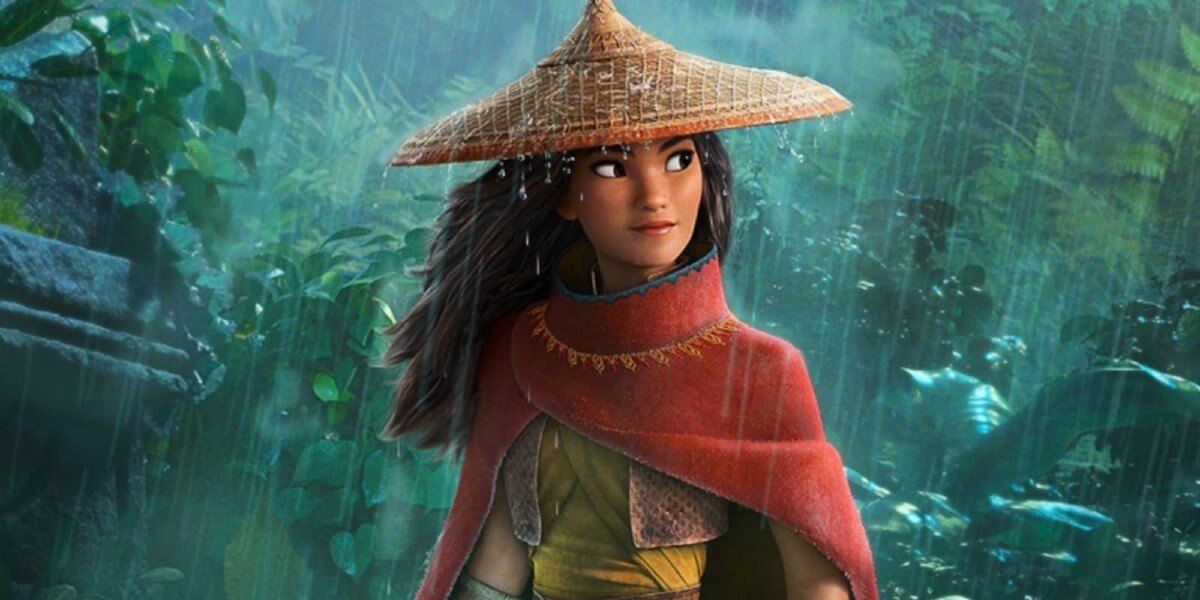 Who Is The Hottest Disney Princess?
Raya from Raya and the Last Dragon is the hottest Disney princess. Not only is she fierce and brave, but she has stunning good looks and perfect curves. She is fit, graceful, and smoulders on screen. This Disney princess is the hottest yet.
Hotness implies that there is something a little bit sexy about the character. Some Disney princesses are pretty but not exactly hot, you will find these in my other post on the prettiest Disney princesses.
But, for now, let's take a look at the 17 hottest Disney Princesses….
Anna from Frozen
Anna may be slightly overshadowed by her elder sister Elsa, but there is no denying that Anna is hot in her own right. Starring in 2013's Frozen and the 2019 sequel, Anna is always on the lookout for love and clearly has a naughty side to her innocence. Her big eyes and perfect figure surely mark her out as one of the hottest Disney Princesses.
Ariel from The Little Mermaid
As long as you can look past her fishy tail, Ariel is certainly one of the hottest Disney princesses with her amazing flame-red hair and shell bikini. Ariel is confident and adventurous with a rebellious spirit. She wishes to be a part of the human world and eventually becomes human, which is great if you weren't so keen on the fishy bits.
Aurora from Sleeping Beauty
Aurora is one of the hottest Disney princesses and star of the 1959 movie Sleeping Beauty. Who doesn't love a girl who likes to make up stories, believes in the power of dreams and is searching for an adventure. Of course, her classic good looks, long blonde hair and perfect princess body help too. 
Belle from Beauty and the Beast
Belle from Beauty and the Beast is a girl that you could definitely take home to meet your mother. She is clever, resourceful and loves to read a good book. But that doesn't mean that she is not hot. She clearly has a wild side and adventurous nature behind her classic good looks and beautiful hair.
Cinderella from Cinderella
Cinderella is definitely among the hottest Disney princesses. Whether you prefer the scullery maid look or the incredible dress she wears at the end (even more amazing in the live-action version), Cinders is a classic beauty that is hot enough even for a prince.
Elsa from Frozen
Elsa may be the ice queen, but there is no doubt that she is hot. She has huge, alluring eyes and has mastered the hair flick! She wears some of the most amazing clothes of all the princesses and although she can come across as a bit serious, you just know that Elsa is full of passion. 
Esmeralda from The Hunchback of Notre Dame
Esmeralda may not be one of the official Disney princesses anymore but she is still hot. She spends much of the movie attracting men with her seductive dances and is definitely one of the sexiest characters in a Disney movie.
Jasmine from Aladdin
Jasmine is probably the hottest of all the Disney princesses thanks to her appearance in the animated movie Aladdin. She has an incredible body, which she shows off with some pretty awesome outfits. She has a naughty, rebellious side, and unbelievable hair. Let's not forget those gorgeous eyes that Aladdin finds hard to resist. A sexy Disney princess indeed! 
Jane Porter from Tarzan
Jane Porter might not have the sexiest name but she is a hot jungle princess. She spends some of her time swinging through the trees and bathing in natural pools wearing not very much at all. So it's all quite steamy really and she is hot in more ways than one.
Megara from Hercules
Megara from the animated movie Hercules is pretty hot. She has amazing long red hair and seductive eyes. She is very flirty while also being a sassy, snarky and witty young woman. It is fair to say that she is one of the hottest unofficial and less-known Disney princesses. 
Moana from Moana
Moana pulls off being a hot Disney princess with ease. She manages to fight a fearsome lava demon goddess and win over the demigod Maui to her side while looking like a goddess herself. It doesn't hurt that she is wearing pretty skimpy Polynesian clothing and spends her days on sunkissed beaches.
Mulan from Mulan
There is something pretty hot about a girl that can fight, and you know that you would be in safe hands with Mulan around. She is certainly no pushover but has good looks and is fighting fit so there is no doubt that she is one of the hottest Disney princesses.
Pocahontas from Pocahontas
The star of her own 1995 animated movie, Pocahontas is one of the best sexy Disney Princesses. Her short dress reveals her great legs, and she has the perfect hourglass figure that only exists in Disney princesses. Her outdoorsiness and strength of character only add to her allure. 
Tinker Bell from Tinker Bell
Tinker Bell is pretty hot for a fairy. In fact, she is just hot, full stop. The short skirt and low-cut top are more revealing than your average Disney princess, so much so that there were complaints that she was too sexy when the movie came out in. Tink is also very sassy, feisty, and hot-tempered which only adds to her hotness.
Merida from Brave
So this is a controversial one. Merida was a bit of an anti-princess in the movie Brave. She was the messy-haired, bow and arrow-toting heroine. Since then she has had a makeover with more sultry eyes and sexy pursed lips. She now has a smaller waist and larger breasts. So, basically, Disney made her hotter in all the stereotypical ways.
Rapunzel from Tangled
Rapunzel is hot. There I said it. Maybe it's the sparkly long golden hair, but there is definitely something hot about her. She also has amazing big blue eyes. She is young and maybe a bit naive but by the end of the movie, she has definitely grown into a hot Disney princess.
Raya from Raya and the Last Dragon
Raya is hot. Really hot. She has a smouldering look and is just stunningly gorgeous. Not only does she have a great look, but she also has the moves to go with it as she dances around the screen saving the world in the most elegant fashion. She may not have been around very long but she is well-deserving of a place on this list of hottest Disney princesses.
To Conclude
When it comes to Disney princesses and heroines, lots of them can be considered to be hot. And I don't just mean the real-life princesses that you meet on Disney cruise ships or in the parks. The cartoon and animated versions can be pretty smoking, too.
Here's a run-down of the hot Disney girls, in case you need reminding…
Related Posts: