Are you trying to think of all of the Disney characters that begin with the letter H? Well, there are over 50 of them to choose from. I've racked my brains and scoured the internet to build this list for you.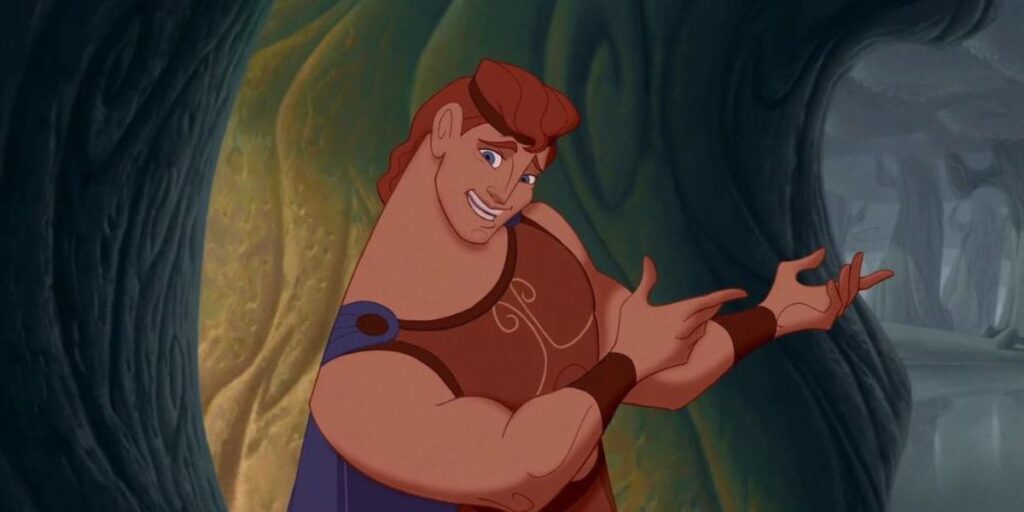 Disney Characters That Start With The Letter H
Hades from Hercules
Hades is the fast-talking god of the Underworld in Disney's 1997 animated feature film Hercules.
Hakeem from Disney Princess Enchanted Tales: Follow Your Dreams
Hakeem is a young boy who works in the stables at The Sultan's Palace in the movie Disney Princess Enchanted Tales: Follow Your Dreams.
Hal from WALL-E
Hal is a cockroach that was ordered to remain on earth by WALL-E. He is WALL-E's companion and obedient friend.
Halima from Frozen II
Halima is an elderly Arendellian citizen who has lived apart from Mattias for 34 years. She marries him on his return from the enchanted forest.
Hamish from Brave
Hamish is one of three redheaded royal triplets in the Disney Pixar movie Brave.
Hamm from Toy Story / Toy Story 2 / Toy Story 3 / Toy Story 4
Hamm is a wisecracking plastic piggy bank who appears in all the Toy Story movies.
Hamm Truck from Cars
Hamm truck is a homage to the Toy Story character and in Cars he appears as the slyest piggy bank on wheels.
Hand-in-the-box from Toy Story
Hand-in-the-box is one of Sid's mutant toys and is a cross between a green monster hand and a  musical jack-in-the-box.
Hands from Treasure Planet
Israel Hands was the largest member of John Silver's pirate crew in Treasure Planet.
Hank from Finding Dory
Hank is a Disney character that starts with H in Finding Dory. He is a good-hearted octopus with one leg missing but impressive camouflaging abilities.
Hannah from Toy Story
Hannah Phillips is Sid's younger sister in Toy Story. Unlike her brother, Hannah is good-natured and loves her dolls.
Hans from Frozen / Frozen II
Prince Hans of the Southern Isles proposes to marry Anna in Frozen. While he initially appears charming, it is eventually revealed that he is plotting to take control of Arendelle.
Happy from Snow White and the Seven Dwarfs
Happy is one of the most famous Disney characters beginning with H. He gets his name from his optimistic and jovial nature.
Harland from Planes
Harland is Tripp's jet tug in the movie Planes, and he appears at John F. Kennedy International Airport.
Harmony from Toy Story 4
Harmony is Margaret's granddaughter in Toy Story 4. Gabby Gabby wanted to be adopted by Harmony but she was not interested in her.
Harris from Brave
Harris is one of the triplet sons of King Fergus and Queen Elinor in Brave.
Harry from A Bug's Life
Harry is a fly who gets attracted to a bug-zapping lantern under the roof of a house in A Bug's Life.
Harv from Cars
Harv is an agent that worked for Lightning McQueen; he is never seen on screen but communicates on the radio.
Harvey from Planes: Fire & Rescue
Harvey is a minor Disney character beginning with H. He is an elderly character was once the manager of an RV tire store
He-Lectrix from Incredibles 2
He-Lectrix is part of a group of second-rate Supers who aspire to join the ranks of superheroes in Incredibles 2.
Heathcliff from Big Hero 6
Heathcliff is the butler of Frederickson Manor in Disney's 2014 animated feature film, Big Hero 6.
Héctor from Coco
Héctor Rivera is Miguel's long-lost great-great-grandfather who was an aspiring musician who left his family to travel the world.
Hedley from Treasure Planet
Hedley is the smallest pirate in John Silver's pirate crew in the 2002 Disney animated film Treasure Planet.
Heffalump Mama from Pooh's Heffalump Movie
Mama Heffalump is the mother of Lumpy. She was worried about the safety of her son and warned him never to leave Heffalump Hollow because of the scary creatures that lived outside it.
Heihei from Moana
Heihei is a rooster that accidentally joins Moana and Maui on their journey across the ocean.
Heimlich from A Bug's Life
Heimlich is an overweight caterpillar who works as a clown in P.T. Flea's circus troupe. He also appears in Toy Story 2.
Helen from Turning Red
Helen is the niece of Grandma Wu, and first cousin to Ping, Chen, and Ming, in Turning Red.
Henry J. Waternoose from Monsters Inc.
Henry J. Waternoose III, also known as simply Waternoose, is the former CEO of Monsters, Inc. and was the boss of Sulley, Mike and Randall.
Hera from Hercules
Hera is the Queen of the Gods, Zeus's wife and Hercules' mum in Disney's 1997 animated feature film Hercules.
Hercules from Hercules
Hercules is turned mortal and sets out on a journey of self-discovery from zero to hero to reclaim his place among the gods.
Hermes from Hercules
Hermes is the evil uncle of Hercules. He abducts his nephew from Mount Olympus and turns him into a mortal being.
Hiram Flaversham from The Great Mouse Detective
Hiram Flaversham is said to be the best toy maker in London and specialises in making clockwork toys. He is Olivia's father in the animated movie The Great Mouse Detective.
Hiro Hamada from Big Hero 6
Hiro Hamada is a fourteen-year-old robotics prodigy living in San Fransokyo. After the death of his brother, Hiro becomes the founder and leader of Big Hero 6.
Hit Cat from The Aristocats
Hit Cat is an English hippie cat who plays the acoustic guitar, he wears purple glasses and a blue beaded necklace.
Hockey Puck from Toy Story
Hockey Puck is one of the least-known Disney Pixar characters beginning with H. He only briefly appears in Andy's room and isn't shown moving with all the other toys. 
Holley Shiftwell from Cars 2
Holley Shiftwell is a secret agent who assists Finn McMissile in completing missions in the 2011 Disney/Pixar animated film, Cars 2.
Honey Best from The Incredibles
Honey Best is the wife of Lucius Best (also known as Frozone) in the 2004 Disney/Pixar animated film, The Incredibles. She never appears onscreen, but is talked about and heard speaking. She's one of the lesser known H Disney characters though her role is entertaining.
Honey Lemon from Big Hero 6
Honey Lemon is a high-spirited and confident member of Big Hero 6. She is a chemical engineering student at the San Fransokyo Institute of Technology.
Honeymaren from Frozen II
Honeymaren is a member of the Northuldra who wants to bring peace to the Enchanted Forest. She is bold and brave, with a reverence for the magic of nature.
Hook Hand from Tangled
Hook Hand is an animated Disney character beginning with the letter H in Tangled. He is the feared leader of the Pub Thugs. He dreams of becoming a concert pianist.
Hooman from Cars
Hooman is one of the reporters who heads to Radiator Springs in order to find Lightning McQueen in the Disney Pixar movie Cars.
Hoonah from Brother Bear 2
Hoonah is a female bear who is the mate of Tug in the animated sequel Brother Bear 2.
Hopper from A Bug's Life
Hopper is the main baddie in A Bug's Life. Hopper is the leader of the grasshoppers and Flik's arch-enemy.
Horace Badun from One Hundred and One Dalmatians / 101 Dalmatians II: Patch's London Adventure
Horace Badun is a lowly crook who acts as one of Cruella's henchmen in the 101 Dalmatians movies.
Horned King from The Black Cauldron
The Horned King is the main bad guy in The Black Cauldron. His aim was to find the Black Cauldron and use its power to release an army of immortal warriors named the Cauldron Born. He's one of the scariest Disney characters starting with H – or indeed of any Disney characters!
Horst from Ratatouille
Horst is a minor character who works as a chef in the movie Ratatouille. He has previously 'done time' in prison.
Houser Boon from Cars
Houser Boon is a press pack photographer in the movie Cars. He asks the racing star to pose for photos, shouting the phrase "Show us the bolt"
Huayna from Kronk's New Groove
Huayna is a young boy in the movie sequel Kronk's New Groove. He is voiced by Anthony Ghannam.
Hubert from Brave
Hubert is one of the triplets who are the little brothers of Princess Merida and sons of King Fergus and Queen Elinor.
Huey from DuckTales the Movie: Treasure of the Lost Lamp / Mickey's Once Upon A Christmas / Mickey's Twice Upon A Christmas
Huey Duck is the oldest of Donal Duck's nephews (by 3 seconds); he is generally considered to be 'the brains' of the triplets. 
Hugo from The Hunchback of Notre Dame / The Hunchback of Notre Dame 2: The Secret of the Bell
Hugo is a sentient gargoyle who is friends with one of the three gargoyle friends of Quasimodo, Laverne and Victor.
Humbert the Huntsman from Snow White and the Seven Dwarfs
Humbert the Huntsman is a servant of the queen who is sent to capture and kill Snow White. However, he notices her innocence and tells her to flee the kingdom and never come back for her own safety.
Hyena from Lady and the Tramp
Hyena is a laughing hyena that laughs maniacally at Lady and Tramp when Al the alligator nearly swallows Lady whole in the classic Disney animated movie Lady and the Tramp..
That concludes the list of all of the Disney characters whose names begin with H. Here's a quick recap for you in the form of a numbered list.
More in this series: