New cruise line Ambassador Cruise Line has two ships – Ambience and Ambition. The first ship, Ambition, was launched on 20th April 2022 while the second ship, Ambience, is set to enter service in the summer of 2023.
In this guide, I'll give you a closer look at each of Ambassador Cruise Line's ships, including their history and the differences between them.
Ambience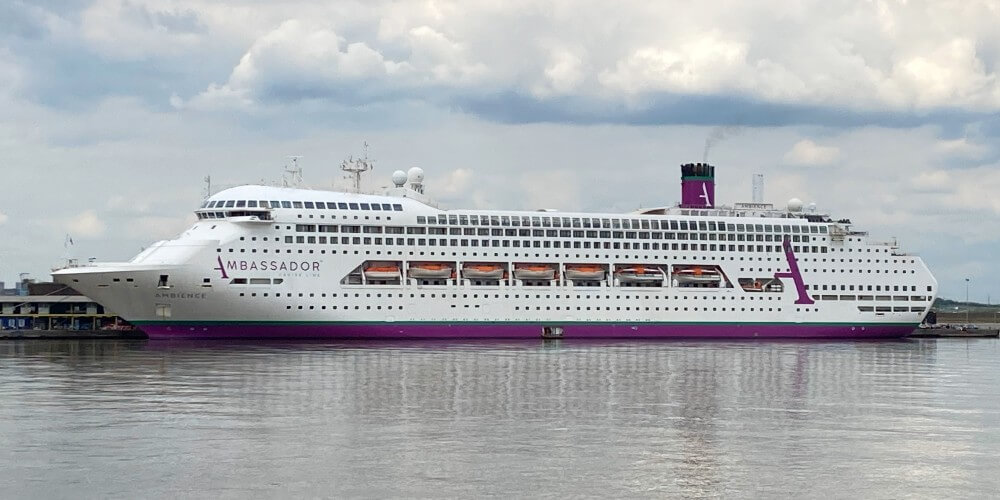 Ambassador Cruise Line's first ship, Ambience, made her maiden voyage on 20th April 2022. She offers cruises from London Tilbury to a wide range of destinations including the British Isles, the Baltics, Scandinavia, Northern Europe, the Mediterranean, the Canary Islands, and even as far as Cuna and the Caribbean.
History
Ambience ship was originally set to join the Cruise & Maritime Voyages fleet as Amy Johnson, but CMV went bust before the transition could occur. Ambassador Cruise Line was formed by the former CEO of Cruise & Maritime Voyages, Christian Verhounig, who took the opportunity to buy the ship as the first ship for his new cruise line.
Ambience was built in 1991 for Princess Cruises with the name Regal Princess. She sailed with Princess Cruises until 2007 when she was sold to Carnival Corporation. She began service for P&O Cruises Australia as the country's first superliner, with the name Pacific Dawn.
In 2019, it was announced that Pacific Dawn would be sold to Cruise and Maritime Voyages in February 2021 and renamed as Amy Johnson. However, CMV went bust in July 2020 and so the ship was put up for sale in September of that year.
In 2020, the ship was bought for $9.5 million by Ocean Builders Central Inc and renamed Satoshi. The plan was to anchor the ship off the coast of Panama and use it as a floating community for 2,020 digital nomads. However, the company was unable to get insurance for the project and so in December 2020, the ship was sold to be scrapped.
However, shortly afterwards, the new cruise line Ambassor Cruise Line came to the rescue and purchased the ship that we now know as ambience. In October 2021, work began on an extensive refurbishment in Croatia.
The initial launch was delayed for a couple of weeks due to supply chain issues, but Ambience finally set sail for the first time on 20th April 2022.
The On-Board Experience
A medium-sized cruise ship, Ambience has 789 cabins with options of inside, outside, balcony and suite to suit all budgets. Single travellers will be pleased to know that this ship does also have some single cabins.
Ambience offers a good blend of spaciousness and intimacy. The ship features 11 bars and lounges, including The Purple Turtle pub, Raffles Bar and The Botanical Lounge.
Drinks on board Ambassador Cruise Line's Ambience are very reasonably priced with cocktails costing only £5 as you'll see from the drinks menu below. There are also various drinks packages available.
A peek at bar prices on @ambassadorcruis Ambience – cocktails for a fiver pic.twitter.com/ywah2HIOVF

— Dave Monk (@shipmonk) April 19, 2022
Ambience has a multi-tier theatre where you can enjoy entertainment from the onboard team and guest artists as well as a late-night disco in the stylish Observatory.
Ambience also offers a wide range of daytime activities with a card room, casino, crafting studio, library, gym, spa and shopping gallery. On the top deck, you'll find a swimming pool, two hot tubs and a large outdoor movie screen.
On board Ambience, you'll find plenty of places to eat, including the Buckingham main dining room, the Borough Market buffet and the outdoor Alfresco Grill. There are also three speciality restaurants – Saffron, Sea & Grass and the luxury Chef's Table.
Indian restaurant, steakhouse and coffee shop on @ambassadorcruis ship Ambience pic.twitter.com/YTTvMJ4T2b

— Dave Monk (@shipmonk) April 20, 2022
Destinations
Departing from London Tilbury, Ambience offers a wide range of cruises from 3 to 42 nights. So, whether you fancy a short Christmas markets cruise or to make the most of retirement with a month-long voyage to Canada or the Caribbean, you can do so.
The ship offers a range of themed cruises such as bridge, crafting, comedy, gardening and wildlife, British broadcasting legends and cricketing legends.
Ambassador Cruise Line primarily serves the over 50s. However, in the summer, grandchildren are invited on board for a series of multi-generational cruises during the school holidays.
Ambition
Ambassador Cruise Line's second ship, Ambition, is set to enter service in summer 2023.
History
Ambition was built in 1999. The ship was originally ordered by Renaissance Cruises, but the order was withdrawn and taken over by Festival Cruises who named the ship Mistral.
Festival Cruises went out of business in 2004 and Mistral was sold back to the builders to be chartered to Ibero Cruises with the name Grand Mistral in 2005.
In 2013, the ship was acquired by Costa Cruises and after a €10 million renovation she was renamed Costa neoRiviera.
In October 2019, the ship was transferred to AIDA Cruises and underwent a further $55 million transformation to become AIDAmira. Cruising paused globally in March 2020 and then in January 2022 AIDA Cruises sold the ship to Ambassador Cruise Line.
The On-Board Experience
Ambition will be a little smaller than Ambience, with three fewer decks and 200 fewer guests.
The ship will feature two main restaurants, a casual bistro-style cafe and several speciality restaurants that will be available for an extra fee. There will also be four bars and lounges plus a pub.
In terms of entertainment, guests can enjoy watching shows in the theatre, playing games in the card room, library and casino or crafting in the craft studio. Leisure facilities include a wellness centre, gym and two swimming pools. There's also a range of retail shops.
Destinations
Ambassador Cruise Line hasn't yet released itineraries for Ambition, but we can expect them to go on sale in May or June of 2022.
Ambience Vs Ambition
Here's how Ambassador Cruise Line's two ships stack up against each other…
| | Ambience | Ambition |
| --- | --- | --- |
| Size | 70,285 GT | 48,123 GT |
| Guests | 1,400 | 1,200 |
| Built | 1991 | 1999 |
| Guest Decks | 11 | 8 |
| Speed | 16.5 knots | 19.5 knots |
| Length | 245m | 216m |
| Beam | 32.25m | 28.8m |
Is Ambassador Cruise Line the same as CMV?
Ambassador Cruise Line is a new British cruise line. It was launched shortly after Cruise & Maritime Voyages went bust. The management team includes CMV's former chief executive, chief commercial officer, chief information officer and chief financial officer.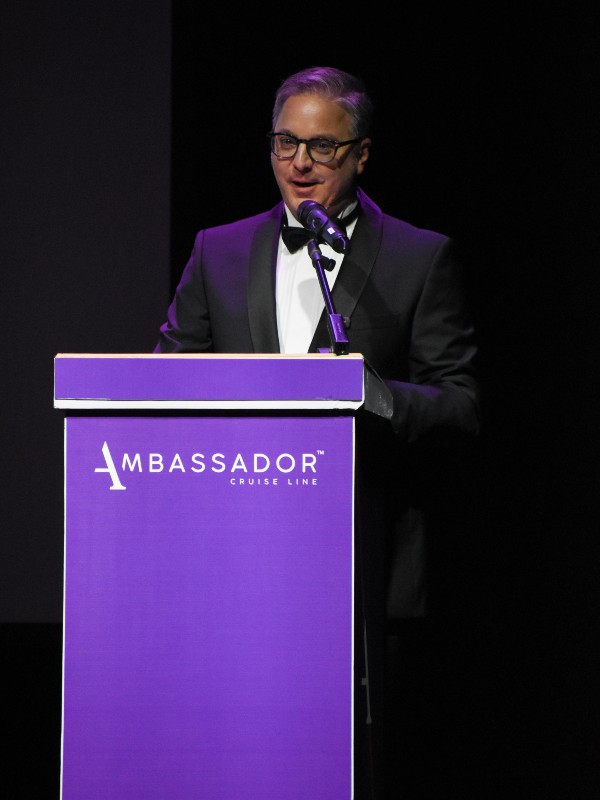 Ambassador Cruise Line's first ship is Ambience, a ship that was set to be launched by Cruise & Maritime Voyages before the company went out of business. This, along with the same management team, has led to some people referring to Ambassador Cruise Line as the 'new CMV'.
I had previously booked two cruises with Cruise & Maritime Voyages before the company went into administration and was sad that I never got the chance to experience a CMV cruise.
So, with Ambassador Cruise Line featuring a beautiful-looking ship, some interesting itineraries and some very exciting prices from as little as £58 per night, this is one cruise line that I certainly want to try in the future.
Related Posts: