In my previous post, 8 reasons why cruises are perfect for families, I listed all the reasons that a cruise holiday makes an ideal family trip. However, it's only fair that I address the other side of the coin!
Many people are SURE that a cruise holiday isn't for them. Of course, a lot of these people have never cruised before.
Let's go over some of the reasons why people think that cruising isn't a good idea, and then you can make up your own mind about whether you want to try a family cruise holiday or not.
1. You Might Get Seasick
If you've ever experienced seasickness, you'll know how horrid it is, and it's totally understandable why this would make anyone think twice about signing up to spend a week or two at sea.
Remember that time that you had to mind the kids with a hangover? Urgh!
Seasickness is a form of motion sickness similar to car sickness, and some people are prone to this problem, particularly if the seas are very rough. Seasickness on a cruise ship isn't as common as it used to be, for two reasons.
Firstly, today's modern cruise ships are very large, which means that you feel the movement of the ocean much less than you would on a smaller ship. Plus, modern ships have some amazing new technology that keeps them stable in the water that older ships just didn't have.
If sea sickness is a concern for you, it's worth looking into remedies such as medication or acupressure bands.
Your cabin location can also make a huge difference, with cabins located on the lower decks in the centre of the ship having less movement that those on the higher decks and towards the front or rear of the ship.
Read more: Do big ships rock less?
2. Ship Cabins Can Be Cramped
Whilst some amazingly luxurious cruise ship suites are available, the fact remains that if you're on a tight budget, your cabin (which is also known as a stateroom) will be smaller than a standard hotel room.
It won't have a bath, only a shower, and you probably won't have anywhere to sit aside from the bed.
If you're the type of family that only uses your room for sleeping and changing, preferring to spend your time enjoying the facilities of your ship, this shouldn't present too much of a problem.
However, if you really want to spend a lot of time in your stateroom, you'll probably want to look into getting a suite with a separate living area, or at least a stateroom with a balcony so that you can sit out and enjoy the view with a drink after the children go to bed.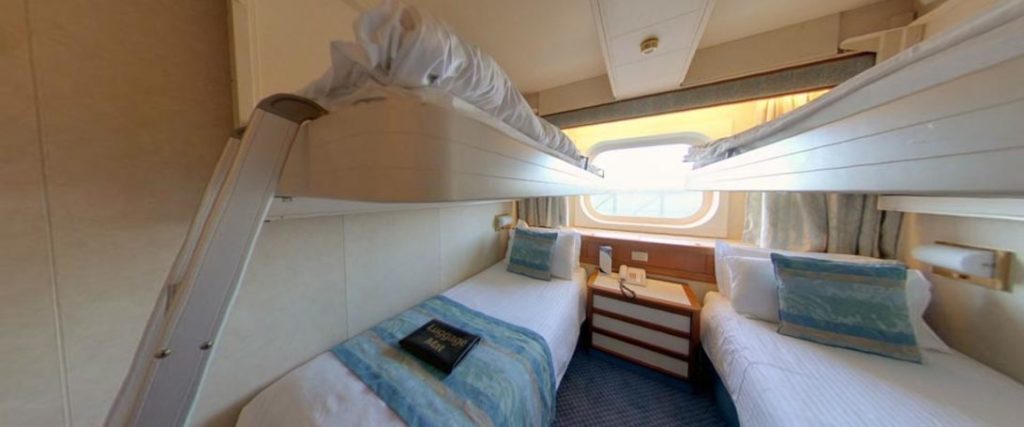 Read more: Why I (almost) always choose an inside cabin for a family cruise
3. Shore Excursions Can Be Expensive
Guided trips booked with your cruise line can be eye-wateringly expensive, especially when you have to times the per-person price by four, five or six to accommodate each member of your family. However, there are other excursion options available for families on a budget.
You can often find similar shore excursions available with third parties for a fraction of the cost. You'll just need to make sure that you make it back to the ship on time, as if you're excursion is delayed coming back, the ship won't wait as it would do for those booked on official excursions with the cruise line.
Another option is to explore on your own. Get off the ship and take a taxi, bus or walk to where you want to go. Many ports are close to a beach or city centre so you won't have to head far to find something fun to do.
4. Kids In Swimming Nappies Aren't Allowed In The Pools
For health and safety reasons, babies and toddlers wearing swimming nappies are banned from pools and hot tubs on every cruise ship. This is to prevent the spread of diseases such as norovirus.
Does this mean that you'll be faced with the task of trying to keep your stubborn toddler away from the inviting swimming pool? Probably not.
Many cruise ships offer an excellent alternative for children who are not yet toilet trained in the form of splash areas that have just a few inches of water, along with jets, spray cannons, tipping buckets, mini slides and other fun things. Children of all ages are allowed to play in the water here.
Even if the ship you choose doesn't have such a facility, another option may be to take an inflatable paddling pool and make your own mini pool next to your sun lounger.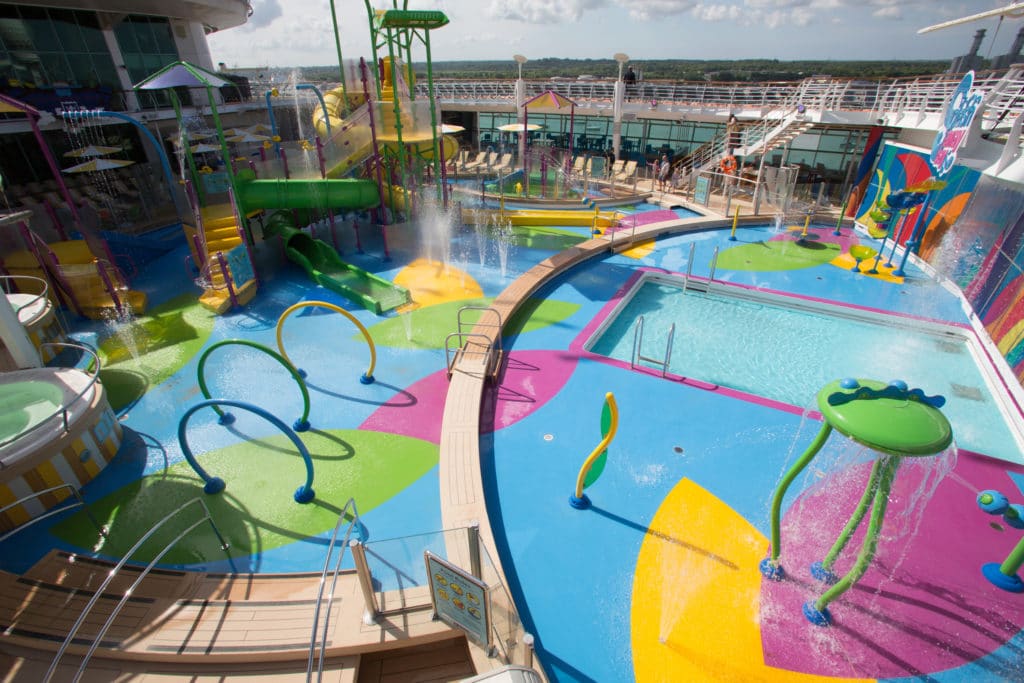 Taking a baby on a cruise ship? Read this first!
5. You Can't Get Off The Ship
Once the ship is at sea, you can't get off until the next port, which might be a couple of days away. This can make some people feel uneasy, and they worry about claustrophobia, a feeling of not being able to escape, or going crazy from spending so much time 'trapped' with young children.
However, once you step foot on board a ship, you'll see why this fear is unjustified. Cruise ships are more like floating resorts than boats.
Royal Caribbean's ship Symphony of the Seas, for example, has 18 decks, 19 swimming pools and 20 restaurants on board. All this is split into seven distinct 'neighbourhoods', such as Central Park, which features over 12,000 plants and trees, and the Royal Promenade, which has shops, bars and open space for parades.
Rather than being a mode of transportation to take you from port to port, the ship itself is the destination for many cruisers who opt to skip ports altogether and spend more time relaxing on-board.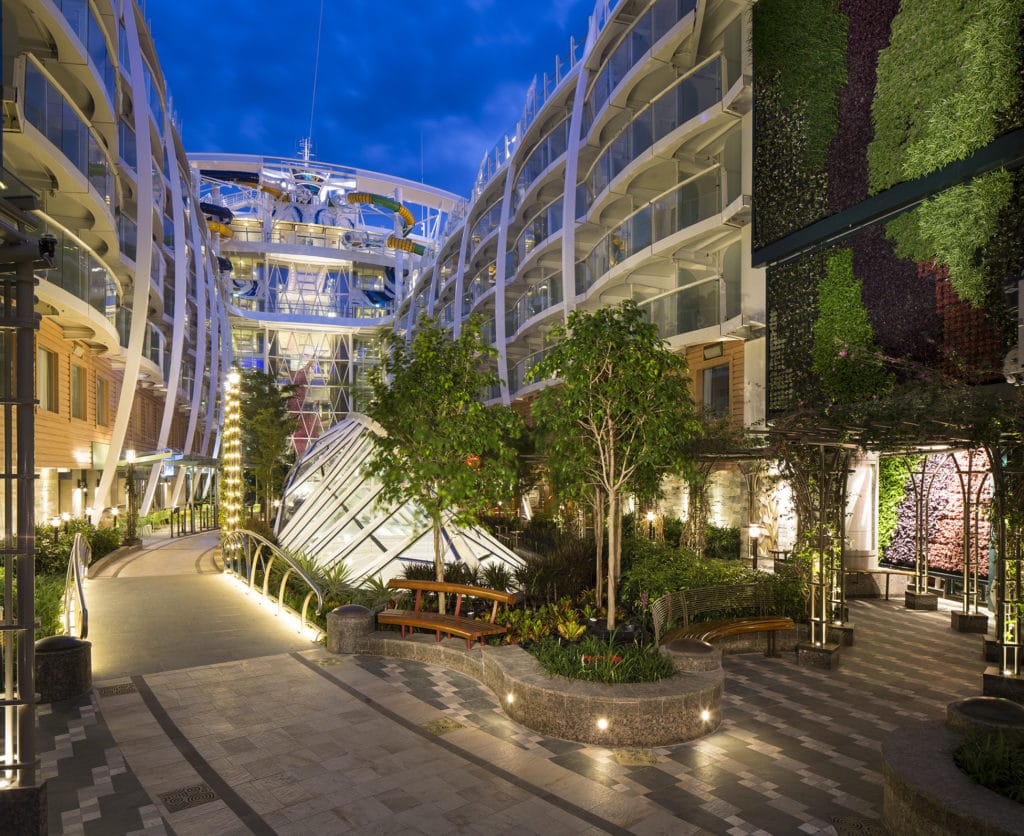 Read more: How big is a cruise ship?
6. You Don't Get A Lot Of Time In Each Port
Usually, you'll get off the ship after breakfast and board again in the late afternoon, giving you time to shower and change ready to enjoy your evening meal on-board.
Given the speed at which young children walk, you might feel that this isn't enough time to appreciate each port. And you'd be right.
Given eight hours in Barcelona, do you head to the beach? Visit La Sagrada Familia? Stroll along Las Ramblas? Go to the zoo? The aquarium? Take a cable car ride? There's certainly not enough time to do it all.
I like to see cruise destinations as sample holidays. You get just enough time to decide if you like a particular town or city enough to visit again. Thanks to cruising, I know that there's no reason for me to visit Rotterdam again, but I'll gladly spend several more days in Amsterdam.
Some itineraries do feature overnight stays in ports, which gives you two days, as well as an evening, to spend ashore.
Read more: The best cruise ports, according to the experts
7. Kids' Places Can Cost As Much As Adults
Cruise lines tend to charge almost as much for children as they do for adults. And if you book two inter-connecting cabins, rather than having the whole family in one room, the children will usually be charged the full adult fare.
To make matters worse, the cheapest deals are often only available for two adults sharing. For example, you might see a cruise for £499 per person. But, after enquiring, you find out that the lead-in price is based on a cabin that sleeps two, and that if you need a larger cabin that sleeps four then the price for four of you is close to £3000. Ouch!
The reason cruise lines can get away with charging as much for children as they do, is simply that there's so much for them to do on board.
At home, I used to pay close to £50 per day for my child to be looked after at nursery. The childcare available in the kids' clubs on board is of the same high standard, but even longer hours are available – from after breakfast until late evening, should you desire.
From a cruise line's point of view, a child is still taking a seat in the dining room and theatre and a sunbed by the pool, but they're not spending on extras such as drinks, spa treatments, the casino and the boutiques. Which is why they don't get too much of a discount on the adult fare.
Despite this disappointing stance on pricing, it is entirely possible to get cheap deals for children, if you know where to look. In the past I've booked a 7-night cruise with P&O Cruises and paid just £1 each for the children, which pretty much halved the cost of our holiday. So it can be done, you just have to watch out for the right deals.
Read more: How to get cheap cruises
8. You'll Get Fat
It's often joked that cruise passengers only eat once per day – they start eating when they wake up and finish when they go to bed. With such a choice of delicious food on offer around the clock, not to mention the cocktails, it's easy to pile on the pounds on-board a cruise ship.
If you're a mum, you'll be familiar with the difficult task of shedding the post-pregnancy pounds. Perhaps you're wary of piling the weight back on during a week or two of extreme indulgence at sea?
Lee Wachtsetter, an elderly lady who spent several years living on a cruise ship after her husband passed away, listed her hobbies on-board as including 'trying not to eat'.
If you really don't want to undo all your hard work in watching your weight while you're on holiday, you'll find plenty of healthy options available. There's always a huge salad bar and fresh fruit available in the buffet.
In the main dining room, you're welcome to ask for a half portion or to swerve dessert. Cruise ship dining rooms are very flexible, so if you'd rather have two starters than a starter and a main, that will be absolutely fine.
Every cruise ship also has an on-board gym, most have a walking or running track and you'll also find a range of fitness classes available.
What's Your Verdict?
You've now heard why cruise holidays are great for families (if you haven't, read the post here) as well as learned about some of the concerns that people like yourself have had when it comes to deciding whether they want to take a cruise.
So what do you think?